/
/
/
Holiday Tours
/
Adventure Cruising
Our grading system explained
Gentle
Gentle / Moderate
Moderate
Moderate / Vigorous
Vigorous
Vigorous / Strenuous
Strenuous
Expedition Grade
Northeast India

Mighty rivers and exotic wildlife combine with ancient culture and warrior tribes to make Northeast India a spellbinding region to explore.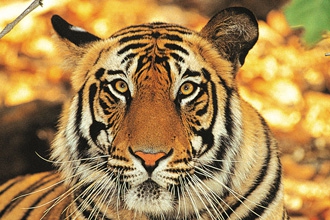 Sunset visit to Taj Mahal, sightseeing in Jaipur and Delhi
Superior cabin on a luxurious cruise boat
Visit a tea plantation and Majuli Island
Jeep safari in Kaziranga National Park to see rhinos and game drive in Ranthambore National Park
Flight inclusive from £5845, Land only from £4995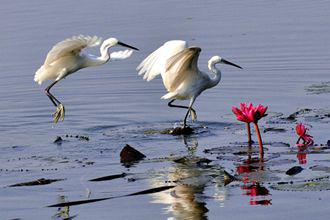 Explore Darjeeling, including a ride on the 'Toy train'
Stay in a superior cabin on a luxurious cruise boat
Visit a tea plantation and Majuli Island
Take a jeep safari in Kaziranga National Park to see rhinos
Flight inclusive from £5375, Land only from £4525
---
Introduction
Assam straddles the vast Brahmaputra river valley, and it is this most sacred of rivers that is the lifeblood of the region. Colourful communities make their living along its banks, growing rice in flooded paddy fields and tea on the higher ground. Each spring the river overflows and replenishes the broad plains creating a lush home to countless species of bird and endangered mammals, including Bengal tigers and the One-horned rhinoceros. These majestic animals are protected in the National Parks of the region including Kaziranga - the premier wildlife attraction.
Aside from its natural beauty, Assam boasts a rich cultural and spiritual heritage most clearly evident in the ancient city of the Ahom kings at Sibragar and the monasteries of Majuli – treasure-houses for many priceless historical artefacts. A cruise along the mighty Brahmaputra, is undoubtedly the best way to explore these many wonders of Assam and we offer three options so that you can combine a cruise with a tour of some of India's or Bhutan's key cultural highlights - Brahmaputra River Cruise with Darjeeling, Brahmaputra River Cruise & Rajasthan or Brahmaputra River Cruise with Bhutan.
---
Key Facts
Capital city: Assam - Guwahati, Arunachal Pradesh - Itanagar, Nagaland - Kohima
Population: 29.7 million (Assam – 26.6 million, Nagaland – 2 million, Arunachal Pradesh – 1.1 million) approx. 2007
Size of country: 178,760 sq km
Currency: Indian Rupee
Power supply: 220-240v
Sockets: two pin sockets or Indian three-round pin variety
Regional Languages: Assamese in Assam, Dozens in Arunachal Pradesh and Nagamese in Nagaland
Time difference: GMT +5.5 hours
Visas: British nationals require a visa to visit India which must be obtained in advance.
Religion: Assam: Hindu 65%, Islam 31%, Christianity 4%. Arunachal Pradesh: Hindu 35%, Christianity 19%, Buddhism 13%, Muslim 2%. Nagaland: Christianity 90%, Hindu 8%, Muslim 2%.
Popular dishes: Rice is the staple ingredient across the northeastern states. In Assam, fish is the most common accompaniment whereas in Nagaland meat (of all types) is enjoyed. Food is flavoured with local spices and chillies. Momos (dumplings) are a popular dish.
Popular drinks: Rice beer, of various types, is the favoured drink of the region. Assam is particularly well-known for its exquisite teas.
Did you know: Nagaland is the only predominantly Baptist state in the world constituting 75% of the population.
FCDO advice: FCDO travel advice for India
---
Climate
When is the best time to travel to Northeast India?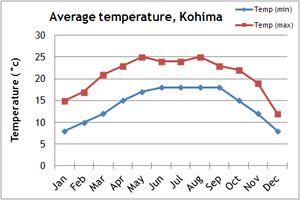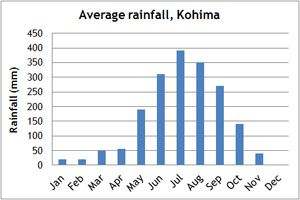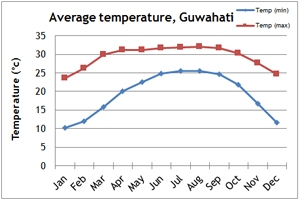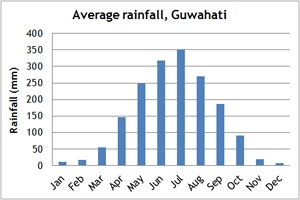 Our temperature and rainfall charts will give you a guide to the climate in Northeast India.

Northeast India experiences a temperate climate, with hot summers and cooler winters. The best time to visit northeast India is between October and April. Some national parks, for example, Kaziranga National Park, do not open until November. Travel is not advised for the summer months, as this is the time of the monsoon. The national parks are therefore closed during this period.

If you can't make the dates of our group departures, then take a private departure on dates to suit you, or we can create a Tailor Made holiday to Northeast India, especially for you and your family or friends.