/
/
/
Holiday Tours
/
Walking Trekking
Our grading system explained
Gentle
Gentle / Moderate
Moderate
Moderate / Vigorous
Vigorous
Vigorous / Strenuous
Strenuous
Expedition Grade
What makes Ladakh so special?
On a walking and trekking holiday to Ladakh, you will walk through spectacular mountain ranges that have remained relatively unexplored by outsiders, trek to isolated Buddhist monasteries, or even conquer the peak of Stok Kangri, one of the highest peaks in Ladakh. Our trekking tours take in the amazing sights of the Indus valley, visit spectacular Buddhist festivals and give ample time to explore Leh, the capital of Ladakh.
The isolated former kingdom of Ladakh is located in the north of India on the border to Tibet. Known as 'Little Tibet', the country takes a strong cultural and religious influence from its Buddhist neighbour, offering a mixture of a vibrant culture and astonishing mountain ranges that make it the perfect place for a trekking holiday. Ladakh is one of the few areas of the Himalaya best visited and trekked in the summer months, and while it is a favourite destination for those in the know, it remains relatively unexplored. An adventure holiday in Ladakh allows you to explore truly extraordinary scenery, a moonscape of deep gorges, snowy mountains and arid plains and see the amazing sights of the Indus valley, visit spectacular Buddhist festivals and give ample time to explore Leh, the capital of Ladakh. 'Little Tibet' never fails to leave a lasting impression on all its visitors; our tours and trekking holidays in Ladakh are firm favourites with our regular clients.
Ladakh Treks, Walks and Tours

Ladakh's stark, dramatic landscape and ancient Tibetan culture is guaranteed to leave an indelible impression on all who have the fortune to visit.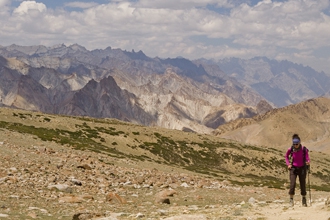 A classic summer trek in the dramatic Indian Himalaya
A week long trek crossing a pass of 5,216m/17,113ft
Plenty of pre-trek acclimatisation time in and around Leh
Time at a traditional Ladakhi festival
Flight inclusive from £2695, Land only from £1995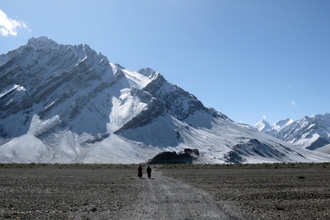 Unique to Mountain Kingdoms, this trek avoids the more 'popular' routes in Zanskar with large parts of it through completely uninhabited wilderness.
A truly exciting and challenging trek for the serious adventurer.
An excellent acclimatisation programme with time in Leh the walk to Sapi Lake.
First rate camping facilities and a highly experienced Mountain Kingdoms appointed leader.
Flight inclusive from £5790, Land only from £4995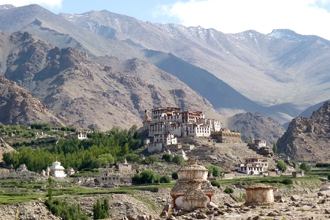 Explore the sights of Leh - the fascinating capital of Ladakh
Enjoy pretty walks in lovely countryside
Visit some of the most stunning monasteries and palaces of Ladakh
Stay in comfortable hotels that reflect the character of the region
Flight inclusive from £3480, Land only from £2695
---
Introduction
The scenery of Ladakh is dramatic - deep gorges, alluvial fans, contorted strata, large Tibetan Buddhist monasteries, flat-topped mud-brick houses in verdant oasis-like villages, snow-capped mountains and grand vistas. It is a land where real mystery still exists and is one of the most fascinating and beautiful regions of the Himalaya.
Ladakh's wonderful mountain landscapes and distinctive cultural heritage make this a fascinating area to tour. The beautiful Indus Valley gives the chance to visit some of the fine monasteries and ancient palaces that Ladakh is renowned for such as Stok and Shey Palaces and impressive Thikse Monastery. Throughout Ladakh, and particularly in and around the capital, Leh, the ancient influence of Tibetan Buddhism can be seen in the many monasteries and gompas that are still central to the lives of the Ladakhi people. These, along with the many festivals and cultural traditions of the friendly Ladakhi people, illustrate the deep Buddhist heritage of the region. Our Definitive Cultural Tour of Ladakh or Gentle Walking Little Tibet & Indian Himalaya are the best way to see many of the cultural highlights.
For trekkers, Ladakh makes an ideal summer destination. Ladakh's most celebrated trek is the Markha Valley Trek which epitomises the best of the region's unique scenery. The trail passes giant rock pinnacles, spectacular cliffs, narrow defiles, prayer-flagged passes and reveals evidence of a much older civilisation, the history of which has been lost in antiquity. For those in search of a wild and remote adventure, the neighbouring and mysterious region of Zanskar offers some completely off-the-beaten-track trekking in the shadow Mount Nun and Kang Yatse - amongst the highest peaks in the Zanskar range. Our Zanskar Dream Trek presents a wonderful opportunity to explore this wild and remote region in depth.
Related news and articles
Sue Lawty's Wild Zanskar Adventure
Ladakh Festivals: Hemis and Dak Thok
---
Key Facts
Capital city: Leh
Population: 270,126
Size of region: 45,100 sq km
Currency: Indian Rupee
Power supply: 230-240v
Sockets: two pin sockets or Indian three-round pin variety
Language: Ladakhi
Time difference: GMT +5.5 hours
Visas: British Nationals require an Indian visa and this must be obtained in advance
Religion: 50% Buddhist 45% Muslim
Popular dishes: local breads with apricot jam and Thukpa - thick vegetable soup
Popular drinks: Gurgur (butter) tea and chang
Did you know: As Ladakh is situated in the Himalayan rain shadow it is protected from the monsoon rains and can therefore be trekked in the summer months – one of the few areas of the Himalaya where this is recommended.
FCDO advice (India): FCDO Travel Advice for India
---
Climate
When is the best time to travel to Ladakh?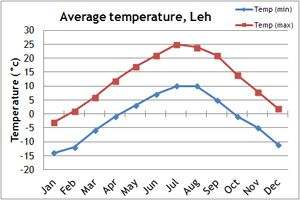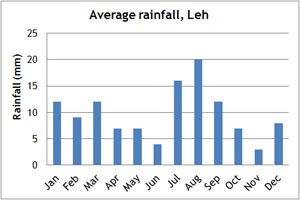 Ladakh has a short tourism season, between July and October. During the summer and early autumn the days are generally dry and bright. Our climate charts will give you a guide to the temperature and precipitation levels.

Summer is the monsoon period for most of India, and therefore unsuitable for trekking. Ladakh is an exception – so it makes the perfect trekking destination for those limited to holidays during the summer.

The winter in Ladakh is exceptionally cold, and so we don't organise any of our group tours for this time of year. Mountain passes are closed and rivers freeze over. If you are looking to travel to India in winter, why not consider a holiday in Southern India instead?