/
/
Article
/
Sue Lawty's Wild Zanskar Adventure
Sue Lawty's Wild Zanskar Adventure
Back in August 2018, Mountain Kingdoms Trek Leader Sue Lawty led our epic 32 day trek of Wild Zanskar. Here's what she and the members of the group had to say about their truly unforgettable adventure.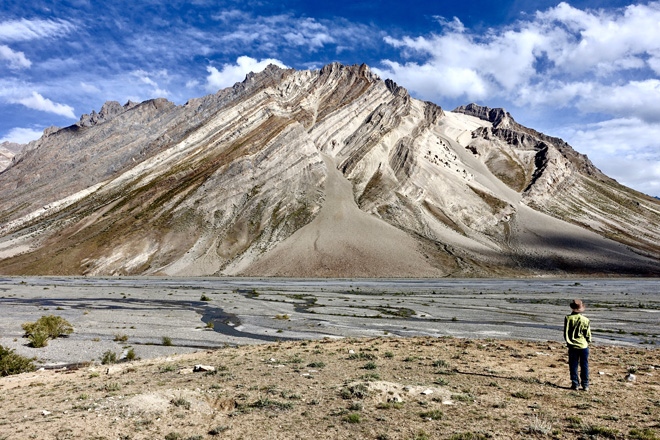 Taking in the scenery of Ladakh
Soaring contorted cliffs, canyons, rocks and rivers crossings. Ancient, exposed cliff paths and hidden passes high on the Tibetan Plateau. It was such a privilege to lead this trek.
We pass through this landscape as a group, but also as individuals. We see, notice and are inspired by different things. Our path is the same, but our experiences are unique. I am always interested in what particular memories linger, so I asked members of the group for their thoughts, now, two months after returning. Here is a selection.
… 'There were so many wonders to see and experience along the way it is difficult to choose one special one. But my favourite two days began one early morning when we were due to cross a river back and forth about forty times. The water was freezing cold, but it was wonderful to be in such wilderness. At one point I stood for a while in the middle of the river despite the cold, savouring the gorge, the level boulder fields, and the precipitous mountains above. From there we traversed some perilous paths along the sides of steep, narrow gorges and on into high broad valleys with wild sheep galloping up the mountain sides waiting for us to pass so that they could return to graze again, the occasional lammergeier vulture floating in the updrafts above, just checking.'
… 'I think one of my most wonderful times was climbing up the small hill beside camp before the Zalung Karpo La … that was my favourite campsite because it was just so peaceful and such a fantastic view from the ridge of the hill. It was lovely just sitting there and feeling at one with the environment.'
However majestic the land, it is the glue of the crew that enables us to be there in such fine style, the… .'charming, kind, attentive guide and team who looked after all our needs and kept us safe and well fed.' Plus, of course, the skilled pony men and the …'ability of the horses/ponies to ascend and descend the steep slopes with very loose rocks underfoot.' all contributed to the 'can do' positive atmosphere. We were a happy bunch in this wilderness with many laughs on the way.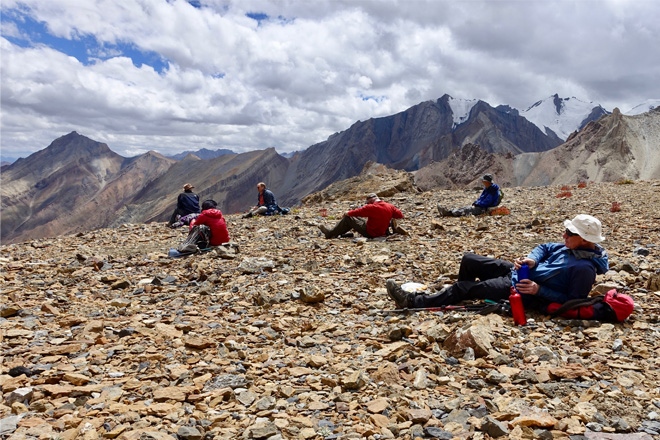 Resting among the mountains
The allure of this specific route is its rigorous wildness. However, when we did have occasion to interact with local people it was magical … 'yak butter tea during prayers at Lingshed monastery - an informal affair with wonderful melodic and atmospheric chanting' …'breakfast of tea and chapattis with the nuns and novice nuns in Zangla nunnery school.' Quite often an impromptu hold-up opens up opportunity: … 'a very special moment has to be when we arrived at the campsite at Namsuru. While we waited for the crew to arrive, we had time with a lovely group of old and young local people and were served tea in china cups!'
And always, ever present throughout the myriad of our impressions, Zanskar's extraordinary landscape: …' My favourite place on the trek was the amphitheatre of mountains , pinnacles and ridges overlooking the village of Yulchung… a great drama of numerous shades of orange and grey rock.' As you stare at this theatre of nature you perceive that the 'orchestra stalls' slide into the deep shadows of gorges which seem to spawn more gorges within their shadowy depths. The 'upper circle' and 'balconies' are formed by ridges and pinnacles. Natural rock arches, some shot through with quartz or sprinkled with snow, just beginning to be turned golden by the setting sun.'
If you're feeling inspired by Sue's journey of wild and remote Zanskar then find out more here