/
/
/
Holiday Tours
/
Walking Trekking
Our grading system explained
Gentle
Gentle / Moderate
Moderate
Moderate / Vigorous
Vigorous
Vigorous / Strenuous
Strenuous
Expedition Grade
Italy

For the keen walker, Italy offers a fabulous variety of scenery and challenges from the pink-hued rock faces of the Dolomites, to the stunning alpine landscape of Monte Rosa, and to the rugged coastlines of the Amalfi Coast and the Aeolian isles.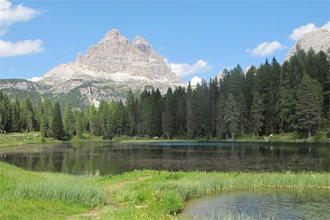 Explore the heart of the region on this exhilarating 6-day trek, starting at the foot of the Tre Cime
Walking amidst the pillars, pinnacles, and colossal rock walls of the Dolomites
Stay in comfortable and welcoming rifugios
All your baggage will be transferred for you between mountain huts – walk with just a daypack
Flight inclusive from £3170, Land only from £2735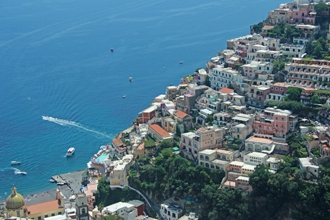 Enjoy a rich variety of coastal and mountain walks including the famed 'Path of the Gods'
Spend a full day exploring Capri on foot; the home of the beautiful people
Climb Mount Vesuvius and visit the evocative ruins of ancient Pompeii
Discover the picture postcard towns of Amalfi and Positano
Stay in a charming hotel near the peaceful village of Bomerano
Flight inclusive from £1820, Land only from £1585
---
Introduction
Whether it's Sicily, the Italian Alps or the romantic Amalfi coastline, Italy boasts an abundance of superb scenery for walkers to enjoy. Combine this with a wealth of historical interest and a two-hour flight from the UK, and it becomes almost impossible to resist Italy's siren pull.
The dramatic landscape of the Dolomites offers one of the biggest draws for walkers in Italy. The pink-hued Dolomitic rock of the Trentino has been carved over 50 million years by the actions of ice and water into sheer walls, deep gulleys and fairytale pinnacles. The stark yet incredibly beautiful rock formations are surrounded by verdant green Alpine meadows, suffused by colour from wildflowers in the spring, and dotted with pretty Tyrolean villages; positively 'chocolate box' in their picturesque appeal. One of the best ways to enjoy the many delights of the Dolomites is on our Dolomites Circuit Trek which treks between high-level rifugio (mountain huts) that offer comfortable accommodation, delicious local cuisine and spectacular settings in the heart of the mountains.
For those looking to take to the trail in one of Italy's most renowned walking destinations, our Trails of Capri & the Amalfi Coast walking holiday spends time exploring the many scenic paths of this delightful and ever popular region. In addition to some superb walking such as along the 'Footpath of the Gods' high above the Amalfi coast, this trip includes a day on the picturesque island of Capri, a tour of the haunting ruins of ancient Pompeii and a climb to the top of Mount Vesuvius.

With delicious food, wonderful scenery, historical interest and almost guaranteed sunshine, you're bound to find your own little slice of La Dolce Vita on one of our Italian walking or trekking holidays.
---
Key Facts
Capital city: Rome
Population: 60,808,000 (est. 2015)
Size of country: 301,340 sq km
Currency: Euro
Power supply: 220/240v
Sockets: 2 pin round
Language: ItalianTime difference: GMT +1 hr
Visas: Visas are not required for UK citizens to travel to Italy
Religion: Christian 80% (overwhelming Roman Catholic with very small groups of Jehova Witnesses and Protestants), Muslims NEGL (about 700,000 but growing), Atheists and Agnostics 20%
Popular dishes: In the Alpine region traditional Ladin dishes include 'canederli' (bread dumplings), barley soup and 'tutres' (ricotta cheese, spinach or sauerkraut pancakes). In Sicily pasta and 'peasant' dishes such as Maccu - a traditional bean soup - are commonly eaten. Neopolitan cuisine is characterised by delicious pasta dishes and an abundance of seafood as well as being the home of the modern pizza.
Popular drinks: Beer is very popular and the South Tyrol has several good local brews.
Did you know: The Ladin flag comprises three horizontal stripes – green, white and blue which represent the grass, snow and sky. The flag was banned by Mussolini during the Second World War as an anti-Italian symbol but was reintroduced once the war ended.
FCDO advice: FCDO travel advice
---
Climate
When is the best time to travel to Italy?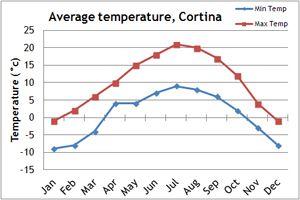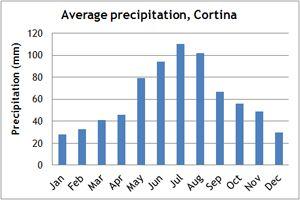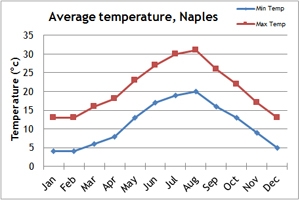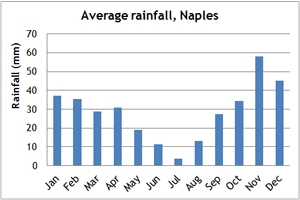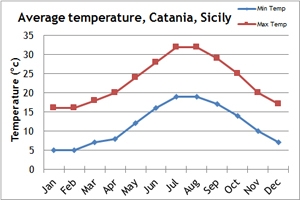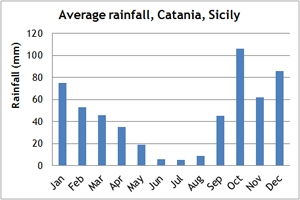 Our climate charts will give you an idea of the weather conditions in Italy.
The Dolomites tend to receive less annual precipitation than other parts of the Alps, with mid-July to September being the best time of year to visit the Dolomites on a trekking holiday. In September and October, the temperatures drop, but conditions usually remain stable, so it is still a good time to travel. Temperatures drop and snow falls between December and March, turning the Dolomites in to a winter wonderland for skiing and snowboarding. Spring brings rain, but also green valleys and carpets of wildflowers.
Capri & the Amalfi coastline and the volcanic Aeolian isles including Sicily, enjoy a typically Mediterranean climate with hot summers and mild winters.The peak summer months can experience high temperatures of between 25 and 30 degrees although cooling sea breezes make it feel more comfortable. Spring and autumn are the optimum time to enjoy a walking holiday in southern Italy with warm days, clement evenings and plenty of sunshine. In the winter time, temperatures fall considerably and rainfall increases making it less suitable for walking in either Capri or Sicily.

If you can't make the dates of our group departures, then take a private departure on dates to suit you, or we can create a Tailor Made holiday to Italy, especially for you and your family or friends.