What's included
A local leader
Economy class return air fares from the UK (flight inclusive option). If you are travelling land only, check with our office for joining time at the airport
A single, timed group transfer to/from the airport. If your flights do not coincide with the group transfers we can arrange a private transfer at additional cost or advise on public transport options. Please contact us at the Mountain Kingdoms office for further information.
All other baggage transfers as per the itinerary
Good standard accommodation
7 breakfasts and 7 dinners included
All road transport by private vehicles
Sightseeing where specified
A free high-quality Mountain Kingdoms micro fleece
The option of joining one of our pre-trip meets in the Cotswolds
and much more...
Call our
friendly team
Dolomites Circuit Trek
Walking & Trekking
Moderate / Vigorous
Moderate: Suitable for anyone who enjoys hill walking.
Vigorous: Suitable for enthusiastic hill/mountain walkers.
Find out more...
Grade: Moderate / Vigorous ? Moderate / Vigorous
Duration: 8 days from the UK
On trek: 6 days
Flight inclusive from £1,900,
Land only from £1,665
Book now or call 01453 844400
A fully supported trek through the heart of the Dolomites, staying in delightful mountain rifugio.
Highlights
Explore the heart of the region on this exhilarating seven-day trek, starting at the foot of the Tre Cime
Discover more about the local Ladin people and the fascinating World War 1 history of the region
Stay in comfortable and welcoming rifugios
All your baggage will be transferred for you between mountain huts – walk with just a daypack
Discover the fairytale world of the Dolomites on our exhilarating circuit which starts at the foot of the soaring Tre Cime, perhaps the most famous landmark in the region. Over the next six days we trek between some of the best mountain huts in the Alps, with our luggage transported for us. These rifugio have been carefully selected for their delicious Italian cuisine, welcoming staff and spectacular settings.
The dramatic landscape stretches from wild alpine meadows, through cool woodland to the pillars, pinnacles and colossal rock walls of the towering Dolomitic peaks. The region is home to the unique Ladin culture with its distinct dialect, traditions and specialities. Our circuit takes us through the Fanes- Sennes-Braies National Park, under the Tofane mountains, across the breathtaking Forcella del Lago pass and up the spectacular Lagazuoi massif. This region was a frontline high-level battlefield in WW1 and along the way we can explore some of the many forts, trenches and galleries that are a legacy of the war. There are also several optional peak ascents en route. The circuit concludes on the outskirts of the refined South Tyrolean town of Cortina d'Ampezzo.
You will be walking between 4-7 hours each day, with optional additional ascents, or circuits on the shorter days. You will trek on average 6-10 miles per day on a variety of surfaces, including rugged single-track trails, uneven gravely surfaces and scree slopes and some are very steep. We walk at a comfortable pace and there are ample stops for water and snacks.
---
At a glance
Grade: Moderate / Vigorous
Moderate / Vigorous
Duration: 8 days from the UK
On trek: 6 days
Max. Altitude: 2,573m / 8,438ft, day 6
Guaranteed to run for a minimum of 5 clients
Maximum group size: 12
Land only joining city: Venice
Accommodation types: Hotels, Mountain Refuges
Meal arrangements: Breakfasts and dinners included; lunches are not included.
Itinerary overview
| Day | Activity |
| --- | --- |
| 1 | (This is the itinerary for our September departure, please download the detailed itinerary below for our June departure which varies slightly). Fly to Venice Marco Polo airport. Group transfer to Cortina D'Ampezzo. |
| 2 | Trek to Rigugio Vallandro with an optional afternoon walk to the top of Picco di Vallandro. |
| 3 | Trek to Rifugio Fodara Vedla beneath the Croda Rossa Massif. |
| 4 | Morning trek to Rifugio Fanes. Optional afternoon ascent of the Col Bechei, or a circuit on Fanes Alpe. |
| 5 | Trek to Rifugio Lagazuoi on the Lagazuoi Massif |
| 6 | Trek to Rifugio Scoiattoli. Opional walk to Cinque Torri. |
| 7 | End trek near Malga Fedra and drive to Cortina d'Ampezzo. |
| 8 | Transfer to Venice Marco Polo Airport. Fly to London. |
Leader: Local leader, Dolomites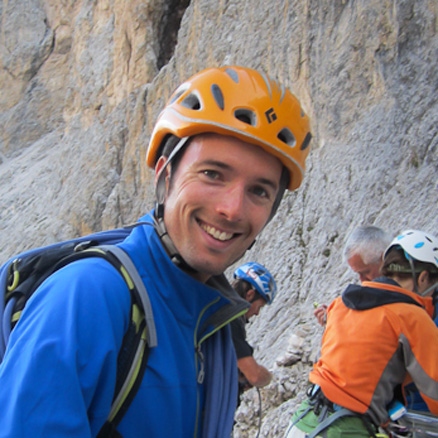 Our holiday in the Dolomites are led by a passionate, experienced mountain enthusiast who will speak good English in addition to at least one of the principal languages of the region – Italian, German or Ladin. They will have a professional outdoor leadership qualification, know the area well and most importantly, be great fun to trek with. Our leaders are all fully qualified UIAGM/IFMGA guides, all speaking good English.
---
Dolomites Circuit Trek Itinerary
Day 1 - Fly London to Venice (Marco Polo Airport).

On arrival at Marco Polo Airport, Venice, there will be a single group transfer to your hotel in Cortina. This is timed to fit the group flight, please contact us for further information.

When you arrive in Cortina you will have time to stroll the streets of this elegant resort before dinner.

Overnight: Hotel Trieste or Similar

Day 2 - Drive to Lago Landro. Trek to Rifugio Vallandro, 2,039m/6,691ft - 4-6 hours walking.

Today you will be transferred to Lago Landro, 1,409m/4,622ft, close to the Tre Cime di Lavaredo. Tre Cime di Lavaredo means the 'three peaks of Lavaredo', also called the Drei Zinnen in German and these three distinctive battlement-like peaks from east to west, are Cima Piccola/Kleine Zinne (little peak), Cima Grande/Große Zinne (big peak) and Cima Ovest/Westliche Zinne (western peak). You begin your hike on Route 34 winding up the trail to a saddle at 2,200m/7,218ft. From here you will ascend Monte Specie, 2,307m/7,569ft, for a fantastic view of the surrounding peaks. You will then return to the saddle and descend to the friendly Rifugio Vallandro for a late lunch, your home for the night. Here you will enjoy fantastic views of the Croda Rossa (Red Wall) massif, 2,818m/9,245ft, and the Cristallo group.

In the afternoon you can chose to take an excursion to the top of the Pico di Vallandro, 2,838m/9,311ft. This is a straightforward climb, except for the final narrow exposed track which is fitted with a hand-rail cable. On top, with breath-taking 360° views, you will be able to survey most of the northern Dolomites, from the spectacular eastern Sesto formations, south across the famous Cortina mountains and beyond.

800m/2,624ft ascent, 200m/6,56ft descent.


Overnight: Rif Vallandro

Day 3 - Traverse beneath the Croda Rossa Massif, crossing the Fanes-Sennes-Braies National Park to Rifugio Fodara Vedla - 6-7 hours walking.

Today you enjoy a panoramic crossing of the Fanes-Sennes-Braies Park with good wildlife spotting opportunities along the way. Look out for chamois, marmots and ibex. Highlights en route are the spectacular section below the northern face of Croda Rossa Mountain and Prato Piazza, set in an idyllic high-altitude pasture valley.

The walk will take you through forest, lunar landscape and beautiful high alpine pasture land. There is one section with a 500m cable; this is not an actual via ferrata that you clip in to, but asentiero attrezzato - a handrail for your protection.

As you descend towards the end of the day's walk, the landscape will increasingly shift from rock-strewn paths to lush meadows and the vistas of the Sennes and Croda Rossa will become increasingly impressive. Croda Rossa is named for its blood red rock, caused by the presence of iron oxide. According to legend though, the mountain blushes in sympathy with Princess Moltina, who as a timid newlywed, was subject to spiteful ridicule when a jealous noblewoman exposed her humble origins as she had been brought up by marmots.

Distance: 14-16 km/8.5-10 miles. 240m/7,87ft ascent 144-290m/472-951ft descent. (Distance and altitude gain/loss depends on the trail followed).


Overnight: Rif Fodara Vedla

Day 4 - Altopiano di Fanes - 4-5 hours walking.

Departing Rifugio Fodara Vedla this morning, you descend on a steep dirt road, tarmacked in parts. The valley bottom will take about 40 minutes (the last part of the road approaching the valley bottom has a 1:5 slope. If you prefer not to walk this steep downhill section, it may be possible to take a transfer instead. When you arrive at Rifugio Fodara Vedla, ask your guide to arrange this with Arthur, the owner. You will need to pay for this locally.

From Rifugio Pederù, it is a steep climb back up again in the direction of Lago di Limo. When you reach Lake Lé Piciodel, the landscape softens with little lakes and rounded mountain tops along the Ru d'Al Plan River, finally opening out below Rifugio Muntagnoles, 2,060m/6,759ft, your home for tonight. Rifugio Muntagnoles sits just beneath the Limo Pass, 2,172m/7,126ft, offering a splendid view of the Tofane Mountains. Once you arrive at the rifugio, there is ample opportunity to enjoy additional walks from the hut and we recommend an ascent of Col Bechei, or a circuit on Fanes Alpe.

7 km/4 miles. 417m/1,368ft ascent, 512m/1,680ft descent.


Overnight: Rif Fanes

Day 5 - Trek to Rifugio Lagazuoi, 2,752m/9,029ft – 6 hours walking.

Today you have a lovely walk through the Altopiano di Fanes to the Lagazuoi massif. You'll enjoy beautiful panoramas of the Western Dolomites and the Marmolada Massif, the "Queen of the Dolomites." Departing from Rifugio Fanes, 2,060m/ 6,759ft, trekking south on gentle curves out of a steep valley (or on steeper shorcuts) on path n.10 /11/ Alta Via n.1 to Passo di Limo, 2,172m/ 7,126ft. Once you are out of the valley you will find the beautiful Lago di Limo on your left (to the east). The waters here are all but smothered by gentians, buttercups and globe flowers in summer. Passing an old military building and wooden cross, you trek down to Malga Fanes Grande, 2,104m/6,903ft, a cheery converted farm offering light meals and basic accommodation. The route continues through the beautiful high meadows and karst formations, climbing to the Forcella del Lago, a narrow and dramatic gap in the mountain with a descent through steep talus on the south side. At the base of the slope is the lake called Lago di Lagazuoi whose green waters are framed by pines with a backdrop of the sheer walls of the Cima del Lago and the Cima Scotoni. From the lake, the path begins the long, steady climb to the Rifugio Lagazuoi, entering open, rocky terrain where you'll come across ruins from the First World War. You'll arrive at the Forcella Lagazuoi, a pass that separates Lagazuoi Piccolo from Lagazuoi Grande, to reach Rifugio Lagazuoi, your accommodation for tonight.

At 2,752m/9,029ft Rifugio Lagazuoi is one of the highest rifugios in all the Dolomites, resting atop a massive mountain promontory. The 360° panorama is unforgettable with range upon range of mountains laid out before you with incredible views including the peaks of Pelmo, Civetta, Marmolada and Croda da Lago.

Distance: 12.4 km / 7.7 miles.


Overnight: Rif Lagazuoi

Day 6 - Trek to Rifugio Scoiattoli, 2,255m / 7,398ft - 4-5 hours walking.

This stage today is of great interest both for the spectacular mountains around and the abundance of reminders of the terrible years of WWI, due to the vicinity of the former border between the long-dismantled Hapsburg Empire and Italy. You trek a memorable traverse below the awesome Tofana di Rozes, ascending Forcella Lagazuoi, 2,573m / 8,442ft, Forcella Travenanzes, 2,507m/8,225ft, and Forcella Col dei Bos, 2,331m/7,648ft, and gradually descend along the line of trenches. In 4 hous you reach the main road that goes from Cortina to Passo Falzarego which you cross and climb through forests to the fascinating, famed Cinque Torri area and the Rifugio Scoiattoli, your home for tonight.

Alongside the hearty food at the rifugio you have fabulous vistas to enjoy including the Pale di San Martino, Civetta, Monti del Sole and the Marmolada with its shrinking glacier. After you have arrived at Rifugio Scoiattoli, there is the option of an excursion to visit the Rifugio Cinque Torri which takes you up through more evidence of the WWI trenches and the ensuing combat. This extra hike takes about 2 hours.

Distance to the rifugio: 7.8km/4.8 miles.




Overnight: Rif Scoiattoli

Day 7 - Trek to Croda da Lago and Malga Federa – 4-5 hours walking. Drive to Cortina.

Today, for your last walk, you leave the rifugio and trek to Rifugio Cinque Torri, looking for path n.443 to descend to Passo Giau, 2,236m/7,335ft. From Rifugio Passo Giau, you trek uphill to the rear of grassy Col Piombin, which takes its name from past mining activity. The trail leads over the Forcella Giau, 2,360m/7,742ft, with plenty of ups and downs; here the views of the Tofana and Monte Cavallo are inspiring, as well as the mountains you can see to the south: Monte Fromin, Cernera, Pelmo and the upswept flank of Monte Mondeval. The path drops to cross streams, and then gains the earthy saddle of Forcella Ambrizzola, 2,277m/7,470ft. From here you trek to Rifugio Croda da Lago Palmieri, 2,042m/6,699ft, and continue walking to Malga Federa. From Malga, you continue walking on a dirt road until it reaches a crossroads where asphalt starts: here you will find your driver waiting to take you back to Cortina d'Ampezzo.

Host to the 1956 Winter Olympics, Cortina enjoys a reputation for great skiing in Winter and is a destination for the international society set all year round with tremendous shopping, dining and nightlife.


Overnight: Hotel Trieste or Similar

Day 8 - Transfer to Venice Marco Polo Airport for your flight to London.

After breakfast, there will be a group transfer to Venice Marco Polo airport which is timed to fit the group flight. Please check with the office for details.
Map
Map Key
Airport
Point of interest
Mountain Peak
Day walk in this area
Flights
Internal Transfers
Trek
---
2019
| Dates | Availability | Land Only | Flight Inclusive from |
| --- | --- | --- | --- |
| Sun 16 Jun - Sun 23 Jun 2019 | Available | £1665 Book | £1900 Book |
| Sun 1 Sep - Sun 8 Sep 2019 | Available | £1665 Book | Contact us |
Hold your place
Not quite ready to book? Why not call us on 0044 (0)1453 844400 to hold a no obligation place while you make up your mind?
Optional supplements
Single room hotels
From £70
Insurance
No Surcharge Guarantee
No surcharges will be applied to your holiday after you book. Prices on this website are updated regularly. The Flight Inclusive holiday price, or Land Only holiday price, will be confirmed to you at the time you make your booking. There will be no surcharges after your booking has been confirmed.
Flight inclusive holidays
The 'flight inclusive' holiday prices shown on this website are based upon our preferred airlines and the best priced economy class fares we are able to secure at the time of publication.
We will be able to advise on fares with alternative airlines, upgrades to Business Class, and the options for flights from regional UK airports, please contact us for more details.
Loyalty discount
Find out more
What's included
A local leader
Economy class return air fares from the UK (flight inclusive option). If you are travelling land only, check with our office for joining time at the airport
A single, timed group transfer to/from the airport. If your flights do not coincide with the group transfers we can arrange a private transfer at additional cost or advise on public transport options. Please contact us at the Mountain Kingdoms office for further information.
All other baggage transfers as per the itinerary
Good standard accommodation
7 breakfasts and 7 dinners included
All road transport by private vehicles
Sightseeing where specified
A free high-quality Mountain Kingdoms micro fleece
The option of joining one of our pre-trip meets in the Cotswolds
What's not included
Travel insurance
Optional cable car ascents / descents
Lunches and drinks
Locally paid bar bills and laundry
Optional trips
Tips
---
---
Review your holiday
Reviews
Read holiday reviews by Mountain Kingdoms travellers.
Overall score: 5.0 (Based on 9 reviews)
Dolomites Circuit Trek 07/08/2018
Holiday was excellent. Excellent route, weather, views, food and great bunch of fellow travellers. And the guides were outstanding.. We chose this holiday over other similar treks because it promised time spent exploring the military history and the trip exceeded our expectations with an alternative descent down a WW1 tunnel network.
Mrs L Fletcher, Hampshire
The trekking holiday was excellent 09/07/2018
We were with a mixed group of people who were of mixed ability and age and everyone enjoyed it and felt good about the challenges and their own personal achievements. The area was breathtakingly beautiful the whole way around and we would do the whole thing again.
Mrs E Rothera, London
Accurately reflects holiday 03/07/2018
Trek greatly exceeded my expectations, the mountains although not particularly high are incredibly dramatic and the scenery changes at almost every turn. Excellent route. At this time of year the spring flowers are stunning. The Rifugio's are superb, food and accommodation was exactly right for a week in the mountains, very comfortable and the staff exceedingly friendly. The trek guides were exceptional and made the week very interesting and fun, they did everything possible to look after us so well. A marvellous week in an exceptional area with a lovely client group.
Martin, Staffordshire
Great routes and great guides 15/08/2017
The 'mechanics' and organisation was up to MK's usual high standard. The Trek itself was probably the most enjoyable weeks walking I have ever done. The scenery was stunning and the guide was excellent. My 8th trip with MK and the as a complete week the best I have been on. I would recommend this ever changing landscape to anyone.
Mr S, Berkshire
Dolomites Trek 06/07/2017
The best one week walking trip I have ever been on. Whatever you do add the Dolomites Circuit to your "bucket list". The scenery is stunning, the route well planned and the mountain Refugios all had a bar with ice cold beers to salute the end of the day.
Mr P Schulz, Berkshire
---
Extend your holiday
There are many ways you can extend your holiday with Mountain Kingdoms: book extra hotel nights, relax at a beautiful beach resort, take a warm-up trek, arrange a personal sightseeing tour or enjoy specialist activities such as rafting, birdwatching or a safari.
We're happy to suggest ideas, provide quotes and make all the arrangements. We can also assist with flight and hotel upgrades. Just call us on +44 (0)1453 844400 or email info@mountainkingdoms.com and we will be pleased to help.