What's included
7 nights aboard the M/S Expedition in twin-share cabins (all with en suite bathrooms and porthole window). Please note that all cabins consist of twin-size berths and are ocean-facing
Prices based on Category 2 Cabins
Zodiac excursions and shore visits with our expert expedition team. Lectures and educational programs
Free high performance expedition parka jacket
Use of on board sauna, gym and library
Economy class return air fares from the UK & UK Departure Tax (flight inclusive only)
Airport transfers in Longyearbyen
Hotel accommodation (4 star) in Longyearbyen before the cruise
Waterproof boots supplied for men's UK sized 7-13 & women's UK sized 3-7
All meals included on board the M/S Expedition. Breakfast included at the hotel on Day 2
One Expedition team member per 10 guests (the highest ratio amongst Polar ships 1:10)
Carbon offsetting with the Ecoan Tree Planting Project for clients taking our flight-inclusive option
A free Mountain Kingdoms Water-to-Go bottle
and much more...
Call our
friendly team
Norway, Arctic | Polar Cruising
Duration: 9 days from the UK

Land only from £3,975
Book now or call 01453 844400
Discover the Svalbard archipelago, its exceptional wildlife and the mighty polar bear.
Highlights
Expert guides, great food and spacious cabins aboard the M/S Expedition cruise ship
A 7 night cruise into the remote northern pack ice of the Arctic
Daily Zodiac excursions to get up close to the abundant wildlife
Amazing wildlife with Polar bears roaming in the wild
Stay at a 4* hotel before the cruise in Longyearbyen
Reviews
An amazing and varied itinerary. Each day is so different showcasing all the Arctic has to offer. A must for anyone interested in wildlife, Polar exploration, geology or just looking to experience an extraordinary environment.
L Noakes, former Operations Manager, Mountain Kingdoms
View All
The journey to the start of your trip at Longyearbyen makes you immediately aware of how remote an area you are travelling to, and adds to the sense of anticipation and excitement of going to the Arctic.
Having set sail on the M/S Expedition polar cruise ship you will soon appreciate the excellent facilities on board. Cabins are spacious and en suite and all have sea-facing windows. Dining is first rate with a high standard of international cuisine and even the chance for al fresco dining one evening. The highly experienced M/S Expedition crew comprises experts in geology, ornithology and marine biology as well as a resident photographer, and there are regular presentations to make sure you get the most out of your voyage. There's a gym, sauna, medical centre and library on board to keep mind and body active as well as a pub and lounge to relax in.
From the panoramic observation desks you can look out for exotic animals and you'll explore the Arctic landscape by foot and via Zodiacs. From close-up encounters with icebergs and glaciers to the region's plentiful wildlife, this is a voyage of non-stop highlights. Roaming polar bears, lounging seals, Svalbard's unique reindeer grazing and colonies of birds all co-exist in this harsh land only navigable by sea a few months of the year.
You will experience the midnight sun, weather permitting, while gazing at breathtaking fjords and massive glaciers. You'll also learn about Arctic history and ecology from expert guides and you might even brave the Arctic waters and take a polar plunge. In this feast for the senses you will also experience the impressive silence of the Arctic tundra. Early season voyages often provide the greatest opportunity to see large ice floes in the Arctic pack ice, which usually means excellent wildlife viewing. Later in the season, you'll cover more territory, which may allow you to explore the entire archipelago. This can lead you into the less explored regions of Nordaustlandet and Kvitøya, or the continental edges where large whales are attracted by nutrient rich upwellings.
Our 'Land Only' and 'Flight Inclusive from' prices are based on category 2 cabins, twin-share with porthole windows, and include accommodation in a 4* hotel in Longyearbyen before the start of the cruise, plus arrival and departure transfers.
* Save up to 15% off the listed price - contact us for more detail. Offer ends 31st January.
---
At a glance
Duration: 9 days from the UK
Guaranteed to run for a minimum of 1 clients
Maximum group size: 0
Land only joining city: Longyearbyen
Accommodation types: Hotel, Expedition Ship
Hotels:



The M/S Expedition boasts spacious, en suite, cabins. Our prices are based on Category 2 twin cabins which have a porthole window and ample storage for all your kit.

Upgrades are available to the following cabin types: Category 3 twin cabins which are slightly roomier and have a picture book window; Category 4 twin share which are larger still with a bigger window; and Category 5 cabins that offer a junior double suite with separate living area as well as larger bedroom and bathroom.

Safety Features:
• Designed to Ice Class 1B specifications for service in sea ice.
• Four totally covered lifeboats provide capacity for all passengers and crew, while six life-rafts boast a capacity of 150 persons.
• Full immersion cold weather survival suits for all passengers and crew

Facilities & Amenities:
The M/S Expedition offers stability at sea, comfortable cabins and ample communal areas. With a maximum of 140 guests you will be well catered for by expert guides, staff and crew.
• 360° top observation deck
• All cabins with private, en suite bathrooms and outside views
• Raised forward observation deck
• Large fleet of Zodiacs with four stroke engines
• Complimentary wellington boots for duration of your cruise
• Fine dining – international cuisine in one sitting
• Large aft deck with barbecue facilities
• Polar Bear Pub
• Gift shop
• Medical clinic
• Sauna
• Computer room with internet where available
• Gym
• Expert guides, 55 members of staff & crew
Meal arrangements: All meals included on board the M/S Expedition. Breakfast included at the hotel on Day 2. Lunches not included on Days 2 & 9.
Itinerary overview
| Day | Activity |
| --- | --- |
| 1 | Fly to Longyearbyen. |
| 2 | Arrive Longyearbyen. Morning at leisure. Embark on cruise in the afternoon. |
| 3-8 | Cruise around the Svalbard Archipelago / Spitsbergen on board the M/S Expedition Polar cruise ship. Enjoy wildlife watching, shore visits and Zodiac excursions. |
| 9 | Disembark M/S Expedition. Fly Longyearbyen to London. |
Leader: Specialist Leaders, Polar cruises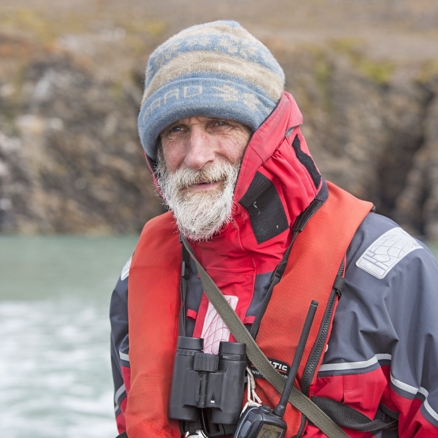 On board are expert, English-speaking guides who have an intimate knowledge of the area and an infectious passion for nature. They are very hard-working, attentive and helpful. On your Expedition cruise, shore excursions, and on board, lectures will be provided by knowledgeable, expert members of the crew.

The M/S Expedition has one of the highest ratios of expedition team members to guests – with one expert for every 10 guests there is always someone on hand to answer your questions and provide greater insight and appreciation of the world at its extremes. The expedition team is comprised of professional and highly skilled historians, marine biologists, and naturalists who offer keen insight and a unique personal perspective to each and every adventure. Their goal is to provide an informed and balanced interpretation of the destination, accomplished through stimulating lectures, day-to-day briefings, and informal discussions. Your lecturers and Expedition Leader will cover all aspects of the voyage including ornithology, marine biology, geography, geology, history and the environment, as well as practical things like photography. The expedition staff work conscientiously with you on deck and in the field, improving your observational skills to allow you to experience all that the destination has to offer. Their strong sense of ethics and ecological knowledge make for stimulating and mindful conversation whether onshore or at the dinner table. The Expedition Staff will pilot the Zodiac landing craft used for shore landings and Zodiac cruises; they are experienced drivers who operate the Zodiacs in a responsible manner.
---
Realm of the Polar Bear, Arctic Itinerary
Day 1 - Fly London to Longyearbyen

Fly from London to Longyearbyen and arrive in the early hours.

Overnight: Svalbard Hotell Polfareren, Longyearbyen

Day 2 - Arrive Longyearbyen. Morning at leisure. Embarkation on M/S Expedition in the afternoon.

You will arrive in Longyearbyen soon after midnight. On arrival you will find a Flybuss shuttle service waiting outside the airport which will transfer you to your hotel. You need your transfer voucher to hand for this service which goes to all Longyearbyen hotels. On arrival at your hotel you will check in and get some rest.

After breakfast you are free to relax around your hotel and explore Longyearbyen at leisure. While not the main event Longyearbyen is an interesting place to spend a day. Longyearbyen is located at 78°13°N 15°33°E. Due to its location far north of the polar circle, it is polar night from mid-October to mid-February and polar day from mid-April to mid-August. Longyearbyen has an arctic tundra climate.

The town is the largest settlement on the archipelago of Svalbard with a population of about 2,060 people and about as many snowmobiles. The Governor of Svalbard resides here. Most of the inhabitants are Norwegian, and some are Russian. Located in the Advent Fjord at the entrance of the Advent Valley, this community has an infrastructure fit for a much larger city. Within the islands, there are four inhabited settlements and some scientific stations. Barentsburg, a Russian coal mining settlement, has approximately 850 inhabitants. Sveagruva, the functional Norwegian mine, has around 100 inhabitants, and Ny Ålesund, a scientific settlement, has between 30 and 150 inhabitants, depending on the season. All settlements are found on the west coast, the part of Spitsbergen with the mildest climate due to the warm Gulf Current.

All passengers are required to drop their luggage at the meeting point between 09:00-13:00. Conveniently the meeting point is at your hotel, the Svalbard Hotell Polfareren. All passengers will be transferred to the ship as a group for embarkation at 16:00. You can also walk down to the ship as it is only 10 minutes from the hotel. When you embark you are given a card which is your identification and used to swipe off and on the ship each day to ensure you are not left on shore at any point! It is also used for any purchases and the final bill paid at the end of the cruise.

Overnight: M/S Expedition

Day 3 - Exploration of Svarlbard and the Spitsbergen Archipelago.

Each day will be planned to take advantage of local ice and weather conditions. Distances are relatively short in the Archipelago and as there are no ocean crossings, the seas are normally calm.

Svalbard is one of the few places on the planet that offers such a wealth and diversity of natural and cultural history sites. During these six days you will visit ice covered seas, fjords with breathtaking mountain scenery and glaciers flowing into the sea around you.

By not having a set itinerary, there is an expedition spirit and the ship is free to take advantage of the best that Svalbard has to offer.


Overnight: M/S Expedition

Day 4 - Exploration of Svarlbard and the Spitsbergen Archipelago.

You will spend time steaming through the ice in search of polar bears hunting seals. Ivory gulls will be a highlight for the birders, while we keep a constant lookout for walrus hauled out on ice floes or on sandy beaches. Your Zodiacs will be primed and ready for one or two shore landings per day or to cruise around the ice flows.

Overnight: M/S Expedition

Day 5 - Exploration of Svarlbard and the Spitsbergen Archipelago.

You will visit, ice permitting, spectacular bird cliffs filled with thousands of murres (guillemots), as well as kittiwakes and glaucous gulls. A little auk colony will also be on your agenda. Your shore stops will be highlighted with flowers nearing, or at the peak of, their bloom. The plant life here has adapted to survive in this terrain and you will have the opportunity to observe and discuss some of their adaptations to what is considered a harsh environment.

Overnight: M/S Expedition

Day 6 - Exploration of Svarlbard and the Spitsbergen Archipelago.

At one or more of your stops, you may see Svalbard's unique subspecies of reindeer. They are much smaller than their southern relatives, but still carry impressive antlers. You also have the possibility of seeing Arctic foxes. This is a land of history: from whaling to reaching for the pole, to trapping, coal mining and war. We will visit some of these historic sites

Overnight: M/S Expedition

Day 7 - Exploration of Svarlbard and the Spitsbergen Archipelago.

You may cruise in Zodiacs along the ice edge viewing seals or walrus, in fjords with glaciers spilling down to the sea or in front of spectacular seabird cliffs. You will have opportunities to walk on shore, observe and photograph the Arctic flora and fauna. As you are in the land of the polar bear, your expedition staff will carry rifles and flare guns on shore for your protection.

Overnight: M/S Expedition

Day 8 - Exploration of Svarlbard and the Spitsbergen Archipelago.

Krossfjord, Konigsfjord, Monaco Glacier, Hinlopen Strait, Northeast Land, Edgeoya, Hornsund and Bellsund are just a few of the places that you may visit.

The evening of your last full day of adventure will find the expedition ship anchored off Longyearbyen.

Overnight: M/S Expedition

Day 9 - Disembark the M/S Expedition. Transfer to the airport. Fly to London.

Today you will disembark the M/S Expedition for your flight back to London.

Those passengers with early flights departing Longyearbyen around 04:00-05:00 will be offered an early morning disembarkation and transfer to the airport (dependent on airline schedules).

For passengers disembarking at our regular time of 08:00, you will be transferred to either the airport or the Svalbard Hotell Polfareren, depending on the time of your flight. Those transferred to the hotel will have an opportunity to explore the town centre on their own, and then be transferred to the airport later in the day as per flight schedules. Transfer times will be confirmed, and communicated onboard prior to departure. Luggage storage at the Svalbard Hotell Polfareren will be available until time of departure.

Map
Map Key
Airport
Point of interest
Mountain Peak
Day walk in this area
Flights
Internal Transfers
Trek
---
2021
Dates
Availability
Land Only
Flight Inclusive from
Fri 11 Jun - Sat 19 Jun 2021
Available

Available

Special Offer*
£3975 Book
Contact us
Fri 18 Jun - Sat 26 Jun 2021
Available

Available

Special Offer*
£3975 Book
Contact us
Mon 5 Jul - Tue 13 Jul 2021
Available

Available

Special Offer*
£4150 Book
Contact us
Hold your place
Not quite ready to book? Why not call us on 0044 (0)1453 844400 to hold a no obligation place while you make up your mind?
Optional supplements
Single Room Hotels
From £95
Insurance
No Surcharge Guarantee
No surcharges will be applied to your holiday after you book. Prices on this website are updated regularly. The Flight Inclusive holiday price, or Land Only holiday price, will be confirmed to you at the time you make your booking. There will be no surcharges after your booking has been confirmed.
Flight inclusive holidays
The 'flight inclusive' holiday prices shown on this website are based upon our preferred airlines and the best priced economy class fares we are able to secure at the time of publication.
We will be able to advise on fares with alternative airlines, upgrades to Business Class, and the options for flights from regional UK airports, please contact us for more details.
Booking your holiday
For the majority of our holidays, a deposit payment of £100.00 per person is required to secure your place(s), however a small number of holidays require a higher deposit - please refer to the holiday itinerary for more details. If the holiday departs within 60 days, a minimum deposit of £750.00 per person is required.
Book now!
Book your small group holiday securely online – click the 'Book' button next to your chosen departure or visit our How to Book page
Complete and return a Booking Form available to download here.
Call us on 01453 844400 and one of our travel specialists will talk you through the booking process.
Loyalty discount
Find out more
What's included
7 nights aboard the M/S Expedition in twin-share cabins (all with en suite bathrooms and porthole window). Please note that all cabins consist of twin-size berths and are ocean-facing
Prices based on Category 2 Cabins
Zodiac excursions and shore visits with our expert expedition team. Lectures and educational programs
Free high performance expedition parka jacket
Use of on board sauna, gym and library
Economy class return air fares from the UK & UK Departure Tax (flight inclusive only)
Airport transfers in Longyearbyen
Hotel accommodation (4 star) in Longyearbyen before the cruise
Waterproof boots supplied for men's UK sized 7-13 & women's UK sized 3-7
All meals included on board the M/S Expedition. Breakfast included at the hotel on Day 2
One Expedition team member per 10 guests (the highest ratio amongst Polar ships 1:10)
Carbon offsetting with the Ecoan Tree Planting Project for clients taking our flight-inclusive option
A free Mountain Kingdoms Water-to-Go bottle
What's not included
Travel insurance
Lunches in Longyearbyen
Optional kayaking from the M/S Expedition (Only some departures and must be booked in advance, contact the office for details).
Tips
---
---
Review your holiday
Reviews
Read holiday reviews by Mountain Kingdoms travellers.
Overall score: 5.0 (Based on 1 reviews)
Realm of the Polar Bear, Arctic
Amazing and varied 09/11/2016
An amazing and varied itinerary. Each day is so different showcasing all the Arctic has to offer. A must for anyone interested in wildlife, Polar exploration, geology or just looking to experience an extraordinary environment.
Liz Noakes, Mountain Kingdoms
---
Extend your holiday
There are many ways you can extend your holiday with Mountain Kingdoms: book extra hotel nights, relax at a beautiful beach resort, take a warm-up trek, arrange a personal sightseeing tour or enjoy specialist activities such as rafting, birdwatching or a safari.
We're happy to suggest ideas, provide quotes and make all the arrangements. We can also assist with flight and hotel upgrades. Just call us on +44 (0)1453 844400 or email info@mountainkingdoms.com and we will be pleased to help.