/
/
/
Holiday Tours
/
Walking Trekking
Our grading system explained
Gentle
Gentle / Moderate
Moderate
Moderate / Vigorous
Vigorous
Vigorous / Strenuous
Strenuous
Expedition Grade
Montenegro Walking & Trekking Holidays

A pearl of the Mediterranean, despite its small size, Montenegro has more than its fair share of natural beauty, sparkling lakes, ancient forest and rushing rivers, making it a delightful walking and trekking holiday destination.
---
Introduction
Montenegro is bordered by Croatia to the north, Bosnia & Herzegovina to the northeast, Serbia to the east and Albania to the south. It was only in 2006 that this small country became independent again. The courage and indomitable spirit of the Montenegrins is only matched by their warmth, hospitality and infectious pride.
The tiny country of Montenegro is incredibly diverse for its size. Infact due to its concertina of mountains, some reaching as high as 2,522m, the surface area of the country is larger than you might expect! The climate varies from Mediterranean on the coast, to alpine conditions in the mountainous north. Our Montenegro walking holidays have been organised to depart during the the spring and autumn; these months are particularly good for walking in the National Parks, of which there are five, making up 10% of the country. According to conservation reports, it is possible to find bears, wolves, lynx and jackals in the wilder parts of the country.
Most tourists spend time in the Venetian-era coastal towns of Kotor and Budva, where there are attractive stone buildings, family-run restaurants, a wide choice of hotels and nightlife. Of the 277km Adriatic coastline, 73km are beach, and the mild Mediterranean climate means that bathing, diving, sailing and watersports are popular. Skadar Lake, 40km inland, is the largest lake in the Balkans, and is rich in flora and fauna, making it a paradise for ornithologists and fishermen.
We offer three superb walking and trekking holidays in Montenegro and neighbouring Albania and Kosovo. Our moderate graded walking holiday Montenegro Lakes & Mountains explores the spectacular coastline, primeval forests and plunging gorges of Montenegro. Whilst our Accursed Mountains Trek, and our Three Peaks of the Balkans trek, criss-cross the mountain borders on foot, amidst the stunning alpine scenery and ancient trails of this beautiful and little-known corner of Europe.
Related news and articles
---
Key Facts
Capital city: Podgorica
Population: 620,029 (2011 census)
Size of country: 13,812km2
Currency: Euro
Power supply: 220 volts AC, round two-pin sockets
Language: Montenegrin
Time difference: GMT+1
Visas: British nationals do not require a visa for stays up to 90 days
Religion: The majority are Christian (Eastern Orthodox, 72%) with a Muslim minority (19%) and a Roman Catholic minority (3.5%). The remainder are either Atheist or "other".
Popular dishes: kacamak, a rich cheese and potato dish.
Popular drinks: Rakija, a liquor made from plums, mulberries or other fruit.
Did you know: Aprroximately 10% of Montenegro is assigned as National Park. The five parks are: Biogradska Gora, Lovcen, Skadar Lake, Prokletije and Durmitor.
FCDO advice: FCDO travel advice
---
Climate
When is the best time to travel to Montenegro?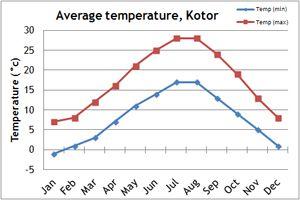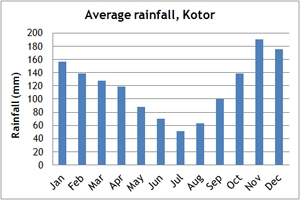 Our climate charts will give you an idea of the weather conditions in Montenegro.
During the mid summer, accommodation can be booked up and more expensive. Thunderstorms are common in summer. The best time to visit Montenegro is in the spring and the autumn, particularly if you wish to walk or trek, as the temperatures will be slightly cooler, and it should be less busy. The coast is best visited in May, June and September. The mountainous interior region is generally cooler than on the coast. Temperatures fall in winter, with national parks transforming in to ski resorts.
If you can't make the dates of our group departures, then take a private departure on dates to suit you, or we can create a Tailor Made holiday to Montenegro, especially for you and your family or friends.