/
/
/
Holiday Tours
/
Tours
Our grading system explained
Gentle
Gentle / Moderate
Moderate
Moderate / Vigorous
Vigorous
Vigorous / Strenuous
Strenuous
Expedition Grade
Delhi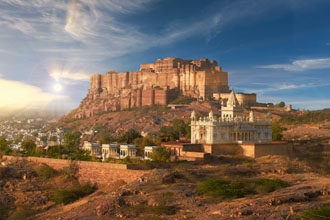 Visit remote Jaisalmer with its wonderful desert location and impressive fort
See the iconic Taj Mahal at Agra and the Amber Fort at Jaipur
Tour majestic Jodhpur fort and visit the city's lively markets
Enjoy overnight and evening game safaris at quirky Korta Escape
Spend time in romantic Udaipur with its fabulous palaces and beautiful lake
Stay at Chhatrasagar luxury tented camp – a fabulous experience.
Flight inclusive from £4475, Land only from £3775
---
Introduction
Capital of modern India, of the British Raj and the Moghul empire, Delhi the City of Djinns is a fascinating place to explore, bursting with centuries of colourful history, of old imperial splendour and modern manic mayhem. From the chaotic, narrow alleyways of the old town to the relative tranquillity of the new, at almost every corner there is something a fort, a mosque, an imperial palace to excite and amaze the visitor. To wander unhindered down Rajpath the Kingsway from India Gate to Rajpati Bravhan, stopping for a while in the shade of the sheltering neem trees to feast your eyes on Lutyens' extraordinary work of architecture will have even the most seasoned traveller gasping in awe. But just as impressive, and arguably a lot more fun, is to take a walk through the old town; down the bustling Chandi Chowk and off into the narrow, sunless alleyways that make up Shahjehanabad. Here, among the jewellery, fabric and wedding bazaars you will find a world barely changed from that of the Moghul times.
---
Key Facts
---
Climate