/
/
/
Holiday Tours
/
Walking Trekking
Our grading system explained
Gentle
Gentle / Moderate
Moderate
Moderate / Vigorous
Vigorous
Vigorous / Strenuous
Strenuous
Expedition Grade
Bolivia trekking

The Bolivian Andes are some of the most under-trekked mountains on earth and the Cordillera Real offers one of the genuine classic treks of the world.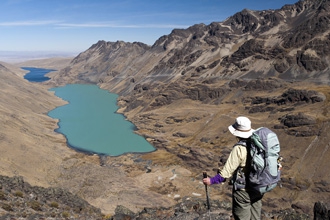 Trek in some of the most remote, wild and spectacular scenery in South America
Acclimatise with an excellent programme of day walks and visits to cultural attractions
Spend time at Copacabana and the Isla del Sol on Lake Titicaca
Visit the vast archaeological site of Tiwanco
Enjoy a full-service camping trek and comfortable hotels elsewhere
Flight inclusive from £4105, Land only from £2625
---
Introduction
Bolivia, nicknamed the 'Tibet of South America' by early Alpinists, is known for the highest navigable lake (Lake Titicaca), and the highest seat of government (La Paz). It is a landlocked country bordered by Brazil, Paraguay, Argentina, Chile and Peru and its terrain stretches from the heights of the Altiplano at over 3,000m down to the Amazon basin and Chaco scrub-land. The climate mirrors the extreme terrain, and the vast range of different environments support an equally extensive variety of wildlife.
The Cordillera Real, 'the "Royal Range', is the longest mountain range in the country and was so named by the Spanish conquistadors because of its majestic appearance. It is home to the Aymara speaking people who are descendants of the Tiahuanaco Empire, the longest running Andean civilisation. The Bolivian Andes are some of the most under-trekked mountains on earth and our Cordillera Real Traverse offers one of the genuine classic treks of the world. Running north to south along the entire 120 mile length of the Royal range and with several passes over 5,000m, each day on trek brings scenic splendour and majestic views. Best of all though, with only a handful of farmsteads and herds of lamas to encounter, you will have this magnificent mountain landscape all to yourself.
---
Key Facts
Capital city: Sucre is the official capital of Bolivia and the seat of Justice. La Paz is the seat of government.
Population: 10,027,254 (est 2012)
Size of country: 1,098,581 sq km
Currency: Bolivian boliviano
Power supply: La Paz 110v, elsewhere 220v/50hz
Sockets: Two round/flat pin plug
Language: Spanish, Quechua Aymara
Time difference: GMT -4 hours
Visas: British nationals may visit Bolivia as a tourist with a valid passport without a visa for a maximum stay of 90 days
Religion: Roman Catholic 95%, Protestant (Evangelical Methodist) 5%
Popular dishes: Salteñas - pastries filled with beef, pork or chicken mixed in a spicy sauce, and sometimes also containing peas, potatoes and other ingredients.
Popular drinks: Chicha, a whitish, sour brew made from fermented corn and drunk from a hemispherical bowl fashioned from a hollowed gourd (round-bottomed so you can't put it down).
Did you know: It's customary to spill a bit of chicha on the ground before and after drinking it as an offering to Pachamama, the Inca earth goddess.
FCDO advice: FCDO travel advice
---
Climate
When is the best time to travel to Bolivia?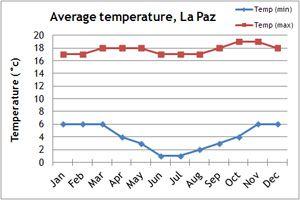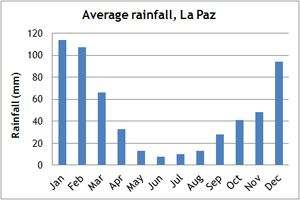 Our climate charts will give you a guide to the weather conditions of Bolivia.

The rainy season spans from November to April, when trekking and transportation can become difficult, particularly in the lowlands. The Andes is not so much affected, and can be very beautiful at this time as the parched altiplano is transformed into wildflower and grassland.

We consider that the best time to visit Bolivia is during their winter (May to October) as the days are clear and dry, so the mountain views are spectacular.

If you can't make the dates of our group departures, then take a private departure on dates to suit you, or we can create a Tailor Made holiday to Bolivia, especially for you and your family or friends.