Trekking Peaks: Island Peak and Mera Peak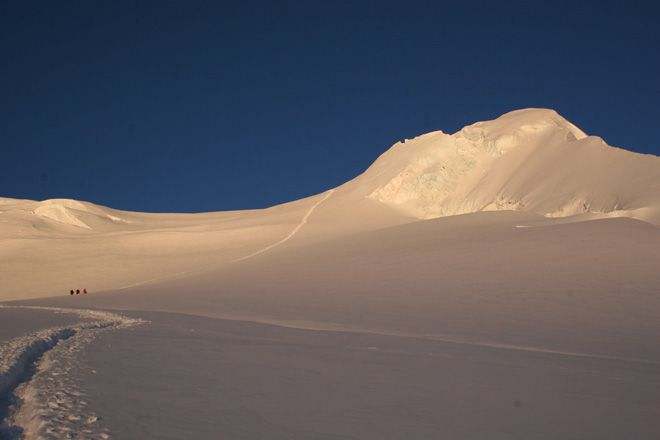 Trekking Peaks. Photo courtesy of N Morgan
One of the most challenging and alluring targets for many while trekking, peaks attract a certain status in people's minds. Many people want to reach the top of Kilimanjaro, while the most ambitious set their hearts on Everest. However, there are other mountains around the world that are perhaps a little less known – but by no means less worthy of trekking. Peaks such as Island Peak and Mera Peak in the Himalaya are stunning as well as challenging.

Mera Peak
At 6.476 m (21,246 ft), Mera Peak is an excellent trekking peaks challenge for fit, ambitious walkers. It's not too technical – you'll need to get out the ropes and crampons in a few places, but it's not a mountaineering peak. The trek begins in the beautiful forests of the Hinku Valley, which are excellent for acclimatisation as the route winds upwards. Later, trekkers are treated to what we consider one of the world's most stunning views: a panorama of Everest, Lhotse, Nupste, Makalu, Ama Dablam, Cho Oyu and other 7-8,000m giants. Reaching the summit of Mera Peak is, of course, the crowning moment. On our trek, we then take a downward route over the Zetra La, so that we get to experience new vistas from start to finish.
Island Peak
More technical than Mera Peak, despite its lower altitude, Island Peak takes the trekking peaks challenge into the realm of mountaineering – with rock scrambling, roped glacier travel, a steep snow/ice wall on fixed ropes, and an exposed summit ridge it's definitely an adventure! Some basic mountaineering experience is required, as well as ideally having passed a winter skills course. The views from the summit are simply amazing, especially of dramatic Lhotse. Other parts of the trek are equally gorgeous, whether passing through forests of rhododendron and blue pine, or visiting high altitude Buddhist communities.