Mantras & Murals at Alchi Monastery: Highlights of a Ladakh Trekking Tour
Faced with its starkly beautiful panoramas and a distinct culture that developed in relative isolation from the rest of the world, a traveller on a Ladakh trekking tour can't help but notice that this is like nowhere else in the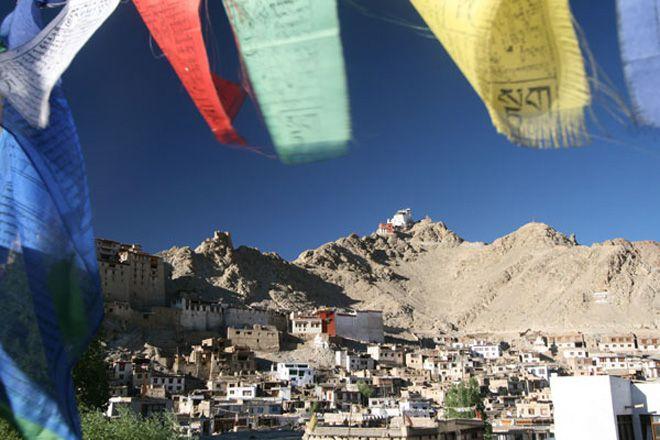 Prayer flags greet you at every turn on a Ladakh trekking tour. Photo courtesy of J Limburn-Turner
Faced with its starkly beautiful panoramas and a distinct culture that developed in relative isolation from the rest of the world, a traveller on a Ladakh trekking tour can't help but notice that this is like nowhere else in the Himalaya. One of the most special places to visit in Ladakh is the Alchi monastery. Whilst it is no longer a place of daily worship, it is still treasured for its design, sacred art, written scriptures and its status as one of the oldest monasteries in Ladakh.
Prayer flags dancing in the mountain wind, 12th century wall paintings, and prayer wheels – beautiful as they are, these things are also steeped in meaning. The visitor may notice how many aspects of the temple feature circles in their design. Time and life in Buddhist philosophy are cyclical; the Buddha, in his first sermon at Sarnath, referred to himself as setting the 'wheel of law' in motion, and early non-representative statues honouring the Buddha were made in the form of many-spoked wheels.
It's not surprising, then, that the circle still carries great symbolic weight in all strands of Buddhism. Mantras are cyclical prayers, consisting of an apparently simple but deeply meaningful phrase repeated over and again. A prayer wheel consists of a hollow metal cylinder mounted on a stick, weighted so that it rotates clockwise in deference to the Buddha. It contains the mantra Om mani padmi hum – a mantra most popular in Tibet, Nepal and Ladakh – written thousands of times over, and every rotation of the wheel counts as a recitation of its contents. When visiting Alchi monastery on a Ladakh trekking tour, see how many circles you can find – not just in the form of wheels, but in the buildings and murals too.
As you draw near via a suspension bridge over the Indus and through a bright patchwork of fields, the monastery remains hidden from view. As you leave your tour vehicle behind and follow a winding village path, the sense that you are approaching a sacred place increases. Once inside the walls, a path on the right takes you back towards the river, passing two large prayer wheels and several small ones, which send thousands of prayers heavenwards with just one spin.