What's included
Local English-speaking leader.
All internal flights and domestic hotel/airport transfers
Good standard hotel accommodation (4 star) in Delhi, twin share bed and breakfast basis
Best available hotels in outlying towns, on full board including picnics on walking days.
All meals included except lunch and dinner in Delhi.
Sightseeing where specified
Economy class non-stop return air fares from the UK & UK Departure Tax (flight inclusive only)
Single, timed group airport transfers for international flights on arrival and departure
Carbon offset for clients taking our flight-inclusive option
A free Mountain Kingdoms Water-to-Go Bottle
Carbon offsetting with the Ecoan Tree Planting Project (for clients taking our flight inclusive option)
Opportunity to join one of our pre-trip meets in the Cotswolds
and much more...
Call our
friendly team
Indian Himalaya, Ladakh | Walking & Trekking
Gentle / Moderate
Gentle: Suitable for people who enjoy easy-paced walks or exploring the countryside on foot.
Moderate: Suitable for anyone who enjoys hill walking.
Find out more...
Grade: Gentle / Moderate ? Gentle / Moderate
Duration: 14 days from the UK
Walks on: 9 days
Flight inclusive from £2,550,
Land only from £1,950
Book now or call 01453 844400
A perfect summer walking holiday to the mountains and monasteries of 'Little Tibet'.
Highlights
Explore the sights of Leh - the fascinating capital of Ladakh
Enjoy pretty walks in lovely countryside
Visit some of the most stunning monasteries and palaces of Ladakh
Stay in comfortable hotels that reflect the character of the region
This trip is a perfect short summer walking holiday including as it does some wonderful Himalayan vista and the vibrant culture and distinctive monasteries of this area of India known as 'Little Tibet'.
After a brief stop in Delhi, you take the short flight northwards over the Himalaya to Leh, capital of the Himalayan territory of Ladakh. Culturally this region, which is the highest and most remote part of the country, has more in common with Tibet than with India. Its wonderful mountain landscapes, many palaces and monasteries and its distinctive cultural heritage make this a fascinating area to explore on foot. The rather stark landscape is relieved by numerous oases of green where sparkling streams tumble through groves of willow trees.
The town of Leh is situated at an altitude of 3,505m/11,500ft, so on arrival you need to take it easy for the first few days while you acclimatise and a bit of gentle sightseeing and some short walks make an enjoyable start. You will explore Leh and then, travelling along the Indus, visit some of the fine monasteries and ancient palaces of the Indus Valley and along with some easy walks this will give you a gentle introduction to the area.
Once acclimatised you can then explore further afield, staying in some charming small hotels including an 'eco-resort' as you make longer, higher-level walks into flower filled valleys and alpine terrain. Later still, you travel even further west to visit the great monasteries of Lamayuru, Alchi and Phyang. The trip finishes with the sensational return flight back over the Greater Himalaya to Delhi.
Festivals, where locals get together to enjoy traditional music and costumed dance, are a highlight of any visit to Ladakh and on this holiday you will attend either the Hemis Festival or the Dakthok Festival (depending on your departure date).
---
At a glance
Grade: Gentle / Moderate
Gentle / Moderate
Duration: 14 days from the UK
Walks on: 9 days
Max. Altitude: 3,700m/12,139ft, Prikti La, Day 9 (or optional pass on day 5 - 4,000ft/13,127ft)
Guaranteed to run for a minimum of 4 clients
Maximum group size: 12
Land only joining city: Delhi
Accommodation types: Hotels
Festival:
The June 2021 & July 2022 departures attend the Hemis Festival
The July 2021 & August 2022 departures attend the Dakthok Festival
Meal arrangements: 12 x Breakfasts, 10 x lunches, 10 x dinners. All meals included except lunch and dinner in Delhi.
Itinerary overview
| Day | Activity |
| --- | --- |
| 1-2 | Arrive Delhi. Afternoon sightseeing to Qutabl Minar. |
| 3 | Fly to Leh, 3,505m/11,500ft. Afternoon walk. |
| 4 | In the Indus Valley: Visit Hemis Festival or Dakthok Festival (depending on departure date). |
| 5-6 | Exploration and valley walks near Leh. Visit Stok Palace. |
| 7 | Visit copper works at Chiling. Lunch with family and drive to Alchi. |
| 8-9 | Walks from Likir Monastery and Lamayuru. Walk along Old Zanskar Trail. |
| 10 | Walk to Tar from Nurla. Drive to Phyang Monastery and on to Gyamsha. |
| 11 | Nature walk along the valley. Return to Leh. Evening meal with local family. |
| 12 | Attend prayer ceremony at Thikse Monastery. Heritage walk in the old town. |
| 13-14 | Fly to Delhi. At leisure. Fly to London. |
Leader: Local leader, Ladakh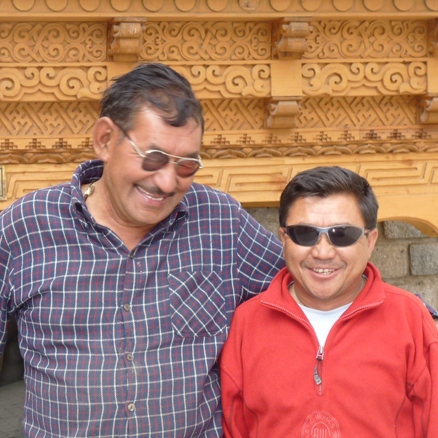 Your leader will be a knowledgeable, English speaking guide, most likely from Ladakh. However, sometimes Sherpas come over from Nepal in the summer season and you may therefore have a Nepalese guide. In addition to helping you get the most out of your visit to Ladakh and taking care of you, your leader will co-ordinate all your arrangements, ensuring that everything runs as smoothly as possible.
---
Gentle Walking Little Tibet & Indian Himalaya Itinerary
Day 1 - Fly from London to Delhi.

Depart from London for the overnight flight to Delhi.

Overnight: In flight

Day 2 - Arrive Delhi. Group transfer to hotel. Afternoon sightseeing to Qutab Minar.

You will arrive in Delhi in the morning and you will be met and transferred to your hotel which is situated not far from the airport. Although Delhi can still be quite a culture shock, it is nowadays a vibrant and cosmopolitan modern city with thriving business areas, an excellent metro system and plenty of reminders of its exciting history and ancient civilization.

In the afternoon, you will have a sightseeing tour. You will visit Qutab Minar, a 73m high tower built in 1193 by Qutub-ud-din Aibak to celebrate his victory over Delhi's last Hindu King. It is considered to be one of the finest monuments in India.

Our local representative will let you know details of your flight to Leh tomorrow and will arrange an early breakfast for you, if you wish.


Overnight: Lemon Tree Premier Hotel, Delhi Airport

Day 3 - Fly to Leh, 3,505m/11,500ft. Afternoon walk.

Flights to Leh leave very early in the morning, so ask reception for an early wake-up call. You will be picked up from your hotel and taken to the domestic terminal at the airport for your flight. This is surely one of the most sensational scheduled flights in the world, taking you right over the Greater Himalaya before dropping down to land at the small military airport at Leh. The flight time is about 70 minutes. Leh is 3,505m/11,500ft above sea level and, therefore, we recommend that you take it easy today to help you adjust to the altitude. On arrival you will immediately notice how thin the air is. You will be met and driven through Leh to check into your hotel.

After lunch, for a bit of exercise, you will have an orientation walk round town. The centre of Leh is just a short walk from your hotel and with the ancient Leh Palace looming above you (a visit up to it is best left till you are better acclimatised!) you will walk through the back streets and the bazaar where many stalls, handicraft shops and the Tibetan market offer goods from all over the Himalayan region. You can also visit the Ecological centre where you will discover from various exhibits how a relatively fragile Ladakhi culture is being threatened by a rapidly changing outside world. Before returning to your hotel you could relax in town at a rooftop café, or do a bit of shopping. Leh has some good bookshops.


Overnight: Ladakh Residency Hotel or Similar, Leh

Day 4 - In the Indus Valley: Visit either Hemis Festival or Dakthok Festival (depending on departure date).

Leh and the Indus Valley are surrounded by the mountains of the High Himalaya and many snow peaks such as Stok Kangri are visible from town. The Indus Valley cuts a wide swathe through these mountains and the various valleys which come down from the high mountains to meet this main valley are cultivated and fertile in their lower reaches with distinctive ancient palaces and monasteries watching over the villages and fields below.

June 2021 or July 2022 departure
Today you drive to Hemis Monastery, a journey of around an hour. The monastery stands above the Indus River, approximately 47 kilometres from Leh. This monastery, which dates back to 1630 is the largest and most wealthy monastery of Ladakh and belongs to the Drukpa Lineage, or Dragon Order, of Mahayana Buddhism. The Hemis Festival is one of the most popular in Ladakh. The festival is thought to have its origins back in the 8th Century with the belief that Padmasambhava, a Buddhist teacher also known as Guru Rimpoche, acts as a local protector who banishes demons and evil spirits. Such festivals are very colourful and cheerful affairs with dances and plays performed by masked lamas, representing the triumph of good over evil. People from all over the region flock here in their best clothes to celebrate, achieve religious merit and to socialize.

July 2021 or August 2022 departure
This departure will visit the Dakthok Festival - a 46km, 1 hour drive from Leh. Festivals are a highlight of the year for Ladakhis. They provide the excuse to dress up, socialise, drink, have fun and at the same time earn religious merit. The Sacred Dance Dramas, or 'Chhams', are at the centre of the celebrations where monks in incredible costumes perform elaborate highly choreographed dances to an accompaniment of drums, cymbals and horns. Dancers act out the destruction of evil and the illusory nature of life.

Time permitting, after you leave the festival, you may also visit Hemis or Thikse.




Overnight: Ladakh Residency Hotel or Similar, Leh

Day 5 - Walk near Leh. Visit Shanti Stupa, walk to Tsemo Gompa. Optional walk to Sabu over pass, 4,000m/13,124ft – 4 hrs. Alternatively, drive to Sabu and valley walk.

After breakfast, you will leave the hotel and walk the short distance to Shanti Stupa. It's a bit of a heave to the top but you will be rewarded with great views over Leh town and the surrounding countryside. Then you will pass through fields and gardens beneath Shanti Stupa to arrive below the ridge on which sits the Tsemo Gompa and old fort above Leh Town. You make the steep ascent up to visit the gompa. Tsemo is a collection of chapels and a fort set on a peak above the town and parts date back to the 15th and 16th centuries. After your visit, depending on how fit and acclimatised the group are feeling you have a choice - discuss your options with your guide.

If feeling fit you can continue round high above the town to take the trail over to Sabu, ascending to one pass at 4,000m/13,127ft and then over a smaller pass which brings you out above the Sabu Valley. You then descend to the valley and to your hotel.

Alternatively from Tsemo Gompa you may descend to visit Leh Palace and then walk back down into town to meet your vehicles to drive round to the Sabu Valley. You then drive further up the valley in which Sabu is located, to a point above the village where you may leave your vehicles. The trekking trail which leads up over the Digar La and down into the Nubra Valley to the north starts from above Sabu. From this point you may walk along a footpath back down the valley to your hotel in Sabu village. Sabu is a very pretty and fertile spot, with bubbling streams, willow groves and apricot and poplar trees.


Overnight: Saboo Resorts, Sabu

Day 6 - Drive to Stok – 13 km, 20 minutes. Visit Stok Palace, 3,650m/12,180ft, and valley walk - 2-3 hours.

Today you do not have far to drive to visit the village of Stok. This is a lovely village with fertile fields overlooked by Stok Palace. Firstly, you will visit the palace. From here there are spectacular all round views, south to the Zanskar range and north to the Ladakh range of mountains. This palace was where the Ladakh royal family was exiled after they lost power with the Dogra invasion of the 1830's. A visit to Stok Palace is a step back in time; the family still live here and run it as a small guesthouse with a couple of rooms.There is also an excellent museum which has a remarkable display of royal memorabilia and many fine 'thangkas' (Buddhist religious paintings) along with traditional Ladakhi clothing and jewellery. Much of this collection formerly belonged to the Ladakhi royal family, including the queen's spectacular turquoise headdress, along with the wooden case in which it was carried.

After your visit to the palace, you will walk up the main trail out of Stok, heading toward the Namling La and Stok Kangri mountain. Along the way you will see local villagers working in their fields. As the summer is very short in Ladakh, farmers have to work very hard for these few months. As you climb the valley there are many fine views. To return, you cross a small stream and descend along the other side of the valley.

Back once more in Stok village, you will enjoy the hospitality of a local family and have lunch in the lovely dining room/kitchen at the Gyab Thago Heritage Home. The family who live here built this relatively new house, but set just above it is their old home, an ancient house no longer lived in, which you may visit after lunch. Here you will see the traditional layout of a Ladakhi home, with accommodation for the animals downstairs, and upstairs the kitchen with its central fire and the walls lined with all sorts of pots and old utensils. There is the store for keeping barley during the winter months and a prayer room, while up on the roof is a sheltered space where the family could sit in the sunshine out of the wind during the cold winter months.

You will drive back to Sabu, around 20 minutes away and the rest of the day will be free to relax at your hotel or to explore the village.

Overnight: Saboo Resorts, Sabu

Day 7 - Drive to Chiling – 56 km, 1½ hours. Visit copper workshops. Walk 3-4 hours. Picnic or lunch with local family. Drive to Alchi, 3,100m/10,171ft – 50 km, 1 hour.

Today you drive west on the main highway, alongside the River Indus, to reach the confluence with the Zanskar River, where you turn south to drive alongside the Zanskar River. You arrive at the village of Chilling set a little above the road so a bit of a walk up to reach it. Chilling is a very pretty little village which has been famous for centuries for its metal workers who traditionally provide utensils in copper, bronze and tin for many Ladakhi kitchens. The village is exceptionally pretty, with well-kept orchards and fields and attractive traditional houses. Here you will be able to visit some of the copper workers in their small workshops and perhaps buy an item or two. There are some pleasant walks out of the village and you will either have a picnic here or take lunch with a local family.

Later you will drive back to the main road and continue to Alchi, an extremely pretty village set among apricot orchards above the River Indus. You will spend three nights here. At Alchi you will find one of the most ancient and most attractive temples of this entire region. It has somehow miraculously survived war and earthquake relatively intact. The temples date back to the 11th century and have some of the oldest surviving wall paintings in Ladakh. Many of these wall paintings are in a different style to those you see in other monasteries of the Indus Valley - said to be more Indian in style. The various chapels which make up the complex house a stunning array of magnificent images and statues. The sheer artistry found at Alchi sets it apart from other monasteries and makes a visit there unforgettable.

Overnight: Zimskhang Holiday Home or Similar, Alchi

Day 8 - Drive to Likir, 3,767m/11,483ft - 19 km, 30 minutes. Visit gompa and walk to Yangtang via Sumdo - 4-5 hours.

Today you drive back to the main highway and then turn off the main road to drive up a short way north to Likir, a drive of around half an hour. Likir Gompa is a very ancient monastery dating back in part to the 11th century. It sits majestically on a hill top dominating the valley and is attractively set amongst running water and willow trees which make a pleasant contrast to the surrounding barren landscape. Likir is famous for its imposing 25m high golden figure of the Matraiya Buddha, which sits behind the gompa looking towards the east. Take some time before you set off on your day's walk to explore the many finely decorated halls and temples. The gompa also contains a small museum with a very interesting collection.

From Likir you will start your walk, taking the trail down first to Likir village below, where, at this time of year, water will be flowing and sweet smelling herbs and shrubs line the path. Leaving the village you emerge up onto a rather dusty plain before climbing to a small pass, the Pobe La, 3,550m/11,647ft. You then descend to the village of Sumdo where locals often run a 'parachute' tea shop where you could stop for a cup of tea. You then continue through Sumdo Village and climb to another pass, the Charutse La at 3,650m/11,975ft. Watch out for flocks of blue sheep along here. From the pass a trail leads down the middle of the valley, crosses a small ridge and then finally climbs up to the village of Yangtang; 4-5 hours walking. Yangtang is a very pretty and friendly village, so it is well worth having a walk through its narrow streets before you finally meet up with your transport for the 1 hour drive back to Alchi.

Overnight: Zimskhang Holiday Home or Similar, Alchi

Day 9 - Drive to Lamayuru, 3,500m/11,483ft - 57 km, 1 hour 10 minutes. Walk along old Zanskar Trail to Prikti La. Visit Lamayuru Monastery.

Today you will drive further west, to Lamayuru, which has one of the most famous monasteries of the region. Generations of trekkers along the Zanskar trail used to know Lamayuru as either the distinctive starting or ending point for the traverse of Zanskar. The monastery and village have one of the most spectacular settings in Ladakh, being surrounded by a moonscape of strangely eroded spires, columns and organ pipes. For your walk today you cross the river below the monastery to where three chortens stand beside the path, marking the old Zanskar Trail. Nowadays, groups tend to drive to join the trail further on, but you will get a taste on this section of the old Zanskar trail. You should have time to make it as far as the first pass along the trail, the Prikiti La at 3,700m/12,139ft, with a picnic lunch taken along the way.

Returning to Lamayuru, you will visit the monastery. Lamayuru Monastery belongs to the Red-Hat sect of Buddhism and today houses around 150 Buddhist Monks. The monastery itself is made up of a number of shrines and has a very rich collection of thangkas and some magnificent wall paintings. The oldest part of the monastery dates back to the 11th Century and part of this older monastery can be visited by venturing down crumbling, narrow streets. Below the main monastery complex there is an interesting temple with some rather spooky protector images. You then return to Alchi for the night.


Overnight: Zimskhang Holiday Home or Similar, Alchi

Day 10 - Drive to Nurla, 25 km, 30 minutes, and walk up to Tar. Drive to Phyang, 75 km, 1½ hours, and visit gompa. Drive to Gyamsha, 3,657m/12,000ft – 1 hour.

Another full day of walking and culture. This morning you will drive down the Indus Valley to Nurla village and from there make a fine walk up to Tar village. Firstly you cross the River Indus by a wooden footbridge and then climb up a narrow gorge beside the Tar stream to reach the Village. Here you will find a typical village of Ladakh where about 10 families still farm by traditional organic methods, growing mainly barley, wheat and vegetables. You explore the village and have the opportunity to meet the locals and perhaps visit a village house for a cup of local tea or chang (local barley beer).

Returning to Nurla you rejoin your transport and drive to Phyang Gompa, which like so many such buildings of the region is set on a hill overlooking the valley. Phyang is an important monastery of the Indus Valley and is believed to date back to the 16th century. It is one of the few monasteries belonging to the Kagyu-pa sect of Buddhism and it houses some magnificent paintings and images.

After visiting the gompa you drive round to take a road heading north out of Leh up the valley to the hamlet of Gyamsha. Here there is a lodge set amongst poplar and willow trees where small streams of water babble through the gardens. Dinner may be a barbeque in the delightful garden with lovely views down the valley to Leh town.

Overnight: Lharimo Retreat, Gyamsha

Day 11 - Morning nature walk up valley, 2-3 hours. Afternoon at leisure in Leh. Visit Ladakhi family.

This morning you may relax and enjoy these pretty surroundings. From Gyamsha you may take a delightful walk up the valley through flowery meadows and sweet smelling aromatic herbs. Ibex and many other wild animals are said to be often seen along here. In the old days they were enthusiastically hunted but today they are protected and so are less shy and more frequently seen.

Returning to the lodge you will then drive back to Leh where you will have an afternoon for some sightseeing.

In the evening you will visit a traditional Ladakhi home in Leh. You will join members of the family in the 'chansa', the typical kitchen of a Ladakhi home, where you may help with the preparation of some traditional Ladakhi dishes as well as sampling some local beverages. You will then enjoy a typical Ladakhi meal with your hosts.

Overnight: Ladakh Residency Hotel or Similar, Leh

Day 12 - Prayer ceremony at Thikse Monastery, 3,600m/11,811ft. Heritage walk in the old town and visit Lamo Centre.

This morning you will have a very early start to visit Thikse Monastery for the Morning Prayer Ceremony. It is a short drive of 20 km to Thikse which will take about half an hour. Thikse is a wonderful monastery famous for its fabulous three storey high statue of Maitreya Buddha. You will visit the Morning Prayer Ceremony which features the blowing of horns and banging of drums along with prayers and chants from the assembled monks. All very atmospheric. The ceremony lasts about an hour after which you can enjoy the marvelous views of the valley from the roof before returning to Leh.

Later you will join a guide from the LAMO centre in Leh for a heritage walk. This walk will give you a real insight into the architecture and traditions of Leh. The LAMO centre is housed in the lovingly restored 17th Century Munshi house below Leh Palace and is a centre for arts of all kinds and a place to celebrate local talent and culture. Your walk will start from the mosque in the main market. Your guide will take you through the by-lanes of the old town to bring you to the LAMO centre. They will tell you about the different houses of the old town, including those of families from far Yarkand in Central Asia. Your guide will also take you through the two restored houses that make up LAMO, and will explain the traditional architecture of the region.

The rest of the day will be at leisure for some last minute shopping and relaxation.

Overnight: Ladakh Residency Hotel or Similar, Leh

Day 13 - Fly to Delhi over the Greater Himalaya. Transfer to hotel.

An early start for the short drive to the airport, 3,256m/10,682ft, for the return flight to Delhi. Within minutes the aircraft flies over a sea of ice-cold peaks and glaciers as it crosses the Greater Himalaya range. On one side can be seen in the distance the peaks of K2, Nanga Parbat, Gasherbrum and on the other side, so close that you feel you could reach out and touch it, is the Nun Kun massif.

On arrival in Delhi you transfer to your hotel. The rest of the day is yours at leisure.

Overnight: Lemon Tree Premier Hotel, Delhi Airport

Day 14 - Transfer to airport. Fly to London.

After breakfast there will be a group transfer to the airport where you will check in for your flight to London.
Map
Map Key
Airport
Point of interest
Mountain Peak
Day walk in this area
Flights
Internal Transfers
Trek
---
2021
Dates
Availability
Land Only
Flight Inclusive from
Fri 18 Jun - Thu 1 Jul 2021
Available

Available

This departure attends the Hemis Festival
£1950 Book
£2550 Book
Sat 17 Jul - Fri 30 Jul 2021
Available

Available

This departure attends the Dakthok Festival
£1950 Book
£2600 Book
2022
Hold your place
Not quite ready to book? Why not call us on 0044 (0)1453 844400 to hold a no obligation place while you make up your mind?
Optional supplements
Single room supplement
From £475
Insurance
No Surcharge Guarantee
No surcharges will be applied to your holiday after you book. Prices on this website are updated regularly. The Flight Inclusive holiday price, or Land Only holiday price, will be confirmed to you at the time you make your booking. There will be no surcharges after your booking has been confirmed.
Flight inclusive holidays
The 'flight inclusive' holiday prices shown on this website are based upon our preferred airlines and the best priced economy class fares we are able to secure at the time of publication.
We will be able to advise on fares with alternative airlines, upgrades to Business Class, and the options for flights from regional UK airports, please contact us for more details.
Booking your holiday
For the majority of our holidays, a deposit payment of £100.00 per person is required to secure your place(s), however a small number of holidays require a higher deposit - please refer to the holiday itinerary for more details. If the holiday departs within 60 days, a minimum deposit of £750.00 per person is required.
Book now!
Book your small group holiday securely online – click the 'Book' button next to your chosen departure or visit our How to Book page
Complete and return a Booking Form available to download here.
Call us on 01453 844400 and one of our travel specialists will talk you through the booking process.
Loyalty discount
Find out more
What's included
Local English-speaking leader.
All internal flights and domestic hotel/airport transfers
Good standard hotel accommodation (4 star) in Delhi, twin share bed and breakfast basis
Best available hotels in outlying towns, on full board including picnics on walking days.
All meals included except lunch and dinner in Delhi.
Sightseeing where specified
Economy class non-stop return air fares from the UK & UK Departure Tax (flight inclusive only)
Single, timed group airport transfers for international flights on arrival and departure
Carbon offset for clients taking our flight-inclusive option
A free Mountain Kingdoms Water-to-Go Bottle
Carbon offsetting with the Ecoan Tree Planting Project (for clients taking our flight inclusive option)
Opportunity to join one of our pre-trip meets in the Cotswolds
What's not included
Travel insurance
Indian visa fees
Lunch and evening meals in Delhi
Tips
---
---
Review your holiday
Reviews
Read holiday reviews by Mountain Kingdoms travellers.
Overall score: 5.0 (Based on 7 reviews)
Gentle Walking Little Tibet & Indian Himalaya
Ladakh walking 23/07/2019
Each day seemed better than the one before, a superb waking and sightseeing holiday. Just perfect.
Pat, Cumbria
Gentle Walking Little Tibet & Indian Himalaya
Ladakh - beautiful country 06/07/2015
Beautiful location, interesting walks, good small group. Our tailor made pre-trip extension was well organised and really enjoyable.
Mr & Mrs H, Wiltshire
Gentle Walking Little Tibet & Indian Himalaya
Excellent value 09/07/2013
The quality of the holiday experience, very well thought out itineraries, good standards of local staff, accommodation and I think, excellent value for what is provided. Oh and also very helpful and knowledgeable MK office staff!
Mr H, Middlesex
Gentle Walking Little Tibet & Indian Himalaya
Terrific walks 09/07/2013
There were lots that I loved about the holiday! The walks were terrific. The temple at Alchi was superb. Ladakh retreat was magical.
Mr D, London
Gentle Walking Little Tibet & Indian Himalaya
Reliable 09/07/2013
Good service from the MK team. Reliable MK delivers what you see in the brochure, which is well thought out in conjunction with the local tour operator who have a good track record. Consistent quality, all 5 of us on this trip were repeat business for MK.
Mr A, London
---
Extend your holiday
Known for its population of tigers.
Home to fascinating wildlife including jungle cats, hyenas, jackals, bears, crocodiles and large populations of langur monkeys.
Enjoy safari drives as you look out for wildlife amongst the picturesque grassland, hills and lakes.
More Details
Ranthambore National Park in Rajasthan is one of the finest national parks in northern India. Formerly a hunting reserve for the Maharajas of Jaipur, you can see a huge variety of fantastic wildlife and birds in Ranthambore, but the park is particularly famous for its population of tigers - although of course sightings of tiger can never be guaranteed many visitors to this park are lucky enough to get good views. The scenery of the park is very varied with grassland, hills and lakes and there are also some very picturesque and atmospheric ruins located in the park. Even if you don't see tigers there is abundant wildlife on view in Ranthambore with leopard and other cats such as jungle cats, caracal, hyena, jackal, wild boar, bear, several species of deer, and large populations of langur monkeys. Marsh crocodiles and other reptiles are also found in the lakes within the park. Owing to the wide range of habitats within the park there is also a large variety of fantastic and colourful birds, both resident and migrant, to be seen - in total, 272 bird species have been documented within the park.
Corbett National Park is home to one of the largest Royal Bengal Tiger populations in India.
Over 50 species of mammals, many reptiles and hundreds of bird species to look out for.
Ideal extension from Delhi to explore some of India's most fascinating wildlife.
More Details
Corbett National Park is the oldest national park in India. Located between the Himalayan foothills to the north and the ancient Shivalik Hills to the south, the reserve covers a wide range of habitat with dense woodlands, open grasslands, riverine vegetation, dry riverbeds and more hilly terrain and so offers much diversity. This varied habitat hosts a spectacular diversity of mammal, bird and reptilian life, unmatched anywhere in India.
The park is home to one of the largest Royal Bengal Tiger populations in India as well as other large cats such as leopard. There are also around 50 species of mammals including large herds of elephant and four species of deer. In the park you also find many reptiles, including the rare and highly endangered Gharial crocodile. Corbett has a spectacular bird diversity – there are several hundred resident species of bird with as many more crossing on their migratory routes with bird diversity being at its peak during the winter months.
1-day and 6-day extension options available
Add at the beginning or end of your holiday in India
Sights include the Red Fort, Taj Mahal, City Palace and Amber Fort
More Details
After your adventures in India why not add an exciting day trip to Agra to see the sights of the one time capital of the great Mughal empire? Or, if you have more time available, perhaps a longer trip visiting both Agra and another gem of the 'Golden Triangle', Jaipur. Whichever option you take, once in Agra you will be looked after by one of our fully trained, English-speaking guides who will show you around the Red Fort, the Taj Mahal and the ancient city and mosque of Fatehpur Sikri. For those travelling on to Jaipur, you will take guided visits to the Amber Fort, Palace of the Winds and City Palace, along with time to explore the colourful bazaars of the 'Pink City'.