/
/
Article
/
Great Grandmother Reaches Everest Base Camp
Great Grandmother Reaches Everest Base Camp
A surprising member joined one Everest Base Camp trekking group earlier this year: Coleene Tudor, a 70-year-old great-grandmother from Hereford in the United Kingdom. Despite her age, Ms. Tudor seized an opportunity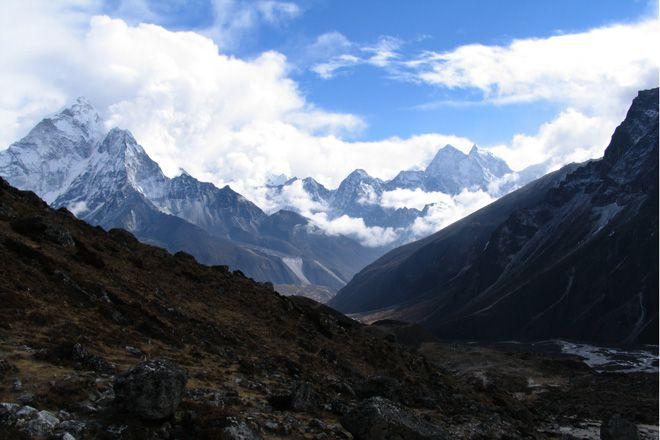 EBC Trek. Photo courtesy of K Parsons
A surprising member joined one Everest Base Camp trekking group earlier this year: Coleene Tudor, a 70-year-old great-grandmother from Hereford in the United Kingdom. Despite her age, Ms. Tudor seized an opportunity to walk on Everest when she was invited by a group of former soldiers.
She found the trek very tough, as it reached a maximum altitude of 5,400 metres at the Chola Pass and Everest Base Camp's altitude of 5,300 metres is barely below that. However, she made it to the Base Camp and thoroughly enjoyed the experience. While not every 70-year-old will be capable of such a trek, Ms. Tudor proves that age need not immediately rule out the possibility of reaching Everest Base Camp. Trekking preparations like training, buying the right equipment and walking with a professional guide ensured that Ms. Tudor safely achieved her goal.
Her inspiring efforts have partly been to raise money for St Michael's Hospice in Hereford. So far she has reached a magnificent sum of £2,000.
We heartily congratulate her on trekking to Everest Base Camp and hope she has many more great achievements ahead of her.
To prepare for her Everest Base Camp trekking challenge, she trained in the Malvern Hills and Brecon Beacons, and took part in the Hereford half marathon. Several years earlier, she had climbed Kilimanjaro, so she had a good idea of what faced her at Everest.