Born to Climb: the Himalayan Tahr
Tenacious, sure-footed and rugged – no, it's not a seasoned mountaineer embarking on an Everest Base Camp trek; it's the Himalayan tahr, a large goat-like creature that makes its home on the mountain slopes of the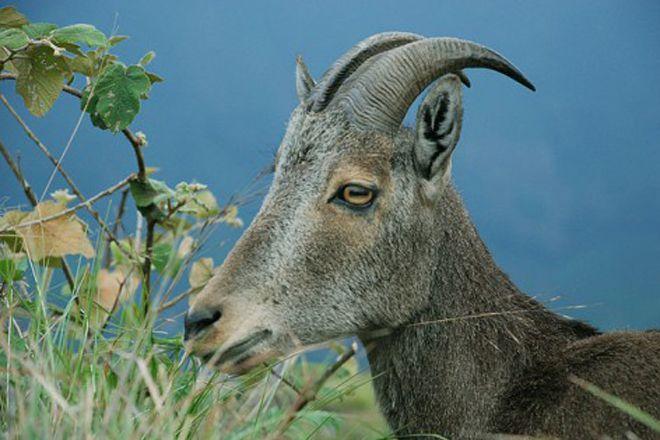 Nilgiri Tahr" © 2006 Bino Joseph, used under a Creative Commons Attribution license
Tenacious, sure-footed and rugged – no, it's not a seasoned mountaineer embarking on an Everest Base Camp trek; it's the Himalayan tahr, a large goat-like creature that makes its home on the mountain slopes of the Himalaya. In actual fact, while the trekker and the tahr share these characteristics, it has a clear evolutionary advantage over us, with several adaptations making it one of the natural world's best mountain-climbers.
It can be hard to get a close look at the generally wary Himalayan tahr on an Everest Base Camp trek, although you may see them bounding away with surprising sure-footedness over the rocky slopes. But those who have had the chance to examine them up close report that this mountain-savvy animal has some very useful characteristics. The most impressive of these is their hooves, nature's own hiking boots: with rubbery cores, they are flexible enough to grip onto rocks, while their rims are thin and sharp, allowing them to wedge into narrow footholds. No wonder they're so confident on surfaces that would make human climbers cautious!
Tahr spend the summer grazing at high altitude, and come lower down in the winter, forming mixed herds out of the way of the worst of the weather. To suit this pattern they grow a thick, dark red-brown winter coat, accompanied by a shaggy mane in the males; their summer coats are shorter and lighter.
As a species the tahr is considered near threatened, and may soon become a threatened species. An animal that seems to embody the spirit of Everest, it has been living peacefully for centuries in this challenging terrain and is well worthy of our protection – so be sure to treat their environment with respect on your Everest Base Camp trek.