/
/
Simien Mountains Charity Appeal
Our grading system explained
Gentle
Gentle / Moderate
Moderate
Moderate / Vigorous
Vigorous
Vigorous / Strenuous
Strenuous
Expedition Grade
Simien Mountains Charity Appeal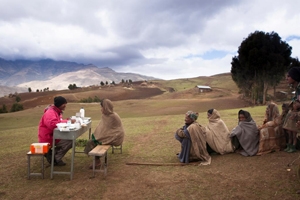 10 years ago two very special clients trekked with Mountain Kingdoms to the Simien Mountains. They fell in love with the country and its people. Being passionate, altruistic and very practical, they decided to make it their life's work to improve the health of the people in that region. They set up the Simien Mountains Mobile Medical Service, and have been committed to improving access to essential healthcare and medical services in the region focusing mainly on maternal and neonatal healthcare.
Unfortunately the war in Ethiopia has had a large impact on SMMMS. However, despite the difficult and often dangerous circumstances, all of their staff are safe and now out of harm's way. They continue to operate in support of all but two of the 13 health clusters they support, while also providing assistance to the Debark Hospital.
SMMMS are taking part in this year's Big Give Christmas Challenge which was founded by entrepreneur and philanthropist Sir Alec Reed CBE, to help small charities raise funds to support deserving charity projects. This year's Christmas Challenge will take place from noon on 30 November until noon on 7 December.
During the Challenge, any donation to SMMMS can be doubled by matching funds from their Champion, EthiopiAid-UK, and pledges from other donors.
They have GBP 4,750 in matching funds toward their target of GBP 9,500.00. So, if you would like to donate and have your donation double, just click here: Christmas Challenge 2021 (thebiggive.org.uk)
Further information on the incredible work of SMMMS, please visit their website http://simienmountainsmobilemedicalservice.org/
Related News