/
/
Kev Reynolds - farewell to an old friend
Our grading system explained
Gentle
Gentle / Moderate
Moderate
Moderate / Vigorous
Vigorous
Vigorous / Strenuous
Strenuous
Expedition Grade
Kev Reynolds - farewell to an old friend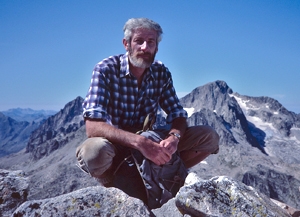 It was with great sadness that we recently heard that our dear friend, Kev Reynolds, passed away aged 78.
Kev led treks for Mountain Kingdoms to Bhutan and the Indian Himalaya, and he also held a series of presentation evenings for us in which he shared his passion for the great mountains of the world with a rapt audience. Nepal was one of his favourite trekking destinations, especially Manaslu which he regarded as the 'most beautiful walk in the world'.
Many of you though will 'know' Kev through the numerous Cicerone guidebooks he wrote over a span of 40 years including classic trekking guides to the Pyrenees, Alps and Himalaya. He also wrote walking guides to his beloved home region of Kent and Sussex, and had a collection of poems published in 2020 which he wrote as an antidote to the Covid lockdown.
Kev inspired many people through his writing and lived a wonderfully fulfilling life doing the things he loved the most. He was also the kindest, warmest, most generous man you could ever wish to know and a devoted family man. Our deepest sympathies go to his wife Min and their two daughters, Claudia and Ilsa.

Related News