/
Holiday
/
Wildlife Walks Yellowstone the American Rockies
Denver, United States, Salt Lake City | Walking & Trekking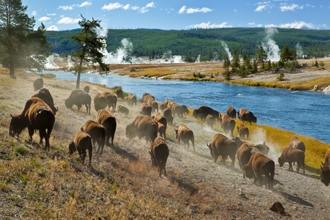 Grade:

?

Gentle / Moderate

Gentle: Suitable for people who enjoy easy-paced walks or exploring the countryside on foot.

Moderate: Suitable for anyone who enjoys hill walking.

Find out more...

Gentle / Moderate

Duration: 12 days from the UK
Walks on: 9 days
Private Departures Available
Flight inclusive from £5295, Land only from £4445
Awesome walking and thrilling wildlife encounters in three of America's finest national parks.
Highlights
Immersive wildlife walks in Yellowstone, Grand Teton and Rocky Mountains National Parks
Wolf watching with an expert guide in the Lamar Valley in Yellowstone
Departures timed to coincide with seasonal wildlife events
Time to explore the unique thermal features of Yellowstone
Nights spent in well-appointed hotels and lodges, located close to the park entrances
Reviews
I've travelled extensively in the States, and Yellowstone and the Tetons remain my very favourite place. I've watched bears cross the road just in front of me, had a bison blocking the door to my lodge, watched a pack of young wolves try to take down a bull elk and stared in wonder at erupting geysers and brilliantly coloured hot springs. Combined with glorious mountain walks in the Tetons, and...
Kirsty Parsons, Marketing Assistant, Mountain Kingdoms
Next
This thrilling adventure explores three of America's greatest natural playgrounds where stupendous mountain scenery combines with an astonishing array of wildlife and remarkable hydrothermal features. And there's no better way to experience nature's great bounty than by taking to the trail where elk, moose and bison graze, and golden eagles wheel overhead. You will visit at times of peak animal activity - in the summer months the male bison battle for female attention and animals feed en masse on the abundance of food, whilst in autumn there is the fierce drama of the rut and the haunting bellows of the bull elks. With multiple days spent within each park and comfortable accommodation close to the park entrances, you can be sure you won't miss a moment of the drama.
Your journey begins in the Mile High city of Denver at the foot of the Rockies. From here you strike out west to reach the stunning environs of Rocky Mountain National Park where rolling tundra, rocky crags, crystal clear lakes and snow-clad mountains provide the breathtaking backdrop for an impressive array of birds and wildlife. The Rocky Mountains are one of the last remaining sanctuaries for mega fauna in the Northern Hemisphere and your carefully selected walks will take you in search of the bear and moose that frequent the lush meadows and forests of the park, whilst large herds of elk can be found along the higher trails.
Your next stop is Yellowstone, America's oldest national park, aptly described as 'mother nature's theme park'. Within its boundaries sit one unique sight after another. Vast herds of bison, grizzly bears and majestic moose are among the wildlife must-sees, and you will spend a day with an expert wildlife guide in search of Yellowstone's most sought after predator – the gray wolf. Alongside its wildlife stars sits Yellowstone's other great attractions: Old Faithful, Grand Prismatic Spring and the Grand Canyon of the Yellowstone. These are just some of the headliners among a vast cast of mindblowing natural phenomena.
Grand Teton National Park provides the fitting finale to your holiday. Abutting Yellowstone, it is famous for its picture-perfect scenery of jagged mountain peaks reflected in a string of glacial lakes, with swathes of bison feasting on rich, flower-filled, meadows. You spend two days exploring the best of the Tetons, taking walks from mountain top to lakeside, before heading north to Utah, and your journey's end in Salt Lake City.
Private Departures
Wildlife Walks: Yellowstone & the American Rockies - Private Departures
If you would prefer to travel just with your partner, friends or family, we can arrange a private departure of this holiday. You follow the same itinerary, but travel on dates that suit you. Alternatively we can include elements of this holiday in a bespoke Tailor Made itinerary. Contact our friendly team for details and prices, and to make a booking.
---
At a glance
Duration: 12 days from the UK
Walks on: 9 days
Max. Altitude: 3,713m/12,182ft, Rocky Mountain NP, Day 3
Private Departures Available
Guaranteed to run for a minimum of 6 clients
Maximum group size: 12
Land only joining city: Denver
Accommodation types: Hotels, Lodges
Meal arrangements: 10 x breakfasts and 9 x lunches are included. Lunches will be self-made picnic lunches enjoyed on your walks in the parks which are self-made
Itinerary overview
| Day | Activity |
| --- | --- |
| 1 | Fly to Denver. Transfer to hotel. |
| 2-3 | Drive to Rocky Mountain NP. Walks in the park searching for bears, eagles and elk. |
| 4 | Wildlife walk looking for moose. Drive to Lander, Wyoming. |
| 5 | Drive to Yellowstone NP. Walk to view Grand Canyon of the Yellowstone Falls. Drive to Cooke City. |
| 6 | Morning walk with specialist wolf watching guide in Lamar Valley. Afternoon drive Beartooth Highway and return to Cooke City. |
| 7 | Visit main geothermal areas of Yellowstone including Old Faithful and Mammoth Hot Springs. |
| 8 | Visit Yellowstone Lake and walk in Pelican Valley looking for bears. Drive to Jackson, Wyoming. |
| 9 | Drive to Teton Village. Gondola Ride to summit of Rendevouz Mountain, 3,185m, Walk back down. |
| 10 | Explore sights of Grand Teton NP. Self-guided walk from String Lake to Jenny Lake. Drive to Salt Lake City. |
| 11 | At leisure till departure for airport. Overnight flight to London. |
| 12 | Arrive London. |
Leader: Local leader, USA
The trip will be led by an experienced driver/guide, ideally placed to give you an insight into, and information about, their country. In tribal lands an additional local guide will join you to further enhance your experience.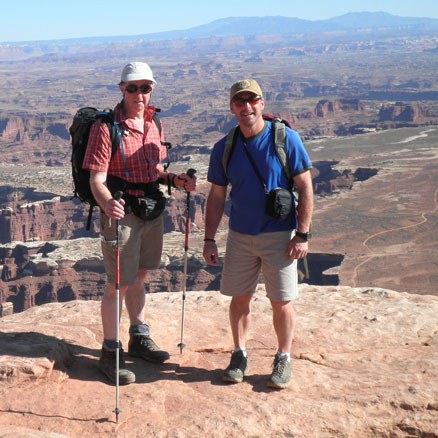 ---
Holiday Itinerary
Day 1 - Fly London to Denver
You will depart London and fly to Denver today. Once you have cleared customs and collected your luggage you should ring to request the complimentary shuttle service to your hotel which is situated about 10 miles from the airport. An information desk is located within the terminal should you require assistance but the service is normally friendly and efficient.
If you have arrived ahead of the start of the group trip to give yourself extra days to explore Denver, the Aloft Hotel is located close to a station allowing convenient access to downtown Denver without the need to rent a car.
Overnight: Aloft Hotel Or Similar, Denver
Day 2 - Meet your tour leader for an orientation briefing. Drive to Grand Lake, Colorado – 100miles, 2 hours. Shoreline walk at Shadow Mountain Reservoir – 8miles/13-14km, 3-4 hours.
Your first day begins bright and early when you meet you tour leader (who will also be your driver) for an orientation briefing. After breakfast, you leave Denver heading to the remote western entrance of Rocky Mountain National Park. Whilst the eastern town of Estes Park receives the highest number of visitors, the western part of the park is far more peaceful, remote, and wild.
Climbing mountain roads you cross the Continental Divide at Berthoud Pass at 3,446m/11,307 ft. Here you may see a resident herd of bighorn sheep grazing near the road. Descending into the Fraser River Valley you pass the ski resort of Winter Park and several picturesque reservoirs created by the Colorado River. After a drive of around two hours you reach Grand Lake, your home for the next two nights. Nestled under steep mountains and on the shores of Colorado's largest natural lake, Grand Lake is an historic gold rush settlement situated at an elevation of some 2,600m/8,530ft. Known as the 'Western Gateway' to the Rocky Mountain NP, Grand Lake has a number of shops, restaurants and galleries to discover within easy walking distance of your centrally located hotel.
This afternoon you take your first walk which runs along the shore of Shadow Mountain Reservoir and through the adjacent meadows, which are home to home to elk, moose, and bear. It's also a good spot for bird watching and you may see gold and bald eagle, hummingbirds, and osprey. As the trail is virtually flat, it is a great place to stretch your legs and start sharpening your wildlife spotting skills.
Overnight: Spirit Lake Lodge Or Similar, Grand Lake
Day 3 - Walk the Ute Trail, 4-6 miles/7-10km, -300m, 3-4 hours. Evening wildlife drive.
Mountain National Park is famous for its huge herds of elk. The bull elks migrate from the valleys to the mountaintops in summer, returning to the montane meadows in the autumn at the start of the rutting season. At this time of year they are at their most impressive displaying their impressive racks of antlers and signalling their presence with a characteristic roar, or bugle. During the elk rut, the animals congregate in the meadows displaying their amazing strength as the bulls fight for their harem. Today's walk is focused on finding these imposing animals.
To reach the trailhead for your walk you drive through the park on scenic Trail Ridge Road - the highest paved road in the States. Winding up through the mountains you cross the Continental Divide at Milner Pass at a dizzying 3,713m/12,183ft. Not only are the views spectacular, but up here you will find alpine tundra with plant communities descending from the last ice age when glaciers isolated these mountaintops. Setting out on your trail, you stay above the treeline and follow ancient Indian paths carved by the native Utes in search of food. Elk come to this elevation to escape the mosquitoes so you have a good chance of seeing them in numbers. You may also spot smaller creatures such as pika and marmot - and even if you don't see any marmots, you will no doubt hear their characteristic whistle. If you are travelling in September, and the weather is good, you may take a second walk today along the headwaters of the Colorado River where moose are known to come to drink and bathe.
At dusk the large herds of elk emerge from the forest to feed in the meadows so in the evening you will enjoy a 'wildlife drive' in the park.
Overnight: Spirit Lake Lodge Or Similar, Grand Lake
Day 4 - Walk in search of moose in Rocky Mountain NP. 7-10miles/11-15km, +/- 300-500m, 3-4 hours. Afternoon drive to Lander, Wyoming – 300miles, 5 hours.
Our wildlife focus today switches primarily to moose. These majestic beasts are often found along the East Inlet Trail that starts close to the eastern tip of Grand Lake. The trail is one of the oldest in the park and leads, eventually, to several lakes. The path initially winds from the trailhead through a beautiful valley where you will be on the lookout for moose grazing on the lush meadow grasses. You pass the overlook for Adams Falls (you may detour here for a 15 minute walk to see the falls) and continue along the valley floor before reaching a steeper section of the trail that eventually ascends to an amazing viewpoint above Grand Lake. Here you are surrounded by aspen forests and may see eagles soaring overhead. After time to savour the views, and perhaps stop to enjoy your picnic lunch, you return to your vehicle along the same route.
In the afternoon you leave Colorado and head to Wyoming. Passing through vast dry sagebrush deserts there is a good chance of spotting massive herds of wild antelope, America's fastest land mammal. Your hotel for the night is close to the historic downtown of the small Western town of Lander. Once a cowboy town it is now a haven for climbers and outdoor enthusiasts and is set against the backdrop of the high peaks of the Wind River Mountains.
Overnight: Rodeway Inn Or Similar, Lander
Day 5 - Drive to Yellowstone NP. Explore Grand Canyon of the Yellowstone area on the Waipiti Trail – 5miles/8km,+/- 200m, 3 hours. Drive to Cooke City. Total driving distance/time – 250miles, 5 hours.
This morning you drive across the mountains to reach Yellowstone National Park. Established in 1872, Yellowstone has the proud distinction of being the world's first national park and remains a very special place indeed. Renowned for its superb wildlife and glorious landscapes, Yellowstone also sits atop a supervolcano giving rise to the greatest concentration of geothermal features on the planet.
Your first explorations are along the Grand Canyon of the Yellowstone in the centre of the park. Here you will hike along the enchanting Wapiti Trail, a footpath skirting the rim of the canyon which was carved over millennia by the thunderous waters of the Yellowstone River. As you walk along the popular trail you will see huge waterfalls plummeting over cliffs into the canyon below. The finest views can be gained from Artist's Point which gives the most celebrated view of the Lower Falls as they cascade almost 100 feet over ochre and yellow coloured rock walls. Great close up views, and a real sense of the power and drama of the falls, can also be enjoyed from the bottom of the 328 steps of Uncle Tom's Trail as well as from the overlooks on the brink of both the Upper and Lower Falls.
Photos taken, you drive to the northeast entrance of the park where the gateway community of Cooke City provides your lodgings for the next three nights. Here, at the headwaters of the broad Lamar Valley, are found many of Yellowstone's animal herds of bison and elk as well as predators such as grizzly bears, coyote, mountain lions and wolves. For this reason it is sometimes referred to as 'North America's Serengeti'.
Overnight: Soda Butte Lodge Or Similar, Cooke City
Day 6 - Walk and wildlife observation in Lamar Valley with specialist 'wolf guide' – 3-5miles/5-8km, +/-300m, 3-5 hours. Drive Beartooth Highway in search of mountain goats – 1-2 hours driving.
In 1926 the last gray wolf was killed in Yellowstone. Without this keystone predator Yellowstone's elk herds increased greatly creating imbalances in the ecosystem. After decades of legal battle, the gray wolf was finally reintroduced in 1995. Once extinct, there are now 134 wolf packs in the region's western forests, numbering about 1,000 animals. About 320 wolves are found in Yellowstone alone. The broad sweep of the Lamar Valley is one of the park's premier wildlife viewing areas and the best place to see wolves.
Early in the morning you will meet your local guide who is a wildlife biologist and wolf expert. Together, your mission today is to find and observe the park's wolf packs in the Lamar Valley. You may climb up to the Petrified Forest ridge, the largest petrified forest in North America, or head along the trails leaving Lamar Valley. Your route will be determined by your guide and the latest information about the whereabouts of the wolves. As you hike the valley, your guide will give you a great deal of insight about the biology and behaviour of wolves as well as the history and ongoing controversies surrounding Yellowstone's wolf packs.
In the late afternoon you drive to the top of the winding Beartooth Highway - an official 'National Scenic Byways All-American Road'. Considered one of the most scenic drives in all the United States, the highway offers breathtaking views of the soaring Absaroka and Beartooth Mountains. The road passes through the Beartooth Corridor, which is surrounded by over a million acres of pristine wilderness. As such it is a wonderful wildlife haven and you will hopefully see large herds of mountain goats above the treeline.
Overnight: Soda Butte Lodge Or Similar, Cooke City
Day 7 - Explore the main geothermal features of Yellowstone at Norris Geyser Basin, Upper Geyser Basin and Mammoth Hot Springs. Beaver Ponds walk – 6miles/9km, +/-170m, 2-3 hours.
Afer a leisurely morning you head out for a full day in the park. Even when you're in your vehicle you should stay on the lookout for wildlife which is often seen right next to the road, or even crossing it. Yellowstone 'bear blocks' are a regular feature when touring the park - as cars park up to get a sighting of grizzly or black bears meandering along in search of food.
Your first destination this morning is Norris Geyser Basin - a remarkable and surreal landscape which is Yellowstone's oldest, hottest and most dynamic thermal area. Boardwalks are built over boiling, sulphurous mud pots and steaming, multi-colored hot springs. Depending on the temperature of the springs, different algae inhabit the waters colouring the springs in dazzling hues of blue, yellow, or orange. Geysers gurgle and spurt clouds of steam and the ground temperatures here reach such incredible extremes that the boardwalks occasionally need to be moved. You will now realise how close you are to the lava dome of Yellowstone's supervolcano beneath your feet!!
Your next stop is a little further south at Midway Geyser Basin. Here you find Grand Prismatic Spring - the largest hot spring in the park and one of the most beautiful of them all. It is named after its incredible rainbow of dazzling, colours from fiery red to psychedelic yellow and deep turquoise blue. Although best viewed from above, you will still see flashes of bright colours through the steamy mist, as you circuit the spring on a boardwalk. Alongside Grand Prismatic is Excelsior Geyser, a huge bubbling crater which dramatically spews thousands of gallons of boiling water into the river below.
A little further along the road and you arrive at Upper Geyser Basin. The world's highest concentration of geothermal features is found here including the most famous of all, Old Faithful. Erupting at regular and predictable intervals every 90 minutes or so, Old Faithful propels 14,000 to 32,000 litres of boiling water 100-200 feet into the sky to whoops of delights from the watching crowds.
Once you have finished exploring the many geysers and hot springs of the basin, you drive north to Mammoth Hot Springs. Here you will find travertine terraces of dissolved limestone deposits cascading down the hillside. Thermophiles (heat loving micro-organisms) create tapestries of colour where the water flows across the terraces. You will walk around the boardwalks marvelling at the weird and wonderful formations. The Mammoth area is also known for its large population of elk and deer which you may encounter on the Beaver Ponds Trail. This delightful loop walk ascends up and away from the crowds into a picturesque area of ponds and woods where birds and creatures abound.
After your hike there is a chance to take a dip in the Boiling River before heading back to your lodging in Cooke City.
Overnight: Soda Butte Lodge Or Similar, Cooke City
Day 8 - Drive to Yellowstone Lake. Walk in Pelican Valley – 6miles/10km, +/-100m, 3-4 hours. View geysers at West Thumb. Drive to Jackson. Total driving distance/time – 150miles/240km, 3 hours.
Pelican Valley is famous for its grizzly bear population. Near the shores of Lake Yellowstone in the southern section of the park, a remote trail (closed until early July due to bear activity) leads you into Pelican Valley, prime habitat for the endangered grizzly. Your trail heads north, crossing a few bridges and passing through a meadow before entering a forest. Leaving the forest you ascend a small hill for views over the valley to the Absaroka Mountains. Turning east, you then pass through a small, fragile thermal area, before crossing a small creek and climbing a bank from where you can look down onto Pelican Creek. The trail ends a mile or so from here and your return the same way. Keep your eyed peeled at all times as you have a good chance of seeing bison, trumpeter swan, pelicans, elk and moose, as well as bears.
Returning to your vehicle, you drive to West Thumb on the shores of Lake Yellowstone where a string of hot blue pools fizz and gush into the tranquil waters of the lake. Your guide will point out the famous Fishing Cone - a hot spring on the lake's edge where early visitors to the park cooked fish they'd caught straight from the lake!
Leaving Yellowstone, you follow the road south to Jackson Hole. Cutting through Grand Teton National Park, this a marvellously scenic drive and will whet your appetite for the days to come. Jackson is a bustling tourist town on a western theme, packed full of boutiques, bars, restaurants and galleries. Make sure you saddle up at its most famous establishment - the Million Dollar Cowboy bar! Your hotel is centrally located so you can take advantage of this and its many other attractions.
Overnight: Quality Inn 49Er Or Similar, Jackson Hole
Day 9 - Drive to Teton Village. Aerial tram to summit of Rendevous Mountain, 3,185miles/10,450ft. Walk back down to Teton Village – 7miles/11km, -1200m, 4-5 hours.
The Grand Tetons are a spectacular mountain range rising abruptly out of the Jackson Hole Valley to an impressive height of 4,199m/13,775 ft. Relatively young in geological terms, the jagged peaks, canyons and lakes of the Teton range were sculpted by the action of massive glaciers some two million years ago.
To fully appreciate the scale and beauty of the park, your day begins with the short drive to Teton Village, just outside of the southern entrance to the park. Here you take the aerial tram that whisks you up 1,200m in 15 minutes to an elevation of 3,185m at the summit of Rendevous Mountain. From this vantage point, on the crest of the Tetons, you can enjoy a 360 degree panoramic view of the soaring peaks of the range as well as the Snake River Valley and Jackson Hole below.
Many hiking trails lead from the summit and you may also see adventurous paragliders launching themselves into the biggest vertical drop in America. Your trail is far more sedate and descends steadily back to the valley floor enjoying expansive views and, hopefully, some wildlife spots. If you would prefer less of a descent there is the option to stop at the Bridge Gondola Station, about a third of the way down, and catch a ride in the gondola back to Teton Village. When everyone is back at ground level, you return to Jackson with time to relax and explore at leisure.
Please note that the tram operates between mid-May and early October band at other times may be closed due to snow.
Overnight: Quality Inn 49Er Or Similar, Jackson Hole
Day 10 - Explore sights of Grand Tetons including Mormon Row. Self-guided walk from String Lake to Jenny Lake – 4-5miles/6-8km, +/-100m, 2-3 hours. Drive to Salt Lake City – 300miles/480km, 4-5 hours.
For your final day in Wyoming, you will tour the sights of Grand Teton NP and enjoy a lakeside walk. The park is quite compact so it's easy to complete a driving circuit in just a couple of hours. One of the park's most iconic and popular sights is Mormon Row; a stretch of historic barns built by homesteaders in the early 1900s, most of whom were Mormons escaping drought conditions in Utah. The two most striking structures with their gabled roofs - known as the Moulton Barns - must be the most photographed barns in the country. With the sawtooth peaks of the Tetons behind and surrounded by flower-strewn meadows and grazing bison, there is no more photogenic image of the park to capture.
From Mormon Row you make your way to String Lake, stopping en route to enjoy the views and take photos, from different lookout points. As guided walks or not permitted within the Grand Teton NP, you will set off on a straightforward self-guided walk that leads from String Lake to the back of Jenny Lake. The hike gives stupendous views of the central spires of the Tetons as well as Mount Moran and Teewinot Mountain. When you reach Jenny Lake, a ferry takes you back to the road and the busy Jenny Lake visitor centre. It is here wyou say a sad farewell to the Tetons and make the long drive to Salt Lake City in neighbouring Utah state.
Overnight: Crystal Inn Or Similar, Salt Lake City
Day 11 - Time at leisure. Transfer to airport and depart for London.
Depending on the time of your flight home, you may have time to explore the shops and sights of downtown Salt Lake by taxi from your hotel. The hotel provides a free airport shuttle to the airport, and you should arrange your departure time in advance with the front desk.
Overnight: In flight
Day 12 - Arrive UK.
Map
Map Key
Airport
Point of interest
Mountain Peak
Day walk in this area
Flights
Internal Transfers
Trek
---
2023
| Dates | Availability | Land Only | Flight Inclusive from |
| --- | --- | --- | --- |
| Wed 20 Sep - Sun 1 Oct 2023 | Available | £4445 Book | £5295 Book |
2024
| Dates | Availability | Land Only | Flight Inclusive from |
| --- | --- | --- | --- |
| Wed 15 May - Sun 26 May 2024 | Available | £4445 Book | Contact Us |
| Wed 25 Sep - Sun 6 Oct 2024 | Available | £4445 Book | Contact Us |
Hold your place
Not quite ready to book? Why not call us on +44 (0) 1453 844400 to hold a no obligation place while you make up your mind?
---
Optional supplements
Single Room Supplement
£985
No Surcharge Guarantee
No surcharges will be applied to your holiday after you book. Prices on this website are updated regularly. The Flight Inclusive holiday price, or Land Only holiday price, will be confirmed to you at the time you make your booking. There will be no surcharges after your booking has been confirmed.
Flight inclusive holidays
The 'flight inclusive' holiday prices shown on this website are based upon our preferred airlines and the best priced economy class fares we are able to secure at the time of publication.
We will be able to advise on fares with alternative airlines, upgrades to Business Class, and the options for flights from regional UK airports, please contact us for more details.
Booking your holiday
For the majority of our holidays, a deposit payment of £400.00 per person is required to secure your place(s), however a small number of holidays require a higher deposit - please refer to the holiday itinerary for more details. If the holiday departs within 60 days, a deposit of £1,000.00 per person is required.
Book now!
Book your small group holiday securely online – click the 'Book' button next to your chosen departure or visit our How to Book page
Complete and return a Booking Form available to download here.
Call us on +44 (0)1453 844400 and one of our travel specialists will talk you through the booking process.
What's included
A local driver/guide
Specialist wolf guide for 1 day in Yellowstone
Hotel/lodge accommodation on twin share basis
All road transport by private vehicle
National park entrance fees
Jenny Lake ferry in Grand Teton
Breakfast and picnic lunches each day
Complimentary hotel/airport transfers
Economy class return air fares from the UK & UK Departure Tax (flight inclusive only)
Single, timed, group airport transfers for international flights on arrival and departure
What's not included
Travel insurance
Visa fees
Evening meals
USA airport departure taxes
Tips
---
---
---