What's included
An English-speaking local leader assisted by local guides
Good standard of hotel and lodges (twin share basis)
1 night homestay
Overnight train journey Hanoi to Lao Cai
2 nights Ha Long Bay cruise as specified (twin share basis)
Sightseeing as specified
All road transport by private vehicles
11 breakfasts, 10 lunches, 9 dinners
Economy class return air fares from the UK & UK Departure Tax (flight inclusive only)
Single, timed group airport transfer on arrival and departure
Carbon offset flights (flight inclusive only)
Visa assistance at the airport
A free Water-to-Go bottle or a free Mountain Kingdoms fleece
The opportunity to attend one of our pre trip meets in the Cotswolds
and much more...
Call our
friendly team
Gentle / Moderate
Gentle: Suitable for people who enjoy easy-paced walks or exploring the countryside on foot.
Moderate: Suitable for anyone who enjoys hill walking.
Find out more...
Grade: Gentle / Moderate ? Gentle / Moderate
Duration: 14 days from the UK
On trek: 2 days
Walks on: 4 days
Flight inclusive from £2,485,
Land only from £1,835
Book now or call 01453 844400
Immerse yourself in Vietnam's captivating natural beauty, Hanoi's vibrant city life and the north's traditional rural life.
Highlights
Delve into the 36 streets of 36 trades in Hanoi's Old Quarter
Trek through rice paddies in Sapa
Explore remote Hoang Su Phi on foot, and experience a night at a traditional homestay at a Red Dzao minority house
Cruise through the stunning unique Karst landscape in Ha Long Bay.
Our easy paced, walking holiday takes you on a journey through spectacular mountain scenery to ethnic hill tribe villages, and from stylish architectural sights in Hanoi, to the beautiful coast, and the stunning emerald seas of the UNESCO World Heritage Site, Ha Long Bay.
In Hanoi, Vietnam's capital city, you will have ample time to discover the lively Old Quarter, marvel at charming Vietnamese traditions and visit the must-see sights. There is time to familiarise yourself with this culturally vibrant city before boarding the night train and heading north to Lao Cai and travelling on to Sapa. The hillside town of Sapa, in the Hoàng Liên Son Mountains of northwest Vietnam, overlooks the stunning terraced rice fields of the Muong Hoa Valley. There are 54 different ethnic minorities in Vietnam and the H'mong, Kinh, Tay and Dao ethnic groups make up the majority of the local population here. North West Vietnam is home to many colourful hill tribe villages and you set out to achieve genuine cultural encounters on the walking trails local to Sapa, and those within remote, little-visited, rural villages. You will walk past lush terraced rice fields and woodland on the good paths that the locals use to move between villages and the town of Sapa, and trek to the remote and quiet village of Nam Cang.
From Lao Cai you head east to Hoang Su Phi, a rural district of Ha Giang province. You drive through pleasant small northern towns and villages close to the Chinese border to reach your destination: pristine, beautiful mountains, impressive lush valleys and the charming authentic culture of the local ethnic groups await. Trekking through remote countryside, and staying overnight in a traditional Red Dzao village house, you'll truly appreciate your wild and rugged surroundings.
The beautiful Ha Long Bay provides the ultimate finale to your northern Vietnam adventure. You will spend two nights cruising amongst stunning karst landscapes on the comfortable, well-equipped Au Co cruise boat. Ha Long, also known as the Bay of the Descending Dragon, is where Vietnam meets the South China Sea. From afar the islands appear to be a solid wall separating the sea and mainland but as you approach the wall suddenly opens and a multitude of islands appear. Sit back and enjoy outstanding cuisine while taking in unparalleled scenes of outstanding natural beauty; the perfect ending to this amazing adventure.
---
At a glance
Grade: Gentle / Moderate
Gentle / Moderate
Duration: 14 days from the UK
On trek: 2 days
Walks on: 4 days
Max. Altitude: 1,200m
Guaranteed to run for a minimum of 4 clients
Maximum group size: 12
Land only joining city: Hanoi
Accommodation types: Hotel, Lodges, Train, Homestay, Boat
Meal arrangements: 11 Breakfasts, 10 Lunches, 9 Dinners
Itinerary overview
| Day | Activity |
| --- | --- |
| 1-2 | Fly to Hanoi. Tour of the Old Quarter. |
| 3 | Full day tour of Hanoi's key cultural attractions including Ba Dinh Square, The Presidential Palace, Ho Chi Minh's house, the Ethnology Museum and the Temple of Literature. Board the night train to Lao Cai. |
| 4 | On arrival in Lao Cai transfer to Sapa. River walk and transfer to Topas Eco Lodge |
| 5-6 | Walks to minority villages and communities. |
| 7 | Transfer to Hoang Su Phi. Afternnon village walk. |
| 8-9 | Trek to Giang Ha village. Overnight at a homestay. Continue trek through other villages. |
| 10 | Transfer back to Hanoi. Attend water puppet show. |
| 11-12 | Cruise of Ha Long Bay with optional kayaking and swimming. |
| 13 | Visit Surprise Cave, return to dock. Transfer to Hanoi airport for the flight home. |
| 14 | Arrive UK. |
Leader: Local Leader, Vietnam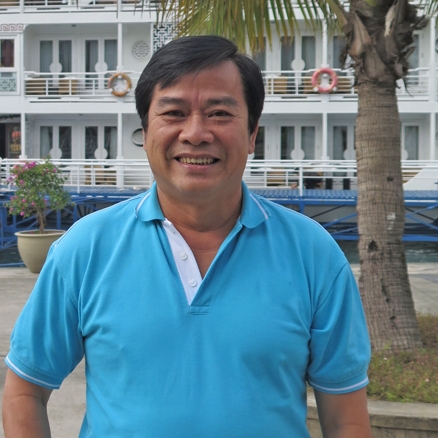 Our holidays in Vietnam are led by professional English-speaking Vietnamese tour leaders. They have an intimate and expert knowledge of the history, culture and nature of Vietnam.
They will be sure to provide you with an unforgettable experience in their wonderful country of Vietnam.
---
Hill Tribe Trails of Northern Vietnam Itinerary
Day 1 - Fly London to Hanoi.

Today you will depart the UK and fly to Hanoi

Overnight: In flight

Day 2 - Arrive Hanoi. Group transfer to hotel. Afternoon sightseeing introduction to Hanoi.

Xin chao! Welcome to Hanoi, Vietnam. You are greeted at the Noi Bai International Airport by your guide and driver, and then transferred to your hotel to check in. You will have time to relax at your hotel and adjust to the pace of Hanoi, prior to meeting your guide and group for a true taste of Vietnam; your first Vietnamese lunch. This beautiful city is bustling with energy and will soon dispel even the slightest feeling of jetlag the moment you start to explore.

It's a short drive from your hotel to Hanoi Centre, where you'll start your exploration by visiting the lively Old Quarter of Hanoi. This bustling heart of Hanoi has been a commercial centre since King Ly Thai To built his palace here in the 11th century. Skilled craftsmen started to migrate and artisan guilds were formed on the famous "36 Streets". Previously, each street carried the name of the item produced and sold there, and many still have the same names. This is a place you must see to experience Hanoi, where you will find shopping and cultural/historical sites all wrapped into one. You will also pay a visit to a traditional house at 87 Ma May Street and learn more about the captivating local architecture of Hanoi.

You will have time to relax before having dinner at a local restaurant.

Overnight: Quoc Hoa Hotel, Hanoi

Day 3 - Hanoi sightseeing and night train to Lao Cai City.

Following breakfast at your hotel, you will begin your tour of Hanoi with a visit to the Temple of Literature - a peaceful complex dedicated to Confucius, a Chinese teacher, editor, politician, and philosopher of the Spring and Autumn period of Chinese history. Built in the 11th century, it was the first university in Vietnam and, still today, students come here to burn incense before important exams. You will find it great for photography; the solemn atmosphere tinged with incense smoke and the sunken lotus ponds populated by fish and turtles, create a peaceful, divine environment.

Next you head to Ba Dinh Square, an area where a number of Hanoi's impressive and most historic sites are located. Here, on foot, you will visit the Presidential Palace, formerly the Palace of the Governor-General of French Indochina, Ho Chi Minh's house-on-stilts and, nearby, the One Pillar Pagoda.

You continue to the Ethnology Museum, for the perfect introduction to the country's diverse ethnic minority groups, their customs and individual ways of life. The highlight here is the large, beautiful outdoor area featuring genuine houses and compounds as built and used by the ethnic groups.

The remainder of the day is at leisure and you may want to wander the vibrant streets, take a stroll around Hoan Kiem Lake or sit peacefully in a shaded boulevard outside one of the many small cafes and watch the world go by.

In the evening your guide will take you to a restaurant of choice for dinner before transferring the group to the train station.

Overnight: Overnight train, Hanoi

Day 4 - Arrive Lao Cai, transfer to Sapa. Valley, river and village walk - approximately 12km, 4-5 hours.

On arrival in Lao Cai in the early morning a scenic drive takes you to Sapa, a beautiful mountainous region close to the Chinese border. Sapa overlooks traditional rice terraces and is a popular starting place for trekkers hoping to experience the Hoàng Liên Son Mountains of northwest Vietnam. After having breakfast, and a short bus transfer, you set off on a walking trail. It runs through delightful vegetable gardens before descending down the valley on a dirt trail, through picturesque rice paddy terraces. You will enjoy the spectacular scenery en route, before arriving at Y Linh Ho village of the Black H'mong minority, where you will rest and have lunch near the river.

After lunch, the walk takes you deeper into Muong Hoa Valley, a superb valley well-known for the most impressive rice paddy terraces in the Sapa region; photographers grab your cameras when you pass through the hills as the views are spectacular. Following the trail to Lao Chai village of the Black H'mong minority, you will notice the colourful headdresses and traditional costume of the villagers. The Hmong reside at high altitudes and cultivate rice, vegetables and fruit, in addition to medicinal plants. They also raise chickens, pigs, cows and horses and are well-known for their weaving skills. They are the largest, and most underprivileged, of the ethnic groups.

Walking to Ta Van the only village in the Sapa area inhabited by the Giay minority, there is time to stroll around the village, interact with the local people and learn more about their day-to-day lives. This is a wonderful introduction to the people of northern Vietnam. From Ta Van, you transfer to the beautifully positioned Topas Eco Lodge, perched on a scenic hilltop. On arrival (weather permitting) you are greeted by stunning views of the valley below and welcoming smiles from the local community. In the evening a delicious evening meal is served in the lodge restaurant, constructed from two old traditional Tay stilt houses, carefully moved piece by piece from its original site and reassembled at the lodge, with added equipment to meet modern standards while respecting its original and historical qualities.

Overnight: Topas Eco Lodge, Thanh Kim Commune

Day 5 - Explore Thanh Phu village. Walk to Red Dzao village of Nam Cang - 7km, 3 hours.

Surrounded by impressive 360 degree views at the lodge you'll enjoy breakfast before heading out to discover Thanh Phu Village of the traditional Tay minority. Here you can easily identify the differences in culture to the H'mong minority, as the group wears lighter colours and more delicate silk clothing. After lunch, you will explore the small village of My Son, home to Xa Pho people, the smallest minority group in the Sapa area. Walking along small roads you will soon understand that this area is off-the-beaten-track; people are welcoming and the walking is pleasant. Superb views and charming local encounters abound, and the locals' livestock, including inquisitive pigs, waddling ducks, and calming buffalo wander freely, and cannot fail to raise a smile.

Next is the remote and quiet Red Dzao village of Nam Cang, where finally you will cross a private bridge and check in to your private room in the comfortable Nam Cang Riverside Lodge. You can explore the enchanting, picturesque village with your local guide, and learn more about the fascinating and old culture of Red Dao minority people, take a dip in the river, or simply relax and absorb this wonderful environment, with a beverage on the riverside veranda. It would be difficult to find a better location for staying overnight in an old traditional minority village, in the heart of the Vietnamese mountains. This experience is truly wonderful.

Overnight: Nam Cang Riverside Lodge, Nam Cang

Day 6 - Morning walk up through the jungle - 8km, 4 hours. Transfer to Topas Eco Lodge.

Wake up to the sounds of nature in this superb location. The Red Dzao minority dominate Nam Cang and the surrounding villages. The Red Dzao women wear some of the most colourful and diverse costumes of all Vietnam's ethnic groups. You will explore the village and learn how the local villagers make writing paper, jewellery and embroidery. Then take a morning walk uphill through the jungle, stopping at the river for tea, snacks and, weather and water level permitting, an optional swim. During the walk, you will be inspired by the pristine nature of the area, and enjoy the feeling of serenity. Returning the same route downhill to Nam Cang Riverside Lodge, you'll enjoy a freshly prepared lunch, made from locally-produced ingredients from the village, and take time to relax before returning to Topas Eco Lodge for your final evening in the Sapa Valley. From your bungalow balcony, you can enjoy your aerial view over the mountainous area that you have just visited.

Overnight: Topas Eco Lodge, Thanh Kim Commune

Day 7 - Transfer from Sapa to Hoang Su Phi. Afternoon walking tour of local minority villages

Today you transfer from Topas Eco Lodge to Pan Hou Eco Lodge in Hoang Su Phi, travelling via Sapa and covering a distance of just over 200km. You drive via a scenic route along zigzag roads running past small villages and the characteristic regional markets of ethnic minorities. To add variety to your journey you will make regular stops and include a visit to Hoang A Tuong Palace. Built in the style of Asian - European architecture, the Hoang A Tuong Palace used to be the most powerful house in the northwest region.

Your destination is the fabled terraced fields of Hoang Su Phi. Well-known for the fabulous rice terraces, Hoang Su Phi attracts photographers from around the country and travellers come to take snapshots of striking moments when the rice fields start to become ripe in early autumn. Upon arrival at Pan Hou Eco Lodge, you are free to enjoy your eco lodge facilities or take a walk to a small village of Tay people nearby, and to interact with friendly locals and learn more about their culture. The eco lodge within Pan Hou village is hidden at the heart of the High Song Chay mountains. The Ha Giang province was the last to open to tourism and offers some of the most striking scenery in Vietnam. Virgin forests abound, natural fortress mountains are sculpted into terraces and rock formations are split by breath-taking canyons. In addition these majestic landscapes shelter the largest diversity of ethnic minorities in Vietnam.

Overnight: Pan hou Eco Lodge, Thong Nguyen

Day 8 - Trek to Giang Ha village - approximately 12km, 5 hours.

Wake early this morning, and after breakfast, you will start your trek to Giang Ha village, pausing for a picnic lunch at a Red Dzao village. The scenery is spectacular; mountains, forests, and terraced fields of rice provide the perfect backdrop. You trek along undulating local trails that connect local villages and farmland, water buffalo are regularly seen en route, and you will meet various ethnic minorities, many working the land.

The local minority groups all have unique traditional costumes, language and housing and this evening you experience an unforgettable night at a local house of the Red Dzao minority. The Red Dzao females wear the traditional costume of plain black trousers with a loose fitting black jacket brightly embroidered in red on the collar, the sleeves and on the back. An embroidered red bodice is worn under the jacket like a vest, together with a black embroidered apron, a red belt and a colourful turban covered by a red scarf. This evening the accommodation is basic, however the experience is one to be treasured.

Overnight: Homestay, Giang Ha village

Day 9 - Trek to Nam Nghi, the Lang Giang Valley and Pan Hou village - approximately 14km, 5 hours.

It is worth getting up early to make the most of the fresh air and peaceful atmosphere in this enchanting mountainous area. After breakfast you will say goodbye to your friendly Red Dzao hosts, and continue your trek through picturesque cassava fields, lush forests and rich tea plantations, towards the Lang Giang Valley and back to your delightful accommodation in Pan Hou Village, stopping for a lunch break at Nam Nghi, another striking traditional Red Dzao village. Similar to the previous day's trek you will discover local village trails, the path leading you past abundant tree ferns, rhododendrons and banana trees. Large bamboo and secondary scrubs grow on both sides of foot paths and there are many atmospheric cascading streams, waterfalls, and scenic pools.

Arriving at Pan Hou Eco Lodge in the mid-afternoon you are again free to enjoy the eco lodge's facilities, perhaps take a relaxing tea and medicinal herbal bath (payable locally) which is a speciality of the Lu Mien tribes, or simply enjoy the lodge's well-maintained grounds.

Overnight: Pan hou Eco Lodge, Thong Nguyen

Day 10 - Transfer to Hanoi. Visit Sword Lake, Ngoc Son Temple and attend water puppet show.

After breakfast, you say goodbye to Pan Hou Village and journey back to Hanoi, following the zigzag valley road south. Travelling approximately 295km you pass by many stunning mountainous limestone outcrops, rice terraces, small communities situated by the roadside and numerous Vietnamese and minority groups going about their day-to-day business. Although the drive is long the scenery is rewarding. Taking stops along the way, you will be able to take colourful photos and stretch your legs. You will have lunch en-route and arrive in Hanoi in the afternoon.

This afternoon you will visit Hoan Kiem Lake (Sword Lake) and the little island of Ngoc Son Temple in the historical centre of Hanoi, and in the evening finish your day by attending a fascinating Vietnamese water puppet show, a unique folk art that originated a thousand years ago during the Ly dynasty.

Overnight: Quoc Hoa Hotel, Hanoi

Day 11 - Early morning flower market visit. Transfer to Ha Long Bay and embark on Au Co cruise.

Today you have the option to wake up early and head out to Hanoi's biggest flower market in Quang Ba. Grab your cameras, as this is a fantastic spot for photographers to catch some exceptionally colourful scenes. On your way back to the old centre you visit the banks of Truc Bach Lake. Every morning, the local people gather at Truc Bach Lake to practice Tai Chi, do their daily fitness exercises or play badminton. It is the perfect opportunity to encounter real life in Hanoi. You can join in or simply observe this oasis of peace and serenity in the middle of the city centre.

You then transfer to Ha Long Bay and board the luxurious Au Co cruise ship. After a welcome drink and safety briefing you will set sail and enjoy lunch as the ship cruises towards the southwest corner of Ha Long Bay. After lunch you may visit a floating fishing village either or just relax onboard and enjoy the scenery.

Back on the Au Co, you may want to try your hand at fruit carving and join in the 'Master Chef' competition or simply relax on deck, sipping a sundowner, as the sun sets. After dinner there's time to catch a movie on board or even try a bit of squid fishing whilst the ship is anchored.


Overnight: Au Co Cruise, Ha Long Bay

Day 12 - On board Au Co cruise, Ha Long Bay.

You can choose an early start today with some Tai Chi, or to take in the beautiful views as the boat raises its anchor and sets sail again. After breakfast you visit a pretty island and explore its villages and a community farm project in the company of one of the Au Co's expert guides.

Returning to the boat for lunch, the afternoon is free for you to relax onboard or to kayak out to discover some of the delightful sandy beaches in the Ho Ba Ham area. Dinner tonight is a BBQ on the sundeck followed by movies and other optional activities.

It is important to note that the cruise itinerary and schedules are subject to change due to weather, tide levels and operating conditions without prior notice.


Overnight: Au Co Cruise, Ha Long Bay

Day 13 - Morning on board cruise boat, Ha Long Bay. Group transfer to Hanoi airport for your flight home.

This morning brings a final chance to take part in one of the Tai Chi classes available. After breakfast you'll visit Tien Ong Cave. Covering an area of 1,000 m2, with stunning stalactites and stalagmites, Tien Ong is one of the finest caves in Ha Long Bay.

You re-board the Au Co for a traditional tea ceremony after which it is time to say a fond farewell to the crew members and disembark back on to dry land. You will then be transferred back to Hanoi in time for your flight home.

Overnight: In flight

Day 14 - Arrive UK.

Today you will arrive back in London.
Map
Map Key
Airport
Point of interest
Mountain Peak
Day walk in this area
Flights
Internal Transfers
Trek
---
2020
| Dates | Availability | Land Only | Flight Inclusive from |
| --- | --- | --- | --- |
| Sun 11 Oct - Sat 24 Oct 2020 | Available | £1835 Book | £2485 Book |
| Sun 1 Nov - Sat 14 Nov 2020 | Available | £1835 Book | £2485 Book |
2021
| Dates | Availability | Land Only | Flight Inclusive from |
| --- | --- | --- | --- |
| Sun 14 Mar - Sat 27 Mar 2021 | Available | Contact us | Contact us |
Hold your place
Not quite ready to book? Why not call us on 0044 (0)1453 844400 to hold a no obligation place while you make up your mind?
Optional supplements
Single Room - Hotels, Lodges & Cruise
From £550
Insurance
No Surcharge Guarantee
No surcharges will be applied to your holiday after you book. Prices on this website are updated regularly. The Flight Inclusive holiday price, or Land Only holiday price, will be confirmed to you at the time you make your booking. There will be no surcharges after your booking has been confirmed.
Flight inclusive holidays
The 'flight inclusive' holiday prices shown on this website are based upon our preferred airlines and the best priced economy class fares we are able to secure at the time of publication.
We will be able to advise on fares with alternative airlines, upgrades to Business Class, and the options for flights from regional UK airports, please contact us for more details.
Loyalty discount
Find out more
What's included
An English-speaking local leader assisted by local guides
Good standard of hotel and lodges (twin share basis)
1 night homestay
Overnight train journey Hanoi to Lao Cai
2 nights Ha Long Bay cruise as specified (twin share basis)
Sightseeing as specified
All road transport by private vehicles
11 breakfasts, 10 lunches, 9 dinners
Economy class return air fares from the UK & UK Departure Tax (flight inclusive only)
Single, timed group airport transfer on arrival and departure
Carbon offset flights (flight inclusive only)
Visa assistance at the airport
A free Water-to-Go bottle or a free Mountain Kingdoms fleece
The opportunity to attend one of our pre trip meets in the Cotswolds
What's not included
Travel insurance
Visa fees for Vietnam, if applicable at time of travel
Lunch and evening meals in Hanoi, as per day by day itinerary
Tips
---
---
Review your holiday
Reviews
Read holiday reviews by Mountain Kingdoms travellers.
Overall score: 4.5 (Based on 6 reviews)
Hill Tribe Trails of Northern Vietnam
I loved this holiday 05/12/2017
It was everything I had hoped and that you had described in the brochure. Hanoi was exciting, I loved the streets and buildings and the buzz of the street life. The walking was in the most beautiful countryside which has stayed with me. I enjoyed the casual meetings with the local people for example at a Sunday market which was completely untouristy. Enjoyed the walking very much on lovely paths. Food was excellent, delicious and light and plentiful! Cruise on Ha Long Bay was relaxing, beautiful, comfortable and a very welcome rest at end of holiday. Accommodation superb throughout.
Ms M Zuckerman, UK
Hill Tribe Trails of Northern Vietnam
Private departure - Vietnam 21/11/2017
I think was one of the best holidays we have ever had, excellent value and immensely varied. The opportunity to walk and stay in village houses in the relatively unexploited Ha Giang province was a highlight, as were the stays in some really quite luxurious ecolodges and a magnificent cruise ship on Halong bay.
Dr Cadigan, UK
Hill Tribe Trails of Northern Vietnam
Trekking in Vietnam 11/01/2017
I enjoyed my holiday overall because of the wide variety of cultural experiences, areas visited, food, and Chin was a very knowledgeable guide. I was really impressed by the quality of the accommodation, food and friendliness of the ship's crew in Ha Long Bay.
Mr E, Suffolk
Hill Tribe Trails of Northern Vietnam
A trip of adventures and extremes in northern Vietnam! 11/01/2017
A holiday of adventures and extremes - from the first adventure of the overnight train to the hills; the comparison of the varied ethnic minorities' lifestyles; the contrast between the luxury (and peace and quiet) at Topas Ecolodge and on the Ha Long Bay cruise; the privilege of being a part of the remote home-stay family's basic way of life; the delights of glimpsing Hanoi's French colonial architecture; and the enjoyment of delicious Vietnamese cuisine. Congratulations, another great Mountain Kingdoms trip.
Mrs T, Hertfordshire
Hill Tribe Trails of Northern Vietnam
Welcoming culture 13/06/2015
Vietnam has jumped to the top of my list of favourite destinations within Southeast Asia. The Vietnamese are warm and welcoming, the landscapes are stunning, and the walking is culturally diverse. I cannot wait to return to this incredible country.
Kerry Robins, Mountain Kingdoms
---
Extend your holiday
There are many ways you can extend your holiday with Mountain Kingdoms: book extra hotel nights, relax at a beautiful beach resort, take a warm-up trek, arrange a personal sightseeing tour or enjoy specialist activities such as rafting, birdwatching or a safari.
We're happy to suggest ideas, provide quotes and make all the arrangements. We can also assist with flight and hotel upgrades. Just call us on +44 (0)1453 844400 or email info@mountainkingdoms.com and we will be pleased to help.