What's included
An English-speaking Sri Lankan leader
Whale watching excursions (Nov to Apr departures)
Early Morning optional ascent of Adam's Peak (Nov to Apr departures)
All meals included from lunch on Day 2 to breakfast on Day 16.
Single, timed, group airport transfers for international flights on arrival and departure
All hotel/airport transfers by private vehicles
Good standard hotel accommodation, full board, twin share basis
Sightseeing where specified
Economy class return air fares from the UK & UK Departure Tax (flight inclusive only)
Carbon offsetting with the Ecoan Tree Planting Project (for clients taking our flight inclusive option)
A free Mountain Kingdoms Water-to-Go bottle
and much more...
Call our
friendly team
Sri Lanka | Walking & Trekking
Gentle
Suitable for people who enjoy easy-paced walks or exploring the countryside on foot.
Find out more...
Grade: Gentle ? Gentle
Duration: 16 days from the UK
Walks on: 7 days
Flight inclusive from £2,945,
Land only from £1,995
Book now or call 01453 844400
A gentle walking holiday visiting the island's main historical, cultural, wildlife and scenic highlights.
Highlights
A comprehensive tour of Sri Lanka, combining cultural highlights with gentle walking
Travel into the hill country by train to hilltop tea plantations
Take a jeep safari to look for leopards in Yala National Park
A relaxing beach stay at the end of your travels
Sri Lanka is a small island but it has many wonderful attractions: historic cultural sites, beautiful beaches, fine countryside and excellent wildlife viewing. This trip is an ideal introduction to the country for those who are interested in exploring on foot, with some delightful gentle walks as well as seeing the main cultural sights.
You will have time after your international flight to relax in Ranweli, with a walk through mangrove forest and a boat trip, before you head off into the cultural heartland of the island. Firstly you will visit the ancient capital of Anuradhapura, with its ancient rock fortress and sacred fig tree, once swallowed up by dense jungle but now a major attraction for Buddhist pilgrims and tourists alike. You will also have the opportunity to climb the many stone steps to the summit of the sacred mountain of Mihintale, where Buddhism is said to have been first introduced into Sri Lanka and you will visit the ancient, ruined 12th century city of Polonnaruwa, once the capital of Sri Lanka and famous for the stone shrine of Gal Vihara with four carved statues of the Buddha. As well as visiting these fabulous historic sites there will be ample opportunities along the way for lovely, easy-paced walks in the beautiful countryside to see daily life out in the rural villages. You will also climb to stand atop the impressive Lion Rock at Sigiriya and later visit the remarkable cave temples in Dambulla and the Three Temples near Kandy, a fascinating combination of Buddhist and Hindu architecture. You will also visit the famous Temple of the Tooth.
Boarding a train in Kandy will signal a change of scenery as you climb to enjoy the cooler air of Nuwara Eliya for some enjoyable walks in cloud forest, tea plantations and on the Horton Plains with the opportunity, depending on the season, for the ascent of Adam's Peak. For another change in pace you then travel south out of the hill country down to the coast where you will see some of the prolific wildlife of the Uda Walawe and Yala National Parks - Yala is considered one of the world's premier parks for seeing leopard, as well as elephants, deer, wild buffalo, crocodile and many birds. During winter and spring there will also be the opportunity to go Blue Whale watching. Finally you will have time to relax on the lovely beach at Unawatana and to visit the historic town of Galle, before driving to Colombo for your flight home.
---
At a glance
Grade: Gentle
Gentle
Duration: 16 days from the UK
Walks on: 7 days
Max. Altitude: 2,243m/7,400ft, optional ascent of Adam's Peak, Day 10
Guaranteed to run for a minimum of 4 clients
Maximum group size: 12
Land only joining city: Colombo
Accommodation types: Hotels
Meal arrangements: All meals included from lunch on Day 2 to breakfast on Day 16. 14 breakfasts, 14 lunches and 14 dinners.
Itinerary overview
| Day | Activity |
| --- | --- |
| 1-3 | Fly to Colombo. Drive to Ranweli. Boat trip and guided nature walk. |
| 4-6 | Drive to Anauradhapura, tour of Sacred City. Drive to Mihintale, then on to Sigiriya. Visit the ruined city of Polonnaruwa. |
| 7-8 | Climb Sigiriya Rock. Drive to Kandy, visit the Temple of the Tooth. |
| 9-10 | Train to Nanu Oya, visit tea plantation. Drive to Horton Plains and walk to Baker's Falls. November to April - opportunity to ascend Adam's Peak. |
| 11 | Drive to Uda Walawe National Park for Jeep Safari. Drive to Tissamharama. |
| 12 | Morning and afternoon game drives at Yala National Park. |
| 13-14 | Drive to Unawatuna and visit Galle. Whale watching excursion included (departures between November and April only). |
| 15-16 | Drive to Colombo. Fly back to the UK. |
Leader: Local leader, Sri Lanka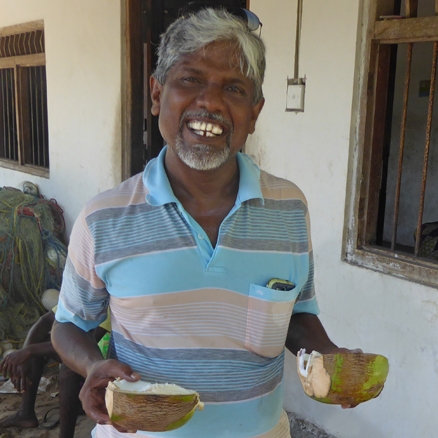 Your Sri Lankan guide will have an in-depth knowledge about the culture, history, flora and fauna of this beautiful island which they will be very happy to share with you. By nature they will extend a warm welcome to their country and they will also speak good English.
---
Gentle Walking Sri Lanka Itinerary
Day 1 - Depart UK.

Depart London by overnight flight for Colombo.

Overnight: In flight

Day 2 - Arrive Colombo. Group transfer to Ranweli - 30-45 minutes.

You will be met on arrival in Colombo and make the short drive north to Waikkal. Just outside the village, and set between the sea, a lagoon and two rivers, lies the unique Ranweli Hotel. The final part of your journey to the hotel will by passenger ferry.

Overnight: Ranweli Hotel or Similar, Waikkal

Day 3 - Ranweli - relaxation, boat trip and nature walk - 2 hour walk.

Today will be taken at a leisurely pace, after your long haul flight. As well as time to relax by the pool, or on the beach, you can enjoy a two hour guided walk through the mangrove swamps and a boat trip around the lagoons. There is plenty to see here; the area is home to 130 species of birds, some of which you may be able to spot, and 9 species of amphibians, not to mention the Water Monitor Lizard. This evening you may also be lucky enough to see a spectacular sunset.


Overnight: Ranweli Hotel, Waikkal

Day 4 - Drive to Anuradhapura – 4-5 hours. Sightseeing tour.

This morning your travels around Buddha's island begin in earnest as you drive inland to Anauradhapura. Whilst the distances covered on road journeys in Sri Lanka are relatively short, road conditions mean journey times are often much longer than western visitors anticipate. Today it's likely to take around 4-5 hours to cover the 200km/125miles to reach Anauradhapura, with stops for lunch and refreshments along the way.

Established in the 4th Century BC, Anuradhapura was Sri Lanka's first capital and remained so for many hundreds of years. After a turbulent later history, the city was largely abandoned in the late 10th Century and over subsequent years its palaces and monasteries were reclaimed by thick jungle. Now a World Heritage Site, Anauradhapura once again enjoys both historic and religious status. The location of the city was originally determined by the planting of a cutting from the 'tree of enlightenment' (the famous fig tree of Buddha) and today the area is a major attraction for visiting Buddhists. This afternoon you will visit the principal sights including the Sacred City and of course the Sri Maha Bodhi Tree.


Overnight: Palm Garden Village Or Similar, Near Wilpattu

Day 5 - Walks and visits to Mihintale, Kala Wewa Reservoir and Aukana. Drive to Sigiriya - approximately 2 hours.

Just a few minutes' drive from Anauradhapura is the sacred mountain of Mihintale. It was here in 247 BC that Buddhism was first introduced to Sri Lanka - King Devanampiya Tissa was converted to the faith by the visiting son of the Indian Buddhist emperor Ashoka. This morning you'll take a walk to see some of the temples and shrines that adorn the slopes of the mountain. The summit is reached by a climb of around 1,840 stone steps and offers great views of the surrounding countryside.

Returning to your vehicle you now drive to Kala Wewa Reservoir. Such reservoirs or 'tanks' as they are known locally, are a common feature of the landscape in this part of the island. Although used as domestic water source by local villages, their primary function was originally to store water for irrigating the surrounding fields. Alighting at the dam, you take a walk to visit the giant 12m/40ft Aukana Buddha statue, carved out of a rock face in the 5th Century. Alternatively, you may take a walk in the countryside on the way to Sigiriya. Your day ends with a couple of hours driving to reach your base for the next two nights in Sigiriya.

Overnight: Aliya Resort & Spa or Similar, Sigiriya

Day 6 - Visit ancient city of Polonnaruwa. Countryside walk - 2-3 hours.

Polonnaruwa is the ruined 12th century capital of Sri Lanka, and beautifully set on the man-made Parakramabahu Samudra. Before visiting the ruins, you will visit the modern museum which gives an excellent insight into the history of the old city. The highpoint for many visitors to Polonnaruwa is the Gal Vihara (Stone Shrine). Four Buddha statues have been carved from the same huge slab of rock and originally were part of a monastery complex. The reclining Buddha is 14 metres long and supremely ethereal. It is one of the most famous sights in Sri Lanka. After lunch your leader will take you on a gentle countryside walk, a great opportunity to observe day to day life in rural Sri Lanka. The predominant activity here is Chaina cultivation (slash & burn farming). This involves villagers cutting and then burning patches of jungle to create clearings for short-term cultivation of crops, such as rice and vegetables. Water is a precious resource here so farming operations are kept small scale with farmers typically only working two or three small plots at any one time. On your walk you will doubtless see numerous wooden tree-houses where villagers take it in turns to stay at night keeping watch over their crops, lest they fall prey to wild elephants or other animals.



Overnight: Aliya Resort & Spa or Similar, Sigiriya

Day 7 - Climb Sigiriya rock in the morning - 2½-3 hours. Afternoon visit to Dambulla Caves. Drive to Kandy - 1-1½ hours.

The citadel at Sigiriya rose to importance in the 5th Century AD when Prince Kassapa murdered his father, the King and built a castle on top of Sigiriya Rock in anticipation of the backlash against him. 500 years later the site was abandoned, and was largely forgotten until rediscovery by the British in 1828. The rock is a World Heritage site and is much visited by tourists. It is worth arriving at the site early to walk through the peaceful water gardens to the start of the climb up the main rock. The walkway up the rock is astonishing and the rock is covered in notches and grooves cut for alternative routes to the top. From the summit the jungle extends seemingly endlessly in all directions.

This afternoon you will visit Dambulla, famous for its remarkable cave temples. The caves are a steep 15 minute climb up from the road and are naturally carved out of a huge granite outcrop. It is thought that the caves may have been inhabited from prehistoric times, and now the five caves are full of beautiful statues and carvings. The rock offers magnificent views of the surrounding countryside across the plains.

You then drive to Kandy, the last bastion of independent Sri Lanka before falling to the British in the 19th century. The city has distinctive Sinhalese culture and architecture.


Overnight: Hotel Topaz or Similar, Kandy

Day 8 - Three Temples walk - 3-4 hours. Evening visit to the Temple of the Tooth.

This morning you will visit the Embekke Devale, Lankatilake and Galadeniya Temples. Founded in the 14th Century and set in three small villages in the hills just outside Kandy, you will walk between the three temples which are a fascinating combination of Buddhist and Hindu architecture.

The afternoon is free to do your own sightseeing or shopping or you could make an optional visit to the Peradeniya Botanical Gardens. Covering 150 acres, they are the largest and best kept gardens in Sri Lanka with over 10,000 trees, an orchard house and spice gardens. The visit to the garden is an excellent introduction to many of the trees and plants that you will see in the wild.

In the early evening you will visit to the Temple of the Tooth. Said to have been brought to Sri Lanka over 2,000 years ago in the hair of a Princess, the tooth relic is the island's most important Buddhist relic.


Overnight: Hotel Topaz or Similar, Kandy

Day 9 - Train to Nanu Oya - approximately 4 hours. Drive to Nurwara Eliya - 1 hour. Walk and tea plantation visit.

This morning you will catch the train from Kandy to make the journey to reach Nanu Oya and the surrounding hill country. Dating back to the mid-19th Century, Sri Lanka's railway network is another legacy of the British colonial era. Whilst sometimes journeys can be even slower than by road, a train journey is definitely an atmospheric and enjoyable way to travel, especially through the hill country, passing lush forest, waterfalls and manicured plantations.

After arriving by train at Nanu Oya, you travel by road for around one hour to reach Nuwara Eliya, your overnight stop. Here, you spend the remainder of the day enjoying a countryside walk and making a visit to one of the area's many tea plantations. From the time tea was first brought to the island in the 19th Century, after the pre-existing coffee plantations were decimated by a coffee-fungus, the tea industry in Sri Lanka has developed at an incredible rate. Initially exporting mainly to British markets today, more than 70% is grown for sale to Russia, the Middle East, and North Africa. During a tea plantation visit you will learn a little about the growing and harvesting techniques as well as perhaps having the chance to see first-hand the production process from bush to cup.

If you have opted to do the sunrise walk up Adam's Peak tomorrow you will leave the hotel in the late evening and drive for approximately 1¼ hours to the base of the mountain to begin your walk in the early hours (see Day 10 below).

Overnight: Hotel Black Pool or Similar, Nuwara Eliya

Day 10 - Optional ascent of Adam's Peak, 2,243m/7,359ft (seasonal). Alternatively drive to Horton Plains, walks to Baker's Falls and World''s End - 5 hours.

Optional ascent of Adam's Peak (departures between November and April only).
For those that wish, there is the option to make an early hours' ascent of Adam's Peak, 2,243m/7,400ft, to watch the sun rise. Although not quite the island's highest point, Adam's Peak is its most famous and held sacred by Buddhists, Hindus and Muslims alike. Atop the peak, now covered by a shrine, is reported to be the footprint in the rock which, depending upon your faith, is believed to be that of Buddha, Adam or Shiva. The peak is a major pilgrimage site and in the season many hundreds of people climb through the night to watch sunrise from the summit. Setting out from the base of the mountain at Dalhousie at around 2-2.30am, it takes between 2½-4 hours to cover the 7km/4½ miles and 5,200 stone steps, to reach the summit. Along the way you will pass a multitude of refreshment and souvenir stalls and the occasional rest area, all amongst the hubbub of monks, pilgrims and entire families making the climb. Watching the sunrise, and feeling its warming rays as they reach you, is certainly a memorable reward for one of the more unusual mountain walks you are likely to make.

Having walked back down the mountain you will have breakfast at a local guesthouse and then make the return drive to the hotel. The rest of the day is yours to rest and relax.

If you are not opting for Adam's Peak then the day's programme is:

Visit Horton's Plains, walk to Baker's Falls and World's End:
Today you will enjoy a circular walk that encompasses the main views and incredibly rich biodiversity of the Horton Plains National Park area of mountain moorland and cloud forest.

From the park visitor centre a broad track leads you onto the plains and via locations with such evocative names as 'Chimney Pool' or 'Leg of the Mutton pool' to reach Baker's Falls. Although not especially high at 20m/65ft Baker's Falls are a picture postcard spot, where the rushing waters of the Belihul River plunge into a gorge filled with rhododendrons. You can view the falls first from an observation deck and then after a short climb down, from their base. Your next viewpoint will be the dramatically named World's End, where the plateau drops away in a vertical drop of some 1,000m/3,300ft to the plains below.

The paths around the plains vary from broad tracks to narrow dirt paths but the walking is gentle throughout, with negligible ascent and descent. Your leader will doubtless have his favourite route to follow, but altogether you can expect to be out walking today for around 5 hours, covering 5-7 miles.

Overnight: Hotel Black Pool or Similar, Nuwara Eliya

Day 11 - Drive to Uda Walawe - 2½-3 hours. Jeep safari at the National Park. Drive to Tissamharama - 30-45mins.

You will leave the hill country today and make the scenic journey south towards the coast. From Nurwara Eliya the road descends first to Ella Gap, a prominent viewpoint over the valley that leads to the coast. There's a rest-house here which makes for a good refreshment stop whilst taking in the view. Driving on you'll arrive at Uda Walawe National Park, where you will have a Jeep Safari through the park. You are now in the Dry Zone, a lowland area of evergreen forests which in contrast to the ubiquitous rain forest, is one the few dry forest areas in the whole Indo-Pacific region. Combined with the surrounding areas of thorny scrubland this environment supports a healthy population of elephants and over 70 other species of mammal. After lunch you continue on to reach your overnight hotel in Tissamharama.

Overnight: Blue Turtle Hotel Or Similar, Tissamaharama

Day 12 - Game drives in Yala.

An early start today. Yala National Park is perhaps Sri Lanka's best-known spot for wildlife viewing. Covering around 130,000 hectares it covers a wide range of vegetation zones including monsoon forest, grassland, fresh water & marine wetlands, and sandy beaches. These habitats support an equally diverse range of flora and fauna and on your morning and afternoon safari drives here you may be able to see elephants, deer, wild buffalo, crocodile and some of the more than 120 species of birds including, Lesser Flamingos and Paradise Flycatchers. Today Yala is considered one of the world's premier parks for seeing leopard, as these normally elusive cats have grown quite accustomed to the safari jeeps that criss-cross the park. On an early morning or early evening drive you therefore have quite a good chance of spotting a leopard on the dirt trails or sitting atop a rocky outcrop.


Overnight: Blue Turtle Hotel Or Similar, Tissamaharama

Day 13 - Drive to Unawatuna - 4 hours. Afternoon walking tour of nearby Galle.

A further contrast in scenery lies ahead today as you make the short drive to reach the coast south of Tissamaharama. Upon reaching the main coast road you'll then follow the shoreline westward via Hambantota, Tangalle and Matara to reach Unawatuna, across the bay from Galle.

After checking in to your hotel and having lunch, you will make an afternoon visit to the nearby town of Galle. This fortified Portuguese/Dutch port is now a UNESCO World Heritage Site. Walking along the walled ramparts and through the narrow streets, makes for a really pleasant afternoon. Galle is a popular spot for visiting tourists and you will doubtless be able to pick up some nice souvenirs or presents to take home

Overnight: Coco Bay Beach Resort Or Similar, Unawatuna

Day 14 - Day at leisure. Or morning whale watching (November to April departures only).

In recent years Sri Lanka has developed a reputation as one of the best places in the world to view both blue whales and sperm whales. The prime spots are offshore from Dondra Head or Mirissa, both of which are just a short drive from Unawatuna. Early morning is considered the optimum time for sightings, so it will be an early start today in time to join one of the whale watching boats departing Mirissa at around 6:30am.

Sri Lankan coastal waters are very rich in nutrients and therefore sea life, as a result of the heavy inflow of river waters during the monsoon rains. With the waters off Dondra Head being particularly deep and lying on the migratory path of the whales, conditions are ideal for whale watching. As well as the giant blue whale and sperm whales, dolphins are also commonly seen. Returning to shore in time for lunch, the rest of the day is now yours to relax in the comfort of your hotel, by the pool or on the beach.

On May to October departures the whole day will be at leisure.

Overnight: Coco Bay Beach Resort Or Similar, Unawatuna

Day 15 - Drive to Colombo - 3 hours. Remainder of day at leisure.

This morning you will drive to Colombo and transfer to you hotel. The rest of the day will be at your leisure.


Overnight: Galle Face Regency or Similar, Colombo

Day 16 - Group transfer to Colombo airport. Fly to London.

This morning, after breakfast, you will be transferred the short distance to the airport for your flight back to the UK.

Map
Map Key
Airport
Point of interest
Mountain Peak
Day walk in this area
Flights
Internal Transfers
Trek
---
2021
| Dates | Availability | Land Only | Flight Inclusive from |
| --- | --- | --- | --- |
| Sat 31 Jul - Sun 15 Aug 2021 | Available | £2095 Book | £2945 Book |
| Sat 6 Nov - Sun 21 Nov 2021 | Available | £1995 Book | Contact us |
| Sat 11 Dec - Sun 26 Dec 2021 | Available | £2150 Book | Contact us |
2022
| Dates | Availability | Land Only | Flight Inclusive from |
| --- | --- | --- | --- |
| Sat 5 Feb - Sun 20 Feb 2022 | Available | £2195 Book | Contact us |
| Sat 30 Jul - Sun 14 Aug 2022 | Available | £2135 Book | Contact us |
Hold your place
Not quite ready to book? Why not call us on 0044 (0)1453 844400 to hold a no obligation place while you make up your mind?
Optional supplements
Single room supplement
From £615
Insurance
No Surcharge Guarantee
No surcharges will be applied to your holiday after you book. Prices on this website are updated regularly. The Flight Inclusive holiday price, or Land Only holiday price, will be confirmed to you at the time you make your booking. There will be no surcharges after your booking has been confirmed.
Flight inclusive holidays
The 'flight inclusive' holiday prices shown on this website are based upon our preferred airlines and the best priced economy class fares we are able to secure at the time of publication.
We will be able to advise on fares with alternative airlines, upgrades to Business Class, and the options for flights from regional UK airports, please contact us for more details.
Booking your holiday
For the majority of our holidays, a deposit payment of £100.00 per person is required to secure your place(s), however a small number of holidays require a higher deposit - please refer to the holiday itinerary for more details. If the holiday departs within 60 days, a minimum deposit of £750.00 per person is required.
Book now!
Book your small group holiday securely online – click the 'Book' button next to your chosen departure or visit our How to Book page
Complete and return a Booking Form available to download here.
Call us on 01453 844400 and one of our travel specialists will talk you through the booking process.
Loyalty discount
Find out more
What's included
An English-speaking Sri Lankan leader
Whale watching excursions (Nov to Apr departures)
Early Morning optional ascent of Adam's Peak (Nov to Apr departures)
All meals included from lunch on Day 2 to breakfast on Day 16.
Single, timed, group airport transfers for international flights on arrival and departure
All hotel/airport transfers by private vehicles
Good standard hotel accommodation, full board, twin share basis
Sightseeing where specified
Economy class return air fares from the UK & UK Departure Tax (flight inclusive only)
Carbon offsetting with the Ecoan Tree Planting Project (for clients taking our flight inclusive option)
A free Mountain Kingdoms Water-to-Go bottle
What's not included
Travel insurance
Visa fees
Sri Lankan airport departure taxes (where applicable)
Tips
---
---
Review your holiday
Reviews
Read holiday reviews by Mountain Kingdoms travellers.
Overall score: 5.0 (Based on 10 reviews)
Gentle Walking Sri Lanka 16/01/2019
The timing and itinerary of the holiday met our requirements and were main reasons for making the booking with MK. Could not fault any of the services provided by MK.
Mr R Philp, Fife
Gentle Walking Sri Lanka 13/03/2017
From beginning to end the trip was well organised. The content was varied and interesting and we were escorted by an excellent guide who went to great lengths to ensure that we all had a good experience.
Mr A Cooper, UK
Well-organised trip to Sri Lanka 20/12/2016
A well-organised trip to a country rich in scenery, culture, and history. Good food, warm and welcoming people, and a relaxed approach to life.
Mr & Mrs M, Wantage
Gentle Walking Sri Lanka 20/12/2016
What we enjoyed about travelling with Mountain Kingdoms was being able to get feet on the ground and walking, thus seeing more of the real (non-touristy) countryside and meeting the people in their natural environment.
Mr & Mrs B, Hampshire
Excellent trip 07/11/2015
This was an excellent trip. The itinerary was well organised and I think contained all the most interesting places in Sri Lanka. It had a combination of interesting historical temples, good walking, coastal scenery and wildlife. The hotels and meals were of a consistently high standard. Everything was well organised.
Mr R, Middlesex
---
Extend your holiday
There are many ways you can extend your holiday with Mountain Kingdoms: book extra hotel nights, relax at a beautiful beach resort, take a warm-up trek, arrange a personal sightseeing tour or enjoy specialist activities such as rafting, birdwatching or a safari.
We're happy to suggest ideas, provide quotes and make all the arrangements. We can also assist with flight and hotel upgrades. Just call us on +44 (0)1453 844400 or email info@mountainkingdoms.com and we will be pleased to help.