What's included
A Local Leader
International flights economy class (flight inclusive option)
International airport transfers
All other transfers as per the itinerary
All road transport by private vehicles
Good standard hotel or chalet accommodation
11 breakfasts, 10 lunches, 4 dinners
Sightseeing as specified
Activities as specified
Entry fees and permits for national parks and native sites
The option of joining one of our pre-trip meets in the Cotswolds
A free high-quality Mountain Kingdoms fleece
and much more...
Call our
friendly team
Gentle Walking Canadian Rockies
Walking & Trekking
Gentle / Moderate
Gentle: Suitable for people who enjoy easy-paced walks or exploring the countryside on foot.
Moderate: Suitable for anyone who enjoys hill walking.
Find out more...
Grade: Gentle / Moderate ? Gentle / Moderate
Duration: 13 days from the UK
Walks on: 10 days
Flight inclusive from £3,190,
Land only from £2,495
Book now or call 01453 844400
The best walks through the awe-inspiring scenery of Banff and Jasper National Parks with comfortable accommodation throughout.
Highlights
Enjoy daily walks in the Canadian Rockies, through stunning scenery and to the best viewpoints
Hike in Banff, Yoho and Jasper National Parks
Drive along the Icefield Parkway – one of the world's most scenic highways
Stay in comfortable hotels in Lake Louise, Jasper and Kananaskis
Reviews
From the moment we departed Calgary and joined the Trans Canada Highway, I knew that I was in for an extraordinary scenic treat. Beautiful emerald lakes, towering mountain peaks and the excitement of being on the lookout for roaming wildlife, all added to an unforgettable adventure. I didn't want to leave.
K Robins, Mountain Kingdoms
View All
No amount of superlatives can ever capture the scenic splendour of the Canadian Rockies. Jagged, snow-capped peaks, crystal blue lakes, lush Alpine meadows and cascading waterfalls form the picture perfect landscape that dazzles the senses from the moment we arrive.
Walking on every day of the holiday, our hikes take us to the very best viewpoints in both Banff and Jasper National Parks including paths to pristine areas that are off the main tourist trails. We also enjoy the jaw-dropping scenery along the Icefield Parkway - one of the world's most scenic highways - stopping to stretch our legs and admire the views en route.
We base ourselves in comfortable hotels and lodges in the attractive towns of Lake Louise, Jasper as well as scenic Kananaskis which act as gateways to some superb walks. Edith Cavell Meadow, Yoho Lake, Athabasca Falls and Baldy Pass are just some of the iconic places that we will reach, all of which will reward our efforts with awesome views and endless photo opportunities.
---
At a glance
Grade: Gentle / Moderate
Gentle / Moderate
Duration: 13 days from the UK
Walks on: 10 days
Max. Altitude: 2,360m/7,743ft, Wilcox Pass, day 8
Guaranteed to run for a minimum of 4 clients
Maximum group size: 12
Land only joining city: Calgary
Accommodation types: Hotels, Cabins
Meal arrangements: 11 Breakfasts, 10 Lunches, 4 Dinners Your guide will prepare your lunch throughout your holiday; this will be taken with you on the trail.
Itinerary overview
| Day | Activity |
| --- | --- |
| 1 | Fly to Calgary and transfer to hotel. |
| 2-4 | Drive to Lake Louise. Day walks to Big Beehive at Lake Louise, Dolomite Pass and Yoho Lake. |
| 5 | Drive the Icefield Parkway to Jasper. Hike Parker Ridge trail en route. |
| 6-7 | Walks to Edith Cavell Meadow and visit the powerful Athabasca Falls. Appreciate breathtaking views along the Skyline Sulphur trail, Jasper. |
| 8-10 | Drive to Kananaskis and hike in the Banff and Kananaskis region. Trails include Sulphur mountain hike, Baldy Pass and Pocaterra Ridge |
| 11 | Drive back to Calgary, short walk en route. |
| 12-13 | Transfer to the airport and fly home. |
Leader: Local leader, Canada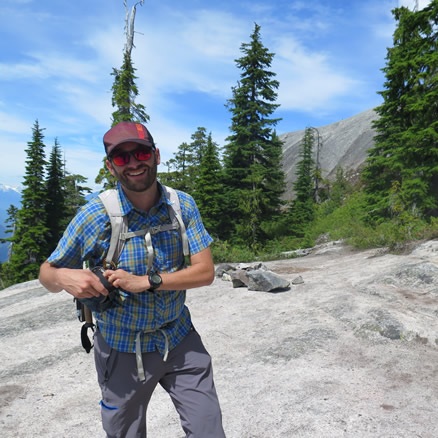 Our walking and trekking holidays in Canada are led by experienced, friendly and knowledgeable, English-speaking local guides. They have extensive knowledge of their surroundings and bring an in-depth aspect to your adventure. Our local guides are members of professional organisations including the Association of Canadian Mountain Guides, they are Wilderness First Responders accredited by the National Outdoor Leadership School, and are members of Leave No Trace Canada.
---
Gentle Walking Canadian Rockies Itinerary
Day 1 - Fly London to Calgary

Fly from London to Calgary. On arrival you will be greeted at the airport by your local guide and transferred to your hotel. The remainder of the day is at leisure, for you to recover from your flight and to enjoy downtown Calgary.

Overnight: Sandman or Similar, Calgary

Day 2 - Drive to Lake Louise - 195 km, 2½ hours. Walk Big Beehive trail - 11km, 560m ascent / 560m descent, 4½ hours

Your first full day in Alberta starts with an early breakfast before departing downtown Calgary and heading north to the village of Lake Louise. Lake Louise is one of many glacial lakes within Banff National Park and without question the most famous; the emerald colour of the water comes from rock flour carried into the lake by melt-water from the glaciers that overlook the lake. Lake Louise is 2km long, has an area of 85ha, and a maximum depth of 70m.

Today is the perfect introduction to the outstanding scenery that dominates the landscapes in the Canadian Rockies, as you climb to the modest summits of Little Beehive and Big Beehive, above the beautiful Lake Louise.

The trail climbs gradually through subalpine forest for a mile to a switch-back that overlooks Lake Louise and the delta at its inlet. Views of the impressive quartzite cliffs of Fairview Mountain rise steeply on the opposite side of the lake. This popular trail leads you to Mirror Lake and through larch trees on an avalanche slope on Mt. St. Piran. Here numerous flora, ground squirrels and chipmunk can be seen as you make your way to the viewpoint at Little Beehive. You will achieve stunning natural sights including those of Big Beehive, Fairview Mountain, glacier-clad Mt. Aberdeen, and rising above all of them, the icy summit of Mt. Temple. Little Beehive commands an unbeatable view of the Bow Valley, from Hector Lake in the north to Pilot Mountain in the south. Descending from Little Beehive you visit Lake Agnes, where yet more impressive views await, before continuing along the north shore of the lake and ascending steeply to Big Beehive. Here, Lake Louise, lies more than 500m/1,640ft below.

Descending back to Lake Louise you will drive to your accommodation for the next three nights. While you are staying at Castle Mountain Chalets your guide will advise you on the best options for dinner each night. You may either drive to a local restaurant, travel into Banff or Lake Louise or, alternatively, your guide may cook dinner for you at the cabins.

Overnight: Castle Mountain Chalets Or Baker Creek Chalets Or Similar

Day 3 - Drive to Bow Lake - 80km, 1hour. Walk Dolomite Pass - 12km, 420m ascent / 420m descent, 3 to 4 hours.

After a traditional Canadian breakfast you take a short drive north along the Icefields Parkway to the trailhead for Helen Lake. This is one of the classic hikes in Banff, along stunning trails with an exceptional assortment of natural views. On your hike you will come across beautiful wildflowers and amusing furry friends including marmots and small adorable pikas that live in the area, plus you may also see eagles and a variety of ground squirrels.

The trail winds steadily through alpine forest and to an open avalanche slope, here you gain the majority of your ascent. As the trail rounds the hillside you are greeted with a wide open meadow and lovely views and from here the hike is outstanding. You leave the shady trees behind as you make your way gently up the valley, then cross an active stream to a scattering of picturesque mountain lakes and on to Helen Lake. Beyond the lake, a short ascent takes you to the roof of the valley offering stunning panoramic views towards Dolomite Peak, Cirque Peak, Mount Hector, Wapta Icefields, Bow Valley and Helen Lake. Continuing on to Dolomite pass the trail ascends steeply for 100m/328ft before you descend into the valley beyond. The terrain resembles a rich rocky moonscape as you continue on to Dolomite pass and the dramatic pinnacles of Dolomite Peak. Returning to your start point, you will be truly amazed by your day's experiences.


Overnight: Castle Mountain Chalets Or Baker Creek Chalets Or Similar

Day 4 - Drive to Yoho Lake - 80km, 1½ hours. Walk on the Iceline Trail - 11km, 560m ascent / 560m descent, 5 hours.

Yoho National Park lies on the western slopes of the Canadian Rocky Mountains. The park is sprinkled with attractive waterfalls including one of Canada's highest at 254m, Takakkaw Falls. Today you cross from Alberta into British Columbia and set out to hike part of the striking Iceline Trail, known as one of the most spectacular hikes in the Canadian Rockies. To experience this wonderful location you walk to the foot of The Vice President Mountain and then continue to a stunning viewpoint opposite Takakkaw Falls. The trail rolls up and down through rocky alpine terrain and follows the edge of several dramatic glaciers. You'll gain close-up views of intense glaciers and walk amongst the stunning mountain peaks.

If time permits you will stop at Emerald Lake before returning to your accommodation. Emerald Lake is the largest of Yoho's 61 lakes and ponds, as well as one of the park's premier tourist attractions.


Overnight: Castle Mountain Chalets Or Baker Creek Chalets Or Similar

Day 5 - Drive Icefield Parkway - 240 km, 4 to 5 hours. Walk Parker Ridge - 5 km, 250m ascent/ 250m descent, 2 hours.

Today you take a journey north along one of the world's most scenic highways, the Icefield Parkway. Jaw-dropping scenery surrounds you for the duration of this unforgettable drive. The landscape is peppered with more than 100 ancient glaciers, majestic waterfalls falling from dramatic rock spires and turquoise emerald lakes.

En route, you'll make regular stops, to stretch your legs and appreciate the surroundings. You'll visit the unexpectedly beautiful Peyto Lake situated just a short walk from the roadside, hidden deep in the valley below, a breathtaking sight of a vast glacier-fed lake is revealed. Continuing towards the Columbia Icefield you will stop to walk up the must-do trail to Parker Ridge, for views of the impressive Saskatchewan Glacier - a prominent toe of the Columbia Icefields. Continuing north you'll arrive in Jasper and settle in to your accommodation for the duration of your stay in Jasper National Park.

During your stay at Pine Bungalows your guide will prepare your meals. Breakfast and dinner will be taken in the dining room, and lunch will be taken on the trail. However, this evening you will enjoy dinner at a local restaurant in Jasper.


Overnight: Pine Bungalows or Similar, Jasper

Day 6 - Drive to Cavell Meadows - 60 km, 1½ hours. Walk Edith Cavell Meadow trail - (8.5 km, 600m ascent / -600m descent, 4 hours.. Visit Athabasca Falls.

The Cavell Meadows hike is a Jasper favourite displaying colourful floral meadows, dominant glaciers and jagged towering cliffs. Your hike today starts by climbing over a terminal moraine, the furthest advance of the now receded glacier, and works south through the quartzite debris of the glacier forefield. Part of this area was covered by ice less than 50 years ago. Delightful chipmunks, golden mantled ground squirrels, and pikas live in the nooks and crannies of this moraine and add a sense of 'wild' to this wonderful trail. Cottonwood poplar grows from the rocks to the right of the trail and reaching the top of the moraine marks an immediate change to subalpine forest. Your trail switchbacks into the trees. The forest here is an ancient one, dominated by Engelmann spruce and subalpine fir. One fir is half a metre thick at the base.

The first of your viewpoints provides an excellent sight of Angel Glacier and its 40m thick ice cliffs. Soon the trail emerges from the trees to reveal the beautiful Edith Cavell Meadows - amateur botanists are particularly fond of these meadows for their displays of pink, yellow, and white mountain heather which provides the most spectacular setting.

Retracing your steps, you descend back down the trail and then return to Jasper, stopping at the spectacular Athabasca Falls - known as the most powerful waterfall in the Canadian Rockies the falls are completed by an exceptional setting of tall alpine forest with the mighty Mt. Kerkeslin in the background.

Overnight: Pine Bungalows or Similar, Jasper

Day 7 - Drive to trailhead - 122km, 2 hours. Walk Skyline Sulphur Trail - 8km, 700m ascent/ 700m descent, 4-6 hours.

The Sulphur Skyline hiking trail has some of the most breathtaking panoramas that Jasper has to offer. The hike is a steep climb but very rewarding - you will take lots of breaks to ease the ascent. You will achieve incomparable views of Sulphur Ridge to your right and impressive views of the valley below from where you have walked up. As you continue you will reach a delightful alpine meadow before reaching the rocky summit where you are rewarded with outstanding 360 degree vistas. To the east you can see Fiddle River Valley and Mount Drinnan in the distance. To the west and south there is the Miette Range and Utopia Mountain. To the northwest you can see the Ashlar Ridge. This is a truly breathtaking trail and well-worth the effort!

Overnight: Pine Bungalows or Similar, Jasper

Day 8 - Drive from Jasper to Canmore - 290km, 4-5 hours. En route walk the Wilcox Pass Trail - 8km, 2 to 3 hours.

Today you make your way back along the spectacular Icefield Parkway Highway to Canmore - enjoying views equally as impressive as your first experience. En route you'll stop for a gentle hike on the Wilcox Pass trail located near the Columbia Icefields, the largest ice field in the rocky mountains of North America. This trail offers the most remarkable views on the Columbia Icefield and its huge Athabasca Glacier; one of the six principal 'toes' of the Columbia Icefield.

The trail climbs steeply into an ancient forest of Engelmann spruce, many of these trees, stunted by the glacial chill, are 300 to 350 years old. The oldest known Engelmann spruce in Jasper National Park is approximately 700 years. The high stumps you see are from trees cut for bridge timbers during construction of the original Icefields Parkway in the late 1930s. You reach the treeline, at the edge of a cliff that overlooks the extraordinary Icefields Parkway. The theme of this adventure is 'outstanding natural beauty' and again today you will not be disappointed - the view to the south features many peaks over 3,000m including Mt. Athabasca, Mt. Andromeda, the Athabasca Glacier, Snow Dome, Dome Glacier and Mt. Kitchener - utterly stunning.

Your next stop is the delightful town of Canmore, near the boundary of Banff National Park. Canmore, originally a coal-mining town is surrounded by unspoiled natural beauty and offers a more peaceful Rocky Mountain experience, away from the hustle and bustle of the popular tourist attractions of Banff.

Overnight: Coast Canmore Hotel & Conference Centre or Similar, Canmore

Day 9 - Drive to trailhead for Baldy Pass walk - 7.4km, 570m ascent / 570m descent, 4-5 hours.

Your walk today is Baldy Pass, a classic day hike of this region. You drive to the trailhead and from there your trail is at first gently through forest before you start the steep but scenic climb up the vally to reach te pass at 1,990m/6,529ft, from where you will get exceptioal mountain views.

There are options to extend this walk up the ridge for even better views, before returning by the same route.

Overnight: Coast Canmore Hotel & Conference Centre or Similar, Canmore

Day 10 - Pocaterra Ridge hike - 8.7 km, 480m ascent / 480m descent, 4-5 hours.

This morning you will drive along the Highwood Pass to reach the trailhead for Pocaterra Ridge, one of the most scenic drives in the Canadian Rockies. The Pocaterra Ridge hike is another fabulous walk and is considered one of the best day hikes in Alberta. It is particularly renowned for its colourful display of larches. The spectactular trail follows along a ridge, crossing four summits and offering jaw-dropping, 360 degree views for much of its length. The trail is steep at times, but the panoramic vistas are a great distraction from the exertion. Having completed the hike, you return to your hotel in Canmore for a final night.

Overnight: Coast Canmore Hotel & Conference Centre or Similar, Canmore

Day 11 - Drive to Kananaskis - 130km, 2 hours. Walk to Chester Lake - 8 km, ascent 300m / 300m descent, 3-4 hours. Drive to Calgary

Returning to Calgary this morning you will take your final short and pretty hike to Chester Lake in Spray Valley Provincial Park, Kananaskis Country. The trail to this beautiful tarn is justifiably popular and meanders through forests and meadows leading to the emerald waters of Chester Lake. The meadows near the lake are flushed with wildflowers and the afternoon light illuminates the slab cliffs of Mount Chester.

Driving back to Calgary in the afternoon, you will have time to walk downtown and enjoy a last farewell dinner with your group.

Overnight: Sandman or Similar, Calgary

Day 12 - Transfer to the airport for flight back to London.

You may have time for some last minute shopping today before transferring to the airport for your overnight flight home.

Overnight: In flight

Day 13 - Arrive UK

Today you will arrive back in the UK
Map
Map Key
Airport
Point of interest
Mountain Peak
Day walk in this area
Flights
Internal Transfers
Trek
---
2019
| Dates | Availability | Land Only | Flight Inclusive from |
| --- | --- | --- | --- |
| Sat 20 Jul - Thu 1 Aug 2019 | Available | £2495 Book | £3190 Book |
| Sat 10 Aug - Thu 22 Aug 2019 | Available | £2495 Book | £3190 Book |
| Sat 7 Sep - Thu 19 Sep 2019 | Available | £2495 Book | Contact us |
Hold your place
Not quite ready to book? Why not call us on 0044 (0)1453 844400 to hold a no obligation place while you make up your mind?
Optional supplements
Single Room Supplement
From £835
Insurance
No Surcharge Guarantee
No surcharges will be applied to your holiday after you book. Prices on this website are updated regularly. The Flight Inclusive holiday price, or Land Only holiday price, will be confirmed to you at the time you make your booking. There will be no surcharges after your booking has been confirmed.
Flight inclusive holidays
The 'flight inclusive' holiday prices shown on this website are based upon our preferred airlines and the best priced economy class fares we are able to secure at the time of publication.
We will be able to advise on fares with alternative airlines, upgrades to Business Class, and the options for flights from regional UK airports, please contact us for more details.
Loyalty discount
Find out more
What's included
A Local Leader
International flights economy class (flight inclusive option)
International airport transfers
All other transfers as per the itinerary
All road transport by private vehicles
Good standard hotel or chalet accommodation
11 breakfasts, 10 lunches, 4 dinners
Sightseeing as specified
Activities as specified
Entry fees and permits for national parks and native sites
The option of joining one of our pre-trip meets in the Cotswolds
A free high-quality Mountain Kingdoms fleece
What's not included
Overseas airport departure taxes
Travel insurance
Visa fees
Optional activities
Tips
---
---
Review your holiday
Reviews
Read holiday reviews by Mountain Kingdoms travellers.
Overall score: 4.5 (Based on 2 reviews)
Gentle Walking Canadian Rockies
Fantastic choice of walks and outstanding scenery 21/08/2018
MK have provided the opportunity for us to explore mountainous area of the world which we could not have done without their support.
Mr N Watkins, Gloucestershire
Gentle Walking Canadian Rockies
Unforgettable Canadian adventure 09/11/2016
From the moment we departed Calgary and joined the Trans Canada Highway, I knew that I was in for an extraordinary scenic treat. Beautiful emerald lakes, towering mountain peaks and the excitement of being on the lookout for roaming wildlife, all added to an unforgettable adventure. I didn't want to leave.
Kerry Robins, Mountain Kingdoms
---
Extend your holiday
There are many ways you can extend your holiday with Mountain Kingdoms: book extra hotel nights, relax at a beautiful beach resort, take a warm-up trek, arrange a personal sightseeing tour or enjoy specialist activities such as rafting, birdwatching or a safari.
We're happy to suggest ideas, provide quotes and make all the arrangements. We can also assist with flight and hotel upgrades. Just call us on +44 (0)1453 844400 or email info@mountainkingdoms.com and we will be pleased to help.