What's included
English-speaking leaders in Burma and in Bhutan
Economy class return air fares from the UK & UK Departure Tax (flight inclusive only)
Economy class flights with Druk Air
Bhutan departure tax and Bhutan visa
All domestic flights and all hotel/airport transfers
4 star hotels in Bangkok and Yangon on a twin-share, bed and breakfast basis
Good quality hotel accommodation elsewhere in Burma and throughout Bhutan on full board, twin-share basis
All road transport by private vehicles
Sightseeing where specified and all associated entrance fees
A free Mountain Kingdoms Water to Go bottle or a free Mountain Kingdoms micro fleece
Optional pre-trip meets in the Cotswolds
and much more...
Call our
friendly team
Dragon Kingdoms of Burma & Bhutan
Walking & Trekking
Bhutan, Burma (Myanmar) | Walking & Trekking
New for 2020
Gentle
Suitable for people who enjoy easy-paced walks or exploring the countryside on foot.
Find out more...
Grade: Gentle ? Gentle
Duration: 19 days from the UK
Walks on: 6 or 7 days
Flight inclusive from £4,745,
Land only from £4,095
Book now or call 01453 844400
An easy-paced walking and sightseeing holiday to two of the world's most remarkable Buddhist kingdoms.
Highlights
Visit Burma's four major cultural centres: Yangon, Mandalay, Bagan and Inle Lake
Enjoy a delightful full day cruise along the Ayeyarwady River from Mandalay to Bagan
Walk to view the celebrated Taktsang Monastery in Bhutan
Discover beautiful Punakha Dzong
Attend the Paro Festival on our March departure
Stay in good quality hotel accommodation throughout
Reviews
I have been lucky enough to travel in both of these kingdoms and believe they make for a wonderfully harmonious and endlessly fascinating holiday. Dazzling dzongs, ornate temples, charming villages, vast ancient cities and some jolly good walks are the key ingredients for the trip of a lifetime.
Steve Berry, MD, Mountain Kingdoms
View All
Burma and Bhutan offer amazing contrasts in culture, landscapes and history. From the busy port of Yangon (Rangoon) we take a one-week tour of Burma's key sights including the cultural centre of the country, Mandalay, the temple-filled plains of Bagan, and the delightful floating villages and gardens of Inle Lake. Golden-spired temples, lively markets and the broad smiles of the people are just some of the memories we'll take away.
Flying in from Bangkok, Bhutan's refreshing cool mountain air and altogether slower pace of life will make an immediate impression. The monasteries and temples here are not as opulent as those in Burma but are no less impressive, with their delicate architecture and often imposing settings. Over five days we'll visit Paro, Taktsang Monastery (the stunning Tiger's Nest), the capital, Thimphu, and the beautiful Punakha valley. Two countries - one fantastic holiday.
Travel on our March departure and you will also join the celebrations at the fabulous Paro Festival, one of Bhutan's most impressive and significant festivals.
---
At a glance
Grade: Gentle
Gentle
Duration: 19 days from the UK
Walks on: 6 or 7 days
Max. Altitude: 3,140m/10,302ft, Dochu La, Day 14
Guaranteed to run for a minimum of 4 clients
Maximum group size: 12
Land only joining city: Yangon
Accommodation types: Hotels
Festival:
The March 2020 departure attends Paro Tsechu
Meal arrangements: Bed and Breakfast in Yangon and Bangkok and full board elsewhere. Lunches and dinners, where included, will be taken in a mixture of local restaurants and your overnight hotels.
Itinerary overview
| Day | Activity |
| --- | --- |
| 1-3 | (This is the itinerary for our October 2020 departure. Detailed itineraries for all departures can be downloaded below). Arrive Yangon (Rangoon). Sunset visit to Shwedagon Pagoda. Guided city tour and time at leisure. |
| 4-5 | Fly to Bagan. Sightseeing and walks round temple complex. |
| 6 | Full day river cruise to Mandalay. |
| 7 | Drive to Amarapura. Visit U Bein's bridge and the Saigang Hills. |
| 8-10 | Fly to Heho and transfer to Inle Lake. Sightseeing and walks around the lake area. |
| 11-12 | Fly to Yangon, tour of Old Quarter. Fly to Bangkok and on to Paro. Drive to Thimphu. |
| 13-14 | Walk to Wangditse Monastery. Sightseeing in Thimphu. Drive to Punakha. |
| 15 | Walk in Punakha Valley and visit Dzong. Drive to Paro. |
| 16 | Walk and visit to Taktsang Monastery. |
| 17-19 | Fly to Bangkok. Tour of klongs and visit to Wat Arun. Fly to London. |
Leader: Local leader, Bhutan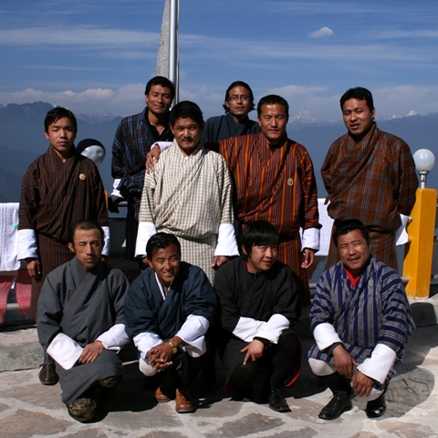 You will have an English speaking Bhutanese guide. Mountain Kingdoms have been working with the same partner in Bhutan since 1986. Their guides are some of the best in the Kingdom. They speak fluent English, as this is taught in all Bhutanese schools, and are fully qualified guides. The Tourism Authority of Bhutan insists that a Bhutanese trek or tour leader must pass his/her guiding exams in Thimphu before accompanying groups of foreign visitors. Guides receive regular 'top-up' training and 15 of our regular leaders have completed an extended training course run by Mountain Kingdoms in Bhutan.
Leader: Local leader, Burma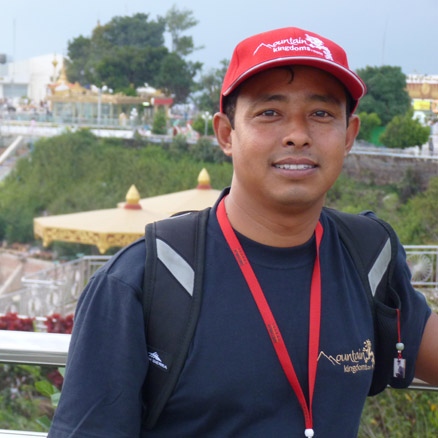 Your trip will be escorted throughout by an English speaking Burmese guide. Our Guides are all licensed to guide throughout the country and receive regular 'top-up' training. In addition to English, many guides will speak the dialects used by some of the ethnic groups you will encounter in rural areas – further adding to the interest and enjoyment of your holiday.
---
Dragon Kingdoms of Burma & Bhutan Itinerary
Day 1 - Fly London to Yangon

Depart London on an overnight flight to Yangon.

Overnight: In flight

Day 2 - Arrive Yangon (Rangoon). Sunset visit to Shwedagon Pagoda.

You will be met and transferred to your hotel, an excellent place to relax after the long flight from London. International flights normally arrive by midday, so after some time to rest, you will make a sunset visit to the Shwedagon Pagoda.

Famous worldwide, the golden stupa of Shwedagon ('shwe' means golden) is considered the 'heart' of Buddhist Burma. The Pagoda is believed to be 2,500 years old and the central stupa is surrounded by dozens of intricately decorated buildings, shrines and statues. There are always many Burmese people praying and making offerings at Shwedagon and it's a fascinating place to spend time watching the world go by. The transformation from late afternoon light to evening, further adds to the spectacle and atmosphere of this wonderful temple complex.


Overnight: Chatrium Hotel or Similar, Yangon

Day 3 - Morning tour of Yangon. Afternoon at leisure.

This morning you will take a tour of the historic downtown area of Yangon, beginning with a drive through streets lined with colonial style buildings, Chinatown and the Indian quarter, before stopping to see Sule Pagoda and City Hall. Next you will visit Bogyoke (Scott) Market with time to explore and pick up some souvenirs. Meeting up with your driver once again at a nearby café you drive down to the riverfront where your tour ends. Facing the river are some of Yangon's most impressive colonial era buildings including the Myanmar Port Authority, the General Post Office and the nearby Strand Hotel. Across the road, the banks of Ayeyarwady River are a hive of activity with porters loading huge sacks of rice, street vendors, tri-shaws and ferry passengers all going about their daily business. The afternoon is free to do your own sightseeing or shopping.

Overnight: Chatrium Hotel or Similar, Yangon

Day 4 - Fly to Bagan. Sightseeing walk.

This morning you take the short flight to Bagan, recently designated a UNESCO World Heritage Site. Located in Burma's dry zone, temperatures in Bagan are typically higher than in areas such as Mandalay and Inle Lake. The best time to explore on foot is therefore in early morning, or late afternoon so today you'll aim to start a short afternoon tour at around 3.00pm.

You begin by passing through the ruined city walls of Old Bagan at Thararbar Gate. In the niches on the eastern side of the gate you'll see two statues representing Nat (spirits). A total of 37 Nat are worshipped in Burma and you will see local people stopping here to make small offerings before continuing on their way. Within the city walls you will see Pitaka Taik, originally built as a library, before walking across to Thatbyinnyu Temple, the tallest in Bagan. At over 650m/200ft high this is a truly impressive monument, with three white painted terraces supporting a large sikhara (tower).

Continuing, your walk takes you to two other sites within Old Bagan: Phatothamyar and Mimalaung Kyaung, before passing through the city walls to the south. At times skirting the main road and at other times following sections of it you continue southwards to reach Myinkaba village. This is a centre for many of the craft workshops in Bagan and you are likely see evidence of puppet making, tapestry and perhaps Bagan's most famous export (apart from sunset photographs of temples of course), lacquer ware.

Your walk ends with visits to Manuha Paya, a Mon period temple with a large reclining Buddha almost hidden away at the rear of the temple and nearby Nan Paya.

Bagan
Whilst there are conflicting accounts of the number of temples located across the 16 square miles (41 square kilometres) of Bagan (varying from 1,800 to 4,000) the importance and splendour of this archaeological site is indisputable. In fact, it has now been designated a UNESCO World Heritage Site. The majority of monuments that you see date from when Bagan was the capital of the first Burmese empire between the 11th and 13th Centuries. Although at a cursory glance it may appear that one architectural form dominates there is actually a fascinating variety, from giant monolithic structures to small stupas standing not much taller than a human and with interiors filled with statues, or with walls adorned in beautiful paintings.


Overnight: Tharabar Gate Hotel or Similar, Bagan

Day 5 - Bagan temple visits and sunset walk - 2-3 hours.

Before starting your exploration of the site you first pay a visit to the busy local market. Fish and other river produce are much in evidence here, but also vegetables, household goods and clothing. From the market it's a short walk to the large gilded Shwezigon Pagoda built by King Anawrahta in the early 11th Century. Moving on you visit Ku Byauk Gyi, a temple with exquisite murals of Buddhist folklore (Jataka) scenes and Ananda Temple with four huge standing-Buddha images and numerous seated figures arranged around its interior gallery.

After lunch at a local restaurant there will be time to relax a little before taking a late afternoon walking tour. Walking is perhaps one of the best ways to explore Bagan, offering the chance to get away from other visitors and see less visited temples and other points of interest. The Bagan plain is scattered with acacia and toddy palm trees, bullock carts, zebu cattle, goat herds and villages: the opportunities for taking great photographs are unlimited. The area you will explore this afternoon lies to the east of the site and a 2-3 hour walk will take you from Old Bagan via a couple of pagoda complexes to reach the massive Dhammayangyi Phato. Built by King Narathu in the 12th Century, legend has it that he dictated that mortar should not be used to build the brick structure and that furthermore the bricks must fit together so as not to allow a pin to pass between them - see what you think of the craftsmanship! Your walk now takes you via Minnan Thu village and a nearby brick-lined reservoir, still in use today, to reach the Lamyetnha group of temples and your viewpoint for sunset. After sundown you will rendezvous with your vehicle and return to your hotel.

Overnight: Tharabar Gate Hotel or Similar, Bagan

Day 6 - Full day river cruise to Mandalay.

After an early breakfast at your hotel you make the short 20 minute transfer to the banks of the Ayeyarwady River to board your boat for a full day river cruise to Mandalay. You will travel aboard one of two boats that ply this route, either the Malikha River Boat or the RV N Mai Hka. On board you will find a lounge cabin with comfortable seating, outside seating areas on two levels (including shaded areas) a small café and toilets.

The scenery along the Ayeyarwady is timeless - oxen working the fields, water buffalo wallowing in the mud, golden pagoda spires, fishermen, villagers bathing in the river and, of course, every type of boat and river craft imaginable. Although dedicated to carrying foreign tourists your river boat may also be carrying some cargo and it's possible that you pull in to shore two or three times to unload/load bundles of crops, fuel or other supplies. The boat travels at a very slow pace and this journey normally takes a full day, allowing you to enjoy a relaxing break from your sightseeing itinerary.

In contrast to the images evoked by its name in literature and song, first impressions of Mandalay can be a little disappointing. This is Burma's second largest city, with a population of over one million and the hub of economic activity across the north of the country. The roads are busy with trucks and cars and streets are lined with functional but characterless buildings, housing every type of commerce. However, Mandalay remains the cultural centre of Burma with over 700 pagodas and a number of key palaces, temples and monasteries, all supported by a wealth of crafts including wood carving, marble statuary, weaving, tapestry, and the creation of gold leaf.

Overnight: Ayeyarwaddy River View or Similar, Mandalay

Day 7 - Drive to Amarapura. Visit U Bein's Bridge and the Saigang Hills.

Today you travel out into the countryside to explore some of the historic sites outside Mandalay. 10 miles (16 kilometres) out of town lies Amarapura. In 1851, at the time when Amarapura was still the royal capital, U Bein Teak Bridge was built. Stretching some 1,200m/3,900ft across Taungthaman Lake this impressive structure is the world's longest teak bridge, supported by over 1,000 separate wooden posts. One of Burma's most photographed sights, the bridge can be swamped by tourists in the late afternoon, but on a morning visit, you are likely to see many more locals than visitors. After time to walk out to the centre of the bridge and perhaps enjoy some refreshments at a tea stall, you continue on your way to Shan Kalay Kyun Village.

During the rainy season Shan Kalay Kyun is surrounded on all sides by water, but in the dry season water levels drop and the fertile soil is used to grow peanuts, corn, water melon, cucumber and many other vegetables. You will enjoy a short walk here (up to one hour) and in and around some of the houses you will doubtless spot a number of local crafts in progress, from the sewing of tapestry and puppet costumes, to the carving of intricate decorative wooden panels, doors and windows.

After lunch at a local restaurant, you head up into the Saigang Hills, a popular retreat for Buddhist devotees, where you can enjoy a magnificent view over the surrounding area. An interesting temple to see here is Umin Thounzeh, which is built in a crescent shape and houses 45 sitting Buddhas in a vibrantly coloured colonnade.

At the end of the afternoon you drive back to Mandalay, along the banks of the Ayeyarwady River.

Overnight: Ayeyarwaddy River View or Similar, Mandalay

Day 8 - Fly to Heho and transfer to Inle Lake. Afternoon visit to Indaing and Nyaung Ohak Pagoda.

This morning you will drive to the airport for your flight to Heho (1¼-1½hours). Upon arrival you will be met by a new vehicle and driver to make the short drive to reach Nyaung Shwe on the edge of the lake. Locally known as Jetty Town, Nyaung Shwe is a bustling hub of activity for both locals and tourists alike. Here you will board one of the local motor-powered long boats which will take you across the lake for 20-30 minutes to reach your hotel.

Inle Lake is a simply magical place. Located at 1,000m/3,280ft its calm waters are dotted with Intha stilt houses, floating vegetable gardens and fishing canoes against the backdrop of the beautiful Shan Hills, which offer the opportunity for some delightful walks. Motorised baots are the means of transport across the lake although the Intha people get around in traditional flat-bottomed boats using a unique and skilful form of leg rowing.

Leaving your hotel you travel across the lake to Indaing at the western end of Inle - one of the most scenic trips on the Lake. To reach Indaing you first pass through the busy village of Ywama, the largest on the Lake, with its many watery channels and tall teak houses on stilts. Next you enter a long, often tree-lined canal, on either side of which farmers cultivate their land against the backdrop of the Shan Hills. Disembarking at the jetty you walk for 15 minutes through Indaing Village to reach the 14th-18th century ruins of Nyaung Ohak Pagoda. Many pagodas here remain charmingly unrenovated, with plants and even small trees growing out of them, making the area very atmospheric. A covered walkway popular with souvenir stallholders leads up to Shwe Inn Thein Paya, a complex of weather-beaten 17th-18th century zedi; some of which are newly reconstructed. Returning to the river you have the option of walking along a lovely shady path for 30 minutes to the Intha village of Sema. From here you continue by boat downstream past Yethar village, watching local life on the banks and birds in the trees until re-joining the Lake near Phaung Daw Oo Paya to return to your hotel.

Overnight: Inle Resort (Garden Cottage) Or Similar, Inle Lake

Day 9 - Morning walk above Thalee Oo- 2½ hours. Afternoon boat tour.

Your guide will plan which walks to take today and tomorrow in light of the rosta of the 'Five Day Market'. This market is a particular feature of life on Inle Lake and rotates between a number of villages on the lake, as the name suggests, every five days. Depending upon the schedule during your visit you'll make a market stop either today or tomorrow.

A possible option this morning will take you initially to Thalee Oo village, which in common with other lakeside villages has a water section as well as a land based one, both with their own monastery. Navigating through the houses on stilts, you disembark at a jetty to begin your walk on a flat and shady bullock cart road through the heart of the village. Thalee Oo is an Intha village whose population lives mainly off the land growing peanuts, tomatoes, garlic, sugarcane, rice and vegetables. This walk is not only extremely pretty, with traditional bamboo houses on either side, but also has good views across cultivated fields to Inle Lake and the Shan Hills behind. After a 45 minute walk through Thalee Oo, you stop at a local rice mill, made entirely from wood and see the process of separating grain, husk and bran. Climbing uphill for 30 minutes through a Monastery, you reach the small Pa O village of Ywa Thit renowned for its weaving of bamboo baskets. After admiring the stunning view of Inle Lake and the Shan Hills from your vantage point, you descend for 30 minutes before continuing along a flat path through the village of Alae Myaung back to the lakeshore and your boat. This morning's walk will take around 2-2½ hours and involve 200m/650ft of ascent.

This afternoon, you take a tour of the lake to see the many sights that make this such a picturesque area. These include: the famous leg rowers - local fishermen who use one of their legs to propel their small canoes across the water; typical floating gardens - built upon rafts of water hyacinth; entire villages built on stilts and of course shore temples and pagodas.

An interesting stop you will make today is at Phaung Daw Oo Pagoda. This is the holiest site on the lake and houses five small Buddha statues so heavily covered in gold leaf that they appear more like golden footballs than golden Buddhas.


Overnight: Inle Resort (Garden Cottage) Or Similar, Inle Lake

Day 10 - Village walk in the morning. Afternoon sightseeing by boat.

This morning you will enjoy a village walk which may well coincide with the 5 day market. You begin by walking to Myay Ni Gone Village where you can see rice crackers being made before visiting the atmospheric old monastery. You next follow the path for a further 20 minutes to Yay Mae Pin Village whose agriculture is based around its betel trees, rice fields and sugar cane. Continuing for another hour or so you reach Than Taung Village where you may find the rotational market set up and the ethnic Pa-O, Danu and Intha people trading their wares and produce. The market is full of noise and colour and is a great opportunity for photography and for gaining a little insight into local life. After exploring the market you visit the Nat (spirit) shrines at nearby Phaya Village. The Inntha people have a custom that each family has to build a shrine for their own Nat within their compound - a sort of Nat guest house! Retracing your steps you return to Than Taung Village and then either walk to the jetty where your boat will be waiting or take an optional ride on a bullock cart.

In the afternoon, you will return to the water and take a boat to a blacksmith's forge near Nan Pam village. The journey will take you past endless floating gardens where Intha lake dwellers grow fruit and vegetables. Continuing by boat you reach Nga Phe Kyaung Monastery, one of the oldest on the lake, where you can see exquisite Buddha statues which are more than 200 years old. Finally you return to your hotel as the sun lowers and the light softens over the lake.


Overnight: Inle Resort (Garden Cottage) Or Similar, Inle Lake

Day 11 - Fly to Yangon. Tour of Old Quarter. Fly to Bangkok and transfer to airport hotel.

This morning you will transfer to the airport for the flight from Heho to Yangon. You will be met on arrival and will head off for a guided tour of 'Rangoon's' old quarter before returning to the airport to check in for your flight to Bangkok.

On arrival at Bangkok's Suvarnabhumi Airport you can either catch the free shuttle bus or take the short walk to your hotel which is conveniently located just outside the terminal building.

Overnight: Novotel Suvarnabhumi Airport Hotel, Bangkok

Day 12 - Fly to Paro. Drive to Thimphu. Time at leisure or sightseeing.

This morning you return to Suvarnabhumi airport for your flight westward to Bhutan. On arrival in Paro, having passed through the airport, you will be met by your Bhutanese guide and driver. You will then be driven to Thimphu where, depending on the flight schedule, there may be time to walk around the central streets and shops of the capital, or a visit up to the giant statue of Buddha for views over the town.

Overnight: Phuntso Pelri Hotel or Similar, Thimphu

Day 13 - Walk to Wangditse Monastery - 3-4 hours. Afternoon sightseeing.

This morning you will drive up to Sangaygang next to the Bhutan First Broadcasting Service tower, located in the North West of Thimphu. It is only about a mile drive up to the tower so if you feel like you would like to burn a bit more energy you can always walk up instead. From the tower you will have great views over Thimphu Dzong and the Thimphu valley as you start your walk contouring the beautiful hills to visit Wangditse Ghoempa. This walk should take around 1.5 hours. You will have time to visit the Ghoempa before you walk down for another 30 minutes to reach Dechen Phodrang Monastery. This Monastery houses around 450 student monks enrolled in a 8 year course. The monastery is also home to some fantastic UNESCO monitored 12th century paintings. You will then meet your vehicle and be driven back to Thimphu.

There's time this afternoon to visit some of the principle sights of Bhutan's capital. Highlights include the late King's memorial chorten, the textile museum, perhaps a visit to the indigenous hospital specialising in herbal medicine, and/or the school of painting. You may also visit above the town the reserve which is home to the Takin, Bhutan's national animal, one of the strangest animals you will ever see!

Overnight: Phuntso Pelri Hotel or Similar, Thimphu

Day 14 - Morning sightseeing in Thimphu. Drive to Punakha, 1,250m/4,170ft, via Drupka Kunley's Temple.

There will be more time this morning to explore Thimphu where you will see the huge Tashichho Dzong, part monastery, part administrative centre. Sightseeing in Thimphu rarely follows a set pattern and your Bhutanese guide may well make suggestions. They are very flexible and if there are particular places that you as a group would like to see then, by all means, discuss your ideas with your guide.

After spending the morning in Thimphu, you will make the 3 hour drive to Punakha, the old winter capital. Leaving Thimphu the road climbs via a series of zigzags over the Dochu La Pass, 3,140m/10,302ft. On a clear day panoramic views can be had of the eastern Himalaya, including Bhutan's highest mountain, Gangkar Punsum, 7,550m/24,770ft. The road drops down through varied forest finally emerging into the highly-cultivated Punakha valley.

You make a stop en-route to visit Drukpa Kunley's Temple built in the centre of the Punakha Valley and called Chimi Lhakhang. It is just a short walk across the paddy fields to reach this temple built by the 'Divine Madman' to celebrate his victory over the demoness of the Dochu La. It is famous because you are surrounded by phallic symbols, and women visit this temple to pray for children.

The 'Divine Madman' - Drukpa Kunley (1455-1520)
In Bhutanese mythology, Drukpa Kunley is one of the most beloved and revered sages of Tibetan Buddhism. Many are the legends that surround him, he followed a wandering lifestyle and was both an eccentric and highly regarded saint. He was renowned for his shocking behaviour and his ability to perform miracles. He taught a form of Tantric Buddhism and advocated that sexual freedom was at the centre of truth. The wooden phalluses that hang from the corners of Bhutanese houses and the phallic paintings that you often see on either side of the front door of houses are a relic of his teachings.


Overnight: Zhingkham Resort or Damchen Resort or Similar, Punakha

Day 15 - Walk in the Punakha Valley and visit Punakha Dzong. Drive To Paro.

After breakfast you'll make the short drive up through the Punakha valley for 20 minutes, alighting from your vehicle at a pedestrian suspension bridge that crosses the Mo Chu River. Crossing the bridge you take the path up through paddy fields to the base of the hill where Khamsum Yuelley Namgyal Chorten is sited. The climb to the top is quite steep but only takes 45 minutes, or so. The Chorten was consecrated in December 1999 and contains sacred relics donated from Punakha Dzong (monastery/fortress.) A visit inside is usually possible.

You leave the grounds of the Chorten via a different gate and descend two thirds of the way down the hill. Here you'll join a contouring path which ultimately leads you to the small village of Yabesa. From the village you will follow the Mo Chu downstream through paddy and pasture. After half an hour or so you'll pass near the Aman hotel group's Punakha property and the Habesa palace (home to Ashi Sonam Choedun, the King's Sister.) Continuing on through pasture you reach Sonagasha, the King's Palace. Just beyond here is Sonagasha Na, a pilgrimage site and location of a small cave lhakang. Dupthonagi Rinchen, a famous 13th century Tibetan scholar said to have supernatural powers, meditated here in the cave. Your walk ends at Punakha Dzong. The full walk involves an ascent of approximately 200m/660ft. For those seeking a shorter walk today there is the option to either omit the initial ascent and descent to the Khamsum Yuelley Namgyal Chorten, or to curtail the walk upon reaching a suspension bridge near the Aman hotel.

The main monastery/fortress in Punakha was the power base for the old system of reincarnate rulers. The remains of the original ruler of Bhutan, Nawang Namgyal, are kept in a small room at the top of the highest tower; only the king and the head of the monastic order are allowed to enter this room. Provided the head of the monastic order and his monks are in Thimphu it should be possible to view the inner courtyards of Punakha Dzong. In 1994 there was a major flood in the town as a glacial lake burst up in the Himalaya, causing tremendous havoc in the town and damage to the dzong, which has now been beautifully restored.

After visiting the Dzong you will make the 4-4½ hour drive to Paro.


Overnight: Hotel Olathang Or Similar, Paro

Day 16 - Walk and visit to Taktsang Monastery - the Tiger's Nest, 3,110m/10,200ft - 4-5 hours.

Today you walk up to the famous Tiger's Nest, Taktsang Monastery - a fitting climax to your trip. The monastery is perched some 600m/2,000ft up on a cliff overlooking the valley and is said to be where the legendary Indian Saint, Guru Padma Sambhava, flew from Tibet on the back of a tiger to defeat five demons, who were opposing the spread of Buddhism in Bhutan. It's a steep uphill walk through woods, of about 1½-2hrs, to reach a tea house (an ascent of 340m/1,115ft). Apart from offering welcome refreshment this tea house is one of the principle viewpoints of the monastery, and if you prefer not to climb any further you can relax here. If there is a particular religious gathering or VIP visit in progress, you will not be able to enter the Monastery, but the further half an hour's ascent is well worth it in any case, as it brings you to another viewpoint directly across from the monastery. If you are able to make a visit, the final section of the walk takes you from here steeply down 100m/330ft into the gorge that separates you from the monastery and then climbs back up again to reach the monastery gate. You descend back to the valley floor by your outward route and then drive on into Paro. The full walk to the monastery and back involves approximately 740m/2,428ft of ascent.

Overnight: Hotel Olathang Or Similar, Paro

Day 17 - Transfer to Paro airport. Fly to Bangkok.

A sensational take-off and scenic Himalayan flight past Chomolhari, Bhutan's second highest peak, takes you back to Bangkok airport. You will be met at the airport by our team in Bangkok and the evening will be yours to enjoy some of the sights and sounds of this lively and colourful Thai city.

Overnight: Raweekanlaya Hotel Or Similar, Bangkok

Day 18 - Morning tour or klongs and visit Wat Arun. Transfer to aiport.

This morning you take a cruise along the city's klongs (canals) in a traditional long-tail boat. It's a great way to explore something of Bangkok's network of meandering waterways and you stop at the iconic Wat Arun (the Temple of the Dawn) along the way - one of the most striking riverside landmarks in Thailand.

Then, you will be taken back to your hotel to relax and freshen up; there will be a room available for showers. Later you will take your early evening transfer to the airport for the flight back to the UK.


Overnight: In flight

Day 19 - Arrive London.

Today you will arrive back in the UK.
Map
Map Key
Airport
Point of interest
Mountain Peak
Day walk in this area
Flights
Internal Transfers
Trek
---
2020
| Dates | Availability | Land Only | Flight Inclusive from |
| --- | --- | --- | --- |
| Wed 14 Oct - Sun 1 Nov 2020 | Available | £4095 Book | £4745 Book |
Hold your place
Not quite ready to book? Why not call us on 0044 (0)1453 844400 to hold a no obligation place while you make up your mind?
Optional supplements
Single room supplement
From £900
Insurance
No Surcharge Guarantee
No surcharges will be applied to your holiday after you book. Prices on this website are updated regularly. The Flight Inclusive holiday price, or Land Only holiday price, will be confirmed to you at the time you make your booking. There will be no surcharges after your booking has been confirmed.
Flight inclusive holidays
The 'flight inclusive' holiday prices shown on this website are based upon our preferred airlines and the best priced economy class fares we are able to secure at the time of publication.
We will be able to advise on fares with alternative airlines, upgrades to Business Class, and the options for flights from regional UK airports, please contact us for more details.
Loyalty discount
Find out more
What's included
English-speaking leaders in Burma and in Bhutan
Economy class return air fares from the UK & UK Departure Tax (flight inclusive only)
Economy class flights with Druk Air
Bhutan departure tax and Bhutan visa
All domestic flights and all hotel/airport transfers
4 star hotels in Bangkok and Yangon on a twin-share, bed and breakfast basis
Good quality hotel accommodation elsewhere in Burma and throughout Bhutan on full board, twin-share basis
All road transport by private vehicles
Sightseeing where specified and all associated entrance fees
A free Mountain Kingdoms Water to Go bottle or a free Mountain Kingdoms micro fleece
Optional pre-trip meets in the Cotswolds
What's not included
Travel insurance
Visa fees for Burma
Lunch and evening meals in Yangon & Bangkok
Tips
---
---
Review your holiday
Reviews
Read holiday reviews by Mountain Kingdoms travellers.
Overall score: 5.0 (Based on 2 reviews)
Dragon Kingdoms of Burma & Bhutan
Highly recommend 27/10/2011
The standard of arrangements and guiding I could not fault - we are looking to do another trip with you on the back of what we have experienced and will recommend you to friends.
Dr & Mrs G, Denbighshire
Dragon Kingdoms of Burma & Bhutan
Excellent trip leaders
Both leaders in Burma and Bhutan were excellent. In Burma in particular, the support of a good local guide was essential especially with visits to the various markets and workshops. In Bhutan, Temsing even arranged an archery morning for us which proved to be quite competitive!
Mr E, Wiltshire
---