What's included
A Local English-speaking Leader
Good standard hotel accommodation (usually 3/4 star) in Petra and Madaba
All camping facilities including a Bedouin tent for dining in and all meals on trek
Camp staff to carry out all camp work
All road transport by private vehicles
Vehicle support for transport of baggage
Sightseeing where specified
Economy class return air fares from the UK & UK Departure Tax (flight inclusive only)
Single, timed, group airport transfers for international flights on arrival and departure
Carbon offsetting with the Ecoan Tree Planting Project (for clients taking our flight inclusive option)
A free Mountain Kingdoms Water-to-Go bottle
Opportunity to join one of our pre-trip meets in the Cotswolds
and much more...
Call our
friendly team
Moderate / Vigorous
Moderate: Suitable for anyone who enjoys hill walking.
Vigorous: Suitable for enthusiastic hill/mountain walkers.
Find out more...
Grade: Moderate / Vigorous ? Moderate / Vigorous
Duration: 9 days from the UK
On trek: 6 days
Flight inclusive from £2,170,
Land only from £1,695
Book now or call 01453 844400
An unforgettable desert and mountain trek to the 'rose red' city of Petra.
Highlights
Trek the most awe-inspiring section of the Jordan Trail
Explore Petra, entering by the lesser-visited 'backdoor'. Stop at Little Petra en route.
Begin your trek at Dana Nature Reserve – one of Jordan's must-see natural sights
Experience floating in the salt-rich waters of the Dead Sea
Enjoy a first rate camping experience on trek and stay in good quality hotel in Madaba
This excellent trip offers the ultimate trekking adventure in Jordan, following the most outstanding section of the long-distance Jordan Trail. The itinerary has been carefully designed to offer trekking in amazingly varied and dramatic desert landscapes, combined with some of the region's most celebrated historical sights. 2012 saw the celebration the 200th anniversary of the rediscovery of Petra by Swiss Explorer Johann Ludwig Burchardt. The gorges, canyons and astonishingly eroded cliffs make the trekking portion of this holiday a continuous experience of wonder!
Leaving the Dana Nature Reserve you will trek to the edge of the desert through a rugged landscape, surprisingly rich in flora and fauna. The high cliffs here are home to ibex and wild cat, over 200 species of bird and a huge variety of plants including medicinal herbs and unique flowers. Crossing the desert, you will follow ancient Bedouin trails through broad wadis into the mountains and over high passes; a harsh, but beautiful environment. Each night, your crew will prepare your evening meal and you will be able to relax in the cool night air. This trek finally leads you into Petra through the 'back door' past one of the city's wonders, the Monastery.
You will have plenty of time to explore Petra's myriad temples, tombs and dwellings both with your guide when you first arrive and then on your own the following morning when you can re-visit your favourite sights. You'll then head out to the Dead Sea to experience floating in its saline rich waters before finally driving back to Madaba and a farewell dinner to mark your final night.
This trek has been designed to avoid long trekking days - all times shown in the itinerary include lunch and rest stops.
---
At a glance
Grade: Moderate / Vigorous
Moderate / Vigorous
Duration: 9 days from the UK
On trek: 6 days
Max. Altitude: 1,170m/3,900ft, Jebel Garoun, Day 6
Guaranteed to run for a minimum of 4 clients
Maximum group size: 12
Land only joining city: Amman
Accommodation types: Hotels, Camping
Meal arrangements: Bed and breakfast in Madaba. All meals provided elsewhere: 8 breakfasts, 7 lunches, 7 dinners.
Itinerary overview
| Day | Activity |
| --- | --- |
| 1 | Fly to Amman. Drive to Madaba. |
| 2 | Drive to Dana. Begin the trek. Walk from Dana to Wadi Feynan. |
| 3-4 | Trek to Wadi Abu al-Sakakin. Walk to Ras el Feid in the mountains. |
| 5-6 | Ascend to a ridge for views, and up to the summit of Jebel Garoun,1,170m/3,839ft. Trek to 'Little Petra', and explore the site. Visit Baidha Neolithic site. |
| 7 | Trek to Petra. Explore the Monastery and Treasury. Overnight in Petra. |
| 8 | At leisure in Petra. Dive to Madaba via the Dead Sea. |
| 9 | Fly to London. |
Leader: Local leader, Jordan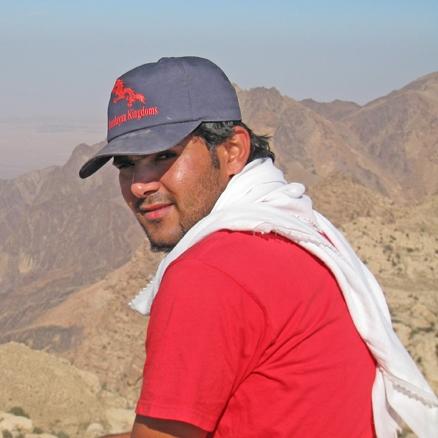 Throughout the tour you will be accompanied by a professionally trained English-speaking Jordanian guide, who will have a large fund of knowledge regarding the history and culture of the country.
---
Dana Trek to Petra Itinerary
Day 1 - Fly London to Amman. Group transfer to hotel.

You will be met on your arrival in Amman and then make the 30 minute transfer to your overnight hotel in Madaba.


Overnight: Best Western Grand Hotel Or Similar, Madaba

Day 2 - Drive to Dana - 2 hours. Trek from Dana to Wadi Feynan - 5-6 hours.

Boarding your transport you head south along the Kings' Highway to reach Dana Nature Reserve. This is a drive of around two hours. From here it is a short drive to the trailhead in Dana village. As with the remainder of your trek, you'll only need to carry your day sack with you today (your main luggage will be transported to your next overnight stop for you). Don't forget your camera! Descending initially on a broad track, your trek follows the bed of Wadi Dana which begins as a narrow canyon with high rock walls. In spring, oleander bushes bring a splash of colour to the Wadi and springs at Qussaib and Atta help to support vegetation all year round, including stands of bamboo and autumn crocuses. In the first couple of hours of trekking you may see what will become a common sight whilst in Jordan, a small herd of goats accompanied by their Bedouin herder. However, for the most part you're likely to have the trail to yourselves.

You will have a break for lunch in a shady spot along the way, before continuing on, leaving Dana to reach the edge of Wadi Araba. Incidentally, you also occasionally stop on the trail throughout the trek for 'tea breaks'. The donkey man or your guide boil a kettle on an open fire and then produce delicious herbal tea. Most refreshing! Your overnight camp is just a short walk away. There is no ascent on today's trek.

Dana
Dana Nature Reserve was established in 1989 by Jordan's Royal Society for The Conservation of Nature. The remit of the RSCN is to protect and manage the natural resources of Jordan, a role it has fulfilled with educational programmes, breeding programmes for endangered species, and the creation of seven protected areas covering over 1,200 square kilometres, of which Dana is just one.

Dana village is believed to have seen continuous occupancy since 4,000 BC. Natural springs, fertile soil and a strategic position overlooking Wadi Dana have drawn Palaeolithic, Egyptian, Nabatean, and Roman civilisations here. Within the last century or so the village began to fall into decline, but with the combined efforts of the RSCN and the remaining villagers, Dana is gradually recovering. Amongst the tumble down dwellings and neglected terraces are now carefully restored homes and gardens of fruit trees.

The Reserve itself consists of a mountainous area divided by a network of wadis, which extends to the lowland desert of Wadi Araba, some 1,600 vertical metres below. The altitude range contributes to Dana's great diversity of flora and fauna. The wardens have recorded a total of 690 different plants and 449 animals: 25 of which are considered endangered species including the sand cat, the Syrian wolf and the lesser kestrel.

Overnight: Fully supported camp

Day 3 - Trek from Wadi Feynan to Wadi Abu Al Sakakin - 5-6 hours.

In spite of its apparently remote setting, the area around the Feynan Lodge has seen much activity through the ages. Archaeologists have discovered evidence of Iron Age settlements and copper mining was once a major industry. Within the first hour of your trek you will see evidence of the mines, the church built by Byzantine pilgrims in commemoration of the many early Christians forced to work in the mines and who ultimately perished there. You will trek along the western edge of Wadi Araba today, again following dried up river and stream beds. The terrain is rough and stony, with occasional desert acacia and juniper trees offering shaded rest stops. There are some gentle sections of uphill trekking, but for the most part you will be walking on level ground. Heading south, you're likely to come across further herds of goats, sometimes camels and the occasional Bedouin encampment.

The majority of Jordanians are thought to be descended from the Bedouin 'desert dwellers', but today, only a small number live traditionally as nomads. This involves tending goats, sheep or camels until the available grazing is exhausted, usually a matter of a few months. Although many Jordanian Bedouins will now own a vehicle or other 21st century consumables, their tents are still constructed in traditional style, rectangular, with three fixed walls, open on the fourth side and woven from black goats' hair. The Bedouin call their tents beit al-sha'ar, or 'house of hair'. Tonight you will camp to on the edge of the deep, Wadi Abu al-Sakakin.

Behind camp rise spectacular cliffs which turn a shade of orange at sunset. You look out and down on the desert stretching out in front of you. To the north is a small rocky hill which is a short walk and gives great views of the camp. There are some ancient burial mounds at its foot.


Overnight: Fully supported camp

Day 4 - Trek from Wadi Abu Al Sakakin to Ras El Feid - 5-6 hours.

After breakfast you leave your camp and set off, away from the Wadi floor, up into the mountains. The Bedouin call this route Naqb Shdayed, or 'the hard way' and after two days of predominantly downhill, or level trekking, the reason for this moniker is self evident. Although well defined, the trail is stony and rough, making a pair of trekking poles a useful item to carry. After an hour and a half of steady ascent you reach a small col, at 630m/2,067ft. After a short descent, you then enter a high mountain gorge on Sakakin mountain and make the straightforward ascent to a pass above at 895m/2,936 ft. Reaching this point, you have excellent views across Wadi Araba to the Negev Desert beyond and also of your next goal, a peaceful and surprisingly verdant valley with its thickets of juniper and wild pistachio trees. The descent from the pass is steep in parts but on a good path, and after a short diversion to see the attractive Faid waterfall, you'll probably take lunch in the shaded valley floor. This is an idyllic spot among bamboo thickets next to a stream. After around 30 minutes walking along the sandy bed of the valley, you enter a narrow section with steep, yet beautifully sculpted, rock walls. This is fantastic scenery - a series of magnificent gorges and incredibly eroded cliffs sculpted by time and wind. A further 30 minutes of easy walking brings you to your overnight camp, at Ras El Feid. Today's trek involves a total ascent of around 850m/2,789 ft. Again camp will be already set up and you can relax in your Bedouin tent. Undoubtedly you will want to explore the strange 'beehive'-like rock formations in front of your camp. How on earth were they formed?


Overnight: Fully supported camp

Day 5 - Trek from Ras El Feid to Shkaret Msei'd - 6-7 hours.

Today begins with an easy decent into the upper end of yesterday's gorge before another steep ascent of around an hour and a half, so you will probably make an early start to complete this before the warmest part of the day. As you gain height you may be able to make out Dana village on the far horizon behind you. After around 300m/984ft of ascent you reach a broad ridge that provides an excellent viewpoint of the surrounding wadis and mountains. Far below you lies the head of Wadi Abu Al Sakakin; beyond the striking peak of Abu Mahmoud and the Kutleh and Hudus valleys. Following the line of the broad ridge you will traverse above the network of steep gullies and deep wadis. After a couple of hours walking, you reach the ruins of a Neolithic village sited next to a deep well from which water can still be drawn. You may take lunch either here, or if time allows, continue right along the top of the line of cliffs ahead until eventually you come to an extraordinary rock formation. It is like a gigantic egg or boulder, but is actually part of the cliffs on which it 'sits'. It is a fabulous picnic place.

In early afternoon, you will begin to descend from the high ground through a landscape of sandstone cliffs and outcrops to reach your overnight campsite at Shkaret Msei'd. Today's trek has a total ascent of around 420m/1,378ft.

This camp if anything has an even more impressive setting than the first two nights. Your staff may even be able to gather enough dead wood for a small camp fire.


Overnight: Fully supported camp

Day 6 - Trek Shkaret M'Seid to Little Petra - 6 - 7 hours.

After some excellent high mountain and desert trekking, a day of further contrasts lies ahead today. Leaving your camp you gradually ascend to reach a broad open valley, irrigated by water from a nearby recycling plant. The land here has been divided up by a number of Bedouin families and a wide variety of crops are carefully tended, including feed for livestock, root vegetables, olives, lemons and pomegranates. Following paths and tracks through farmed land you reach a second broad valley, home to a number of Bedouin families and their camels and goats. A gradual ascent along a rough track leads you beyond the settlements to the col, or saddle between the summit of Jebel Garoun at 1,170m/3,839ft and its neighbour. This peak is named after a former treasurer to the Egyptian Pharoahs. The col gives a dramatic view of Wadi Araba and all the way northwards to the high pass on Mount Sakakin, crossed earlier in your trek. To the south you can see the summit of Mount Hoor, which stands above Petra beyond.

Turning now towards Petra you descend from the pass on a wonderful path and continue across the valley floor to reach a large sandstone outcrop. In amongst the cliffs and rocks here lies Siq Al-Barid - more commonly known as Little Petra. You reach a tarmac road that ends near the Siq entrance. There are a few souvenir shops here and a car park. This is quickly crossed and left behind as you enter the very narrow passageway between cliffs that brings you directly into Little Petra - an enclosed area with a series of rooms, tombs, water channels and cisterns, cut deep into the walls of a canyon. Little Petra is just 350m/1,148ft long but it's well worth taking some time to explore. A number of the chambers are readily accessible and inside one you can see the remains of painted frescoes dating to the 1st Century AD. At the height of caravan trade in this region, Siq Al-Barid was a busy caravanserai (overnight halt). Camels could graze outside the Siq, whilst inside the chambers were used for storing the treasured goods and for eating, entertainment and sleeping. Having punished your camera enough and left Little Petra in awe, you now trek for a further hour or so to a camp near the 'back door' of Petra itself. There will be an end of trek party tonight and the possibility that musicians may be 'found' to aid the Jordanian style of dance!

Overnight: Fully supported camp

Day 7 - Trek to Petra - 5-6 hours. Visit the Monastery and Treasury.

From Little Petra it's a short walk to the Neolithic site of Baidha. Alongside Jericho, this is thought to be the oldest inhabited site in the entire Middle East. Originally excavated in 1958, archaeologists now believe the ruins date back 7,000 BC. Your onward route into Petra lies alongside Baidha and you head off, having had a foretaste of the historic treasures to come.

Being so close now to the 'back door' you can arrive at the monastery before the crowds and enjoy this part in peace and quiet. From camp you cross desert scenery with little indication that there are the remains of an ancient civilisation of world scale significance just ahead of you. The path is good throughout, following a series of rocky ledges up through the mountains. As you near the main Petra site, you'll catch sight of the occasional rock tomb, or dwelling, seemingly inaccessible in the high cliffs. Two to three hours after leaving Baidha you will breast a small rise and suddenly before you stands al-Deir, the 'Monastery'. This giant, beautifully carved facade is Petra's largest monument and is thought to have either been a temple, or a tomb for one of the later Nabatean Kings. Inside is one large, plain, undecorated chamber, but it is worth clambering over the large step, if only to have your picture taken on the threshold of the most unusual doorways you're likely to stand in. Across from the Monastery you can rest awhile in the shade of a cave from where Bedouin tea and cold drinks are served.

Probably less than half of Petra's visitors actually see the Monastery and the reason for this becomes apparent, as you watch those toiling up the 900 rock cut steps which lead you down into the main site proper. As you descend the sheer scale of Petra becomes apparent. Away in the distance you will see the Royal Tombs, a row of mausolea including: Urn Tomb, fronted by an impressive colonnade; Silk Tomb, so named because of its multicoloured sandstone walls; and the large Palace Tomb. At the foot of the steps it is a short walk to Qasr al-Bint al Pharaun, a temple to Dushara - a Nabatean deity and then on to the Colonnaded Street, a paved Roman road. On a slight rise above the street lies a recently excavated Byzantine Church, with a wonderfully well-preserved mosaic floor. Slightly higher again, is a small mound giving a panoramic view of the whole site.

No visit to Petra is complete without a visit to the Treasury, standing some 130m/4,27ft tall, the Treasury is Petra's largest and most famous monument. Carved out of a sheer rock wall some 2,000 years ago it is thought to have been the tomb of a Nabatean King. The façade has ornate carvings of Nabatean gods, as well as two representing Pollux and Castor, sons of Zeus. On top of the temple sits a large rock urn, heavily damaged by Bedouin who took occasional pot-shots at it, hoping to break free the gold they believed to be held within: a belief that led to the name - "Treasury". You will exit Petra via the Siq, this is the classic gateway to Petra, a 1¼km twisting, narrow gorge with 200m high walls which leads you gently uphill. The Siq has been paved in parts, but sections of Roman paving remain along with sections of the rock-cut channels that brought water into the city in ancient times.

You will overnight in a hotel in Petra.


Overnight: Petra Moon Hotel

Day 8 - At leisure in Petra. Drive to Dead Sea and continue to Madaba.

You will have a morning at leisure in Petra for your own further exploration.

Later you will drive to the famous Dead Sea, bordered by Jordan to the east and Israel and Palestine to the west. The Dead Sea is located 430m/1,412ft below sea level and is nearly nine times as salty as the ocean. You should have time for a swim there to experience for yourself the super buoyancey that this salinity causes.

You will then continue north to Madaba where you will go out for a farewell dinner.

Overnight: Best Western Grand Hotel Or Similar, Madaba

Day 9 - Group transfer to airport. Fly to London.

After breakfast you will be transferred to Amman airport in time for your flight home.
---
2021
| Dates | Availability | Land Only | Flight Inclusive from |
| --- | --- | --- | --- |
| Sat 2 Oct - Sun 10 Oct 2021 | Available | £1695 Book | £2170 Book |
2022
Hold your place
Not quite ready to book? Why not call us on 0044 (0)1453 844400 to hold a no obligation place while you make up your mind?
Optional supplements
Single tent
From £135
Single room supplement
From £180
Insurance
No Surcharge Guarantee
No surcharges will be applied to your holiday after you book. Prices on this website are updated regularly. The Flight Inclusive holiday price, or Land Only holiday price, will be confirmed to you at the time you make your booking. There will be no surcharges after your booking has been confirmed.
Flight inclusive holidays
The 'flight inclusive' holiday prices shown on this website are based upon our preferred airlines and the best priced economy class fares we are able to secure at the time of publication.
We will be able to advise on fares with alternative airlines, upgrades to Business Class, and the options for flights from regional UK airports, please contact us for more details.
Booking your holiday
For the majority of our holidays, a deposit payment of £100.00 per person is required to secure your place(s), however a small number of holidays require a higher deposit - please refer to the holiday itinerary for more details. If the holiday departs within 60 days, a minimum deposit of £750.00 per person is required.
Book now!
Book your small group holiday securely online – click the 'Book' button next to your chosen departure or visit our How to Book page
Complete and return a Booking Form available to download here.
Call us on 01453 844400 and one of our travel specialists will talk you through the booking process.
Loyalty discount
Find out more
What's included
A Local English-speaking Leader
Good standard hotel accommodation (usually 3/4 star) in Petra and Madaba
All camping facilities including a Bedouin tent for dining in and all meals on trek
Camp staff to carry out all camp work
All road transport by private vehicles
Vehicle support for transport of baggage
Sightseeing where specified
Economy class return air fares from the UK & UK Departure Tax (flight inclusive only)
Single, timed, group airport transfers for international flights on arrival and departure
Carbon offsetting with the Ecoan Tree Planting Project (for clients taking our flight inclusive option)
A free Mountain Kingdoms Water-to-Go bottle
Opportunity to join one of our pre-trip meets in the Cotswolds
What's not included
Travel insurance
Visa fees
Lunch and evening meal in Madaba on Day 1 and lunch on Day 9
Optional trips
Tips
---
---
Review your holiday
Reviews
Read holiday reviews by Mountain Kingdoms travellers.
Overall score: 5.0 (Based on 4 reviews)
Dana Trek to Petra 02/05/2019
I enjoyed the Mountain Kingdoms philosophy of using less crowded routes and supporting local enterprise and culture.
Mr T Lunness, Lancashire
Rewarding trek 09/05/2013
Stunning! I can't imagine a better way to discover Petra; the trek through Dana Nature Reserve and camping under clear desert skies were a real pleasure. I would highly recommend entering Petra from the 'backdoor' - a great reward at the end of a beautiful trek. This trip was culturally rewarding from start to finish.
Kerry Robins, Mountain Kingdoms
Remote 08/11/2012
The trek was the ideal way to explore Jordan. We trekked through the beautiful Jordanian mountains and stayed in remote camps that were pitched for us each night in the best spots. Approaching Petra from the 'back door' meant avoiding all the crowds. Two other big highlights of the trip were the warm welcome that we received from the Jordanian people and the delicious food.
Steve Berry, Managing Director, Mountain Kingdoms
Spectacular experience
We had a really enjoyable time in Jordan and feel that we saw and experienced all of the stuff we wanted- and more. Experiencing the canyons, desert and wilderness of Jordan was undoubtedly spectacular.
Mr & Mrs T, Nottinghamshire
---
Extend your holiday
Choose 2 or 3 nights in Wadi Rum at the end of your group holiday
Enjoy guided walks and jeep tours of the valley's most iconic sights
Stay in a Bedouin encampment with good food and facilities
Swim in the Dead Sea on your return to Madaba
More Details
Add 2 or 3 extra nights to the end of your holiday so that you can explore the remarkable red-sand desert landscape of Wadi Rum. Stay in a desert camp and take walks and jeep rides to discover some of the stunning dunes, canyons and rock formations that the area is celebrated for. You will also have the opportunity to take a dip in the Dead Sea on your return to Madaba.