Our grading system explained
Gentle
Gentle / Moderate
Moderate
Moderate / Vigorous
Vigorous
Vigorous / Strenuous
Strenuous
Expedition Grade
What makes Cambodia so special?
On a holiday to Cambodia, you'll see many unforgettable images: the World Heritage site of Angkor Wat, saffron-robed monks going about their daily rituals; lost temples swallowed by the jungle; and remote villages with newly opened trekking trails. After extensive reconnaissance, Mountain Kingdoms have designed these treks and tours of Cambodia to get you 'under the skin' of this alluring country.
Despite being located close to the backpacking hotspot of Thailand, far fewer people go on holiday to Cambodia, making it perfect for travellers who want to get off-the-beaten-track in Southeast Asia. With its mixture of ancient temples, bustling cities, historical sites and timid wildlife it is an endlessly fascinating destination. A gentle trek in the picturesque Cardamom mountains, combined with a tour of Cambodia – including of course, Angkor Wat, is a great way to explore this beguiling country.
The ancient splendours of this remarkable land stand in stark contrast to the reminders of its more recent troubled past and a tour of Cambodia's killing fields (where many of the victims of the brutal Khymer Rouge regime are buried) is an immensely moving experience. However, at the centrepiece of most holidays to Cambodia will be an Angkor Wat tour. Angkor Wat is a massive, superbly preserved temple complex that dates from the 12th century, a dazzling example of ancient architecture and site of huge cultural significance. A tour of Angkor Wat is the perfect way to end a holiday in Cambodia.
Cambodia

With the incomparable Angkor Wat, forested trekking trails and pleasing cities – Cambodia has emerged as one of Southeast Asia's premier destinations for travel.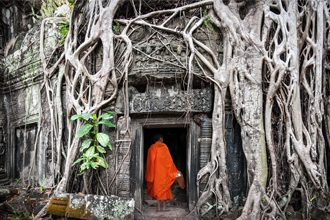 Visit the spectacular hilltop temple complex of Preah Vihear
Explore the architectural wonders of Angkor Wat and Angkor Thom
Search for endangered primates and rare birds in protected wildlife reserves
Walk with rescued elephants at the Elephant Valley Project
Take to the water to see the 'floating' stilt houses of Tonle Sap Lake
Tour the many cultural and historic sights of Phnom Penh and enjoy a sunset river cruise
Relax on the beach on pretty Koh Rong Island
Land only from £3395
Enjoy seven nights onboard the luxurious RV Mekong Pandaw or RV Tonle Pandaw
Stay in 5* hotels in Saigon and Siem Reap
Tour the cultural highlights and historical sites of Saigon, Phnom Penh and Angkor Wat
Visit charming villages and enjoy the beautiful river landscapes
Flight inclusive from £4985, Land only from £3990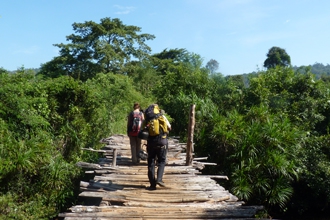 Travel by foot and by boat to explore the Cardamom Mountains
Walk through jungle and spot diverse flora and fauna
Experience village life in Chi Phat
Visit the architectural splendours of Angkor Wat and Angkor Thom
Flight inclusive from £3490, Land only from £2595