/
/
Article
/
Our top five reasons to visit Patagonia
Our top five reasons to visit Patagonia
At the southernmost end of the Americas lies Patagonia - an adventure playground on a grand scale and one of the best, and most accessible walking destinations. Here's why we think it should be high on your travel wishlist.
At over 1,000 square kilometres, straddling the Andean mountain range along the Argentine Chile border, Patagonia is a vast distinct geographical region of immense beauty and diversity. At its southernmost end lie two of its premier national parks –Torres del Paine in Chile and Los Glaciares in Argentina. Here the breathtaking landscapes of granite mountain spires, azure blue lakes and colossal, jagged glaciers are criss-crossed with a network of well-established walking paths just crying out for exploration. And on the very tip of Patagonia, seemingly at the end of the world, lies Tierra del Fuego - an island of wild, rugged beauty from where you can set sail to Antarctica.
With five different walking and trekking holidays and three polar cruises, we've got southern Patagonia covered and here are our top reasons why we think everyone should visit at least once.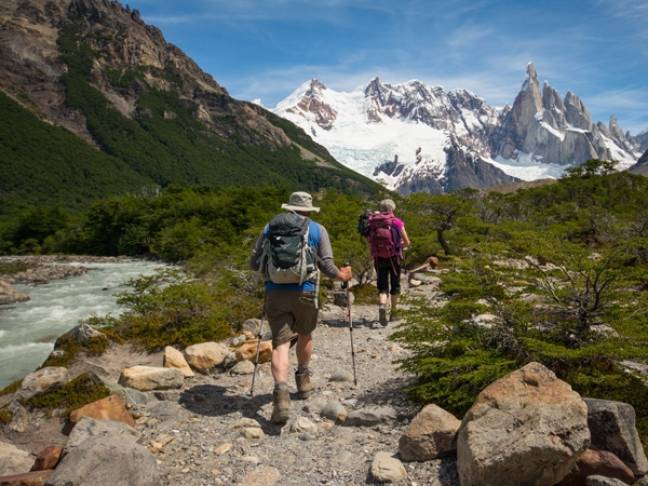 Wonderful walking trails
The parks of Southern Patagonia are blessed with good walking paths and classic trekking trails designed to reveal their many natural wonders. In the Torres del Paine there are two standout treks: The Paine Circuit and the W Trek - so named because the route follows a 'W' shape. The Circuit is the longer of the two treks requiring seven days to complete the full circuit of the Paine Massif whilst the W Trek takes just three days. Both use the superbly located refuges and well-maintained campsites for accommodation, with the added bonus on the W Trek of starting and finishing at the super-comfy Eco Camp in the heart of the park. And, with the highest point being the 1,180m high John Garner Pass on the Circuit, there are certainly no acclimatisation issues to deal with, just endless stunning vistas to enjoy. If you don't fancy a trek, then there are plenty of day walks to make the most of the scenery such as the Lazo Weber Trail, the hike along French Valley or the very popular walk to the base to the Towers,
The Los Glaciares National Park abounds with excellent walking trails, suited to all abilities. Most start in or around the small trekking town of El Chalten and meander to various excellent viewpoints. The walks to Laguna Torre at the base of Cerro Torre and the trail to Fitz Roy Base Camp are the best examples. Less well known is the harder walk to Loma del Pliegue Tumbado which offers superb panoramic mountain views. If you go on our Complete Patagonia walking holiday then you'll get to do the best of the walks in both parks.
If you'd rather have the trail all to yourself then consider travelling to more remote areas. On our Gentle Walking Patagonia in Style holiday, we leave Los Glaciares and take a boat pass the Upsala Glacier to reach the pristine lands of Estancia Cristina. Here there are numerous walking options amidst breathtaking scenery including the standout Canandon de los Fosiles which offers exceptional glacier views whilst stepping over the fossilised remnants of the past. Or, fly south to Ushuaia to enjoy wide walks along the windswept trails of Tierra del Fuego National Park. Surrounded by the harsh waters of the Atlantic Ocean there are coastal paths to explore as well as inland valleys and forests that all harbour a wealth of amazing wildlife.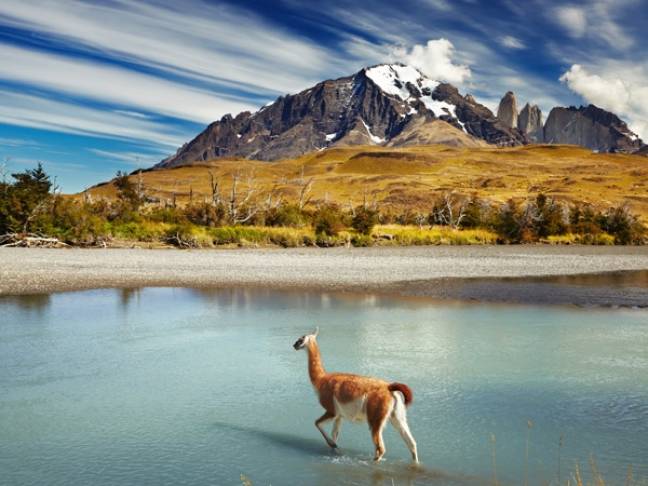 Amazing wildlife
Although it's the jaw-dropping scenery that attracts many people to Patagonia, it also offers great opportunities for wildlife spotting. You are almost guaranteed to see, and hear, herds of guanacos roaming the landscapes. A slightly smaller relative of the llama with downy fur they have a very distinctive loud cry. More rarely seen are endangered huemul deer and elusive pumas of which there are between 50 and 200 in the Torres del Paine National Park. Don't forget to look to the skies as well as you may catch a glimpse of an Andean condor – the largest flying bird in the world, whilst red-headed Magellanic woodpeckers, owls, and rheas (large ostrich like birds) are a more common sight.
Marine life is also abundant on Tierra del Fuego, especially along the Beagle Channel. Take a boat ride from Ushuaia around the islands of the channel and you'll encounter penguin colonies, seals, sea lions and a multitude of other seabirds. If marine wildlife is your passion, than consider taking an Antarctic cruise from Ushuaia to discover myriad animals and birds including vast penguin colonies, flocks of albatross, and minke and humpback whales.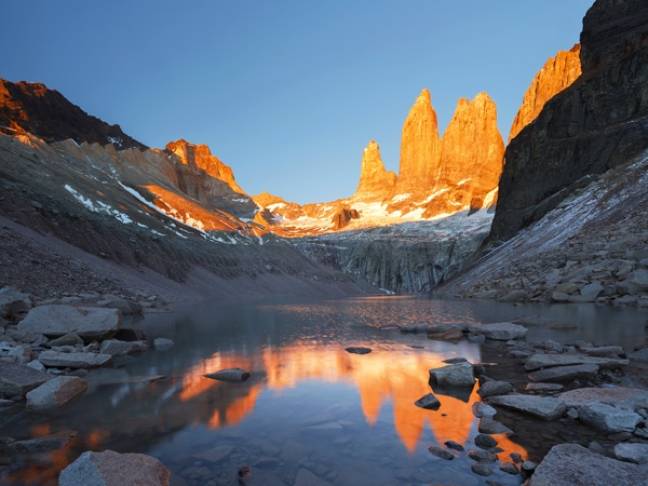 Iconic peaks
The granite spires, twisted peaks and vast cliff walls of the southern Andes dominate the landscapes of the Torres del Paine and Los Glaciares National Parks. Carved by the forces of nature, they have been a magnet for trekkers, climbers and adventurers for many decades. In fact the earliest international 'tourist' to the Torres del Paine was Lady Florence Dixie in 1879 who referred to the distinctive peaks of the Paine in her travelogues. No doubt she was marvelling at the soaring, smooth-sided, Towers of Paine or the twisty, black-crowned, Cuernos, (horns) of Paine –the park's most recognisable, and most photographed peaks.
Travel across the border from the Torres del Paine to Los Glaciares and you will see the equally distinctive peaks of Cerro Torre and Mount Fitz Roy. At 3,400m Fitz Roy is the highest of ten towering granite summits strung along the border of Chile and Argentina. It was first climbed in 1952 by two French Alpinists Lionel Terray and Guido Magnone. Nearby Cerro Torre remained unclimbed till 1974 when Italian climber Cesare Meastri became the first to reach its ice-clad, 3,128m summit. You don't need to be a climber though to appreciate these famous peaks, you can enjoy great day walks to the base camps of each on both our Gentle Walking Patagonia in Style and Complete Patagonia holidays.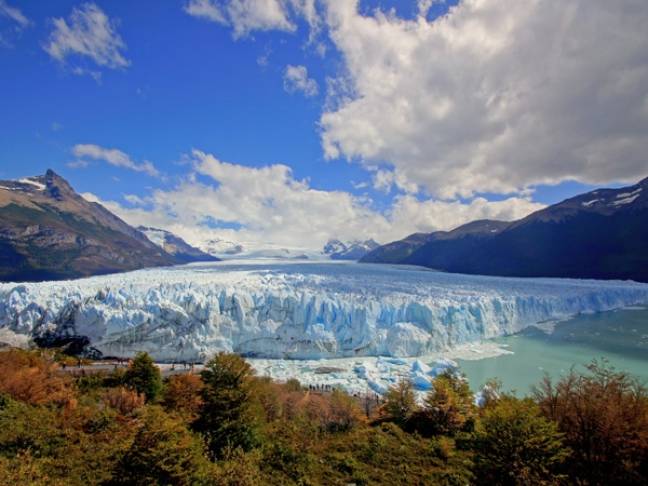 Spectacular glaciers
If you want to see mightily impressive glaciers, than Patagonia is the place to go, and there are two in particular that should be top of your list: the Perito Moreno Glacier in Los Glaciares and Grey Glacier in the Torres del Paine National Park.
The Perito Moreno is often described as the eighth wonder of the world. A vast sea of ice covering around 97 square miles, it is fed by the Southern Patagonian Ice Field and is one of the few glaciers in the world not to be in retreat. The sheer size and scale of the Perito Moreno is hard to comprehend and any visit should include a boat ride along its towering face that rises to more than 70m high (there's roughly another 100 metres below the water). As you cross in front you will hear the ice crack and move and may be lucky enough to see it calve, with great slabs of icing falling into the ocean with a deafening roar before bobbing to the surface as icebergs. The glacier can also be appreciated from several viewing balconies or by walking the surrounding trails. Or, for a truly amazing experience, don some crampons and take a guided 'ice trek' on its hilly, crusted surface.
Grey Glacier is the equivalent to the Perito Moreno on the Chilean side. A similar size at 100 square miles, it is also fed by the Southern Patagonian Ice Field and rises at its face to over 30 metres. Along with the Towers of Paine it is one of the most iconic and spectacular sights of the Torres del Paine and can be seen on both the Circuit and W treks. A boat trip across the iceberg studded Lago Grey, is one of the best ways to see the immense face of the glacier up close.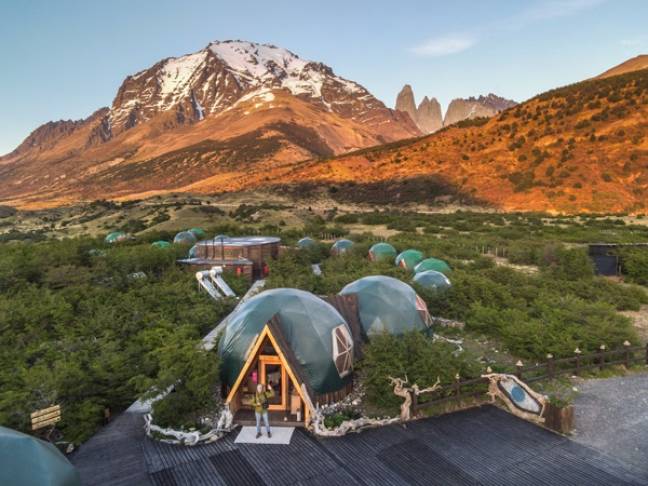 Great accommodation
From quirky eco domes to uber stylish estancias, Patagonia has a superb range of well-located accommodation options. Here are some examples of what's on offer.
Refuges and campsites. Well-maintained campsites and refuges along the Torres del Paine Circuit and the W Trek provide welcome relief for tired trekkers. All camping is fully serviced with no need to carry anything but a small daypack and for the nights spent in the refuges there are fabulous views, hot showers and hearty meals to enjoy.
Eco camps. If your days of traditional camping are behind you, eco camps offer a cosy, modern alternative with tons of home comforts and sustainable environmental credentials. There are Eco camps situated in the heart of the Torres del Paine and close to Los Glaciares both of which use funky geodesic domes for bedrooms, dining and communal areas. Well-placed to make the most of the surrounding natural wonders there's no more welcome accommodation at the end of hard day on the trail. We use the Eco Camps on several of our Patagonia walking and trekking holidays.
Estancia Cristina. You can only reach Estancia Cristina via a boat ride or a four-day horse ride which gives you some idea of just how remote it is. Encircled by pristine landscapes of mountains, lakes and glaciers there are endless opportunities for outdoor activities especially walking. The estancia itself has super comfy rooms and serves traditional Patagonian cuisine alongside fine Argentinian wines. Once a stopping off point for explorers, the Cristina has a fascinating history which is revealed in its own small museum, packed full of interesting artefacts. We include three nights at Estancia Cristina as part of our Gentle Walking Patagonia in Style holiday.
Polar cruise ship. If you are setting sail for Antarctica on a long cruise you need not only a good level of comfort but also the facilities and staff to maximise the experience. For our Antarctica cruises we use the M/S Expedition polar ship. There are several levels of cabins to choose from all with private facilities and outside views plus there are observation decks, a library, a large dining room and even a pub and sauna! The ship has a fleet of Zodiac boats for shore landings and water-based exploration plus a high staff to passenger ratio with experts in geology, ornithology and marine biology amongst the experienced crew.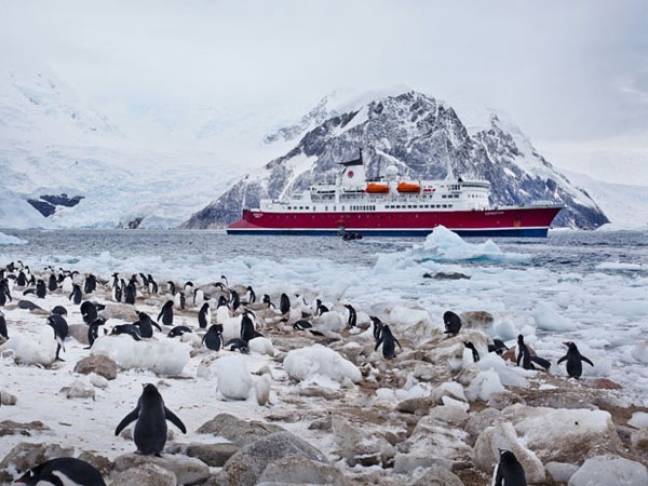 Antarctica Ahoy!
One very good reason for travelling all the way to Patagonia is to take a cruise to the 'great white continent' of Antarctica – a truly thrilling adventure. The stepping off point for cruises is Ushuaia, the capital of Tierra del Fuego. We offer three cruise options aboard the M/S Expedition from 16 to 26 days. The longest cruise, the Spirit of Shackleton, not only visits the South Shetland Islands and the Antarctic Peninsula but also includes landings at South Georgia and the Falkland Isles. There are regular opportunities for Zodiac trips and shore landings accompanied, by expert naturalists, to get close to some of the incredible wildlife of Antarctica, and on board there are lectures and presentations to increase your understanding of this unique environment.
Take a look at our Antarctica cruises which all include internal flights to/from Ushuaia and time in Buenos Aires.

Feeling inspired, and want to know more, than take a look at all our holidays in Patagonia and start planning an adventure of a lifetime.