/
Holiday
/
Patagonias W Trek Tierra Del Fuego
Buenos Aires, Argentina, Argentine Patagonia, Puerto Natales, Chile, Chilean Patagonia, Santiago | Walking & Trekking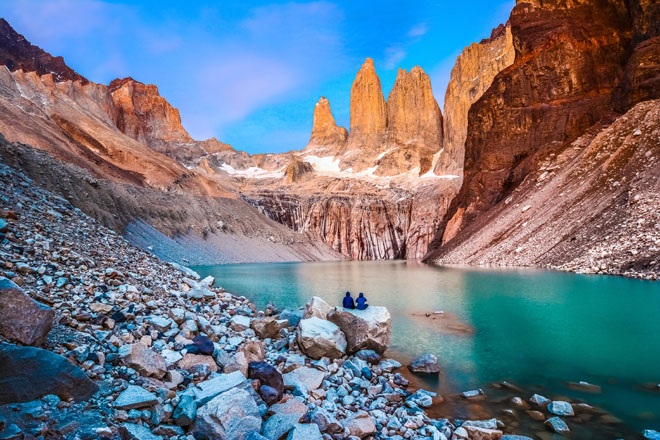 Grade:

Moderate

Duration: 16 days from the UK
On trek: 3 days Walks on: 4 days
Private Departures Available
Flight inclusive from £6465, Land only from £4995
Trek the famous 'W' route in the Torres del Paine and explore the magnificent wilds of Tierra del Fuego.
Highlights
Enjoy a tour of the vibrant Latin city of Santiago
Trek the spectacular W Route of the Torres Del Paine – Patagonia's most famous hiking route.
See the iconic Torres del Paine from the Las Torres Viewpoint
Stay in the stunningly located Eco Camp
Experience the remarkable sights and sounds of the spectacular Perito Moreno Glacier
Explore the landscapes and wildlife of wild and windswept Tierra Del Fuego – the very southern tip of South America
Take a boat trip on the Beagle Channel to view the last lighthouse sailors see before reaching Antarctica
Reviews
Be the first to review this trip
This is a new trip, reviews coming soon
Next
Combine two of South America's wildest and most spectacular regions in one active holiday. From the soaring granitic peaks of Chile's Torres del Paine National Park to the windswept 'End of the World' - Argentine Tierra del Fuego - this holiday is scenically stunning from start to finish.
The adventure begins in the cosmopolitan city of Santiago in Chile where you will have a guided tour of this vibrant Latin city. You then fly to Punta Arenas and transfer to the superb EcoCamp in the heart of the Torres del Paine National Park in Chilean Patagonia. From the EcoCamp you will head off to trek along the so called 'W Trek', the most famous hiking route of the Torres del Paine, where you will enjoy fabulous views of this spectacular region. You will return to the EcoCamp and make a full day trek along the Las Torres trail to view the iconic granite towers that give the national park its name.
You then cross into Argentinian Patagonia for a full day visit to the mighty Perito Moreno Glacier, famous for the awesome spectacle of the snout calving vast chunks of ice into the lake below. You then fly south to Ushuaia at the very tip of South America and head off into the wilds of Tierra del Fuego. Here you will visit a penguin colony, travel by boat on the Beagle Channel and hike through the dense forests of the Tierra del Fuego National Park, known for its dramatic landscapes of snowy mountains, glaciers, tundra and wind-sculpted trees as well as its stunning wildlife sightings.
Finally, flying back to Buenos Aires, your travels end in one of the most cosmopolitan of all South American capital cities, where you have the option of extending your stay to make the most of your time in Argentina.
Private Departures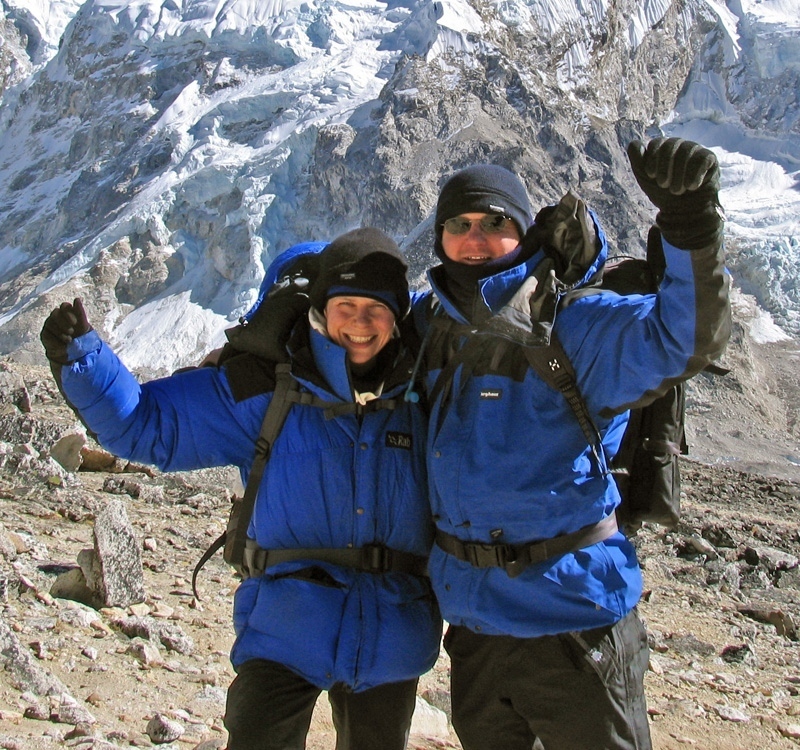 Patagonia's W Trek & Tierra del Fuego - Private Departures
If you would prefer to travel just with your partner, friends or family, we can arrange a private departure of this holiday. You follow the same itinerary, but travel on dates that suit you. Alternatively we can include elements of this holiday in a bespoke Tailor Made itinerary. Contact our friendly team for details and prices, and to make a booking.
---
At a glance
Duration: 16 days from the UK
On trek: 3 days Walks on: 4 days
Max. Altitude: Perito Moreno Glacier, 2,100m/6,890ft, Day 9
Private Departures Available
Guaranteed to run for a minimum of 4 clients
Maximum group size: 12
Land only joining city: Santiago
Accommodation types: Hotels, Eco Camp, Camping
Meal arrangements: Price includes all breakfasts, most lunches and some dinners as specified in the itinerary. Full board on trek in the Torres del Paine. Total meals: 13 x breakfasts, 8 x lunches and 6 x dinners.<br />
Itinerary overview
| Day | Activity |
| --- | --- |
| 1-2 | Fly London to Santiago. City tour and welcome dinner. |
| 3 | Fly to Punta Arenas. Transfer to Eco Camp with lunch on way in Puerto Natales. |
| 4 | Start W Trek and trek to Los Cuernos. Overnight camp. |
| 5 | Trek to French Valley to Paine Grande. Camp. |
| 6 | Trek from Pehoe Lake to Glacier Grey. Boat across Grey Lake to view glacier and transfer back to Eco Camp. |
| 7 | Day hike to base of Las Torres. |
| 8 | Transfer to border at Cerro Castillo. Cross into Argentina and drive to El Calafate. |
| 9 | Full day visit to Pepito Moreno Glacier with boat trip and walk, |
| 10 | Fly to Ushuaia and overnight. |
| 11 | Visit Gable Island and Penguin Colony – with kayaks, boat ride and hike across island to Beagle Channel. |
| 12 | Explore Tierra del Fuego – day hike, either Pampa Alta Path or coastal path. Take zodiac along Beagle Channel to Redonda Island. Paddle canoe to Lapataia Bay. Return to Ushuaia. |
| 13-14 | Boat through Beagle Channel to view Les Eclaireurs lighthouse and Isla de Lobos. |
| 15-16 | Depart Buenos Aires and fly home. |
Leader: Local leader, Patagonia
We use expert, English-speaking local guides who have an intimate knowledge of the area and an infectious passion for nature. They are very hard-working, attentive and helpful.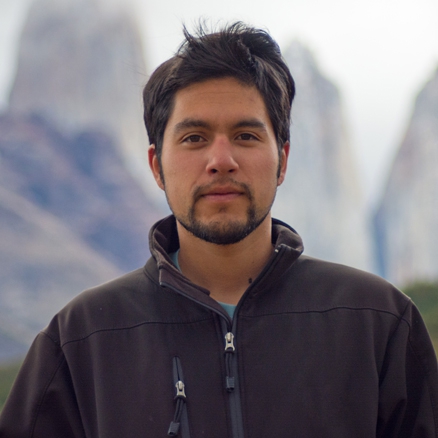 ---
Holiday Itinerary
Day 1 - Fly London to Santiago
Fly overnight from London to Santiago in Chile.
Overnight: In flight
Day 2 - Morning arrival in Santiago. Meet transfer rep and transfer to hotel. Afternoon Santiago city tour. Welcome dinner.
Later this afternoon you will be picked up from your hotel and driven downtown to the Plaza de Armas, the historical centre of Santiago. The most famous sights here are the Metropolitan Cathedral and the Central Post Office which was originally built as a house for the Spanish conqeror Pedro de Valdivia. On the northern side of the square you will see the necolassical Tribunales de Justicia building which houses the Supreme Court, ex-parliament and some beautiful gardens.
From the Plaza you will be driven towards Alameda, the main street in the city centre, and to the Presidential Palace – Palacio La Moneda. A model of 18th centure colonial architecture, the palace is one of Santiago's most famous landmarks and a symbol of Chile's turbulent political past as well as its indpendence. From here you will go to the Lastarria district and climb Cerro Santa Lucia – the hill where Pedro Valdivia founded Santiago in 1541. There are great panoramic views of the city from the top. Afterwards you return to Lastarria and travel through this cosmopolitan neighbourhood lined with cafes, restaurants, shops, bookstores and small theatres. At the end of the tour you will be driven back to your hotel.
In the evening there there will be a welcome dinner with your fellow travellers before retiring for the night.
Overnight: Hotel 45 By Director Or Similar, Santiago
Day 3 - Fly Punta Arenas. Tranfer to EcoCamp via Punta Natales (meet guide and have lunch). Cocktail and briefing on arrival.
You will make an early start this morning, transferring to the airport for the 4 hour flight to Punta Arenas (your flight may be via Puerto Montt, but as this is just a 20 minute touchdown you stay on the plane). Try to request a seat on the left hand side of the plane, because, weather permitting, you have some excellent views of the Patagonian Andes and see the Torres del Paine which you will be trekking so close to in a few days' time. You will also have a bird's eye view of many stunning lakes and glaciers. It is interesting to contrast the lush scenery around Puerto Montt with the dryer landscape close to Santiago.
You will be met at Punta Arenas Airport and drive to Torres del Paine National Park (380km/240miles). During the "southern" summer the sun sets in this region at around 11pm, so you should have plenty of time and light to admire the Patagonian steppe, with its guanacos and snow-peaked mountain horizon. Along the way you will make a couple of stops, firstly at Puerto Natales, a small but lively town on the shores of Seno Ultima Esperanza, Last Hope Sound, where you will have lunch. Here you will probably notice a change in temperature - Punta Arenas is renowned for the wind that can whip through the town. The second stop is at La Cueva de Milodon, a huge cave where the remains of a giant prehistoric ground sloth which inhabited the area 10,000 years ago, were discovered by a German explorer in the 1890s. A further 2 hours drive brings you to the Torres Del Paine. You will complete the formalities at the entrance to the National park and arrive at EcoCamp in time for a welcome drink, a briefing about your stay and a good dinner.
Overnight: Eco Camp, Torres Del Paine - Standard Domes
Day 4 - Trek to Los Cuernos – around 6 hours walking, 16km/10 miles.
Departing EcoCamp after breakfast you head off to walk the W trek. You will be away from the EcoCamp for 2 nights spending the nights camping along the trail. Soon you will be hiking along the shores of the wonderfully scenic Nordenskjold Lake. This fabulous turquoise blue lake is named after a Swede, Otto Nordenskjold Lake who discovered it at the beginning of the 20th century. In this region you may be lucky enough to spot some of the rich wildlife found here, which includes many guanacos (a wild camelid, native to South America and closely related to the llama) and perhaps even the elusive puma, as well as birds such as condors and eagles. Apart from a few ups and downs the trail is relatively flat and easy and in the spring Chilean firebush blooms brilliant red alongside the trail. You will have time along the way to stop to admire some of the most impressive peaks in the park, Los Cuernos, the Horns as well as Paine Grande, which dominate the skyline before arriving at your welcome campsite, set in a scenic location on a hillside and enjoying fine views.
Overnight: Camp
Day 5 - Trek French Valley/Valle Frances and continue to Paine Grand Refuge – around 6 hours walking, 18km/11 miles.
Today you will be trekking right into the heart of the Paine Massif. You turn away from Nordenskjold Lake and trek uphill for a couple of hours to the Italino campsite at the entrance to the French valley. You will be trekking in wonderful forest of big Lenga trees with Paine Grande Mountain visible over to your left. After a further steep uphill climb for another hour you reach the Paine Grande Lookout, set in an impressive mountain cirque, a wonderful spot where the Lenga forest meets the snowy mountains which tower above you here. You will then descend, with the way back down being as impressive as the ascent, to come out above Lake Pehoe, another fabulous blue lake. You follow on alongside the lake to your campsite for the night, located on the banks of Lake Pehoe.
Overnight: Camp
Day 6 - Trek from Pehoe Lake to Grey Glacier - around 4 hours walking, 14km/8 miles. Boat across Grey Lake. Transfer to EcoCamp
Departing the refuge you make your way along a quiet valley until after trekking uphill you reach the western end of the W trek, the point where the foot of Paine Grand meets Grey Lake. From the Grey Glacier Lookout you will see the vastness of the Southern Patagonian Icefield and the Grey Glacier, a monster of ice and snow. Grey lake itself is dotted with huge icebergs which have broken off the glacier. After admiring the views from the lookout you will take a boat across Grey Lake to view this glacier spectacle from close up.
You will then transfer by vehicle back to the comforts of the EcoCamp and to get mentally prepared for tomorrows walk!
Overnight: Eco Camp, Torres Del Paine - Standard Domes
Day 7 - Day hike to base of Las Torres - 8-10 hours walking, 21km/13 miles, 914m/2,998ft of ascent/descent.
Today is a fairly long and hard day, but is very rewarding. If the weather is clear, you will get the most awesome views of the three impressive granite towers of Paine.
The first two or three hours of the walk are quite easy with a good and relatively flat trail. Then the ascent becomes steeper, trekking alongside the roaring Ascensio River. Navigation is made easy by the red blobs of paint strategically placed on the boulders. You will have fine views of Lago Nordenskjold as you glance backwards. If the sun is out and there is not too much wind, it can be very hot so ensure you drink lots of water (there are many opportunities to fill up your bottle from streams). You will be grateful to reach the Refugio Chileno - a very pleasant and well-kept refugio which sells drinks and snacks and a good place for a water refill although you will have several opportunities to fill your water as you continue upwards along the stream.
Leaving Refugio Chileno, you walk upwards through the lenga forest for an hour or so until you reach a signpost for the Torres campsite. After following a stream upwards you will reach a rocky moraine and then it is steeply uphill for roughly another hour before you reach the high point, the fantastic Mirador, at 900m/2,952ft, the lookout point for the Towers of Paine,. You can perch on the large boulders overlooking the lake and enjoy your lunch whilst taking many shots of the 3 dramatic towers. You will be able to contemplate the awesome feats of the climbers who have ascended these inspiring giants. It can be a very windy spot here so ensure you have your windproof clothing to hand.
After this feast of mountain scenery you will descend the same way back to Las Torres.
Overnight: Eco Camp, Torres Del Paine - Standard Domes
Day 8 - Transfer to Cerro Castillo on border. Cross into Argentina and transfer to Calafate.
Today it's adios to Chile but not to Patagonia! After breakfast you will sadly leave the EcoCamp and the fabulous Torres del Paine but the adventure continues with more scenic treats to come. You drive to the border with Argentina at the town of Cerro Castillo. Here you cross into Argentina and then drive to El Calafate, the main town of Argentine Patagonia, which has the only airport of this vast region. Calafate is located on the edge of Lake Argentino and is the gateway to the outstanding natural wonders of the Los Glaciares National Park. The main street of Calafate has many cafes, bars, shops and restaurants and is a very enjoyable place to spend an evening or two.
You will meet your Argentinian guide in Calafate.
Overnight: Hotel Lar Aike Or Similar, El Calafate
Day 9 - Full day visit to Perito Moreno Glacier including boat trip along glacier and 2-3 hour walk.
After breakfast, a one hour's bus drive will take you to one of the world's most spectacular glaciers - the Perito Moreno. When you arrive at the site, you will not go straight to the viewing platforms opposite the main face of the glacier, but instead, walk round to view the majestic splendour of the less frequented north face.
The snout of the glacier always has huge chunks of ice calving into the lake and if you are lucky you will witness the sights and sounds of this amazing natural phenomenon. You continue your walk along the shores of the lake and your guide will be able to tell you all about the formation of the glacier and explain the many features you will see. Arriving at the network of walkways and viewing platforms you will have time at leisure to enjoy the stunning views of the 60 foot high face of the glacier and undoubtedly take numerous photographs.
You will then get to experience this amazing sight from a different angle, by taking to the water. The navigation of the Argentine Lake aboard the 'Brazo Rico' allows you to appreciate the sheer scale of the Perito Moreno Glacier. Arriving at the southern end of the channel of the ice floes, your boat will take you along the wall of the glacier and across the lake for great views of any calvings as they take place.
Overnight: Hotel Lar Aike Or Similar, El Calafate
Day 10 - Fly to Ushuaia for three night stay.
Today your adventure continues with a flight to Ushuaia, the capital of Tierra del Fuego and a town at the very end of the world. The town is located on the shores of the Beagle Channel, with the snow-peaked Martial Mountains spanning the horizon. The name Tierra del Fuego (Land of Fire) was given to the region by the Portuguese sailor Hernando de Magallanes, who while he was sailing through the Magellan Strait in 1520 saw the campfires of the indigenous peoples, the Ona. Until the mid-twentieth century Ushuaia was a penal colony for political prisoners and criminals, but nowadays it is better known as the jumping off point for cruises to Antarctica. Tierra Del Fuego is also well known for its fantastic hiking in the Parque Nacional Tierra del Fuego, the only coastal national park in Argentina. This park was created to protect the Subantarctic forest and its native flora and fauna. This is an area of incredible if stark beauty where a surprising variety of wildlife thrives in these somewhat forbidding and windswept landscapes.
Ushuaia town, although it has somewhat of a frontier feel about it, is a lively place with many bars, coffee shops, restaurants and shops.
Overnight: Hotel Tolkeyen Or Similar, Ushuaia
Day 11 - Visit Gable Island and Penguin Colony – hike, kayak and boat ride and hike across island to Beagle Channel.
After breakfast, you set off for Gable Island, a must-see for those seeking magic at the world's end. This full-day excursion will take you out into the very middle of the Beagle Channel. You arrive at the Lasiphashaj River, and then decked out in the rubber boots and life-jackets which will be provided, you will start your adventure in canoes, paddling down the river that leads to the sea. Along the way you should encounter a wide variety of seabirds and perhaps also sea lions, who enjoy sunbathing on the little islands which you will come across on your way down to the Estancia Harberton. After a short stop on terra firma, you take a motor boat out into the Channel towards Martillo Island, where you will have the opportunity to see breeding penguins. You then travel on by boat to Gable Island, located on the northern side of the Beagle Channel. You will have lunch here. This beautiful island, part of the Estancia Harberton, is home to pristine wildlife and has a rich history. After lunch you will hike across the island, crossing over beaver dams and through forest to reach the shore of the Beagle Channel from where you will take a boat back to Ushuaia. Throughout the day, your guide will be on hand explain all that you are seeing, all the different bird and plant species, as well as the history of the first civilization on this mystical island. With vast, open, landscapes and buffeting winds, there's a real end-of-the-world feeling to today's excursion!
Overnight: Hotel Tolkeyen Or Similar, Ushuaia
Day 12 - Explore Tierra del Fuego. 3 hour walk, either Pampa Alta Path or Coastal Path. Zodiac along Beagle Channel to Redonda Island. Canoe to Lapataia Bay and return to Ushuaia.
Another fabulous day in Tierra del Fuego! After breakfast you drive to the western end of the Tierra del Fuego National Park where you will trek for several hours, taking either the Pampa Alta Path or the Coastal Path (Senda Costera), visiting one of the Park's most beautiful stretches of shore, where native vegetation flourishes. Your guide will help you identify the typical flora of the region - this includes the lenga beech, ñire trees, cohiue flowers, orchids, canelo and notro trees.
After about 3 hours walking you arrive at Lake Roca, a beautiful emerald green glacial lake framed by stunning mountains, which straddles the border here between Argentina and Chile. You will board a zodiac boat, to sail along the famous Beagle Channel to Redonda Island, a national reserve where you will have lunch while enjoying a stunning view of the surrounding landscape. You have time to explore the Island and watch the Magellan Cormorants which nest in the rocky walls. Later, after you have a through briefing on paddling techniques, you will make an excursion by canoe, an easy paddle for an hour or so across the pristine water of lagoons and rivers to reach Lapataia Bay, with the opportunity for many more wildlife sightings as you paddle. Lapataia Bay was once home to Tierra del Fuego's first inhabitants, a hunter gatherer people who lived in the area and moved between the islands of Tierra del Fuego by canoe, subsisting on a diet of shellfish and animal meat. You may see the grassy mounds here which mark their settlement. This area is the furthest south that you can reach by road in the Western hemisphere and marks the end of the Pan American Highway.
From here it is a 45 minute drive back to Ushuaia for your last night in southern Patagonia.
Overnight: Hotel Tolkeyen Or Similar, Ushuaia
Day 13 - Boat through Beagle Channel to view Eclaireurs Lighthouse and Isla de Lobos. Transfer to airport for flight to Buenos Aires and drive to hotel.
In the morning you will sail through the Beagle Channel to see the famous Les Eclaireurs lighthouse which marks dangerous rocks at the entrance to Ushuaia Bay, as well as the southern tip of Argentina - south of here lie only some small islands and Antarctica. This is the last point on the mainland which sailors to Antarctica will see! The waters surrounding the lighthouse are a wildlife dream, as penguins and both South American and fur sea lions are spotted regularly. Bird life is abundant too, with black eyebrow albatrosses, steamer ducks and upland geese often seen on the nearby islands. Finally sailing back, you will approach the Isla de los Lobos, another of the fine wildlife sights along the Beagle Canal and famous especially for its sea lions - this rocky outcrop is home to hordes of South American sea lions, characterized by large heads and an orangish color, as well as South American fur seals. If you sail close enough you may hear the barking of the sea lions.
Later you will transfer to the airport for your flight to Buenos Aires where you will met and taken to your hotel.
Overnight: Casa Sur Art Hotel Or Similar, Buenos Aires
Day 14 - Day at leisure to explore Buenos Aires.
Buenos Aires is a cosmopolitan and lively Latin capital, and you will have time today to explore a little and see some of the sights.
Overnight: Casa Sur Art Hotel Or Similar, Buenos Aires
Day 15 - Transfer to the airport for the flight to London.
Today there will be a single timed group transfer to take you to the international airport for your overnight flight to London.
Overnight: In flight
Day 16 - Arrive London.
---
2023
| Dates | Availability | Land Only | Flight Inclusive from |
| --- | --- | --- | --- |
| Sat 7 Oct - Sun 22 Oct 2023 | Guaranteed | £4995 Book | £6465 Book |
2024
Hold your place
Not quite ready to book? Why not call us on +44 (0) 1453 844400 to hold a no obligation place while you make up your mind?
---
Optional supplements
Single Room Supplement Hotels
£1275
Single Eco Dome
£745
No Surcharge Guarantee
No surcharges will be applied to your holiday after you book. Prices on this website are updated regularly. The Flight Inclusive holiday price, or Land Only holiday price, will be confirmed to you at the time you make your booking. There will be no surcharges after your booking has been confirmed.
Flight inclusive holidays
The 'flight inclusive' holiday prices shown on this website are based upon our preferred airlines and the best priced economy class fares we are able to secure at the time of publication.
We will be able to advise on fares with alternative airlines, upgrades to Business Class, and the options for flights from regional UK airports, please contact us for more details.
Booking your holiday
For the majority of our holidays, a deposit payment of £400.00 per person is required to secure your place(s), however a small number of holidays require a higher deposit - please refer to the holiday itinerary for more details. If the holiday departs within 60 days, a deposit of £1,000.00 per person is required.
Book now!
Book your small group holiday securely online – click the 'Book' button next to your chosen departure or visit our How to Book page
Complete and return a Booking Form available to download here.
Call us on +44 (0)1453 844400 and one of our travel specialists will talk you through the booking process.
What's included
Economy class return air fares from the UK & UK Departure Tax (flight inclusive bookings)
Single, timed, group airport transfers for international flights on arrival and departure
Domestic flights in Chile and Argentina and transfers
All road transport by private vehicles.
All sightseeing where specified
Comfortable hotel accommodation in Santiago, Calafate, Ushuaia and Buenos Aires, twin share on B&B basis
Full board in the EcoCamp and in campsites on the W trek in the Torres del Paine.
13 breakfasts, 8 lunches and 6 dinners.
English-speaking leader/guides – separate guides in Chile and Argentina.
Activities in Tierra del Fuego including walks, boat trips, zodiacs, canoes and kayaks where applicable.
Carbon offset for clients taking our flight-inclusive option
A free Mountain Kingdoms Kitbag
What's not included
Travel insurance
Visa fees where applicable
Lunches and evening meals except where specified as included
Optional trips
Airport departure taxes (if applicable), excepting UK Departure Tax
Tips
---
---
---
Extend your holiday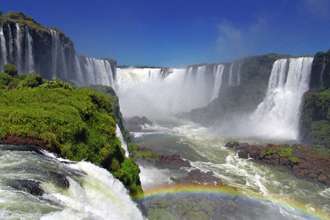 See the spectacular Iguazu Falls on both the Argentine and Brazilian sides
Stay in a 4* hotel in Puerto Iguazu
Tour with an expert local guide
Choose a 2 or 3 night extension option including flights, transfers, accommodation and guide
Visit one of nature's most awe-inspiring sights on a 2 or 3 night extension to Iguazú Falls. Fly from Buenos Aires to Puerto Iguazú and visit both the Argentine and Brazilian sides of the Iguazú National Park in the company of an expert guide. Walk along the park's many trails that wind through rainforest, and feel the raw power of the falls from numerous viewing points. The extension includes accommodation in a good quality hotel in Puerto Iguazú, domestic flights and all airport transfers.