/
Holiday
/
Gentle Walking Patagonia in Style
Buenos Aires, Argentina, Argentine Patagonia, El Calafate | Walking & Trekking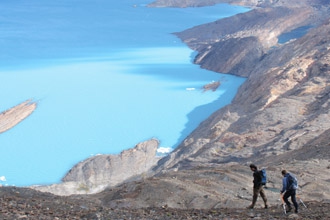 Grade:

?

Gentle

Suitable for people who enjoy easy-paced walks or exploring the countryside on foot.

Find out more...

Gentle

Duration: 14 days from the UK
Walks on: 6 days
Flight inclusive from £5725, Land only from £4675
Premium accommodation and the finest day walks in the pristine landscape of Los Glaciares National Park.
Highlights
Walk to the base camps of both Mount Fitzroy and Cerro Torre – the two iconic peaks of Los Glaciares National Park
Discover the real Patagonian wilderness at magical Estancia Cristina, a truly remote and historic landmark
Immerse yourself in the natural beauty of Los Glaciares at the Patagonia Eco Domes
Experience the remarkable sights and sounds of the spectacular Perito Moreno Glacier
Reviews
Argentine Patagonia was a sublime combination of breathtaking scenery, varied walking, exceptional accommodation and the most delicious food and wine. Best of all though was Estancia Cristina with its fascinating history of early exploration and indulgent levels of comfort, yet surrounded by a truly wild and unspoilt landscape.
Kirsty Parsons, Marketing, Mountain Kingdoms
Next
Argentine Patagonia was a sublime combination of breathtaking landscapes, varied walking, exceptional accommodation and the most delicious food and wine. The best of all was estancia Cristina indulgent accommodation in a truly wild and unspoilt landscape.
K Parsons
Next
View All
This captivating holiday combines superb accommodation with an active and varied programme of day walks to the most interesting places in the Los Glaciares National Park in Argentine Patagonia. During your time in Patagonia you will stay in a hotel, Eco-domes and an estancia surrounded by turquoise lakes, mountain peaks and icy glaciers. This varied and stylish accommodation offers the highest standard of comfort and cuisine, with bags of character and atmosphere, reflecting the culture and history of the region.
After a night in Buenos Aires, your Patagonian adventure begins in the 'trekking town' of El Chalten, located close to the iconic peaks of Cerro Torre and Mount Fitz Roy in the Los Glaciares Park – a World Heritage Site. Over consecutive days you will enjoy beautiful hikes to the base camps of both these mountains as well as taking a walk around scenic Lago del Desierto, close to the Chilean border. Next, a thrilling boat ride takes you past giant icebergs calved from the face of the Upsala Glacier to reach Estancia Cristina; a place so remote you can only get there by boat or a four-day horse ride! The Estancia offers numerous walking options amidst breathtaking scenery; and you will have all to yourself. Known to some of the earliest explorers of the region, Cristina has a fascinating history captured in the numerous artefacts that are housed in its small museum. Estancia Cristina is a unique and enchanting place, and you will be amazed by the levels of service, comfort and cuisine that you will experience there.
Finally, you head back across the blue waters of Lago Argentino to spend time at the Perito Moreno Glacier, one of the wonders of the natural world. This is a truly memorable way to end your visit to Patagonia, and it will undoubtedly leave you longing to return.
---
At a glance
Duration: 14 days from the UK
Walks on: 6 days
Guaranteed to run for a minimum of 4 clients
Maximum group size: 12
Land only joining city: Buenos Aires
Accommodation types: Hotels, Eco-domes, Estancias
Meal arrangements: 11 breakfasts, 9 lunches, 10 dinners
Itinerary overview
| Day | Activity |
| --- | --- |
| 1-3 | Fly to Buenos Aires. Fly to Calafate. Drive to El Chalten. |
| 4-5 | Walks to Fitz Roy Base Camp and Cerro Torre Base Camp. |
| 6 | Day walk to Lago Del Desierto. Transfer back to Calafate. |
| 7-9 | Boat ride to Estancia Cristina. Walks and visit to the Estancia's museum. |
| 10 | Cruise back to Calafate and transfer to hotel. |
| 11 | Visit Perito Moreno Glacier. Boat tour and viewing galleries/walking trails. |
| 12-14 | Transfer to Calafate. Fly to Buenos Aires. Fly to London. |
| | |
Leader: Local leader, Patagonia
We use expert, English-speaking local guides who have an intimate knowledge of the area and an infectious passion for nature. They are very hard-working, attentive and helpful.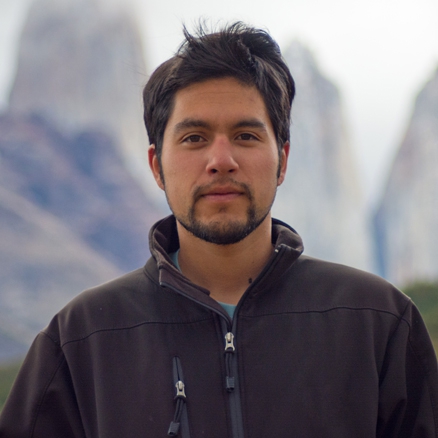 ---
Holiday Itinerary
Day 1 - Fly London to Buenos Aires
Fly overnight London to Buenos Aires.
Overnight: In flight
Day 2 - Arrive Buenos Aires. Group transfer to hotel. Time at leisure.
You will be met at Buenos Aires airport and driven to your centrally located hotel. The rest of the day is yours to relax after your long flight and maybe head out to explore some of the local area.
Overnight: Casa Sur Art Hotel Or Similar, Buenos Aires
Day 3 - Transfer to domestic airport. Fly to El Calafate. Drive to El Chalten - 4 hours.
From the domestic airport in Buenos Aires you will fly today to El Calafate, and then transfer north to the small trekking town of El Chalten.
The drive from Calafate to Chalten is a good introduction to Patagonia as it takes you across vast barren steppes, where you may see guanacos and rheas. Gradually, and assuming clear weather, the striking peaks of the Fitz Roy massif, the blue waters of Lake Viedma and the mountains beyond will appear. The peaks make an incredible backdrop for the small trekking town of El Chalten which you will reach after approximately three hours.
Your unique accommodation is situated around 15km outside of the town, in splendid isolation with only the stunning views of Mount Fitz Roy to distract you. The accommodation consists of several spacious sleeping domes with private bathrooms, a restaurant dome serving gourmet cuisine, a chill out dome and also a wellness dome where optional massages and treatments are available for the ultimate in relaxation.
Overnight: Patagonia Eco Domes
Day 4 - Fitz Roy Base Camp and Laguna de los Tres walk - 7-8 hours.
A short drive will take you to the starting point for this beautiful and classic walk in Los Glaciares National Park. You will begin by meandering through beech and lenga woods that border the Rio Blanco. Before too long you will reach the first main viewing point (or mirador) where you will enjoy fine views of the Piedras Blancas Glacier. As the landscape opens up before you, your views will become more expansive and dramatic and will include the towering peak of Mount Fitz Roy.
Soon you will reach Poincennot Camp, one of the two campsites where climbers wait out the weather before attempting to climb Fitz Roy or the other peaks in the massif. Close by you can cross the river by a suspension bridge to arrive at the 'White River' Base Camp itself which is only used by climbers. From this point, and if the weather is clear, there is the option to hike to the Mirador de Laguna de los Tres for the most fantastic, close-up views of Fitz Roy, the lagoon at its base and its many glaciers. It makes a wonderful lunch spot. The climb involves around 500m of ascent and takes about an hour.
Returning to the path you walk back across open ground beside high cliffs before descending into the Vueltas River Valley to El Chalten.
Although this walk is fairly long in distance at around 20km, the path is very good and there is little ascent aside from the walk up to Laguna de Los Tres. If you would prefer not to make this additional walk, you have the option to wait at the campsite and enjoy your packed lunch.
Overnight: Patagonia Eco Domes
Day 5 - Cerro Torre Base Camp and Lago Torre walk - 6-7 hours.
Another classic day hike to Lake Torre and Cerro Torre Base camp, where climbers wait for good weather to attempt their difficult ascent of the mountain. The trail starts from El Chalten and follows the Fitz Roy River valley along a good path until reaching the first lookout point where you'll enjoy great views of the Torre-Adelas mountain range and the unmistakable spire of Cerro Torre. You continue along the well-maintained trail, over flat terrain until you reach the de Agostini Base Camp - the temporary home of climbers attempting the daring ascent of Cerro Torre.
A little further along the path takes you to the moraine around Lake Torre which you climb up and over to view the lake itself and the Torre glacier tumbling into it. And, if clouds allow, you will see the thrusting silhouette of Cerro Torre rising directly in front of you flanked by the needle points of Mounts Egger, Standhardt, Bifida and the Cord of Adelas. This is another fantastic place to sit, rest and eat your packed lunch whilst enjoying the stunning views.
Your route back follows the same trail to El Chalten where your vehicle will be waiting to take you back to the Eco Domes.
Overnight: Patagonia Eco Domes
Day 6 - Lago del Desierto walk - 2-3 hours. Transfer to El Calafate - 4 hours.
A relaxing day today with an excursion to the north of El Chalten to the area around Lago del Desierto. The lakes lies approximately 40km, 1½ hour's drive, north of El Chalten at the northern end of the Vueltas River Valley. Del Desierto Lake sits outside of the Los Glaciares National Park and offers scenic trails through Andean-Patagonian forests. The climate is more humid here than around El Chalten and the views of the lush green woods offers a great contrast to the barren and dry plateaux of eastern Patagonia. Once at the lake there is a relatively short walk through lenga forest to a moraine ridge from where you will have delightful views of the del Huemul lagoon and glacier. Here you can enjoy your lunch before returning to the start of the walk. You will then transfer to El Calafate, a drive of around 4 hours.
On arrival at your hotel in the late afternoon, you will have time to settle in before heading out to dinner in nearby El Calafate, the primary town of the region, and where there are many shops, cafes and bars to enjoy.
Overnight: Hosteria La Estepa Or Similar, El Calafate
Day 7 - Boat to Estancia Cristina via the Upsala Glacier - 3 hours. Afternoon walk.
After a short early morning drive to Puerto Banderas harbour, you board the boat that will take you to Estancia Cristina. The 3 hour cruise takes you past the snout of the Upsala Glacier from which huge chunks of ice calve forming giant icebergs.
Estancia Cristina is located on the most remote arm of Lago Argentino and is only accessible by boat or horse - a ride of around four days from the nearest civilisation. For many years English settlers lived here and it became well-known amongst explorers, climbers and adventurers who used the estancia as a starting or finishing point to venture into the Southern Patagonian Ice Field and the unexplored peaks of the area. Padre Agostini and Eric Shipton are just two of the famous explorers/mountaineers who spent time here. A fascinating small museum contains many artefacts from Cristina's past. Nowadays boats bring tourists for a day visit to the estancia and Upsala Glacier. Some may choose to stay in the well-appointed lodge, but very few have the chance to walk the valleys and trails and explore the pristine natural surroundings that make it such a very special place.
After lunch you will have the option to take a short walk to explore your beautiful surroundings. The walk begins at Cristina's central 'Octagon' and ascends through woods of nires and lenga trees to reach a first viewpoint looking out across the valley floor from Lago Argentino to Lago Pearson. Continuing up, your walk ends at the picturesque los Perros Waterfall before returning to the estancia for afternoon tea.
Overnight: Estancia Cristina
Day 8 - Canadon de los Fosiles walk - 6-7 hours.
A superb day walk that begins with a 10km drive from the Estancia, in a 4WD vehicle, to near the Feruglio ridge. During the ride you will pass several landmarks including the base of the Continental Ice Institute, the 'lengas cemetary' and the Bosque de Loros (Parrot's Forest). En route you will stop at a mirador to take in the magnificent vistas to Laguna Anita, Mount Norte and the valley surrounding the estancia.
Leaving the vehicles behind, you start your walk in an area that once was covered by the Upsala Glacier and the effects of glacial erosion are evident in the polished black and red coloured rock beneath your feet. Walking on for just a short distance you will stop at the Upsala Refuge, the base camp for expeditions venturing onto the ice zone. Continuing, you ascend up and onto the ridge from where you will get the most fantastic panoramic view of the Upsala glacier flowing from the Southern Patagonian Ice Cap into Lake Argentino. The ice cap is the third largest amount of ice in the world and the biggest outside polar latitudes. Reluctantly leaving behind this awe inspiring view you begin your descent into fossil canyon. Many of the rocks in the area show numerous embedded fossils from the past marine ingressions when the Pacific Ocean covered most of Patagonia and some of these sedimentary rocks were formed. All this happened long before the Andes Range existed. Much later the landscape was sculpted by the incredible force of huge ice caps, and what you see today is a tiny memory of the last glaciation.
The colourful rock, deep water pools and scattered fossils make for a fascinating and absorbing walk and before you know it you will have reached the valley floor and the end of your hike. You then return to the Estancia for afternoon tea.
Overnight: Estancia Cristina
Day 9 - Walk to Mount Carnero, 650m/2,133ft - 4-5 hours.
Today's walk starts from Estancia Cristina and follows a trail heading southeast that was used in days gone by as a cattle trail. The trail is rocky underfoot but has good views of Lago Argentino throughout. As you ascend, the Cristina Channel, Estancia Cristina and the entire valley below, comes gradually into view. Your path takes you through a forest of lenga trees and past waterfalls formed from the ice melt off the mountain, until, eventually, you reach your final destination - Mount Carnero. From here you will enjoy magnificent, panoramic vistas of the Southern Andean mountain range, the Southern Patagonian Ice Field and the Mariano Moreno mountains.
Your trail back to the estancia follows a different route which goes around the Cristina Channel.
Back at Cristina, you will have time to relax after your walk and perhaps visit the museum to browse through the many fascinating artefacts it holds.
Overnight: Estancia Cristina
Day 10 - Morning walk. Transfer by boat back to El Calafate.
You will have time this morning for a further walk and exploration at Cristina if you like. Or you can simply relax and and enjoy your wonderful surroundings before boarding the boat back to Puerto Banderas Harbour,
Returning to Puerto Banderas you will then transfer back to your hotel. Later, you will travel in to Calafate for your evening meal.
Overnight: Hosteria La Estepa Or Similar, El Calafate
Day 11 - Full day at Perito Moreno Glacier with 'Nautical Safari' and time at the viewing galleries/trails.
Leaving El Calafate after breakfast, you will drive to the Perito Moreno Glacier - a journey of 80km taking around an hour. You will initially pass Lake Argentino with its Redonda Bay. The bay is home to a variety of birds including black-neck swans, flamingoes, vapor ducks, coot and cauquen (sheldgeese). During the first half of your drive you travel through the Patagonian Steppe then enter the National Park where you will see several varieties of trees and vegetation mostly made up of the "notofagus" family (ñires, guindos and lengas), seldom cinnamon trees, and flowers of different colors. Among the flowers the "notro" stands out because of its intense red color that corresponds to the Patagonian Andean Forest.
You arrive at the "Curva de los Suspiros" ('Curve of Sighs'), named because it is the first panoramic viewpoint of the Perito Moreno Glacier. You will stop briefly here to take photos before moving on to Bajo las Sombras Port. Here you will board a boat for your 'Nautical Safari' - a one hour long cruise through the southern arm of the iceberg channel that will give excellent views along the dramatic 60ft high front wall of the Perito Moreno Galcier wall. This will enable you to get a real sense of the sheer scale and power of this impressive natural wonder as the glacier calves slabs of ice into the waters in front of you. But don't worry, your boat captain will keep you at a safe distance.
Back to the port, you next head to the footbridges, viewing galleries and walking trails around the glacier, that allow you to enjoy spectacular close-up views of the glacier. After some free time for walking and a lunch stop, you make your way back to El Calafate.
Overnight: Hosteria La Estepa Or Similar, El Calafate
Day 12 - Fly to Buenos Aires. Transfer to hotel.
Depending on the time of your flight, you may have time in El Calafate for some last minute souvenir shopping and lunch in a local restaurant, before being transferred to the airport for your flight to Buenos Aires. On arrival in Buenos Aires you will be transferred to your hotel. In the evening there will be a final, farewell dinner at a local restaurant.
If you wish to extend your time in Buenos Aires to explore this cosmopolitan and lively Latin capital, we are happy to arrange additional nights.
Overnight: Casa Sur Art Hotel Or Similar, Buenos Aires
Day 13 - Group transfer to airport. Fly to London.
Today you will be transferred to the international airport for your overnight flight to London.
Overnight: In flight
Day 14 - Arrive London.
---
2022
| Dates | Availability | Land Only | Flight Inclusive from |
| --- | --- | --- | --- |
| Sun 30 Oct - Sat 12 Nov 2022 | Guaranteed | £4675 Book | £5725 Book |
2023
| Dates | Availability | Land Only | Flight Inclusive from |
| --- | --- | --- | --- |
| Mon 13 Mar - Sun 26 Mar 2023 | Limited & Guaranteed | £5050 Book | £6170 Book |
| Mon 30 Oct - Sun 12 Nov 2023 | Available | Contact Us | Contact Us |
2024
| Dates | Availability | Land Only | Flight Inclusive from |
| --- | --- | --- | --- |
| Mon 11 Mar - Sun 24 Mar 2024 | Available | Contact Us | Contact Us |
Hold your place
Not quite ready to book? Why not call us on +44 (0) 1453 844400 to hold a no obligation place while you make up your mind?
---
Optional supplements
Insurance
No Surcharge Guarantee
No surcharges will be applied to your holiday after you book. Prices on this website are updated regularly. The Flight Inclusive holiday price, or Land Only holiday price, will be confirmed to you at the time you make your booking. There will be no surcharges after your booking has been confirmed.
Flight inclusive holidays
The 'flight inclusive' holiday prices shown on this website are based upon our preferred airlines and the best priced economy class fares we are able to secure at the time of publication.
We will be able to advise on fares with alternative airlines, upgrades to Business Class, and the options for flights from regional UK airports, please contact us for more details.
Booking your holiday
For the majority of our holidays, a deposit payment of £400.00 per person is required to secure your place(s), however a small number of holidays require a higher deposit - please refer to the holiday itinerary for more details. If the holiday departs within 60 days, a deposit of £1,000.00 per person is required.
Book now!
Book your small group holiday securely online – click the 'Book' button next to your chosen departure or visit our How to Book page
Complete and return a Booking Form available to download here.
Call us on +44 (0)1453 844400 and one of our travel specialists will talk you through the booking process.
What's included
English-speaking local leader in Patagonia
All internal flights and domestic airport transfers
Good standard hotel accommodation (4 star) in Buenos Aires on a twin share basis
Superior accommodation in Patagonia on a full board basis
11 breakfasts, 9 lunches, 10 dinners
All road transport by private vehicles
Nautical Safari at the Perito Moreno Glacier
Economy class return air fares from the UK (flight inclusive option)
Single, timed, group airport transfers for international flights on arrival and departure
UK Departure Tax
Carbon offset flights with the Ecoan Tree Planting Project (flight inclusive option)
A free Mountain Kingdoms Water-to-Go bottle
Opportunity to join one of our pre-trip meets in the Cotswolds
What's not included
Travel insurance
Visa fees
Lunch and evening meals in Buenos Aires and lunch on Day 3
Airport departure taxes, excepting UK Departure Tax
Any optional activities
Tips
---
---
Read holiday reviews by Mountain Kingdoms travellers.
Overall score: 5 (Based on 1 reviews)
Gentle Walking Patagonia in Style
5
Argentine Patagonia was a sublime combination of breathtaking landscapes, varied walking, exceptional accommodation and the most delicious food and wine. The best of all was estancia Cristina indulgent accommodation in a truly wild and unspoilt landscape.
---
Extend your holiday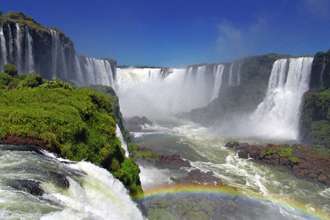 See the spectacular Iguazu Falls on both the Argentine and Brazilian sides
Stay in a 4* hotel in Puerto Iguazu
Tour with an expert local guide
Choose a 2 or 3 night extension option including flights, transfers, accommodation and guide
Visit one of nature's most awe-inspiring sights on a 2 or 3 night extension to Iguazú Falls. Fly from Buenos Aires to Puerto Iguazú and visit both the Argentine and Brazilian sides of the Iguazú National Park in the company of an expert guide. Walk along the park's many trails that wind through rainforest, and feel the raw power of the falls from numerous viewing points. The extension includes accommodation in a good quality hotel in Puerto Iguazú, domestic flights and all airport transfers.