What Experience Do You Need To Go Mera Peak Trekking?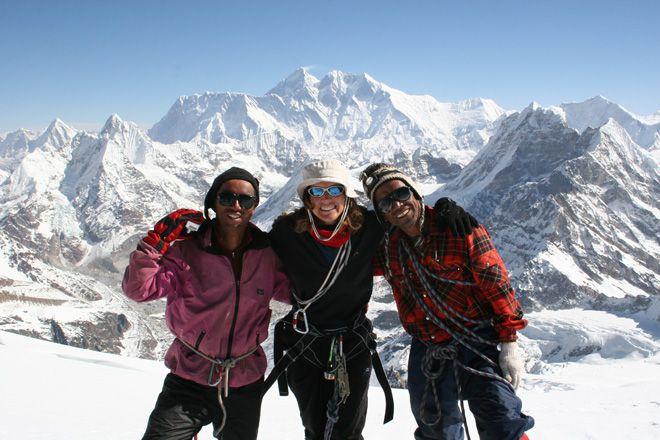 Niki Morgan with Mera Peak trekking team on summit. Photo courtesy of N Morgan
Have you got a long-held ambition to reach the summit of Mera Peak? Trekking up to the summit at nearly 6,500m is a serious undertaking but is nevertheless the perfect challenge for fit and ambitious trekkers as it's not an overly technical climb. However, alongside the potential issues created by trekking at high altitude there is a necessity of using ropes and crampons in a few places and we know that some people feel concerned about not having the right experience. Worry no more – read on to find out what you actually need to go Mera Peak trekking with us!
What is a Mera Peak trek?
Mera Peak is the highest trekking peak in Nepal and is located in the Everest region. It is a high altitude, non-technical mountain climb, suitable for the very fit and keen hill walker. There is also a nine day acclimatisation trek to reach Mera Peak Base Camp.
What does Mera Peak trekking entail?
Our Mera Peak route passes through some beautiful terrain, with the pace carefully planned for trekkers' acclimatisation on the way up. Beginning in the lovely forest of the Hinku Valley, we wind upwards towards lofty heights where trekkers are treated to one of the world's most phenomenal views: a panorama of Everest, Lhotse, Nupste, Makalu, Ama Dablam, Cho Oyu and other 7-8,000m giants. After summiting Mera Peak we take a downward trail over the Zetra La – a different route that ensures trekkers will experience entirely new vistas from beginning to end.
You will be ascending easy angled (35 degree) snow slopes, traversing glaciers, and ascending the final summit cone. The latter is roped-up – however, it is avoidable for those who do not wish to climb it.
Parts of the route will require the use of an ice axe and crampons.
What experience do you need to go Mera Peak trekking?
A high degree of physical fitness is essential, as is familiarity with rough and rocky terrain. It is also highly advisable to have strenuous winter hill-walking experience with previous use of an ice axe and crampons.
Attendance on an Introductory Winter Mountaineering Course or an Alpine Skills Course – covering crevasse rescue – is advantageous, although we give basic training as part of our Mera Peak trekking programme.
A good head for heights and confidence on rough terrain and snow slopes is also necessary.
What technical gear do you need to bring?
We hire climbing harnesses, ice axes and crampons.
You will also need plastic boots, an abseil device (for use on the summit cone), karabiners (2 screwgates), a Black Diamond nForce Ascender (also for ascending final summit cone), and 2 prussik loops (3 metres of 5 or 6mm cord).
For further information on the gear, the route and everything else involved in our Mera Peak trekking experience, you can read our itinerary.
We hope that the above answers some of your questions. Mera Peak is a wonderful trekking peak – challenging, without requiring the kind of technical mountaineering experience needed for some of the other Himalayan peaks.