Best time to trek in Nepal - trekking regions
When planning a trekking holiday in Nepal there are four main seasons to consider: spring, autumn, winter and monsoon (the summer months). Here's a brief intro to each.
The spring season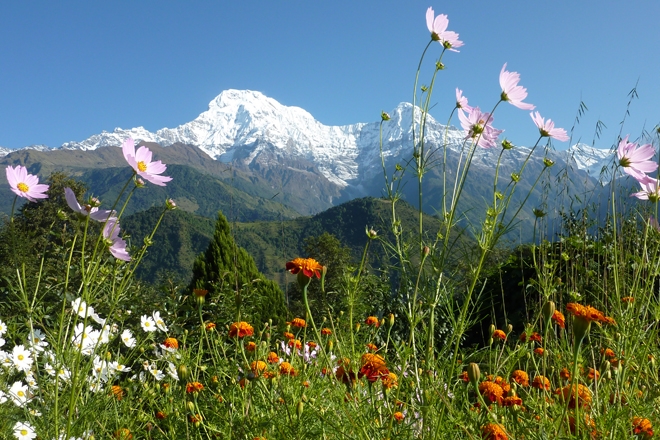 Spring flowers in the Annapurnas by J Barenblatt
The spring season begins in March and lasts until the end of April. It is the second busiest time of the year to trek in Nepal, especially in the Everest region and the Annapurnas. The days are long, daytime temperatures are warm to hot, with only occasional showers, and the trails up to the tree line, are ablaze with colourful rhododendron and flowers. Annual temperatures and humidity peak in May – just before the start of the summer monsoon season – bringing an end to the spring trekking season.
The summer season (monsoon)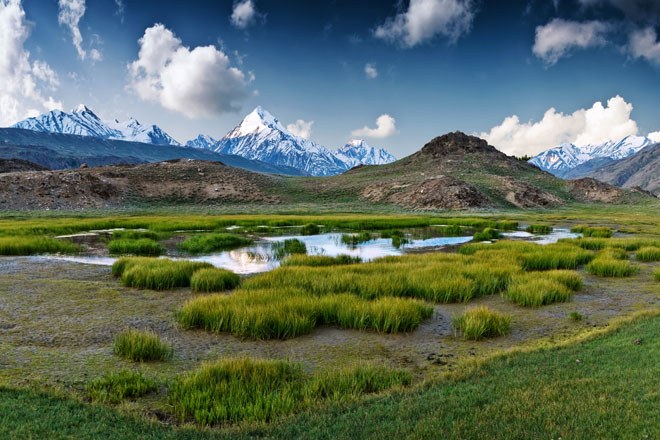 Summer in the Himalaya
During the monsoon season, which typically lasts from June to late September, temperatures are high with heavy, intermittent rainfall. The heavy rains can flood the trails and cause mud slides so it's not a good time to trek in most of Nepal's trekking regions. By the end of the monsoon season, the countryside is carpeted in green.
The exceptions are the Dolpo and Mustang areas of Wild Nepal, close to the Tibetan border, which fall within the rain shadow of the Himalaya. By way of contrast, the summer months here are warm and dry – ideal for trekking.
Autumn on the trails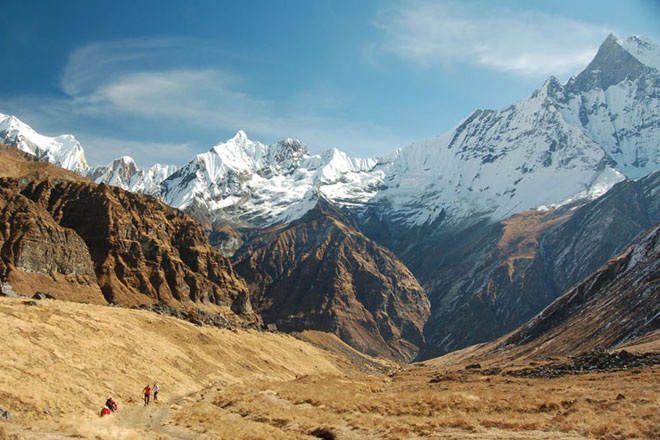 Annapurna Base Camp by C West
The post monsoon months of October and November are the peak trekking months, not only in the more popular regions of Everest and the Annapurnas, but also in much of Wild Nepal. These months have pleasant daytime temperatures, good visibility and extended spells of fine weather. It has long been considered the best time to enjoy the magnificent Himalayan views, which means the trails are at their busiest. If the monsoon is late or lingers though, early October can still see cloud and rainfall.
The winter months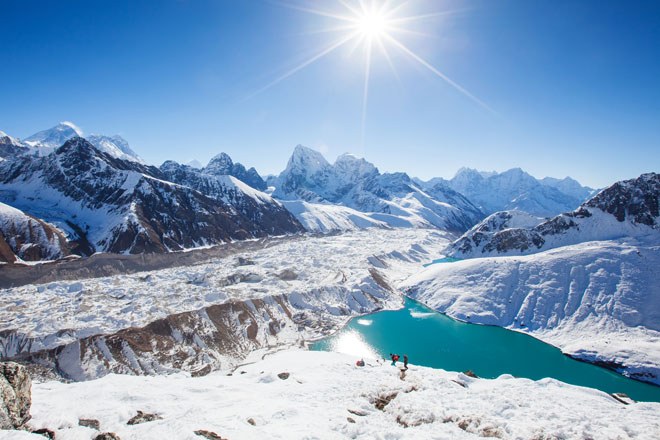 Winter at Gokyo, the Everest region
December through to March is the coldest time in the Himalaya with temperatures falling well below zero – especially at higher altitudes and at night. January is prohibitively cold for trekking, however, it is possible to trek in the Everest region – even up to Everest Base Camp - during December as long as you have plenty of warm layers with you. Although cold, the trails are quiet and the skies often crystal clear from dawn to dusk – making it a great month for photographers to capture the magic of the mountains.
February and March should be avoided by trekkers as these months see the heaviest snowfall in the mountains – blanketing trails and blocking high passes.
For more information about trekking in the Himalaya, take a look at our guides to Nepal's trekking regions:
Trekking Guide to the Everest Region
Trekking Guide to the Annapurnas