/
/
Article
/
Top 10 Destinations for 2020
Top 10 Destinations for 2020
Looking for inspiration for your big adventure this year. Here are our ten most popular destinations, all offering a fabulous variety of cultural and scenic wonders.
Explore our selection of popular travel destinations for 2020. As a new year reveals itself, many of us start planning future pursuits, dreaming of big adventures and setting new and exciting challenges for the year ahead. A new decade can heighten this process – our dreams become bigger and ambitions are discussed in more detail, not for just one year but the next ten.

With this in mind, and for a decade of inspiration, here is an introduction to our top 10 most popular destinations for 2020 – a number of which have remained at the top of the holiday charts for a number of years.
Nepal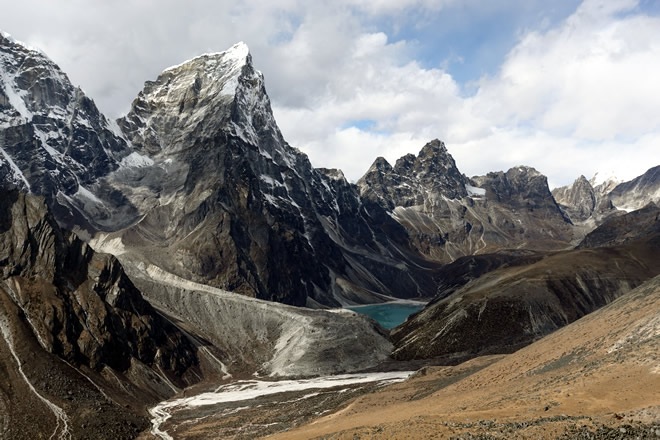 On the trail to Everest Base Camp - Harry Gray
Nepal has captivated the imagination of mountaineers and trekkers since it first opened its doors to the world in the 1950s. Now in 2020, Nepal is focusing on welcoming travellers more than ever.
The Nepalese government declared 2020 as the Visit Nepal Year and have launched a colorful campaign to improve infrastructure, maintain and protect the environment and to enhance wildlife conservation. Interestingly, the official mascot of Visit Nepal Year 2020 is the Yeti and 108 larger than life sculptures will be displayed within and outside the country to celebrate.
From the chaotic charm of its vibrant capital city, Kathmandu, to the towering Himalayan mountains, Nepal is a magnet for the adventurous traveller. Despite its many cultural and spiritual charms, it's undoubtedly the breathtaking scenery and classic mountain treks that are Nepal's most enduring attraction. Lush terraced farmland and river-carved valleys give way to high altitude desert plains, remote mountain passes and the summits of the highest peaks on the planet.
The Everest and Annapurna regions with their iconic mountains, well-worn trails and long-established tea house culture remain the most popular areas to visit, especially as more luxurious trekking lodges and lower altitude trails in the Annapurna foothills make the mountains more accessible for first time trekkers. However, even here it's possible to get off-the-beaten-path and go beyond the classic Everest Base Camp Trek to discover remote villages and little-known trails. For those looking for a wilder experience, Nepal has numerous options for the keen trekker with Langtang, Mustang, Ganesh Himal, Dolpo and Kangchenjunga all offering pristine mountain scenery and a culture still relatively untouched by tourism. In addition, for 2020, we have expanded our offerings in Nepal and introduced a selection of fantastic remote and challenging treks, including: Grand Annapurna Traverse, Makalu Base Camp Trek, Dhaulagiri Sanctuary Trek and Five High Passes - Dolpo to Mustang Trek.
View all 2020 Nepal holidays
Uzbekistan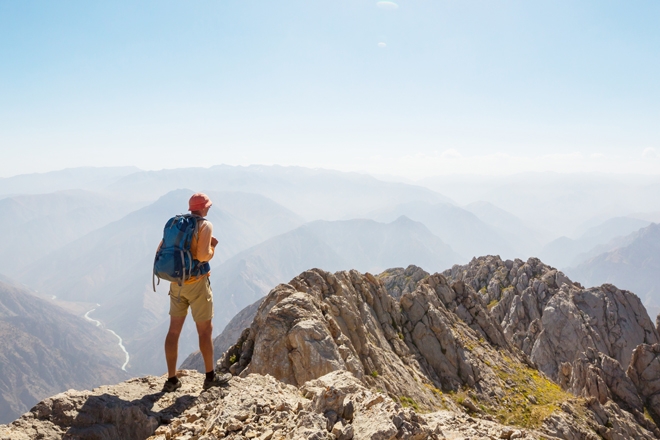 Chimgan Mountains, Uzbekistan
In the heart of central Asia, and along the route of the ancient Silk Road, Uzbekistan is a country full of fascinating history and rich cultural influences. These are best evidenced in the exceptional architecture and artisan industries of the great Silk Road cities of Khiva, Bukhara and Samarkand. Last year, saw an explosion of interest in Uzbekistan as a travel destination, and to support this demand we've recently increased the number of departures we offer and expanded our range of tours to include a new 15-day walking holiday - Silk Road Mountains & Monuments
Travel on a tour between the Silk Road's fabled cities and you will discover a perfectly preserved treasure trove of blue-domed mosques, wonderfully ornate mausoleums and madrassahs and intricately decorated towers and minarets. The cities are also great places to discover some of the traditional crafts of the Uzbek people including silk and paper making – little changed in their techniques over the centuries and still in use today.
Beyond the impressive cities of Uzbekistan there is abundant natural beauty to be discovered. From the red sands of Kyzyl-Kum Desert to the pristine peaks and alpine-style meadows of the Chimgan and Nuratau Mountain ranges. A summit of Small Chimgan is well worth the climb, offering spectacular panoramic views of Charvok Lake and the Karjantor Mountains on the Kazakhstan border.
View our Uzbekistan holidays
Bhutan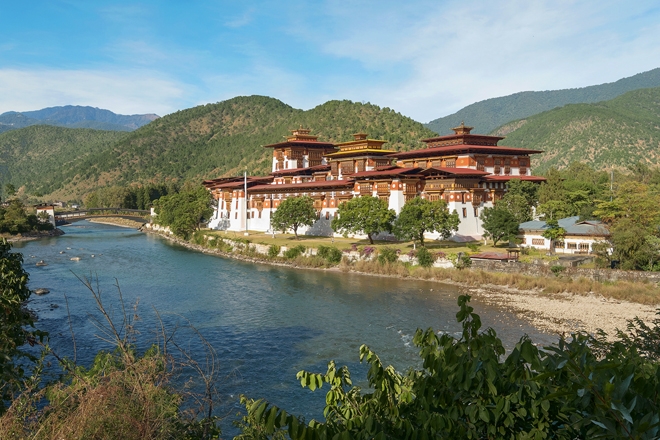 Punakha Dzong
Bhutan is a remarkable destination, as the only carbon negative country in the world, it has now been recognised by Lonely Planet as the top country to visit in 2020. This comes as no surprise to us here at Mountain Kingdoms. Bhutan is a wondrous land still immersed in myths and legends, where modern-day developments are carefully integrated with an ancient culture, ensuring that its unique traditions are preserved whilst still embracing the outside world.
Travellers pay a high daily fee to visit Bhutan as part of their low-impact tourism policy. This helps to sustain the tiny kingdom's pristine nature, unspoiled mountain paths, idyllic monasteries and Buddhist traditions - giving each visitor the true sense of nature and value.
One of the kingdom's most famed attractions, the Taktsang monastery, located at an elevation of 3,110m/10,200ft on the side of a dramatic cliff in the Paro Valley, is a striking sight to behold and a must-see for all visitors. Following suit, many of Bhutan's towns, however remote, have their own dzong reflecting both the deep spirituality of the country and its martial past. Bhutanese culture is also celebrated through vibrant and engaging festivals, where monks and locals dress in flamboyant garments and perform masked dances for their audience.
With its picturesque countryside characterised by broad valleys and pretty villages, together with primeval forests and towering Himalayan peaks, Bhutan is a land best explored on foot (or even on two wheels). From gentle valley walks to epic high mountain treks, and everything in between, Bhutan can satisfy any level of walking experience or fitness. And, with the east of the country only recently opening up to visitors there are still large parts of the Thunder Dragon Kingdom where you can have the trail virtually all to yourself.
View our Bhutan holidays
India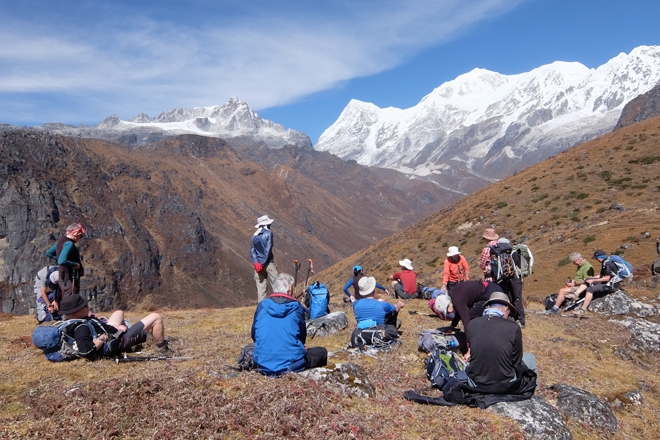 Trekking in Sikkim
India is no ordinary destination, it's packed with diversity at every turn. Whether you are looking to be taken back in time on a cultural tour, walk through verdant tea plantations, cruise along Kerala's backwaters or climb a Himalayan peak, India offers an incredible range of experiences. Rail journeys and river cruises are proving increasingly popular holiday options for 2020.
Rajasthan is the region that best evokes the colour, romance and history of India's fascinating past. Jaisalmer, Udaipur and Jodhpur are replete with ancient forts and palaces and heritage properties – many of which you can stay in – whilst iconic Taj Mahal provides the classic Indian photo opportunity. You can also take a journey aboard the luxurious Maharajas' Express, travelling from Delhi to Agra, and on to Ranthambore National Park and historical Jaipur.
For a fascinating insight into ancient civilisation Hyderabad and Hampi are well worth a visit offering a remarkable array of palaces, forts, temples and museums. Travel to Southern India for a complete contrast from the north. It is a land of white beaches, nature reserves, spice plantations and architectural splendour. In Kerala you'll discover captivating waterways and great wildlife viewing opportunities in the region's national park.
Alternatively, travel north to the Indian Himalaya and there's no end to the opportunities for superb trekking. You can either follow a classic trail such as the Markha Valley trek or trek in the shadow of the world's second highest peak, Kangchenjunga, or venture into the dramatic desert landscapes of Zanskar and Ladakh. Whichever you choose, you'll find a land of unsurpassed beauty and rich cultural interest.
View all our holidays in India
Georgia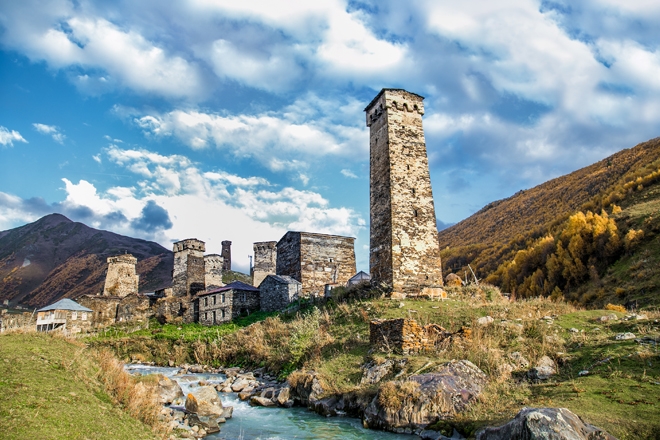 Watchtowers
Easily accessible from the UK, Georgia was considered to be a hidden gem, however recently Georgia has come into the spotlight and ABTA (Association of British Travel Agents) has revealed Georgia as one of the top destinations to watch for 2020. Sitting astride Europe and Asia, it is a destination that has absorbed many cultural influences yet proudly preserved its own identity. With its dramatic mountain scenery, remote walking trails, ancient village watchtowers and hospitable people, it is fast emerging as an ideal destination for keen trekkers. Not to mention the delicious, traditional cuisine! Here you can sample the tasty food that hospitality trend-forecasters are calling the 'cuisine of the year'.
The country's biggest draw is of course the High Caucasus Mountain range. One of the most scenically spectacular parts of this mountain range is the Upper Svaneti region with its glorious alpine scenery. Walking through this mountainous region provides a real feeling of being lost in nature as you are constantly surrounded by snowy peaks and verdant meadows. This scenic region now plays host to the Transcaucasian Trail, created with the purpose of both preserving the rich cultural heritage of the region and enabling trekkers to experience its many delights - which in turn benefits the local communities.
Despite becoming an increasingly popular tourist destination, Svaneti has managed to remain relatively wild and off-the-beaten-track, our advice would be to visit sooner rather than later while this is still the case!
View our Svaneti & the Transcaucasion Trail Trek
Ethiopia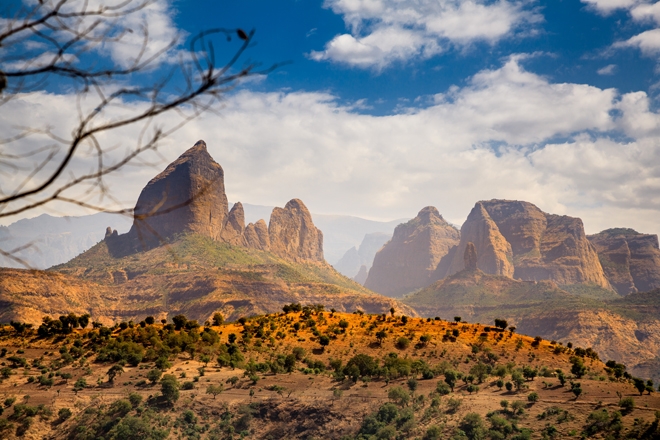 Trekking in the Simien Mountains
Rough Guides has recently ranked Ethiopia in second place on their list of Top 4 Countries to Visit in 2020, and for good reason. Ethiopia has emerged to be one of the fastest-growing travel destinations in the world in 2019. Due to new infrastructure, attractive new accommodations and increased accessibility it's a great choice for those who like to be at the forefront of emerging travel destinations.
Ethiopia is a destination renowned for its extravagant wealth of historic treasures as well as the rugged beauty of its mountains. It offers an impressive selection of must-see sights, beginning in its capital, Addis Ababa, home to 'Lucy', the 3.2 million year old fossilised skeleton, famed for being the oldest and most complex hominid ever found and one of the reasons that Ethiopia is known as the 'Cradle of Civilization'. Venturing away from the capital, Gondar and Lalibela are two of Ethiopia's other ancient wonders. Gondar is the site of a dozen castles built by different emperors over 236 years, whilst the remarkable medieval rock-cut churches of Lalibela are one of Christianity's most significant and unique landmarks. These are just two of Ethiopia's nine cultural World Heritage Sites.
Another of Ethiopia's World Heritage sites is the Simien Mountains National Park. The park offers great trekking through desert-like scenery and is also home to Ras Dashen, 4,550m/14,930ft, the highest mountain in Ethiopia. Within the park you can find a surprising amount and variety of wildlife, including the Geleda baboon, Walia ibex and Simien fox, there is also a richness of flora and some of the world's most magnificent birds.
View our Ethiopia Holidays

Italy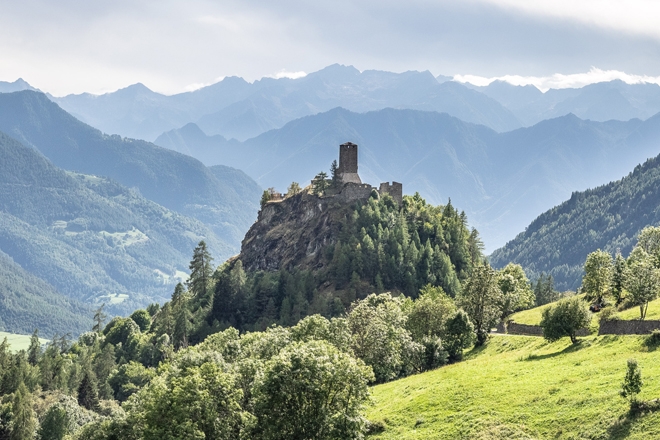 Monte Rosa Rando
If you're looking to lower your carbon footprint and stay a little closer to home in 2020, Italy could be just the ticket. With its diverse regions, Italy boasts an abundance of superb scenery for tourists to enjoy. Combine this with a wealth of historical interest, delicious food, blue skies, and just a two-hour journey from the UK, it is almost impossible to resist Italy's allure.
The dramatic landscape of the Dolomites is one of the country's biggest draws, especially for walkers, with its lush forests, verdant valleys colossal rock walls and unique jagged peaks. Each day spent wandering along the superb walking trails through Fanes-Sennes-Braies National Park, under the Tofanes Mountains, across the breathtaking Forcella del lago pass and up the spectular Lagazuoi Massif provides a magnificent new perspective of the Dolomites. For a lower-level trek, the Pennine Alps combines quiet trails and alpine meadows with stunning views of Monte Rosa Massif and its glaciers.
For lovers of coastal walking you can explore the wild landscapes of the volcanic Aeolian Islands and walk between lava flows and extinct craters with superb views across Sicily. Or you can stroll on the 'path of the gods' and through the cosmopolitan towns of the gorgeous Amalfi coast.
View our Italy holidays
Chile & Argentina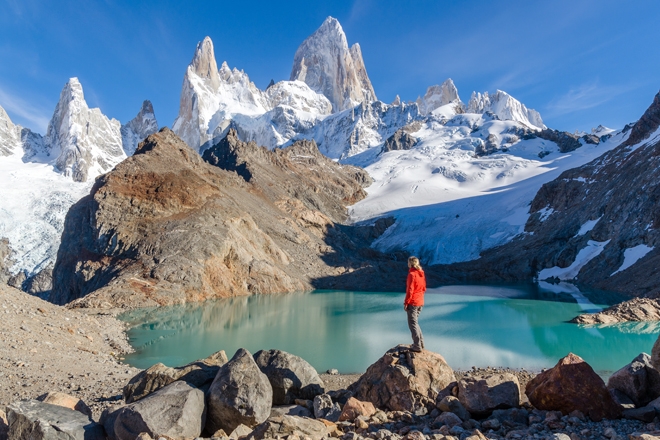 Patagonia
From the glacial landscapes of Patagonia to the hidden canyons of the Atacama desert and the mysterious monoliths of Easter Island, Chile is full of hidden gems, making it the ideal destination for adventure travel.
The magical region of Patagonia covers the southernmost tip of South America straddling Chile and Argentina. Both Argentine and Chilean Patagonia are filled with amazing natural wonders. The Torres del Paine National Park in Chile and Los Glaciares National Park in neighbouring Argentina are both characterised by jagged rock towers carved from the granite of the Andean mountains, surrounded by ice-blue lakes and vast glaciers. Excellent walking trails exist in both parks to reach the ultimate viewpoints of landmarks such as the Paine towers, the peaks of Fitz Roy and Cerro Torre and the immense Perito Moreno Glacier. At the southernmost tip of Patagonia lies the Tierra del Fuego archipelago – an eerily wild landscape where you can walk to 'the end of the world'. It's also the stepping off point for cruises through the Beagle Channel to Cape Horn or further afield to the Great White Continent of Antarctica.
Or, head west to explore the Chilean territory of Easter Island, a remote volcanic island in Polynesia. Here you can discover the mysterious and imposing Moai statues created by the Rapa Nui people and explore the rugged coastline and trails by foot, horse and bike.
View our Chile & Argentina holidays
Peru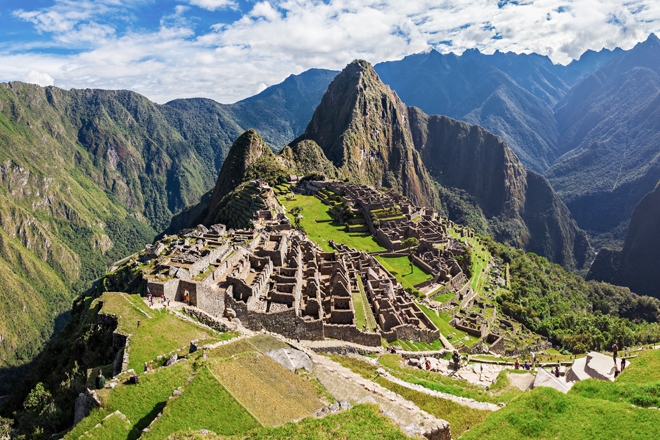 Machu Picchu
Peru recently triumphed at the World Travel Awards in 2019, winning three titles - 'World's Leading Culinary Destination', 'World's Leading Cultural Destination' and 'World's Leading Tourist Attraction: Machu Picchu undoubtedly remains as one of the world's must-see destinations. Since Hiram Bingham first discovered the incredible Inca city of Machu Picchu, it has become one of the most recognised images in the world and a magnet for every visitor to the country. Despite its popularity though, Machu Picchu, never fails to impress due to its scale, state of preservation and its stunning mountain location, and it rightly remains the must-see sight for any visitor to Peru. The most thrilling way to see Machu Picchu for the first time is on foot – trekking along the Inca Trail.
Just a train ride from Machu Picchu lays the delightful mountain city of Cuzco, cultural home of the Quechua people and gateway to the Sacred Valley - a treasure trove of cultural sights and monuments that reveal Peru's history from pre-Inca times through to the Spanish Colonial era. But there is far more to Peru than old stones! Rainforest, cloudforest, coast and high mountains provide an enormous variety of spectacular landscapes and a real trekker's paradise. Beyond the Inca Trail there are Andean peaks to conquer such as Pisco Peak, there's the gloriously technicolour Rainbow Mountain to discover and there are alternative trails to explore through the land of the Incas. In fact, with its wonderfully diverse scenery and rich cultural heritage, Peru is one of South America's most appealing destinations for trek-lovers foodies and history enthusiasts alike.
View all our Peru holidays.
Japan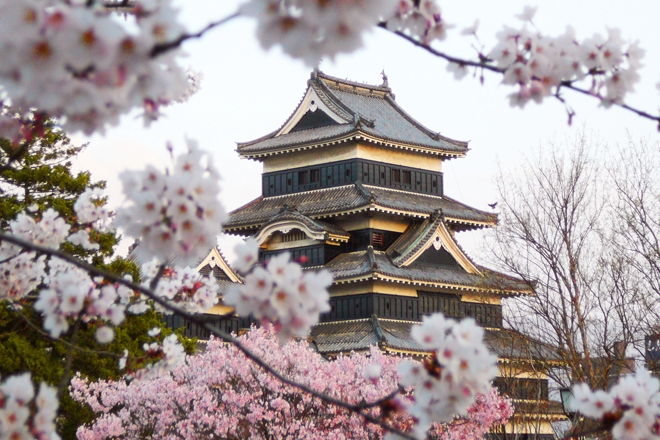 Japan
With the Rugby World Cup having taken place in autumn 2019 and the 2020 Olympics this summer, Japan is very much in the news. But beyond the sporting spectacles, it has much to offer the curious traveller. When you think of Japan the first thing that comes to mind is likely high-rise buildings, high-tech cities and speedy bullet trains, but besides this, Japan is surprisingly mountainous with 80% of the country covered by tree-clad, mountain terrain. Sparsely populated, small villages are linked by a network of sacred trails, such as the Nakasendo Trail and the Kumano Kodo, providing ideal trekking opportunities.
Along these scenic, ancient paths, once used by noblemen, clergy and emperors, you will discover small shrines, waterfalls, tea houses, pagodas and traditional inns called ryokan and minshuku. Here you can spend the night, enjoying exceptional hospitality, hot stone baths and delicious local food.
The immense contrasts are what makes Japan such an intriguing place to visit, from the hustle and bustle of Japans capital city, Tokyo, to the beautifully preserved villages of the Japanese Alps, and the scenic central heartlands there is something to offer every visitor.
View our Japan holidays