One Of The Best Views In The Himalayas: Mera Peak Expedition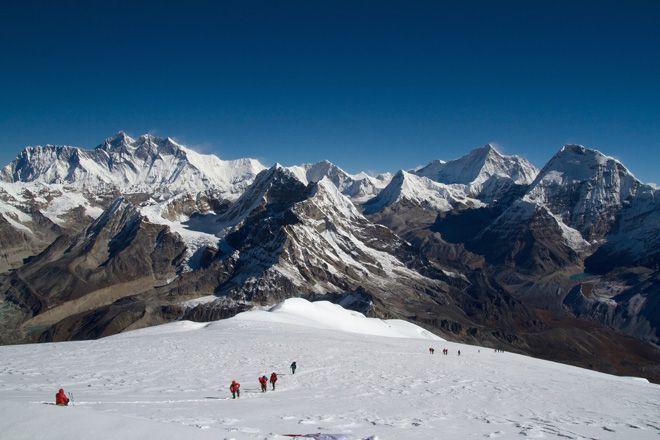 On the descent from the summit Photo courtesy by J Hughes
Wherever you go in the Himalaya, you are sure to be greeted with jaw-dropping vistas – this is, after all, the highest-reaching mountain range in the world, and a region of unsurpassed beauty and wonder. It would be hard to pick a list of the top ten views, let alone single out one. But a strong contender would have to be the incredible panorama that can be seen when you reach the summit on a Mera Peak expedition.
Standing at 6,476 metres high, Mera Peak is an impressive mountain located in the Sagarmatha Zone of the Himalaya, south of Everest. Nepal's tallest trekking peak, it consists of several summits, which rise like snowy waves into the sky. All of this means that a Mera Peak expedition is a challenging but supremely rewarding journey – and one that holds a real treat in store for those who decide to tackle it on a Mountain Kingdoms adventure.
After trekking through the picturesque Hinku Valley, which is filled with lush and tranquil forests, our route heads up towards Mera Peak Base Camp, and then onwards along a spectacular glacier towards the peak itself. The Himalaya unfold before the eyes on the way, with some of the most awe-inspiring mountains of the region – including Everest, Lhotse, Cho Oyu, and Makalu – sweeping into view, with a sublime panorama visible from the top.
There are some important things to take into consideration before making this trek. Being prepared in body and mind is certainly essential, and it is worth reading other trekkers' accounts of the experience to know what to expect. Acclimatisation is also vital, which is why we take the time to prepare our trekkers by walking in Hinku Valley – readying them for the unforgettable journey ahead.