Everest Base Camp – Boots 'n All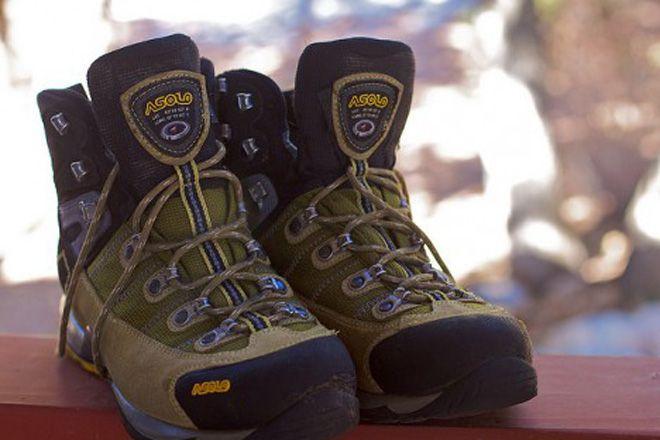 Ready for The Next Hike" © 2010 Alan Levine, used under a Creative Commons Attribution license: http://creativecommons.org/licenses/by/2.0/deed.en
what you do need is for them to be waterproof – If choosing a fabric boot, look for gore-tex which is the best finish to achieve this.
Another vital factor you need to consider is a good grip on the sole – preferably Vibram or equivalent.
The last point is support; in conditions trekking Everest Base Camp you will really need good ankle support so it's best not to use approach shoes.
Maybe you thought that taking the plunge and finally making the commitment to trek to the foot of one of history's most famous mountains was the hard part. Wrong. That's just the beginning. Tackling an adventure to Everest Base Camp, trekking some of the most arduous terrain in the world, is not like heading out for a three-day hike in the Lakes District. Everest is the real deal and only the foolish would try to succeed without training and preparation. So, when is a boot not a boot? When it's a hiking boot! There are so many different types of hiking boots out there, but it is imperative you choose the right one for the job; and if the job is Everest Base Camp trekking, here are some tips of what you should be looking for.
Your Boots – Your New Best Friend
One of the first things you need to do even before you start training is to choose your hiking boots – they will need to be your constant training companions and should be worn-in so that they feel like a second skin by the time you set off. Buy them well in advance of your trek to ensure they are completely moulded to your own fit. (A good shop will often let you wear your boots indoors at home to test for comfort level).
Getting the Basics Right
You don't need heavyweight boots for trekking to Everest Base Camp as the paths are very good and there's rarely any snow.
Fits Like a Glove...
It should be said that the most important factor in fit is to find a sales assistant who knows what they're talking about. It will pay you to go to a proper outdoor gear store rather than just try your luck in your local shoe chain, and both your feet should be measured properly for accurate sizing both for length and width. A well-fitting boot will not move around your heel or ankle area, but will still provide your toes with enough room to move when you're heading downhill for long periods of time on your Everest Base Camp trekking journey. A good guideline is the 'finger-test. You should be able to slip an index finger down into the back of your boot.