/
/
Article
/
Enjoy Mani Rimdu while Everest Base Camp Trekking
Enjoy Mani Rimdu while Everest Base Camp Trekking
Many people who go Everest Base Camp trekking spend a lot of time imagining the end goal: reaching the Base Camp and gazing up at the peak of the world's tallest mountain. What they all find is that the journey itself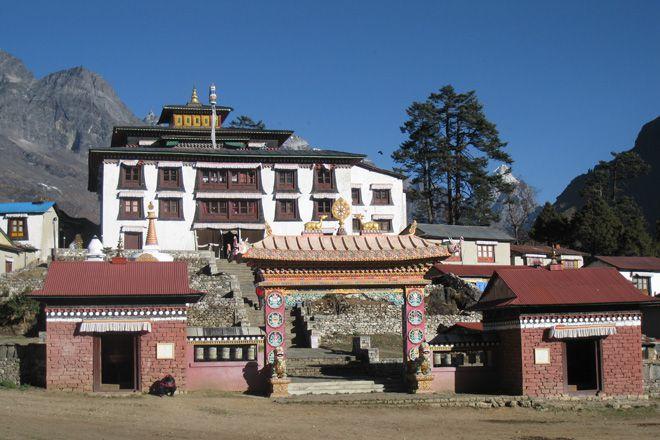 Thyangboche Monastery. Photo courtesy of S Berry
Many people who go Everest Base Camp trekking spend a lot of time imagining the end goal: reaching the Base Camp and gazing up at the peak of the world's tallest mountain. What they all find is that the journey itself is equally memorable, with beautiful lakes, friendly Himalayan peoples, temples, mani stones and prayer flags – and, towards the end of the year, a chance to witness the festival of Mani Rimdu at Thyangboche Monastery.
Mani Rimdu is a celebration of the triumph of Buddhism over other regional beliefs, although it also serves as a chance for people in the surrounding area to come together and enjoy several days of festivities and socialisation. For several days, the monks of Thyangboche Monastery engage in music, dance and processions, wearing striking costumes. Visitors who are Everest Base Camp trekking in the region can join the local people and watch the performances.
On the first day of the festival, the monks move from Thyangboche Monastery to the memorial ground, wearing red and orange silk robes and distinctive yellow crescent-shaped hats. They play cymbals, bugles made from human bones, long brass horns called dun chen, and large conch shells – all of which is loud enough to draw in anyone who hasn't already gathered around the monastery and the memorial ground. On reaching their destination, the monks sit, chanting prayers to Pawa Cherenzig, the god of compassion. They invoke his blessing into pieces of red rice, which are then scattered over the assembled crowd as a charm to promote long, healthy lives.

The second day is even more exciting for Everest Base Camp trekking visitors, as dancers perform an array of colourful spectacles, from the slow, graceful Dance of the Dakini accompanied by a slow drum-beat and softly chiming bells, to the lively, rhythmic skipping of the Four Protecting Kings dance, where the performers defend the Buddhist faith against demons to the beat of cymbals. Some of the dances poke fun at other faiths, like the one that represents an arrogant Hindu holy man accidentally impaling himself on a knife while attempting a yogic feat.
This is just the beginning! Mani Rimdu lasts for 9 days, with other events including constructing butter tormas (symbolic offerings made of coloured butter and barley flour) and a fire puja (offering food to the Buddhist gods by burning them in a fire).
All told, Mani Rimdu is a fantastic event and we tailor our Everest Base Camp trekking itinerary – which also visits the Gokyo Lakes – in October/November, so that you can enjoy a day at the festival. Everest can wait: there's so much to enjoy along the way!
Monks banging cymbals at the Mani Rimdu festival. Photo courtesy of by Gordon McGeorge