/
/
Article
/
Mani Stones
Mani Stones
Across the Himalaya, whether on an Everest Base Camp trek, the Annapurna Circuit or elsewhere, visitors will undoubtedly encounter mani stones: large and small stones engraved with a short piece writing in Tibetan
Across the Himalaya, whether on an Everest Base Camp trek, the Annapurna Circuit or elsewhere, visitors will undoubtedly encounter mani stones: large and small stones engraved with a short piece of writing in Tibetan, propped up against a large rock or forming an entire wall alongside part of the track. What are they? What do they signify?
The Tibetan engraving is a famous Buddhist mantra: om mani padme hum (a loose translation is "hail to the jewel in the lotus"). The act of writing this mantra on the stones and placing them in the landscape is a form of prayer and meditation. Typically they are placed at the entrance to villages, near monasteries and alongside trails and rivers because these places are significant, sometimes due to longstanding pre-Buddhist beliefs in spirits that dwell in certain locations.
If you are on our Everest Base Camp trek, or find yourself trekking in any other part of the Himalaya where Tibetan Buddhism is practiced – perhaps on a Bhutan trek with us – then make sure you pass mani stones to the left, in a clockwise direction. This is the direction that the universe spins according to Buddhist belief; if you go counter-clockwise you will be running the risk of incurring the disapproval of the Buddhist gods!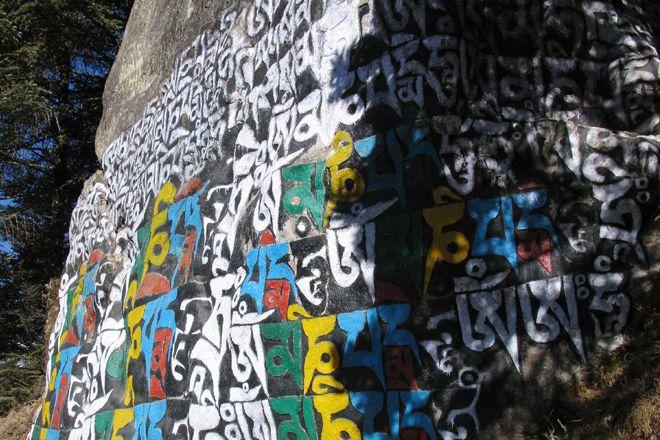 Mani Stone near Namche. Photo courtesy of B Hall
Mani stones are sometimes placed in small numbers and in other places create long walls. Individual stones might be several metres across, or could be little larger than a pebble. On our Everest Base Camp trek you can see a particularly striking and colourful Mani stone just outside of the Sherpa capital, Namche Bazaar. This photo is of me standing alongside it before heading up the trail.
So, if you join our Everest Base Camp trek or any of our other routes in the Himalaya, take some time to stop and admire the mani stones and walls that you come across. Anyone in the UK can also see a small mani stone in the British Museum, although you really need to see them in the Himalayan landscape to get a true appreciation.