/
/
Article
/
Culture On Your Tailor Made Holiday, Bhutan: Tigers Nest Monastery
Culture On Your Tailor Made Holiday, Bhutan: Tigers Nest Monastery
A land as beautiful as it is mysterious, Bhutan holds some of the world's finest and most unspoilt trekking country, making it perfect for adventure lovers. If you've got a yearning to visit, whether on one of our group holidays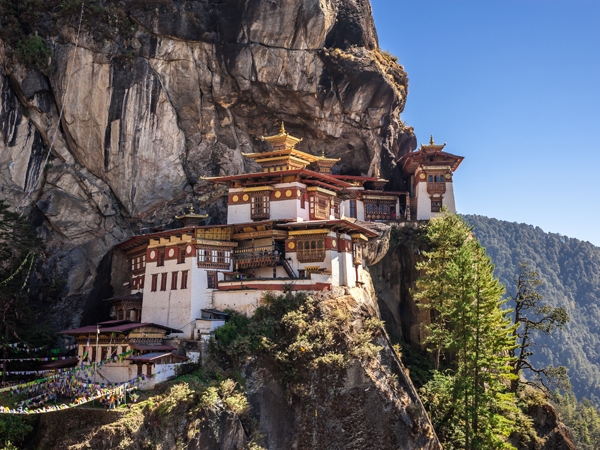 A land as beautiful as it is mysterious, Bhutan holds some of the world's finest and most unspoilt trekking country, making it perfect for adventure lovers. If you've got a yearning to visit, whether on one of our group holidays or a tailor made holiday, Bhutan is certain not to disappoint. Even the most seasoned of travellers will readily admit that it is a special place. The country's deep-held Buddhist beliefs may have a lot to do with it, and on a Mountain Kingdoms trip there are plenty of opportunities to explore these beliefs in some of Bhutan's most breathtaking locations – including the captivating town of Paro and the nearby Taksang monastery known as the 'Tiger's Nest'.
Paro is located in the mountains of the southwest, which with their gorgeous terrain and well-maintained passes are perfect for trekkers and non-trekkers alike – you can pick your own pace, one of the real advantages of a tailor made holiday. Bhutan's lush natural beauty surrounds the town, which has a traditional main street lined with picturesque wooden buildings.
As will become apparent to anyone on a tailor made holiday, Bhutan's culture is utterly distinctive, a result of its long isolation from the world. An important feature of this culture is the monastery, which forms the heart of the community, and the most iconic monastery in the country is Taksang. Perching above the Paro valley on the side of a cliff, it is a sight to behold. Built on the site where legendary Indian saint, Guru Padmasambhava, flew into Bhutan on the back of a tiger, bringing Buddhism to Bhutan. It is the perfect place for visitors to learn more about the history and practise of Buddhism in this fascinating country.