/
Holiday
/
Western Taurus the Lycian Way
Antalya, Turkey, Istanbul | Walking & Trekking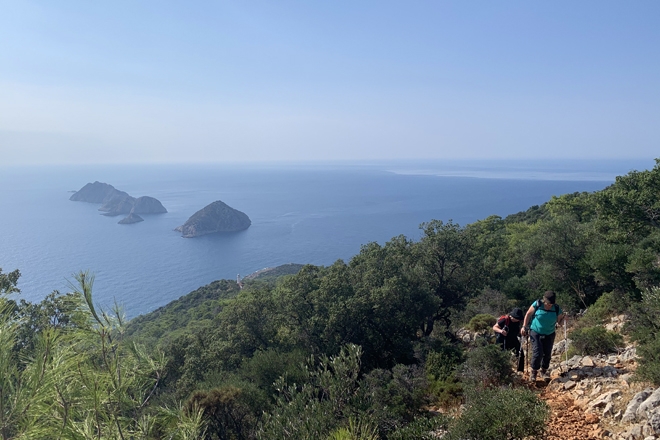 Grade:

?

Moderate / Vigorous

Moderate: Suitable for anyone who enjoys hill walking.

Vigorous: Suitable for enthusiastic hill/mountain walkers.

Find out more...

Moderate / Vigorous

Duration: 8 days from the UK
Walks on: 6 days
Private Departures Available
Flight inclusive from £1140, Land only from £745
Superb walking high in the peaks of the Western Taurus and along Turkey's best loved coastal trail.
Highlights
Enjoy a two-centred holiday with a rich diversity of landscapes, history and culture
Explore the wild scenery of the Western Taurus mountains
Walk the stunning coastline along some of the best sections of the Lycian Way
Visit the remarkable archaelogical site at Olympos and climb to the summit of Tahtali
Turn your holiday into a two week Turkish extravaganza by joining our Cappodocia holiday
Reviews
Great walking with a complete contrast between the remote Taurus mountains around the very Turkish town on Elmali, and the stunningly beautiful coastal Lycian Way, staying in the pretty coastal village of Adrasan. I loved the final day ascent of Mount Olympos, a real achievement and amazing views from the top.
Seraphina, Mountain Kingdoms
Next
The south west corner of Turkey is a land of natural contrasts with its sparkling, azure blue coastline backed by soaring, jagged peaks rising to over 3,000m.
The western end of the mighty Taurus mountain range, that stretches as far as the Tigris and Euphrates rivers in the east, is where you will start your holiday. You first explore inland, visiting the ancient, ruined city of Termessos, before heading further into the hills to stay in the little visited town of Elmali. This very Turkish town was an important waypoint on the ancient Lycian trade route, and remained a key town during the Ottoman era. It is now a sleepy backwater with beautiful old houses and an important stone mosque. You will explore the surrounding rocky limestone mountains before descending to the beautiful Mediterranean coast.
It is here, where the mountains drop steeply to the sea, that you will begin the second part of your holiday along the Lycian way. This was Turkey's first long distance footpath and provides stunning walking – from hidden coves and summer pastures, to ancient pathways and an astonishing array of Lycian, Greek and Roman remains.
Your hotel for the second part of the holiday is situated right on the beach, perfect for refreshing swims at the end of the day.
You will explore the coastline over three glorious days, and on your final day you will climb to the top of Mount Olympos (also known as Mount Tahtali) to enjoy its spectacular, panoramic views before experiencing the very best of modern Turkey when you descend by the new cable car – an easy descent after several rewarding walking days!
You can combine this trip with our 8 day Cappadocia and the St Paul Trail walking holiday and experience Turkey's other great walking regions.
Private Departures
Western Taurus & the Lycian Way - Private Departures
If you would prefer to travel just with your partner, friends or family, we can arrange a private departure of this holiday. You follow the same itinerary, but travel on dates that suit you. Alternatively we can include elements of this holiday in a bespoke Tailor Made itinerary. Contact our friendly team for details and prices, and to make a booking.
---
At a glance
Grade:
Moderate / Vigorous
Duration: 8 days from the UK
Walks on: 6 days
Max. Altitude: 2,365m/7,759m, Mount Olympus/Tahtali Summit, Day 7
Private Departures Available
Guaranteed to run for a minimum of 4 clients
Maximum group size: 12
Land only joining city: Antalya
Accommodation types: Hotels, Guesthouses
Meal arrangements: 7 Breakfasts, 6 Lunches and 7 Dinners are included. Picnic lunches are provided during walks.
Itinerary overview
| Day | Activity |
| --- | --- |
| 1 | Fly to Anatalya. Group transfer to hotel |
| 2 | Transfer to Elmali, via exploration of ancient of Termessos. City walk in Elmali |
| 3 | Walk in the highlands of Aksivri (Elmali Mountains) |
| 4 | Walk on the slopes of Mount Kizlarsivrisi. Transfer to Adrasan |
| 5 | Hike on Lycian way from Karaoz back to Adrasan |
| 6 | Trek from Adrasan to Olympos, visit the archaeological site |
| 7 | Climb Tahtali mountain, 2,365m, descend by cable car, transfer to Antalya |
| 8 | Fly to London |
Leader: Local leader, Turkey
Your trip will be led by a local English-speaking guide with guiding qualifications and valuable experience. They will share with you their passion and knowledge to ensure you have a memorable holiday in Turkey.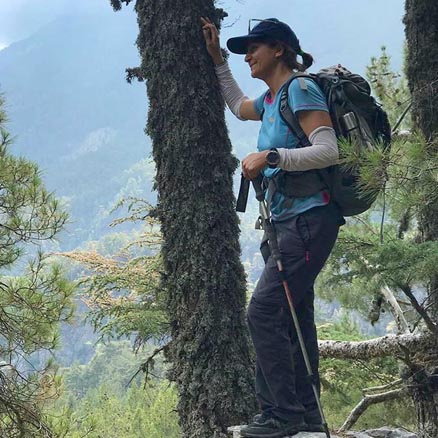 ---
Holiday Itinerary
Day 1 - Fly London to Antalya
Today you will depart the UK and fly to Antalya
Overnight: Kosa Boutique Hotel Or Similar, Antalya
Day 2 - Walking tour of old Antalya. Drive to Termessos and explore ruins on foot. Continue to Elmali and walk around the town. Total walking time about 4 hours.
Your first walk starts from your hotel and you will spend about an hour on a guided walking tour of the pretty old town of Antalya before meeting your vehicle to transfer by road (approximately 45 mins) to the ancient Pisidian city of Termessos. This 2,330 year old city is located at an altitude of 1,050 meters, and set below the dramatic peak of Gulluk Dagi. It's about a 20 minute walk uphill to reach the main ruins which are spread over an immense area and you will have plenty of time to explore the site which includes a spectacular theatre, vast water cisterns and a necropolis. This city was spared by Alexander the Great who surrounded it in 334 BC, apparently due to the bravery of the inhabitants and possibly due to the difficulty of sacking such a remotely situated place. You will eat your picnic lunch here, with time to appreciate the many layers of history, before you continue driving through the hills to the old Ottoman settlement of Elmali, an unspoilt town far off the main tourist routes and the local centre for the surrounding villages. In the late afternoon you will take an exploratory walk around the town to view the large Ömer Pasha Mosque, the old bazaar which is still full of fascinating shops, and the narrow streets with well-preserved wooden houses, some dating back to the 16th century.
Overnight: Tu-Ba Guesthouse, Elmali
Day 3 - Walk in the highlands of Aksivri, up to 2,350m – 12km, approximately 6 hours. Ascent 830m/descent 813m. (Option to continue to summit at 2,469m)
Today you drive about 3 miles to the farming village of Bayindir. This pretty, small village was the site of an illegal excavation in 1984 when a hoard of ancient coins was discovered by local villagers and smuggled out of the country. You may well meet villagers who tell you their stories about this exciting episode!
You start your walk up Aksivri Hill, known locally as Elmali Mountain, 2,469m. The walk starts gently through apple orchards until sparse pasture land is reached. You may well meet nomadic shepherds up here, and see their cave with the ingenious natural cooling system that they use to preserve their home-made cheese. After a couple more hours uphill you start to get magnificent views of the surrounding valleys and the peaks of Kizlarsivrisi. There is a good resting spot at about 2,350m, and the option to climb a further hour or so to the summit. The descent is by an alternative route, some of which is on an ancient Seljuk cobbled pathway, before you meet your vehicle for the return short drive to Elmali.
Overnight: Tu-Ba Guesthouse, Elmali
Day 4 - Walk via the shoulder of Mount Kizlarsivrisi to the cedar forest – 10km, 5-6 hours. Ascent 310m, descent 700m. Transfer to Adrasan.
After driving across the Elmali plain, you continue deep into the mountains on a shepherd's track that gradually climbs up to about 1,900m. Right in front of you is the dramatic mountain peak of Mount Kizlarsivrisi, the highest in the western Taurus. This area was the site of large, nomadic gatherings where whole villages would migrate for the summer months. Now there are just the remains of their temporary buildings, and a brand new stone climbers hut. From here you will ascend to the shoulder of the mountain, to gain beautiful views of the surrounding wild hills. In the spring the wild flowers are stunning. Down in the valley, far below, you may well see the few nomadic shepherds who still spend summer up here grazing their flocks of sheep and goats. There is also a large herd of wild horses who live in this valley. After descending you contour along the hillside on a forest track to reach the huge, ancient, cedar forest. The forest covers several hillsides, and there are many giant Cedar of Lebanon trees reputedly a thousand years old.
Your vehicle will meet you here for the two hour drive to your hotel on the coast where you will spend the next three nights.
Overnight: Changa Hotel Or Similar, Adrasan
Day 5 - Walk from Karaoz to Cape Gelidonia and on to Adrasan –15-16km, 7-8 hours. Ascent 765m, descent 680m.
After breakfast it is a short road transfer to Karaoz where you start your walk on one of the best hikes of the entire Lycian Way. This is a long and challenging day, but well worth the effort for the stunning views and excellent walking. The route starts on a forest road for a short distance and then follows the original lighthouse keeper's path to Cape Gelidonia and its lighthouse. This small path zig zags uphill and is the only access to the lighthouse - it was used by the final lighthouse keeper on his motorbike! There are stunning views of five small islands just off the coast; the reason for the lighthouse and the site of many shipwrecks. From the lighthouse the path ascends, giving great views of the lighthouse below and the wide, beautiful bay. You now enter wild and uninhabited countryside, with a mixture of shady paths through the red pine trees, soft underfoot with pine needles, to numerous short ascents and descents on rocky paths. There are occasional ruins and the remains of meadows used by shepherds as summer grazing when there was still water in this area. Eventually the bay of Adrasan can be seen in the distance.
Your vehicle will meet you to drive the final 3 or 4 kilometres back to your hotel at the far end of the beach in Adrasan (or those with energy can of course walk!).
Overnight: Changa Hotel Or Similar, Adrasan
Day 6 - Walk from Adrasan to Olympos – 16km, approximately 6 hours. Ascent 760m, descent 760m.
Today's walk is a complete contrast to yesterday, as you hike inland between two bays: Adrasan and Olympos, and behind the peak of Mount Musa. The route initially passes farms before climbing in the shade in a picturesque valley, and on a very good path, to reach a pass and a shepherds' hut. This area was once used for pasturing sheep and camels but a lack of water led to abandonment. You may well encounter the shepherd who now runs a small refreshment stop here. You will have your picnic before continuing to the pass at 720m and the vague ruins of the old city of Phoenikos or Upper Olympos. This area was hit by a forest fire a few years ago, and it is heartening to see the fresh, new re-growth. The path descends through tangled trees, eventually becoming dense and dark and quite a contrast to your ascent this morning. You will soon get your first glimpses of the mighty archaeological site of Olympos below.
As you steeply descend, with dramatic cliffs on either side, you pass the upper graves of the Olympos Necropolis and reach the river bed and the main Olympos site. There will be a chance to have a guided visit to the archaeological site at Olympos, which was one of the leading cities of Lycia, before transferring back Adrasan, where a refreshing dip in the sea may well be the perfect end to a stunning walk.
Overnight: Changa Hotel Or Similar, Adrasan
Day 7 - Walk up Mt Olympos/Tahtali, 2,366m – 8km, 6 hours. Ascent 1,466m. Descend by cable car. Transfer to Antalya.
After breakfast you will transfer to the mountain village of Beycik. Situated at about 900 metres it is a popular summer retreat from the heat of the coast. Today's walk is uphill all the way, but you will be walking on a good path that is never particularly steep, so taken at a steady pace it shouldn't prove too challenging for the keen hill walker. It's highly recommended by Seraphina Berry (Reservations Manager at Mountain Kingdoms) who describes it as a 'beautiful and rewarding walk with the huge benefit of no descent!'
You start by following the trail up through handsome old cedar trees, sparsely dotted here - apparently some of them were felled by Anthony to send as a present to Cleopatra when he was wooing her! There is a delightful, huge, old plane tree shading a spring after an hour or so, and an enterprising local man provides cold drinks and barbecued trout. After about 4 hours uphill on good paths you reach the top of the treeline and the pass. Above here the path continues up bleak, rocky, karst terrain and you realise the huge scope of the mountain as you contour ever upwards. It is only when you are within 100 metres of the top that you see your destination, the cable car station, which is perched right on top. From the summit, weather permitting, there are amazing panoramic views of the Taurus mountains, the vast bay of Antalya and distant white beaches.
You will descend using the modern cable car and enjoy fabulous views both along the coast and immediately below you as you skim across a vast forest. Your vehicle will be waiting at the bottom to transfer you to your hotel in Antalya old town. You may well feel like visiting one of local welcoming bars for a celebratory drink at the end of a long but rewarding day.
Overnight: Kosa Boutique Hotel Or Similar, Antalya
Day 8 - Group transfer to Antalya Airport. Fly to London.
After breakfast this morning there will be a group transfer to Antalya Airport for your flight back to London.
---
2023
| Dates | Availability | Land Only | Flight Inclusive from |
| --- | --- | --- | --- |
| Sat 23 Sep - Sat 30 Sep 2023 | Available | £745 Book | £1140 Book |
2024
| Dates | Availability | Land Only | Flight Inclusive from |
| --- | --- | --- | --- |
| Sat 25 May - Sat 1 Jun 2024 | Available | £875 Book | £1365 Book |
| Sat 21 Sep - Sat 28 Sep 2024 | Available | £875 Book | Contact Us |
Hold your place
Not quite ready to book? Why not call us on +44 (0) 1453 844400 to hold a no obligation place while you make up your mind?
---
Optional supplements
Single Room Supplement
£220
No Surcharge Guarantee
No surcharges will be applied to your holiday after you book. Prices on this website are updated regularly. The Flight Inclusive holiday price, or Land Only holiday price, will be confirmed to you at the time you make your booking. There will be no surcharges after your booking has been confirmed.
Flight inclusive holidays
The 'flight inclusive' holiday prices shown on this website are based upon our preferred airlines and the best priced economy class fares we are able to secure at the time of publication.
We will be able to advise on fares with alternative airlines, upgrades to Business Class, and the options for flights from regional UK airports, please contact us for more details.
Booking your holiday
For the majority of our holidays, a deposit payment of £400.00 per person is required to secure your place(s), however a small number of holidays require a higher deposit - please refer to the holiday itinerary for more details. If the holiday departs within 60 days, a deposit of £1,000.00 per person is required.
Book now!
Book your small group holiday securely online – click the 'Book' button next to your chosen departure or visit our How to Book page
Complete and return a Booking Form available to download here.
Call us on +44 (0)1453 844400 and one of our travel specialists will talk you through the booking process.
What's included
An English-speaking local guide
Economy class return air fares from the UK (flight inclusive option).
Group airport transfers on arrival and departure
All other transfers
7 nights hotel and pension accommodation on a twin share basis
7 x breakfasts, 6x lunches, 7 x dinners
All road transport as described in the itinerary
All excursions and applicable entry fees as described in the itinerary
A free Mountain Kingdoms Water-to-Go bottle
Carbon offsetting with the Ecoan Tree Planting Project (for clients taking our flight inclusive option)
What's not included
Travel insurance
Visa fees
Tips
---
---
---