/
Holiday
/
Gentle Walking Islands of Croatia
Dubrovnik, Montenegro, Split, Croatia | Walking & Trekking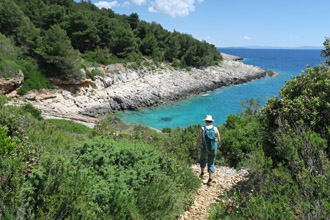 Grade:

?

Gentle

Suitable for people who enjoy easy-paced walks or exploring the countryside on foot.

Find out more...

Gentle

Duration: 7 days from the UK
Walks on: 5 days
Flight inclusive from £1635, Land only from £1325
Wander the idyllic islands of the Dalmatian Coast and explore the magnificent historic cities of Split and Dubrovnik.
Highlights
Stay within the walls of the Diocletian Palace in Split
Discover the fantastic walled-city of Dubrovnik on a walking tour
Explore three distinctive Dalmatian islands on foot - Hvar, Mljet and Lopud
Relax and refresh with dips in the crystal clear waters
Reviews
Easy walking, good food and wine, beautiful beaches and historic cities – these are a few of my favourite things, and this holiday delivered them in spades! Croatia surpassed my expectations on every level, with Dubrovnik the icing on the cake - one of those rare destinations which fully justify the hype.
Jude Limburn Turner, Mountain Kingdoms
Next
Easy walking, good food and wine, beautiful beaches and historic cities – these are a few of my favourite things, and this holiday delivered them in spades! Croatia surpassed my expectations on every level, with Dubrovnik the icing on the cake - one of those rare destinations which fully justify the hype.
Jude Limburn Turner
Next
View All
You will journey north to south from Split to Dubrovnik as you explore Croatia's delightful Dalmatian coast on this relaxed one week island hopping holiday. Travelling on foot and by ferry you will stay in comfortable hotels as you explore one of the most beautiful and historic coastlines in Europe, where hundreds of sun-soaked islands rise out of crystal clear seas. The region is steeped in history yet Croatia has a cool, contemporary vibe with enchanting coastal towns now infused with bohemian bars, independent boutiques and a good dash of café culture.
Your adventure starts on the mainland in atmospheric Split, Croatia's second largest city, with its Roman ruins, café culture and spectacular mountain backdrop. Then it is on to glamorous, golden Hvar with its Gothic architecture, and marble streets that literally glow at sunset. Beyond the main town is an island of pine forests, olive groves, lavender fields and vineyards which you will explore on a lovely walk from the interior out along the glorious coastline, stopping to swim in the clear turquoise water. You will then have a full day to absorb the pleasures of Hvar with time for personal exploration or join a walk up to one of Hvar's two historic fortresses to look out over the island-studded coastline. From Hvar you travel by ferry to the sleepy island of Mljet. Over one third of this island has been designated as a national park and it has two beautiful salt water lakes, both wonderful for swimming. You will hike around the two lakes taking in several summits, with their far reaching views, as well as taking a boat out on the larger lake to visit a 12th century monastery on a tiny island.
You then travel on to Dubrovnik where you will have a walking tour of the old town while the next day you will take the ferry to the historic island of Lopud, now a quiet back water but once a strategically important port squabbled over by various powerful nations. You will have a final island walk before returning to Dubrovnik to celebrate the end of your Croatian sojourn.
---
At a glance
Duration: 7 days from the UK
Walks on: 5 days
Max. Altitude: 778m/2,552ft, Vidova Gora, Day 3
Guaranteed to run for a minimum of 4 clients
Maximum group size: 12
Land only joining city: Split
Accommodation types: Hotels
Meal arrangements: 6 x breakfasts, 3 x dinners. Lunches are not included on this trip but your guide will assist you each day in purchasing a picnic lunch. The small supermarkets in each town supply an excellent range of fresh bread, savoury snacks, pastries, fruit, vegetable and local cheese and meat specialities.
Itinerary overview
| Day | Activity |
| --- | --- |
| 1 | Fly to Split. Transfer to hotel. Group dinner with guide. |
| 2 | Ferry to Hvar. Transfer to Velo Grablje. Hike to Milna via Malo Grabjle and along coast towards Hvar with picnic lunch and swimming opportunities. |
| 3 | Free in Hvar or optional walk to visit Fortica and Napoleon fortresses. |
| 4 | Ferry to Miljet. Hike from Pomona to Malo Jezero. Boat to St Mary's Island. Boat to Pristaniste and lake walk, walk up to Veliki Skladin and Montokuc, descend to Soline and walk to Malo Jezero with opportunity for swimming. |
| 5 | Ferry to Dubrovnik and walking tour of old town. |
| 6 | Transfer to Gruz port and boat ride to Lopud Island and island walk. Return to Dubrovnik by boat and farewell dinner. |
| 7 | Group transfer to Dubrovnik airport to fly to London. |
| | |
Leader: Local Leader Croatia
Your guide will speak good English, have guiding qualifications and in our experience, will guide you with great patience and charm.

Ilija Miloš is one of our leaders for this trip. Ilija is an experienced guide, certified by the Croatian Mountain Rescue organisation to lead walking, trekking and cycling trips. He is great company and enjoys sharing his extensive knowledge of all things Croatian, especially history which he studied at university. When he's not working as a guide Ilija enjoys travelling, sea-kayaking, playing competitive football and rowing for his local clubs.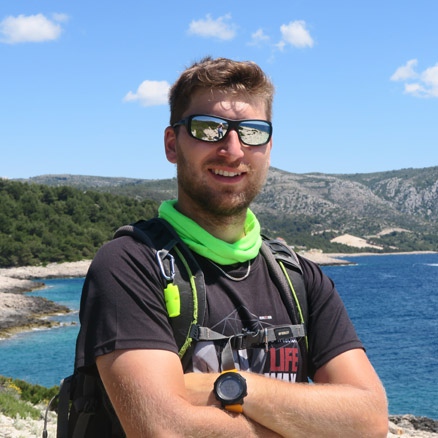 ---
Holiday Itinerary
Day 1 - Fly London to Split.
On arrival at Split airport there will be a single group transfer to your hotel. This is timed to fit the Mountain Kingdoms group flight, please check with us for further information.
Your guide will meet you late afternoon for a brief orientation meeting followed by a welcome dinner together.
Split is Croatia's second largest city; here contemporary architecture sits alongside UNESCO palaces, old city walls and a beautiful palm-lined waterside promenade (the Riva), all set beneath a spectacular mountain backdrop. At the UNESCO protected heart of Split is Diocletian's Palace. This living museum, built for the Emperor Diocletian, is undoubtedly the grandest Roman ruin in Europe and a wonderful place to wander and explore. Your hotel is actually set within the walls of the palace complex so you couldn't be closer to the centre of the action.
After regrouping in the evening you'll head out to one of the many fantastic restaurants that are to be found this town.
Overnight: Hotel Slavija Or Hotel Bellevue Or Hotel Baguc, Split
Day 2 - Ferry to Hvar - 30 minutes. Walk from Veliko Grabje to Hvar - 3-4 hours.
Today you travel to your first Croatian island… and what an island! You take the ferry to glamorous Hvar with its beautifully restored historic buildings, chic shops and excellent restaurants. Beyond the town there are secluded emerald coves, white pebble beaches and groves of wild lavender, rosemary and olive trees to explore.
After a quick stop to buy your picnic lunch, probably from one of the excellent bakeries, you head up the stone steps through the old town to Fortica Španjola, the 16th century hilltop fortress which dominates the bay. After exploring the fort, you have a short road transfer into the interior of the island to the small village of Veliko Grabje where you start today's walk. You descend toward Malo Grablje, an abandoned stone village which dates back to the 9th century, and is built in traditional Croatian style. There is a short unavoidable section on a rarely used tarmac road before you continue on small footpaths following the dazzling coastline back round towards Hvar. You'll stop for your picnic lunch in one of the many beautiful bays en route and there will be a chance to take a swim from the beach at either Mekicevica or Pokonji Dol. Finally the walk concludes under the fragrant shade of dwarf Aleppo pines and past desirable seafront properties back into the delights of Hvar harbour.
Total walking distance approximately 12km with negligible ascent and 360m/1,181ft descent.
If you prefer to spend more time to relax on the beach at Mekicevica or Pokonji Dol, the walk back round the headland and into Hvar is easy and simple to find.
Hvar's strategic location in the Adriatic has made the island an important trade base over the centuries. The Venetians in particular played a crucial part in the development of the town from the 1400s, building churches, monasteries and palaces whilst the Venetian fleet overwintered in Hvar's sheltered harbour. Their influence can still be seen everywhere.
The remainder of the day is at leisure for you to explore the town, maybe visit the small museum and stroll the harbour promenade lined with the elegant yachts of the rich and famous. Alternatively you may like to take a taxi-boat across to one of the tiny islets opposite the harbour.
Overnight: Dea Hvar Heritage Hotel Or Similar, Hvar
Day 3 - In Hvar – at leisure or optional walk through old town to Fortica and Napoleon Fortress.
You have a day in Hvar town when you may either relax, do your own exploration, or join a walk up to one or both of Hvar's two historic forts. One was built by the Venetians in the 16th century and the other by the French in 1812, and both offer a pleasant walk up out of Hvar town and good views.
The fort closest to town is the Fortica or Spagnola Fort. Although this fort was originally built by the Venetians in the 16th century, Spanish engineers were later employed to work on the fortifications which is how the fort is said to have acquired its nickname, Spanjola. The fort enjoys a striking position set high above the town. Higher still is the Napoleon Fort, approximately a 45 minute walk up through pine forest. From here you can enjoy extensive views of Hvar town and numerous nearby islands such as the Pakleni islands, Vis, Brac, and Šolta. (Entry fees to the forts are not included in the tour price).
Overnight: Dea Hvar Heritage Hotel Or Similar, Hvar
Day 4 - Ferry to Mljet - 30 minutes. Explore island on foot and by boat. 5-6 hours walking.
Today you move on to another island - lush Mljet, which is sparsely populated and completely different in character to your last island. Over one-third of Mljet is protected as national park, and the landscape here is heavily forested with Holm oak, tall stands of Aleppo pine and dense evergreen maquis. Legend has it that Odysseus chose secluded Mljet to hide away for seven years with the nymph Calypso, and it is easy to understand why.
Mljet receives relatively few visitors, and most don't venture far beyond the shoreline of the two salt water lakes. You arrive into sleepy Pomena and after entering the national park your walk starts on the smaller of the two lakes, following a small footpath alongside the cool turquoise water. The path is lined with flowers and this is a favourite spot for some of the many butterfly species found in the park.
Reaching the second and larger of the two saltwater lakes, Veliko Jezzero, you hop aboard a small boat to the visit the 12th Century monastery on the islet of Sv Marija. This is a pleasant spot for your picnic lunch. The boat takes you back across the lake to Pristaniste where you continue your walk up away from the main trail to the small peaks of Veliki Sladin and Montokuc for far-reaching views over the lakes and beyond. You complete the circuit of Veliko Jezzero, returning to Malo Jezero along the lakeside for a swim in the brilliant blue water before checking into your hotel in Pomena.
Total walking approximately 15km, with around 280m/900ft of ascent and descent.
Overnight: Hotel Odisej, Mljet
Day 5 - Ferry to Dubrovnik - 80 minutes. Transfer to hotel. Walking tour of Dubrovnik Old Town - 2 hours. Rest of day at leisure.
There is a final ferry south this morning, this time back to the mainland. On arrival you transfer to your hotel and orientate yourself before your guide escorts you on a short local bus ride to the Old Town. Your guide will also show you how to get the return bus back to the hotel so that you have the flexibility to return at any time.
You arrive outside the city walls at the impressive Pile City Gate, and as you pass through the daunting 6m thick ramparts it feels like stepping into another world. Dubrovnik's spectacular limestone thoroughfare, the Stradum, stretches out in front of you beyond the Onofrio's Fountain, the gleaming street lined with baroque stone buildings on either side.
After lunch you will join an official walking tour around the streets of Dubrovnik old town.
The Old Town of Dubrovnik (UNESCO), surrounded by ramparts and fortresses, is a treasure of architectural and cultural masterpieces, almost all well preserved over the centuries. Your walking tour will be led by a city guide who will introduce you to some of the Old Town highlights; the Franciscan Church and Monastery, the cathedral with its treasury housing the relics of St. Blaise, St. Blaise's Church, and of course the City Walls.
The remainder of the day is free for you to explore further and are free to wander at leisure - you may like to walk the city walls, visit the Rector's Palace, take the cable car above the city to the Napoleonic fortress on Mt Srd, or make the steep climb up to the Lovrijenac Fortress.
Your guide will arrange a time late afternoon to meet for the return bus journey or you may prefer to linger in the Old Town into the evening. Sunset over the red roofs of the city is unforgettable.
Overnight: Hotel Perla Or Similar, Dubrovnik
Day 6 - Transfer to Gruz port and boat ride to Lopud Island (55 minutes). Island walk. Return to Dubovnik by boat and farewell dinner.
After breakfast you will make the short transfer to Gruz port to catch a boat across to Lopud Island, a crossing of just under an hour. Nowadays Lopud is a charming and relatively quiet place with good beaches and without cars or traffic, home to a permanent population of under 300 people. In the past however, Lopud was a very important port, with great strategic importance - in the 17th century it is said to have had a population of 14,000 people, mostly involved in seafaring. Formally part of the Republic of Dubrovnik, from the 18th to the early 20th centuries, the French, English and Austrians took turns controlling this strategically located little island. Nowadays there are reminders of the island's more momentous maritime past with the atmospheric ruins of a fortress and palace, churches dating back to the 15th and 16th centuries and a restored Franciscan monastery.
You will have the day to walk around the island and enjoy its beaches before returning to Dubrovnik in the afternoon and enjoying a farewell dinner in the evening.
Overnight: Hotel Perla Or Similar, Dubrovnik
Day 7 - Group transfer to Dubrovnik Airport. Fly to London.
After breakfast there will be a group transfer to the airport.
We can organise separate transfers to fit other flight departure times or alternate airports, and are also happy quote for extra nights in Dubrovnik if you are looking to extend you time in Croatia. Please contact the office for further information and hotel/transfer prices.
Map
Map Key
Airport
Point of interest
Mountain Peak
Day walk in this area
Flights
Internal Transfers
Trek
---
2022
| Dates | Availability | Land Only | Flight Inclusive from |
| --- | --- | --- | --- |
| Sun 2 Oct - Sat 8 Oct 2022 | Guaranteed | £1325 Book | £1635 Book |
2023
Hold your place
Not quite ready to book? Why not call us on +44 (0) 1453 844400 to hold a no obligation place while you make up your mind?
---
Optional supplements
Single Room Supplement
From £295
Insurance
No Surcharge Guarantee
No surcharges will be applied to your holiday after you book. Prices on this website are updated regularly. The Flight Inclusive holiday price, or Land Only holiday price, will be confirmed to you at the time you make your booking. There will be no surcharges after your booking has been confirmed.
Flight inclusive holidays
The 'flight inclusive' holiday prices shown on this website are based upon our preferred airlines and the best priced economy class fares we are able to secure at the time of publication.
We will be able to advise on fares with alternative airlines, upgrades to Business Class, and the options for flights from regional UK airports, please contact us for more details.
Booking your holiday
For the majority of our holidays, a deposit payment of £300.00 per person is required to secure your place(s), however a small number of holidays require a higher deposit - please refer to the holiday itinerary for more details. If the holiday departs within 60 days, a deposit of £750.00 per person is required.
Book now!
Book your small group holiday securely online – click the 'Book' button next to your chosen departure or visit our How to Book page
Complete and return a Booking Form available to download here.
Call us on +44 (0)1453 844400 and one of our travel specialists will talk you through the booking process.
What's included
6 nights hotel accommodation on a twin share, bed and breakfast basis.
6 x breakfasts, 3 x dinners.
A single, timed group transfer on arrival at Split and departure at Dubrovnik.
All road transport and the passenger ferries as described in the itinerary
Entrance fees for Mljet National Park.
A qualified local trekking guide throughout.
All excursions and applicable entry fees as described in the itinerary.
Economy class return air fares from the UK (flight inclusive option).
Carbon offsetting with the Ecoan Tree Planting Project (for clients taking our flight inclusive option)
A free Mountain Kingdoms Water-to-Go bottle
The option of joining one of our pre-trip meets in the Cotswolds.
What's not included
Travel insurance
Lunches and 3 dinners
Items of a personal nature
Entrance fees to Hvar forts
Tips
---
---
Read holiday reviews by Mountain Kingdoms travellers.
Overall score: 5 (Based on 1 reviews)
Gentle Walking Islands of Croatia
5
Easy walking, good food and wine, beautiful beaches and historic cities – these are a few of my favourite things, and this holiday delivered them in spades! Croatia surpassed my expectations on every level, with Dubrovnik the icing on the cake - one of those rare destinations which fully justify the hype.
---