/
Holiday
/
Cappadocia the St Paul Trail
Kayseri, Turkey, Antalya, Istanbul | Walking & Trekking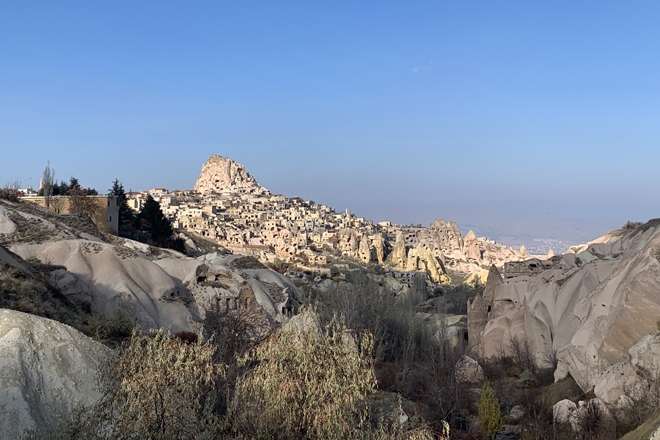 Grade:

Moderate

Duration: 8 days from the UK
Walks on: 6 days
Flight inclusive from £1345, Land only from £925
Explore the fairytale valleys of Cappadocia and walk the most scenic sections of the St Paul Trail leading to mountain passes, pretty villages and Roman ruins.
Highlights
Walk through valleys lined with fairytale 'chimney's and fantastical rock formations in Cappadocia
Discover the hidden rock-hewn churches and cliff dwellings of the beautiful Ihlara Valley
Explore the incredible underground city of Kaymakli
Cross the Davraz Pass and enjoy rewarding walks along the St Paul's Trail near scenic Lake Eğirdir
Follow in the footsteps of the Romans to the ancient city of Adada
Reviews
The combination of walking in Cappadocia together with hiking sections of the St Paul Trail is a perfect blend of exploring some of Turkey's most dramatic landscapes, whilst being largely off the beaten track. We loved the sense of being part of history, and meeting local villagers and nomads following a way of life which in many ways has remained unchanged. Excellent informative guiding,...
J and B, Bucks
Next
I very much enjoyed the contrasts on this holiday between the extraordinary landscapes of Cappodocia - that truely need to be seen to be believed, with strange fairy chimneys and still-inhabited rock caves, and the little visited limestone peaks of the Western Taurus. I loved seeing the shepherds and goat herds still living an ancient way of life, and it was a joy being able to walk on amazingly...
Seraphina Berry, Mountain Kingdoms
Next
The combination of walking in Cappadocia together with hiking sections of the St Paul Trail is a perfect blend of exploring some of Turkey's most dramatic landscapes, whilst being largely off the beaten track. We loved the sense of being part of history and meeting local villagers and nomads following a way of life which in many ways has remained unchanged. Excellent informative guiding,...
J and B
Next
View All
This holiday combines two of Turkey's most captivating yet contrasting regions: the fairytale, multi-coloured rock landscapes of Cappadocia and the beautiful Mediterranean region around Lake Eğirdir with its stunning mountain backdrop and enticing walking trails. From start to finish the scenery is delightful, and the walking wonderfully varied and rewarding.
You begin in Cappadocia, in central Anatolia, where the extraordinary landscape of peculiar rock pinnacles, canyons, gorges and valleys was formed by the processes of volcanic activity and natural erosion over millions of years. More recently, in the Roman and Byzantine times, early Christians took refuge here by carving hidden dwellings and places of worship into the rock and cliffs as well as below ground, resulting in an even more intriguing landscape.
Exploring on foot, you will discover countless troglodytes' dwellings, hidden cities and monasteries as you follow trails through valleys and over peaks. You will often see what appear to be inconspicuous caves and pigeon nests in the rocks above, but upon entering you'll find exquisite churches still with their original high columns, domed ceilings, and colourful frescoes. Whilst in Kaymalki, an entire multi-layered city of rooms and tunnels is concealed beneath the surface. As well as these remarkable places, there are of course the striking conical rock formations and fairy 'chimneys' which scatter the countryside in various shapes and sizes, some standing up to 30 metres tall, and topped with their strange rock 'hats'. There really is nowhere quite like it.
Leaving Cappadocia you travel west to the picturesque lakeside town of Eğirdir, your base for several days of excellent walks along some of the most picturesque sections of the St Paul Trail – Turkey's most recently established long-distance path and companion to the more well-known Lycian Way on the country's Mediterranean south coast. The 500km long St Paul Trail begins in Perge on the coast, crosses the Taurus Mountains and ends in Yalvac, near Lake Eğirdir; loosely tracing the path of St Paul on his first evangelising journey through Asia Minor. Not only does the trail take you into the wilder rural interior of Turkey but also periods of Turkey's history with Roman roads, ancient ruins, and traditional villages. Your high point will be the crossing of the Davraz Pass, a slight detour off the St Paul Trail, but well worth making for the fabulous scenery and views.
Accommodation in Cappadocia and Eğirdir is in a small family-run hotel and an attractive pension, giving you a taste of the great hospitality of the local people. And your holiday ends in the lively resort of Antalya on the 'Turquoise Coast' where you have the option to extend if you're just not ready to go home!
You also have the option of joining our Western Taurus & the Lycian Way walking holiday if you would like to explore Turkey's other celebrated, long-distance walking trail.
---
At a glance
Duration: 8 days from the UK
Walks on: 6 days
Max. Altitude: 2,012m/6,601ft, Davraz Pass, Day 6
Guaranteed to run for a minimum of 4 clients
Maximum group size: 12
Land only joining city: Kayseri
Accommodation types: Hotels, Pension
Meal arrangements: 7 Breakfasts, 6 Lunches and 7 Dinners are included. Lunches on days 2, 5, 6, and 7 will be provided as picnic boxes whilst out walking. On days 3 and 4 lunch will be at a local restaurant. Evening meals will be taken in your hotel.
Itinerary overview
| Day | Activity |
| --- | --- |
| 1 | Fly to Kayseri in Cappadocia. Group transfer to hotel at Mustafapasa (Sinasos). Local walk. |
| 2 | Circular walk to Golgoli Hill and church ruins. |
| 3 | Drive to the Ihlara Valley via the underground city of Kaymali. Walk along the Melendiz River. |
| 4 | Drive to Eğirdir. Visit Sufi Centre in Konya en route. |
| 5 | Village walk on the St Paul Trail. |
| 6 | Walk from Oak Forest Nature Park to Kulova across the Davraz Pass. |
| 7-8 | Walk to the ancient Roman city of Adada. Drive to Antalya. Fly to London. |
Leader: Local leader, Turkey
Your trip will be led by a local English-speaking guide with guiding qualifications and valuable experience. They will share with you their passion and knowledge to ensure you have a memorable holiday in Turkey.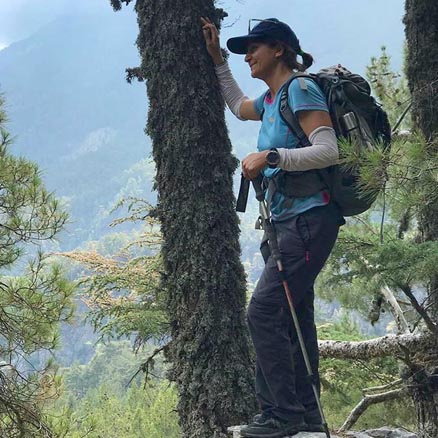 ---
Holiday Itinerary
Day 1 - Fly London to Kayseri
Today you fly to Kayseri in Central Anatolia, only about an hour's drive from the heart of Cappadocia. On arrival at Kayseri Airport there will be a group transfer to your hotel in the picturesque village of Mustafapasa, previously called Sinasos – the 'city of the sun'. The village was traditionally populated by the Greek Orthodox community whose wealth was mainly based on the caviar trade. You will see several examples of typical Greek stone-carved architecture revealing the earlier prosperity of the village.
Time permitting there will be a short orientation walk around Mustafapasa.
Overnight: Rose Mansions Sinasos, Mustafapasa
Day 2 - Circular walk to Golgoli Hill – 18 km, 6-7 hours. Ascent/descent 300m. Visit Göreme Open-Air Museum (optional).
It's an easy start this morning as you only have to step outside your hotel to begin your walk. Today you will be following a trail that embodies classic Cappadocian scenery of weirdly eroded, ochre-coloured, rock formations into which are hewn churches, dwellings and pigeon houses. The Tolkien-like landscape of caves, 'fairy chimneys' and fantastical conical peaks is caused by the weathering of tufa (porous volcanic rock) over millennia. These naturally hollowed-out formations have proved the perfect site for creating hidden places of worship and homes that were undetectable to hostile outside forces - the ideal protection for the early Christians. As you progress through the valley you will be able to enter some of these incredible spaces and marvel at the ingenuity of the people who created them.
Leaving Sinasos you first arrive at the church of St Nicholas then follow the footpath that goes through the Damsa Valley. In the valley you will see many examples of 'fairy chimneys' and have the chance to walk through some primitive dwellings carved inside the rock; some with chapels that bear the remnants of their original frescoes and paintings.
Reaching the end of the valley you make the gradual climb to a wide ridge, the site of the village fields, and you can marvel at the variety of fruit trees and vines growing on the ground in the traditional way. In the distance are the 'fairy chimneys' of a remote ancient settlement. These cave dwellings, at the foot of Golgoli, Hill were used both for shelter and as churches and date from the 3rd to 5th centuries. They were used up until the early 20th century. After time to explore the caves and enjoy the views, you will descend to eat lunch at a trout restaurant close to the dam. It is then a gentle walk back through lush, green countryside to reach Mustafapasa.
Later, there is the opportunity to visit the Göreme Open-Air Museum on a guided tour (payable locally). This UNESCO World Heritage Site is only a short drive from your hotel and is one of the most visited sites in Cappadocia. A Byzantine monastic settlement and then a pilgrimage site, it encompasses numerous rock-cut churches, chapels and monasteries, many adorned with their original, hand-painted frescoes. The Karanlik Kilise (Dark Church) is considered to be one of the museum's most beautiful with restored frescoes covering the entire surface of the sanctuary. There is a separate fee to enter this part of the complex.
Overnight: Rose Mansions Sinasos, Mustafapasa
Day 3 - Drive to visit Kaymakli underground city. Continue to the Ihlara Valley. Walk following the Melendiz River Valley – 14km, 5-6 hours. Descent 300m.
Your destination today is the Ihlara Valley but there will be a couple of brief stops en route to photograph the amazing landscapes.
Your first visit is to the underground city of Kaymakli. This incredible hidden city has ten levels, dug to a depth of 45m from the soft rock below the surface. You will find stables, chapels, warehouses and living spaces linked by tunnels. The city was believed to date back as far as the 8th century BC but was greatly expanded by Christians during the Byzantine era as protection against Muslim-Arab raids.
Having explored Kaymakli, you continue on to the Ihlara Valley. This beautiful river canyon is one of the scenic jewels of Cappadocia. Carved by the Melendiz River, the canyon walls rise to over 100m high, twisting and turning for over 14km to provide a natural walking trail along the canyon floor. You enter the canyon near the top and descend to the village of Belisirma where you stop for lunch at a riverside restaurant before you continue your walk to the end of the canyon at Selime.
Flanked by olive trees, pistachio trees and poplars, and attracting a wealth of birds and wildlife, the banks of the Melendiz River offer a wonderfully picturesque and shady walking trail. As you progress, first along the eastern bank and then crossing to the opposite side, the river broadens and the valley widens out with the steep canyon walls becoming immense rock cones and weirdly eroded 'fairy chimneys' - you are definitely back in Cappadocia now!
Along with its natural beauty there is much cultural interest as the canyon provided a sanctuary for Christians expelled from Syria, Palestine and Mesopotamia from the 7th century. Subsequently it hides more than 100 churches, caves, dovecots, granaries and houses in its sheer walls. At the end of the valley sits the Selime Monastery, hidden among a row of volcanic rock cones it resembles a fairy-tale castle. The monastery was hewn out of the rock face by monks in the 13th century and comprises numerous rooms and passageways. You should be able to visit if there's time after your walk, before you return to your accommodation.
Overnight: Rose Mansions Sinasos, Mustafapasa
Day 4 - Transfer to Lake Eğirdir with cultural stop en route - 5½-6 hours driving.
Today you leave Cappadocia behind and make the long but scenic drive west to Egirdir. To break the journey there will be a lunch stop and cultural visit to the Sufi Centre at Konya. This conservative city was the medieval Seljuk capital and the adopted home of Celaleddin Rumi, better known as the Mevlana, the mystic who founded the Whirling Dervish sect.
Your journey continues across the huge, fertile plateau until you drive into the hills and arrive at your accommodation for the next three nights; a charming, cosy pension situated by the shores of beautiful Lake Egirdir. Framed by the peaks of the Taurus Mountains, the lake is the fourth largest inland lake in Turkey and is fed not by rivers but by water running off the surrounding land. The waters vary in colour according to the weather conditions, changing from light green, through turquoise blue to a stormy grey.
Overnight: Fulya Pension Or Similar, Eğirdir
Day 5 - Walk on the St Paul Trail from the village of Bedre to Barla – 13km, 6-7 hours. Ascent 661m/descent 623m.
A 15 minute drive takes you to the tiny village of Bedre, dominated by the huge rocks of Meryemlash Kayalikari, and the start of this delightful walk. You ascend from the village up a wide, rocky hillside, passing small juniper bushes and spikey oaks. Great views start to appear on all sides as you reach the first pass, including the lake far below. After the final pass, you start descending. This part of the walk is magical, as you descend through meadows, full of flowers in the spring, and dotted with large, old juniper trees. After two springs, huge oak and willow trees appear. You may well meet shepherds here, grazing their flocks of goats and sheep. After a short ascent on an ancient track the stunning village of Bagoren appears ahead. This village appears to have changed little in hundreds of years. After exploring the village, you climb to join a dirt track to pass a quarry and reach the upper meadows of Barla. Here you can again follow the ancient trail, or walk through the meadows that slope gently downhill. The more prosperous village of Barla is visible ahead, and you descend a steep rocky slope and climb the other side to join your vehicle for the return journey to Egirdir.
Overnight: Fulya Pension Or Similar, Eğirdir
Day 6 - Drive to Kasnak Oak Forest National Park – 1 hour. Walk to Kulova across the Davraz Pass, 2,012m/6,601m – 15km, 7 hours. Return to Eğirdir. Ascent 450m/Descent 450m.
Today is the most challenging day of your holiday but also one of the real highlights as you walk in the Taurus Mountains and cross the Davraz Pass at 2,012m.
You begin the day by driving to the Oak Forest National Park, about an hour's drive southeast of Egirdir. This large nature conservation area is rich in flora and fauna and takes its name from a variety of oak - the Kasnak or Pulley oak - which is widely dispersed in the park. The park is also home to many birds and mammals including eagles, falcons, wild boar and even wolves and jackals - although it is highly unlikely you will see these on the trail!
Your walk begins at about 1,600m, in the vast oak forest high above the village of Yukari Gokdere. You initially walk on a small track through the ancient trees, occasionally crossing small meadows. You leave the forest behind at around 1,900m and from then on the landscape is mountainous, dominated by the peaks of the Taurus. Your objective is the Davraz Pass, not too far ahead now, which will reward your efforts with superb, far reaching views. You may well pass small nomadic settlements here - the local villagers spend the months of May to September in these high pastures, grazing their flocks and making cheese and yoghurt. Having taken your photos and admired the vistas, you descend on a small track initially through bare, rocky hills and passing an ancient and lonely nomads' graveyard, to the Kulova Plateau where your transport awaits to take you back to Egirdir.
Overnight: Fulya Pension Or Similar, Eğirdir
Day 7 - Transfer to the town of Sütçüler – 1 hour. Walk to the Roman city of Adada and explore the ruins – 14km, 5–6 hours. Drive to Antalya. Ascent 450m/descent 480m.
The drive from Egirdir this morning takes about an hour and leads you deeper and deeper into a dramatic landscape of mountains and gorges. Just before the small town of Sütçüler you set off on foot along a forest trail for a couple of kilometres, before joining an ancient trail to descend to a small village. Here you start uphill, to reach the lush countryside of the foothills of the Karaburun Mountains. The trail is one of scenic delights that takes you over passes, across flower-filled meadows, and through broad, verdant valleys.
A small, remote settlement is reached at the Zengi Plateau, and here you will drive a mile or two to reach the ancient city of Adada. It was founded in the second century BC before it was eventually abandoned somewhere between the 9th and 13th centuries. The city ruins weren't discovered until the middle of the 19th century but little was done to excavate or study them and its history remains relatively obscure. It is very likely that St Paul would have passed through the city on his journey as it would have been a major centre between the important Roman cities of Perge and Antioch.
There will be time to explore the atmospheric Roman ruins that include three temples, a forum, theatre and a basilica: emerging from the vegetation they remain in their evocative, tumble-down state.
The highpoint of the walk now starts, as you descend a dramatic canyon walking on the large, original paving stones of the Roman road. It is astonishing how much of this remains intact, a fitting legacy to the thoroughness of Roman building techniques. The ancient road eventually peters out on the valley floor and you cross meadows to meet your transport to take you to the coastal city of Antalya for the final night of your holiday.
Overnight: Kosa Boutique Hotel Or Similar, Antalya
Day 8 - Group transfer to Antalya Airport. Fly to London.
After breakfast this morning there will be a group transfer to Antalya Airport for your flight back to London.
---
2024
| Dates | Availability | Land Only | Flight Inclusive from |
| --- | --- | --- | --- |
| Sat 18 May - Sat 25 May 2024 | Available | £925 Book | £1345 Book |
| Sat 14 Sep - Sat 21 Sep 2024 | Available | £925 Book | Contact Us |
Hold your place
Not quite ready to book? Why not call us on +44 (0) 1453 844400 to hold a no obligation place while you make up your mind?
---
Optional supplements
Single Room Supplement
£170
No Surcharge Guarantee
No surcharges will be applied to your holiday after you book. Prices on this website are updated regularly. The Flight Inclusive holiday price, or Land Only holiday price, will be confirmed to you at the time you make your booking. There will be no surcharges after your booking has been confirmed.
Flight inclusive holidays
The 'flight inclusive' holiday prices shown on this website are based upon our preferred airlines and the best priced economy class fares we are able to secure at the time of publication.
We will be able to advise on fares with alternative airlines, upgrades to Business Class, and the options for flights from regional UK airports, please contact us for more details.
Booking your holiday
For the majority of our holidays, a deposit payment of £400.00 per person is required to secure your place(s), however a small number of holidays require a higher deposit - please refer to the holiday itinerary for more details. If the holiday departs within 60 days, a deposit of £1,000.00 per person is required.
Book now!
Book your small group holiday securely online – click the 'Book' button next to your chosen departure or visit our How to Book page
Complete and return a Booking Form available to download here.
Call us on +44 (0)1453 844400 and one of our travel specialists will talk you through the booking process.
What's included
An English-speaking local guide
Economy class return air fares from the UK (flight inclusive option)
Single, timed group transfer on arrival and departure
7 nights hotel and pension accommodation on a twin share basis
7 Breakfasts, 6 Lunches, 6 Dinners
Group airport transfers on arrival and departure
All road transport described in the itinerary
All excursions and applicable entry fees as described in the itinerary
Luggage transfers
Carbon offsetting with the Ecoan Tree Planting Project (for clients taking our flight inclusive option)
A free Mountain Kingdoms Water-to-Go bottle
What's not included
Travel insurance
Visa fees
Tips
Entrance to Göreme Open-Air Museum (Day 2)
---
---
Read holiday reviews by Mountain Kingdoms travellers.
Overall score: 5 (Based on 1 reviews)
Cappadocia & the St Paul Trail
The combination of walking in Cappadocia together with hiking sections of the St Paul Trail is a perfect blend of exploring some of Turkey's most dramatic landscapes, whilst being largely off the beaten track. We loved the sense of being part of history and meeting local villagers and nomads following a way of life which in many ways has remained unchanged. Excellent informative guiding, welcoming hosts, delicious food, and time to relax in the Old City of Antalya at the end - just GO!
---