Our grading system explained
Gentle
Gentle / Moderate
Moderate
Moderate / Vigorous
Vigorous
Vigorous / Strenuous
Strenuous
Expedition Grade
What makes Oman so special?
On an Oman trek you have the chance to encounter a country that has been a tourist destination for only two or three decades. It is the undiscovered jewel of Arabia where you will encounter a varied landscape of mountain, desert and coast. This landscape combines with an ancient culture and rich history to provide a cornucopia of delights for you to experience on your Oman trekking holiday.
Its diverse and spectacular scenery of mountain, desert and coast find rugged mountains that rise to over 3,000m, cut by awesome canyons and gorges, desert landscapes of rolling honey-coloured sand dunes and 1,700 kilometres of beautiful coastline. This relatively new destination is home to some of the friendliest people in the Gulf region, who are sure to extend their hospitality to you and make you feel welcome on your Oman trekking holiday.
Oman trekking

Oman is a laid back and hospitable trekking destination with friendly people, a lovely coastline, wild mountains and wonderful trekking possibilities. You can count on the warmest of welcomes when you explore this undiscovered jewel of Arabia.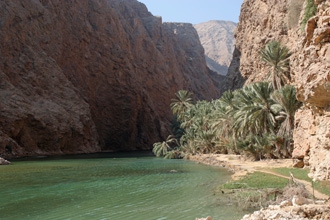 Discover the sights of Muscat and a ride on a traditional dhow
Enjoy varied walks amidst beautiful desert scenery
Visit Oman's Grand Canyon and the idyllic village of Misfah
Walk across the magnificent dunes of the Wahiba Sands
Flight inclusive from £3395, Land only from £2595
---
Introduction
Unlike glitzy Dubai and austere Saudi Arabia, Oman is an altogether more laid back and hospitable place with friendly people, a lovely coastline, wild mountains and wonderful opportunities for trekking. A visit to this fascinating country will leave you with many unforgettable images: wide landscapes of rugged mountains and deep canyons stretching into the distance; ancient mountain villages clinging to cliff sides or nestling in remote and spectacular wadis; lush oases of swaying date palms fed by ancient irrigation canals; and Bedouin tribesmen leading their camels over desert dunes. These landscapes are overseen by imposing sand-coloured forts which bear witness to Oman's warlike past and prominent location along the ancient trade routes of the gulf.
You can experience the delights of Oman by walking through gorges and villages, gazing into vast canyons, hiking across the Wahiba sands, haggling in the bustling souks, swimming in inviting wadis, touring the mosques and palaces of Muscat and ending with a romantic trip on a dhow. The wonderful thing is, you can do all of this in just one trip on our Mountains and Deserts of Oman walking holiday.
---
Key Facts
Capital city: Muscat
Population: 3,632,000 (est. 2013)
Size of country: 309,500 sq km
Currency: Omani rial
Power supply: 220-240 volts
Sockets: British-style three-pin plugs
Language: Arabic
Time difference: GMT +4 hours
Visas: British nationals require a visa.
Religion: Ibadhi Muslim (official) 75%, other (includes Sunni Muslim, Shia Muslim, Hindu) 25%
Popular dishes: Mashuai (kingfish and lemon rice)
Popular drinks: Kahwa (strong, bitter coffee, flavoured with cardamom)
Did you know: The highlands of Oman have a raised irrigation system which carries water from mountain streams. Known as the ' Aflaj Irrigation System', it has been listed as a UNESCO World Heritage Site.
FCDO advice: FCDO travel advice
---
Climate
When is the best time to travel to Oman?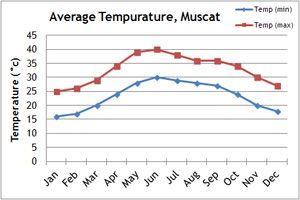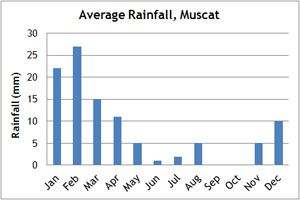 Our climate charts will give you an idea of the weather conditions in Oman.

The best time to visit Oman is between November and mid-March. Daytime temperatures average 25 degrees. Generally the country is very arid, apart from the foggy-drizzly khareef, which occurs between mid-June and August. In the summertime, average temperatures soar, and the skies are hazy.

If you can't make the dates of our group departures, then take a private departure on dates to suit you, or we can create a Tailor Made holiday to Oman, especially for you and your family or friends.