Where to see big cats in the wild - our top 5 destinations
It's International Tiger Day this week which got us talking about some of our big cat 'encounters' and where we thought the best places were to see big cats in the wild.
Although tigers, and other big cats, are highly endangered, you have a reasonable chance of seeing them in their natural habitat in certain national parks and wildlife preserves. But, you have to be extremely lucky to catch a glimpse of a big cat completely in the wild.
Here are our top 5 recommendations for big cat spotting.
Chitwan National Park, Nepal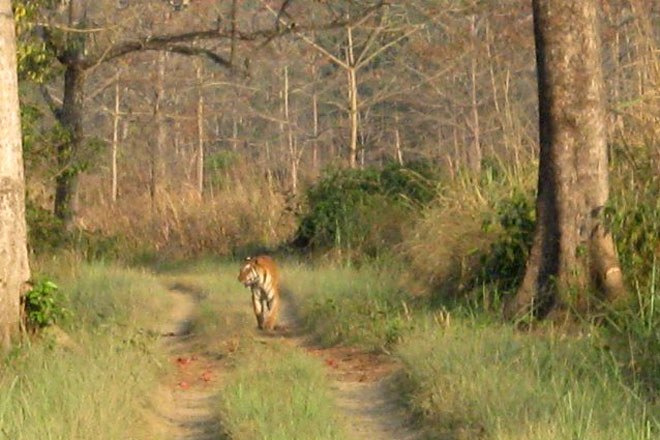 Chitwan Tiger by Katie Berry
We just love Chitwan National Park and many members of the Mountain Kingdoms team have been fortunate enough to visit the park on trips to Nepal. Chitwan is home to the 'King of the Jungle', the Royal Bengal Tiger, and the floodplain habitat of the Terai is one of the best tiger habitats anywhere in the world. Our MD's daughter, Katie, saw one of these majestic beasts strolling along a track whilst she was staying in the park a couple of years ago. She even managed to get a photo.
However, if you don't manage to see an elusive tiger there's plenty of other unusual and fascinating wildlife to keep your interest including sloth bears, flying squirrels, crab-eating mongooses and honey badgers to name but a few.
A visit to Chitwan can be added on to any of our holidays to Nepal and Bhutan or we can tailor make a trip combining Chitwan with activities such as trekking, sightseeing and rafting.
Yala National Park, Sri Lanka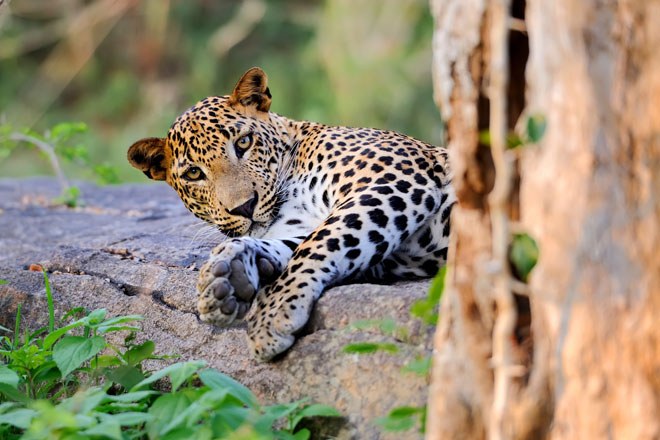 Leopard in Yala National Park
Sri Lanka is fast obtaining a reputation for excellent wildlife viewing and Yala National Park is considered to be the country's premiere national park. Leopards are the main attraction at Yala and, as these normally elusive cats have grown quite accustomed to the safari jeeps that criss-cross the park, you have quite a good chance of spotting one on the dirt trails, sitting atop a rocky outcrop or even basking in a tree.
Our Reservations Manager, Seraphina Berry, was lucky enough to see a leopard lounging in a tree when she visited Sri lanka in 2006, whilst our Flights Manager, April Palmer, saw one prowling in the distance on a trip to Yala earlier this year.
Game drives at Yala can be enjoyed as part of our Gentle Walking Sri Lanka holiday or as a tailor made holiday.
The Himalaya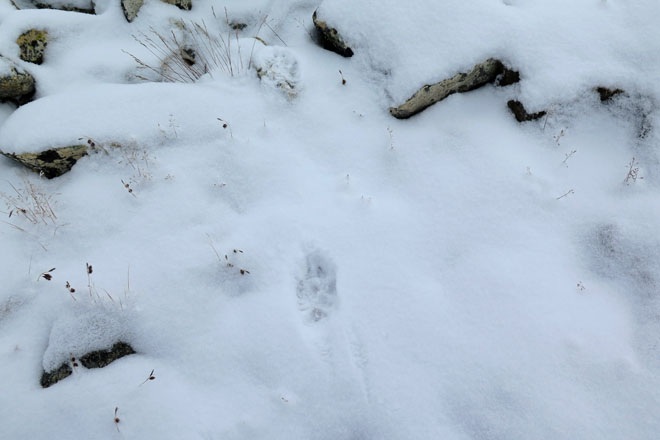 Snow leopard print on the Ghami La by Niki Morgan
We're not claiming that it's easy, or even likely, that you will see a snow leopard whilst trekking in the high Himalaya, but just the merest possibility of spotting one of these incredibly rare creatures adds another dimension to your trek. Snow leopards breed across a vast tract of the Himalaya including Ladakh, Zanskar, Bhutan and Nepal but their numbers remain very small and their habitat extremely difficult to reach for most trekkers.
The nearest anyone in the office has got to seeing a snow leopard was in 2014 when our Operations Manager, Niki Morgan, followed a set of snow leopard tracks in the snow across the Ghami La when she completed our Dolpo to the Kingdom of Mustang trek in Nepal. She returned home with this photographic proof of her near encounter. Niki believes that the wild Dolpo region of Nepal offers some of the best opportunities for seeing evidence of these reclusive big cats.
The Serengeti, Tanzania
Serengeti lioness and cubs by A Tierney
If you want to see big cats in the wild, then the national parks of Tanzania are the place to be. Tree climbing lions are well-established residents of Lake Manyara National Park, lions live in large numbers in the Ngorongoro Crater and leopards are not an uncommon sight on the Serengeti plains.
On our Serengeti Walking Safari in Style you can really get up close and personal with Africa's big five as well as a host of other incredible birds and wildlife. One of our clients, Alan Tierney, went on safari with us last year in the Serengeti and took this fabulous photo of a lioness and her cubs by a water hole.
Kaziranga National Park, India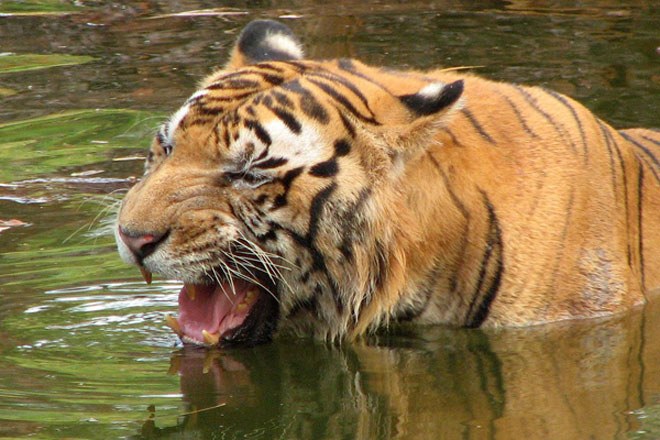 Kaziranga tiger
Situated in northeast India, along the banks of the mighty Brahmaputra River, Kaziranga National Park boasts the highest density of tigers among the protected areas in the world and was declared a Tiger Reserve in 2006. A bio-diversity hotspot the park has an impressive array of wildlife including the rare One-horned Indian rhinoceros, elephants, swamp deer and water buffalo, plus a myriad of exotic birdlife.
A visit to Kaziranga is one of the main highlights of our Brahmaputra River Cruise. On this trip, you set out before sunrise from your cruise boat to enjoy an elephant-backed safari at dawn, through the grasslands of Kaziranga. Whether you see a tiger or not, it will be a truly unforgettable experience.