Top Reasons to Visit Morocco
Only a few hours flying time from the UK, with year-round travel opportunities, Morocco makes for a highly accessible destination. Yet for somewhere so close to home, it's remarkably different.
The haunting calls to prayer, the dizzying souks, the ubiquitous glasses of mint tea, the striking Arabic architecture and the other-wordly landscapes are a constant reminder that you are in reality a very long way from home. It is at once a beautiful, exotic, disorienting and utterly beguiling country and here are just ten reasons why it should be right at the top of your travel wish list.
Magical Marrakesh
No holiday to Morocco is complete without some time in Marrakesh - the 'Red City' - and in particular its ancient walled Medina. At its beating heart is the Jemma el Fna, a large open square beneath the distinctive tower of the Koutoubia Mosque. By day there is little to see except a handful of snake charmers and medicine men plying their dubious trade, but at night it fills with acrobats, musicians, storytellers, entertainers and a mass of food stalls turning it into a vibrant carnival of sight, smell and sound.
A short stroll from the square takes you to Marrakesh's famous souks, a bewildering maze of market stalls, packed with all manner of tempting goodies. Some of the top souvenirs sold here include colourful leather slippers, heady spices, silver jewellery, cashmere scarves, Berber rugs and, of course, fez hats. Be prepared to haggle with confidence to secure the best price.
All of our Moroccan holidays begin and end in Marrakesh with time to visit the Medina. If you'd like to spend a little longer, and explore some of the city's other sights, then we can always arrange extra days there.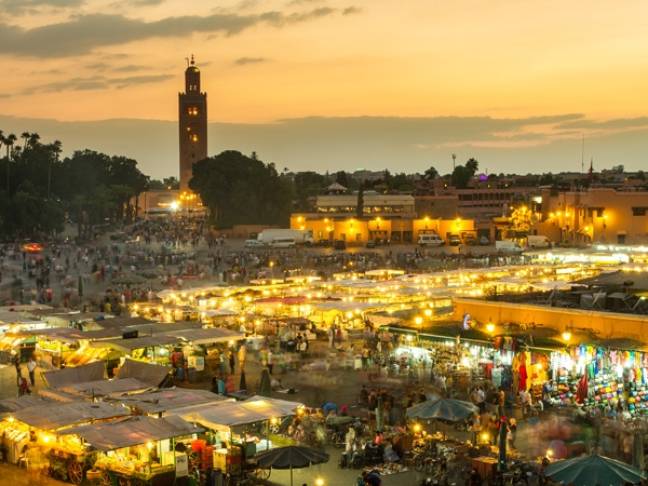 Winter trekking
In many destinations the mountains are too cold or snowbound for trekking in the winter months, but Morocco offers a perfect escape for keen walkers in the wintertime. One of the best places to enjoy a bit of unseasonal sunshine and good mountain trails is the Jebel Sahro range. With a stark, dramatic landscape of volcanic peaks, huge red-rock buttresses and strangely eroded tabletop mesas, Jebel Sahro is more reminiscent of the wild west than North Africa. Daytime temperatures average a very pleasant 20 degrees with lots of sunshine and clear blue skies – just perfect for a proper mountain trek. Nights do get very chilly though so you'll need a good sleeping bag. Along with the spectacular scenery you'll see nomad camps and occasional villages where you'll no doubt be offered a cup of mint tea.
Click here for full details of our Winter Walk in the Jebel Sahro holiday.
The Sahara Desert also makes for an unusual trekking destination in the winter, but more on that below!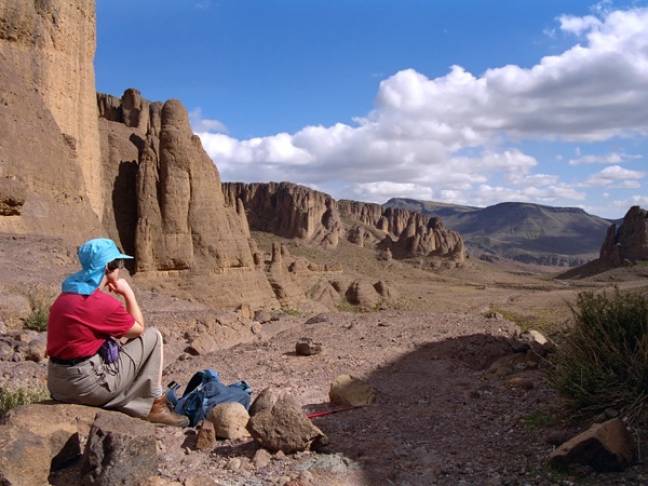 The Happiest Valley
In the remote heart of the High Atlas Mountains lies Morocco's best-kept secret – the Bougamez Valley, also called the 'Happy Valley', and with good reason! A fertile oasis of orchards and barley fields over-looked by soaring, snow-topped peaks, it has only been fully accessible by road for the last 20 years or so. This splendid isolation has meant that life has been little-changed for the Berber villagers who call the valley home and who live in happy harmony with their environment whilst fostering a great spirit of community with several village cooperatives and self-help initiatives.
If you'd like to top up your happiness levels, we offer a trek that combines walking in the Happy Valley with wading through the nearby M'goun River Gorges – a truly fun-filled adventure that will leave you smiling long after you return home.
Happy Valley & the M'goun Gorges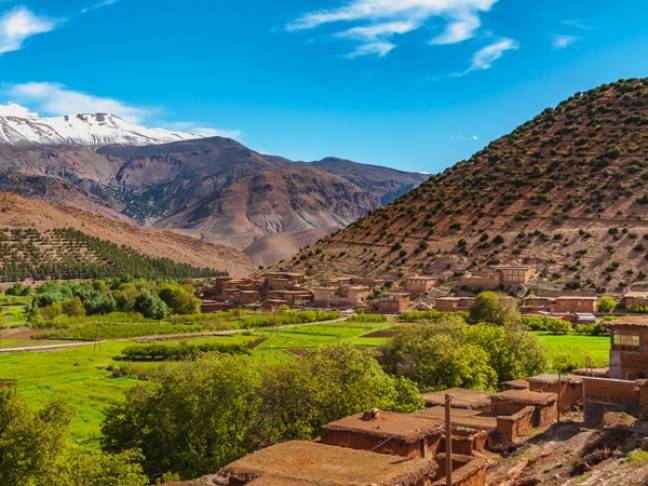 Hospitali-tea! Mint tea and riads
Known as 'whiskey Marocain', mint tea is the national drink of Morroco and is an essential accompaniment to any greeting, discussion, meal or celebration. A symbol of the generous hospitality of the Moroccan people you're guaranteed to be offered a glass of mint tea whenever you're invited into a house or shop – which will be often! Mint tea is traditionally made by adding fresh mint leaves to a teapot along with Chinese green tea and sugar, then steeping with hot water before pouring into a glass. Because it's made with fresh mint it's light, fragrant and extremely refreshing.
One of the best places to enjoy a glass of mint tea is in the cool, shady courtyard of a riad. Traditional riads are a great accommodation option in Morocco and you'll find them in most towns and cities. They are traditional townhouses built around a patio garden. Stylish, elegant and full of character, they offer a peaceful refuge from the heat and a good standard of accommodation. In Marrakesh we use a small selection of well-located riads including one - the Palais de Princesses - that was a former princely residence which has its own pool, hammam (steam bath) and rooftop terrace overlooking the Atlas Mountains.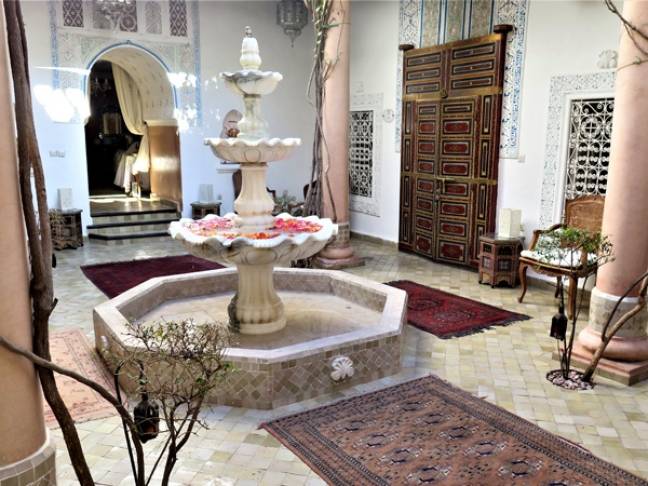 Coastal Charms
Most people don't automatically think of the seaside when they think of Morocco, but with both the Med and the Atlantic bordering its shores it's a country with over 1,800 miles of coastline. The added joy of Morocco's coast is that much of it is largely undeveloped with few overcrowded beach resorts or Blackpool-style entertainment. Essaouira is considered to be one of Morocco's most charming coastal towns with fortified ramparts, a busy medina and a thriving fishing port lined with picturesque blue boats. It does have a small sandy beach, but the windy conditions tend to attract more windsurfers then sunbathers. Known for its laid-back vibe and creative tendencies it's a lovely place to spend a relaxing few days.
If you prefer a more active exploration of coastal Morocco, then it's possible to trek along oceanfront trails not far from Essaouira. Over five easy-paced days you'll discover pristine beaches, ancient forests and traditional Berber fishing villages. Each night you'll camp by the shore and enjoy a tasty meal round a campfire. With camels transporting your luggage there's even a chance of a ride along the beach.
Morocco Coastal Trek & Essaouira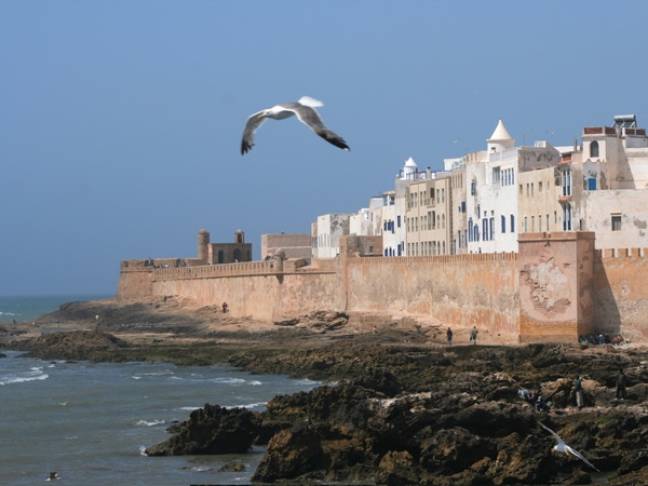 Rock the kasbah
Once built to defend the ruling tribal leaders of Morocco, kasbahs are fortified homes constructed from mud-clay, known as pisé. With their tall, imposing ochre-coloured, walls embellished with fabulous decorative flourishes, they are both imposing and remarkably elegant. Found primarily in the south of the country, maintaining these historic properties is a constant job, especially after the seasonal rains. Left untouched, they can become ruins in as little as 20 years.
The most famous and best preserved of all the kasbahs is Aϊt Benhaddou. It's starred in many Hollywood blockbusters including Gladiator and Jewel of the Nile, and is now a World Heritage Site. Situated on a small hill its crenelated buildings, towering walls and elaborate decoration make it one of Morocco's most spectacular sights. We include a visit to Aϊt Benhaddou in both our Happy Valley and Jebel Sahro holidays.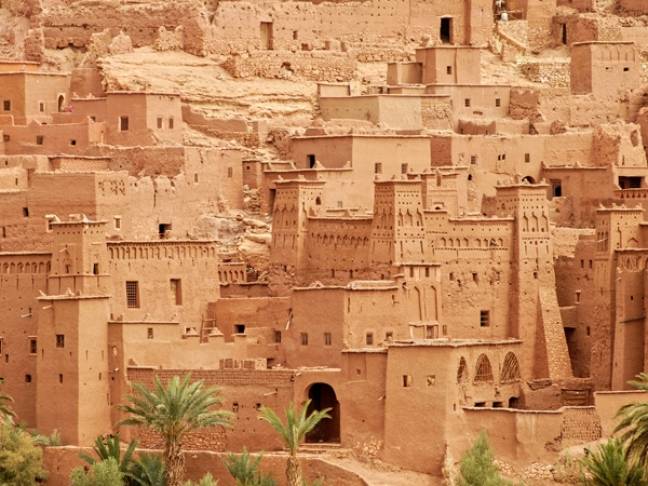 Mountain Highs
The highest mountain in Morocco, and all of North Africa, is Jebel Toubkal. This sentinel of the High Atlas stands 4,167m tall and is a straightforward ascent for any mountain bagger. It can be summited in just a couple of days, but we recommend a minimum of six days on trek for full acclimatisation and also to give you time to explore the starkly beautiful Toubkal Massif. By taking longer you'll gradually wind your way up through isolated valleys, past unexpected lakes and streams, and encounter tiny Berber villages with brick-red houses spilling down the steep mountainsides. You trek with an expert guide and a support team with muleteers so no need to carry anything but a light daypack and you'll enjoy delicious food and good quality camping equipment plus hot showers in well-placed refuges en route.
See details of both our Toubkal Treks here.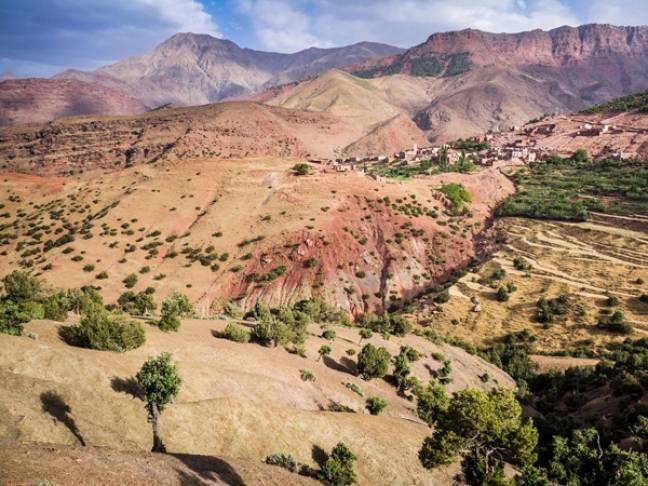 Desert Delight
The Sahara Desert is near enough to Marrakesh that you could do a quick weekend visit, but to really experience the sheer size and emptiness of the world's largest dry desert, you should head out into its wind-rippled sands for a few days on foot – or camel! Set off on a trek from near M'Hamid on the Sahara's western fringes and in just a few days you'll encounter palm groves, fertile oases, dry wadis, and a seemingly endless sea of immense, shifting dunes. Climbing to the crested top of one of these desert hills to watch the sun set is one of the greatest joys of being the Sahara – running, or sliding, back down them is also great fun. And once the sun's gone down, you can sit round the campfire with your trek crew and gaze upwards to witness the spectacular nightly star show in skies entirely free from any light pollution.
Like Jebel Sahro, the Sahara is also an excellent winter trekking destination once the suffocating heat of the summer has passed.
Take a look at our Sahara Camel Trek for an unbeatable desert experience.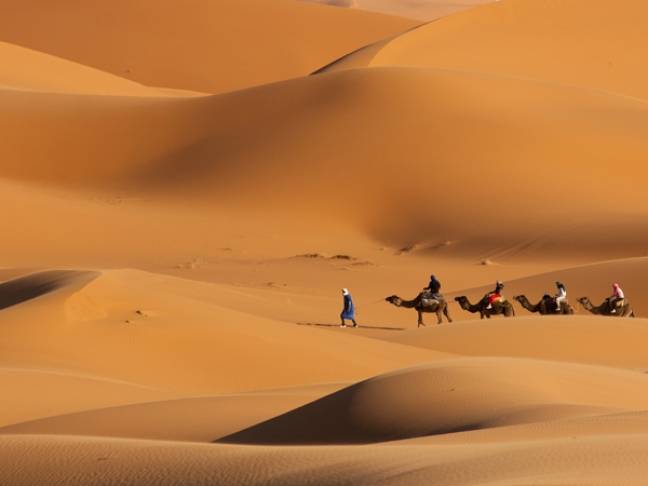 Great Value
With prices starting from as little as £995 (not including flights) our holidays to Morocco are excellent value. Most meals, airport transfers, accommodation, transport and sightseeing are included in the price as well as the services of your guide and their support crew on trek. That just leaves a few meals in the cities and any tips for you to budget for so you'll be able to treat yourself to a bargain or two in the tempting souks of Marrakesh – new slippers anyone?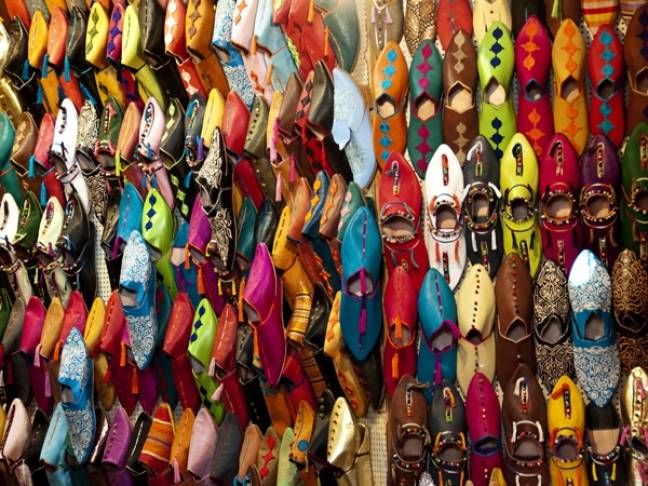 Click here to see all of our Morocco holidays, and call one of our friendly travel experts if you'd like any further information.