/
/
Article
/
The Trek of a Lifetime
The Trek of a Lifetime
Few people will ever make it to the summit of the world's highest mountain, but the sheer scale of Everest makes a trek to base camp an adventure in itself. There is something enthralling about Mount Everest that cannot be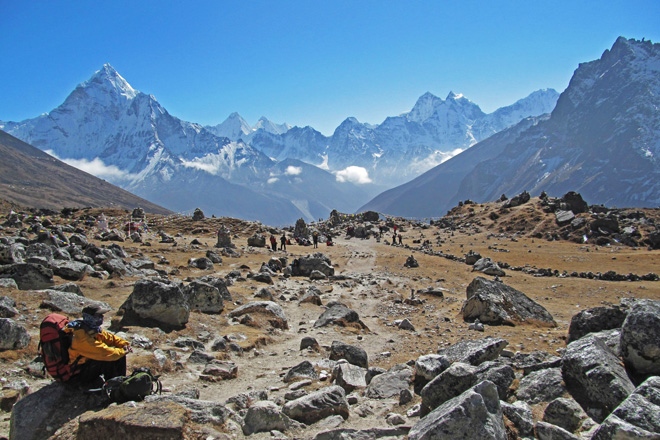 Everest Base Camp Trek. Photo courtesy of P Wright.
Few people will ever make it to the summit of the world's highest mountain, but the sheer scale of Everest makes a trek to base camp an adventure in itself.
There is something enthralling about Mount Everest that cannot be explained by size alone. Its surroundings and the colourful cultural experiences on offer in Nepal and the Himalaya make it appealing to more than just the hardened climber.
Since the 1920s, the mountain has undoubtedly captivated the world's most intrepid explorers, including Sir Edmund Hillary, Tenzing Norgay, and George Mallory. Many have dreamt of reaching its peak, but the dangers cannot be ignored. Many people have died on Everest's treacherous slopes, and thousands more have seen their dreams extinguished in an environment full of glaciers, ice boulders and crevasses where Mother Nature is undoubtedly in charge.
A base camp trek through Nepal is a challenging experience for some and an exhilarating experience for many, but it is one where overt danger does not accompany you with every step. Instead, this trip is likely to be life-changing for those who reach their destination, not least because of the awe-inspiring scenery that dominates the landscape in every direction you turn.
Most people have seen photographs of one of the planet's greatest creations, but relatively few have seen the real thing. Why be satisfied with a snap on a computer screen or a page in a magazine when you can experience the reality?
Is an Everest Base Camp Trek for You?
In 2012 alone, around 37,000 people from all walks of life took up the challenge and went trekking in the Everest region, and it is unlikely that even one of them will ever forget the experience or the people. A trek to base camp will be marked as much by the unrivalled hospitality of the Nepali people, their remote villages and the fascinating insight into the Sherpa culture, as it will by the unforgettable landscape and the sense of personal achievement in realising your dream.
Just imagine spending days hiking across swing bridges, the like of which you have only ever seen in an Indiana Jones film, seeing the unique wildlife, walking past the coloured prayer wheels and the mani stones with their Buddhist prayer engravings and also visiting fascinating museums and monasteries. Think about evenings enjoying hot food and camaraderie with people who share the same dream as you, staying in tea houses and comfortable lodges and having all the support you need from local experienced guides and tour leaders. How can you resist?
When is the best time to visit Everest?
A trek to Everest Base Camp or other trek in the region, should be made either between March and May or sometime between September and December. May is just before the monsoon season, so it can be wet but it can also be extremely hot. December days are perfect for base camp treks and there are fewer trekkers than at other times of the year. Nights can get cold, however, as sub-zero temperatures are normal.
A Guide to Guides
Organised Everest Base Camp treks offer the added security and expertise of knowledgeable guides. This not only adds to your experience, provides limitless information and improves your safety, but also ensures valuable employment within Nepal.
The country's government is actually considering making it compulsory to have an Everest trek guide after recent disappearances of unaccompanied trekkers, not to mention the death of one Belgian in Langtang in the summer of 2012. At the moment these rules are on hold, but many people believe it will only be a matter of time before the regulations are introduced.
Another advantage of choosing an arranged trek is that all of the details are organised for you, from flights and transfers to hotels, meals, tours, accommodation and insurance.
Where will I stay?
The most commonly used accommodation on the trails of the Everest region are tea houses. These small guest houses are built by the local Sherpa people and have been providing simple shelter and hearty food to trekkers for many years. Full of character, they generally have twin-bedded rooms with a central communal room, warmed by a traditional fire, for dining and relaxing at the end of the trekking day. By staying in tea houses you will have close contact with the Nepalese people and contribute directly to the local economy.
Increasingly though, better quality lodges are springing up in the Everest region. Larger in size they offer comfortable en-suite bedrooms, hot running water and excellent food and service. You can now choose to take a shorter luxury lodge trek to Thyangboche Monastery, or go further along the trail to Ama Dablam Base Camp or even trek to Everest Base Camp itself whilst staying in these luxury lodges.

How to prepare for Everest Trekking
Extreme hills and the effects of altitude up to 5,545 metres mean that an Everest Base Camp trek is anything but a walk in park, but that just adds to the sense of achievement when you reach your destination. In fact, with a slow and steady approach only average fitness is needed to complete the trek.
It is wise to do some simple preparations before you set off, however, to ensure that you can really enjoy this unforgettable trip. Try to do some form of cardiovascular activity several times each week in the run-up to the trek. Try swimming, cycling, and climbing and make sure you walk everywhere and complete a minimum five-hour walking expedition at least once a week. Make stairs your friends and climb as many as possible as often as possible.
Packing for Trekking
Do not make your porter carry more than they need to by only taking the essentials. A 10kg to 15kg load should be plenty. Do not forget thermal underwear, a down jacket and a fleece, a waterproof coat, sunhat, sunglasses and gloves, along with several synthetic-fabric long-sleeved t-shirts, two pairs of trousers, a light scarf and a warm jumper or a light fleece.The key to being dressed for Everest is to have plenty of layers to add or take away.
Pack travel-sized toiletries and remember tissues, a travel towel, lip balm, baby wipes and sun cream. A small first-aid kit must include blister bandaging and diarrhoea medicine. Some trekkers also carry antibiotics in case of a sinus or chest infection, and everyone must ensure that they have had the correct immunisations.
Staying Safe in Nepal
Even extremely fit trekkers can be affected by altitude sickness, which is why acclimatisation is so important. Signs of the illness include breathlessness, headaches, loss of appetite, dizziness and sleeplessness. Gradual ascent and hydration are key but medication such as Diamox can be used to treat the condition although it may be necessary to descend if symptoms persist.
Protect yourself from harsh sunlight by reapplying a quality sunscreen regularly and covering up as much as possible by wearing long-sleeved tops and trousers and a light scarf and hat.
If you are interested in an Everest trek, please do contact us for further details or for a brochure. We also offer worldwide treks, tours, walking holidays and cycling tours in places as diverse as America, Argentina, Asia, China, India and Tanzania