Mera Peak Trek: The Highlights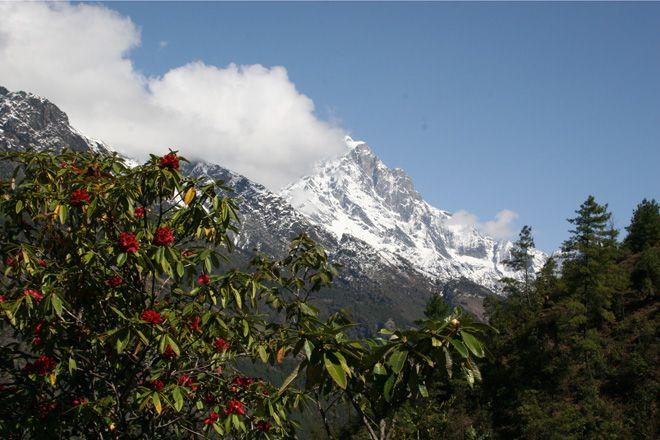 Mera Peak. Photo courtesy of N Morgan
The central goal of a Mera Peak trek is, of course, the peak itself – but the entire route is full of stunning Himalayan scenery. Below are just some of the highlights of our Mera Peak trek.
Rhododendron Forests
After a spectacular flight to Lukla, the trek begins. The first day's trekking is through rhododendron forests, stunning in their spring-time bloom. Rhododendrons are a common sight on many parts the Mera Peak trek, before we venture too high for them to grow.

Trekking to Pangkongma
Pangkongma is an attractive farming and trading village, almost 3,000m above sea level. For one night on the Mera Peak trek it is our camp. The views from it are spectacular; sometimes it really feels like a village in the clouds, far away from the rest of the world. The route into Pangkongma includes views of the Dudh Kosi ('Milk River'), an extreme white-water river that originates in the Everest massif. There is also a chance to see the old Everest expedition route from Jiri.
Tangnag
The landscape changes as you climb towards Tangnag, from woodland to scrub and moraine. Having climbed above 4,000m, the effects of altitude will grow more noticeable. We spend a whole day at Tangnag to acclimatise, surrounded by snow-capped giants.
Mera Glacier
It's time for the crampons, as we venture onto the ice of the Mera glacier to reach the Mera High Camp. Initially the climb onto the glacier is very steep, but it levels off and you'll begin to see some amazing views: Kanchenjunga, Chamlang and Baruntse to the east, Everest, Lhotse and Nuptse to the north, and Ama Dablam, Cho Oyo and Kantega to the west.
Mera Peak
The summit attempt begins by torch-light. A 5-6 hour gradual ascent brings us to the top of Mera Peak, where the views are even better than the day before. This is the pinnacle of the Mera Peak trek, but it's not the end.
Descent via Zetra La
We take a different route for the descent on our Mera Peak trek, to see new vistas. This takes us via several passes, including the Zetra La, which is marked by colourful prayer flags, and the preceding one, marked by chortens.