/
/
Article
/
Appa Sherpa Climbs for Climate Change Awareness
Appa Sherpa Climbs for Climate Change Awareness
Those setting their sights on Everest Base Camp this year may be interested to hear about another trek taking place nearby: the Climate Smart Celebrity Trek. From 15th January to 13th May, veteran summitter Appa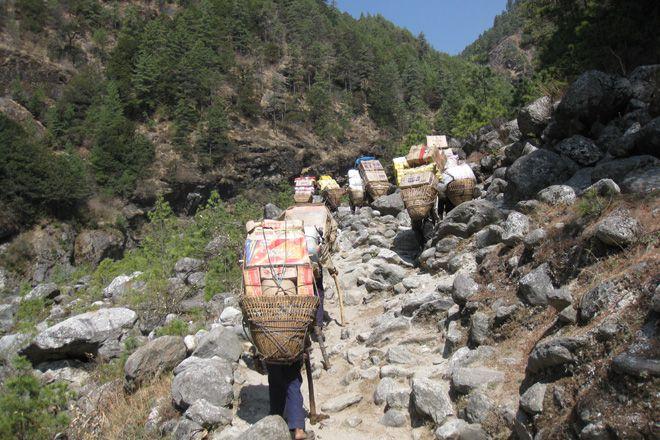 En route to Namche. Photo courtesy of S Berry
Those setting their sights on Everest Base Camp this year may be interested to hear about another trek taking place nearby: the Climate Smart Celebrity Trek. From 15th January to 13th May, veteran summitter Apa Sherpa will be undertaking an epic journey in the hopes of raising greater awareness of climate change and its effects on the Himalayan region. For a man who has summitted Everest 21 times, this is a new kind of challenge – longer, yes, at 1,700 kilometres, but also with the added task of heightening awareness for both remote villages and an international audience.
Accompanying Apa Sherpa are Dawa Stephen Sherpa, photographer Samir Jung Thapa, and journalist Saurav Dhakal. They will be joined for parts of the journey by a number of celebrities and members of the media. The 120-day 'Great Himalayan Trail' trek started in Taplejung and will end at Darchula, travelling through many popular trekking areas on the way. While others ascend to Everest Base Camp and beyond, the participants of this journey hope to spread a wide and lasting legacy, promoting sustainable living and responsible tourism.
The conditions are set to be tough, with the route reaching heights of over 18,000 feet and passing across water without bridges. But with their years of experience in mountaineering and campaigning, both Sherpas are keen to show the world and local communities alike how trekking can have a positive impact - as a source of income for villagers and a low-carbon form of travel. Whether you're planning a trip to Annapurna, Everest Base Camp, or anywhere else in the Himalaya, we hope you'll join us in wishing them the very best of luck.