What's included
Burmese cycling tour leader
Economy class return air fares from the UK & UK Departure Tax (flight inclusive only)
All internal flights and hotel/airport transfers
All road transport by private vehicles
Sightseeing where specified
Good standard hotel in Yangon, twin share B&B basis
Comfortable hotels outside of Yangon with all meals included
Carbon offset for clients taking our flight-inclusive option
A free high-quality Mountain Kingdoms micro fleece
Bicycle hire
Support vehicle
and much more...
Call our
friendly team
Cultural Cycling Tour of Burma
Cycling Tours
Burma (Myanmar) | Cycling Tours
Moderate
Our range of cycling tours are graded from gentle to strenuous. Full details can be found in the detailed PDF Holiday Itinerary.
Find out more...
Grade: Moderate ? Moderate

Book now or call 01453 844400
All the sights, sounds and smells of the golden land – on two wheels.
Highlights
Explore the many temples in Bagan by bike – the best way to see this sprawling complex
Discover Inle Lake by boat and on foot
Take the train ride along the Gokteik viaduct
Cycle around the colonial hill station of Kalaw
There are few better ways to see Burma than on two wheels. We will experience this remarkable country as we cycle along remote country lanes and deserted back roads. This is a diverse trip with the perfect combination of cycling, cultural sites and village life, designed to be enjoyed by all levels of cyclists at a comfortable pace.
Our cycling tour begins and ends in Burma's former capital Yangon, here we enjoy visits to impressive sites including Sule Paya Stupa and Shwedagon Pagoda. Our journey continues on to discover the main cultural centres of this fascinating country. By bike we explore Bagan, one of the world's greatest archaeological sites, the beautiful attractions of Mandalay and the iconic Inle Lake, as well as venturing further afield to the old British hill stations of Kalaw and Pyin Oo Lwin.
This is a diverse trip with the perfect combination of cycling, temples and village life, designed to be enjoyed by all levels of cyclists at a comfortable pace - it's not a race!
---
At a glance
Grade: Moderate
Moderate
Max. Altitude: 1,320m/4,330ft. cycling in Kalaw, days 8 & 9
Guaranteed to run for a minimum of 4 clients
Maximum group size: 12
Land only joining city: Yangon
Accommodation types: Hotels
Meal arrangements: 04/12
Itinerary overview
| Day | Activity |
| --- | --- |
| 1-2 | Fly to Yangon. Afternoon city tour. |
| 3-4 | Fly to Bagan. Explore temple complex by bike. |
| 5 | Fly to Heho, Cycle to Pindaya. Visit cave complex. |
| 6-7 | Transfer to Aung Ban. Cycle to Inle Lake. Boat ride. |
| 8-9 | Train to Aung Ban. Cycle to and around Kalaw. |
| 10 | Fly to Mandalay. Cycle to Ava. Visit U Bein bridge. |
| 11 | Boat ride along Ayeyarwaddy River. Cycle to Mingung and Saigang hills. Return to Mandalay. |
| 12-13 | Train ride across the Gokteik Viaduct. Cycle rides and sightseeing around Pyin Oo Lwin and Anisakan town. Drive to Mandalay. |
| 14 | - 15 Fly to Yangon. Boat trip to Dala Village. Trishaw tour. Sightseeing around Yangon. |
| 16-17 | Fly back to London. |
Leader: Local Cycling Leader Burma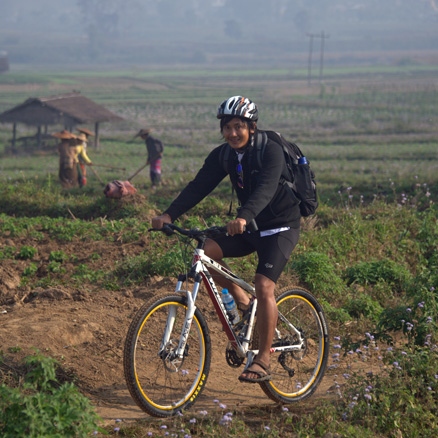 These departures will be escorted throughout by an English speaking Burmese guide. Your guide will accompany you throughout the tour. Our local leaders are licensed to guide throughout the country and receive regular 'top-up' training.In addition to speaking English, many guides will speak the dialects used by some of the ethnic groups encountered in rural areas, once more adding to the interest and enjoyment of your holiday.
---
Cultural Cycling Tour of Burma Itinerary
Day 1 - Fly London to Yangon.

Depart London on an overnight flight to Yangon.

Overnight: In flight

Day 2 - Arrive Yangon. Afternoon city tour.

Upon arrival at Yangon international airport, you will be welcomed by your local guide and transferred to your hotel. There will be an afternoon visit to some of Yangon's highlights starting from the colonial-style city centre and the landmark Sule Paya stupa - built over 2,000 years ago. From the nucleus of the city you travel to the top and visit one of the world's most spectacular monuments, the Shwedagon Pagoda, a gleaming bell dome structure that dominates the city's skyline on Singuttara hill. Legends state that the sacred hairs of the Buddha are enshrined here. You will then explore some hidden market streets, monastic compounds and artisan stores before returning to your hotel.

Overnight: Chatrium Hotel or Similar, Yangon

Day 3 - Flight to Bagan. Explore temple complex by bike - 20-25 km.

After breakfast at your hotel you will be transferred to Yangon airport for your flight to Nyaung U (Bagan). You will then begin your cycling journey into the ancient kingdoms of Bagan. You will cover around 20-25 km today. This is leisurely and relaxed paced cycling, exploring some of the back roads and tracks and making stops at various temples. The terrain is mostly flat and unpaved. One of the sites that you can visit today is the gold gilded Swezigon Stupa, purported to contain a holy tooth relic of the Buddha. Not far from the stupa, the Myingaba Gu Byaukgyi Temple is a sight to behold, housing Bagan's best preserved mural paintings of the Buddha's Jataka re-incarnations. Next you will have the opportunity to learn how Bagan's famous lacquerware crafts are produced in Myingaba Village before continuing on to visit Htilominlo Temple to learn how Burmese sand paintings are created. The day's temple tour ends with a visit to the beautifully symmetric and majestic Ananda Temple with its four standing Buddha images that seem to gaze at the viewer with fixed serenity wherever the viewer stands. You end the day with magnificent sunset views from a temple terrace as the as the sun dips behind the temple ruins.

Bagan
Whilst there are conflicting accounts of the number of temples located across the 16 square miles (41 square kilometres) of Bagan (varying from 1,800 to 4,000) the importance and splendour of this archaeological site is indisputable. The majority of monuments that you see today date from between the 11th and 13th Centuries, when Bagan was the capital of the first Burmese Empire. Although with a cursory glance it may appear that one architectural form dominates, there is actually a fascinating variety, from giant monolithic structures to small stupas standing not much taller than a human and with interiors filled with statues or with walls adorned in beautiful paintings. The original settlement in Bagan was famously 'cleared' by the government during the late 1980s/early 1990s. Villagers were forced to relocate to 'New Bagan'. Today, therefore, apart from temples 'Old Bagan' is primarily the site of a few hotels, tourist restaurants and the grandiose (if somewhat out of place) archaeological museum. The other main settlement in this area is the river port of Nyaung U.

Overnight: Thazin Garden Hotel or Similar, Bagan

Day 4 - Further exploration of Bagan on bikes. 20-25km cycling.

This morning there is the option of taking a balloon ride over Bagan. Please contact our office for more details.

Bagan is an amazing area with so much to see that it is just too much for one day, which is why you will also spend today exploring this magical site by bike. This allows you to go further afield and visit the sites that people can't reach by bus and is too far away for walkers to visit. This should allow you to really get a feel for Bagan and allow a glimpse back to a bygone era with horse and carts and oxen working in the fields.

Your guide will tailor the length of the ride depending on the sites you visit and the length of time spent exploring these majestic structures. In the afternoon you will return to your hotel and maybe take a dip in the inviting pool before another delicious dinner.


Overnight: Thazin Garden Hotel or Similar, Bagan

Day 5 - Fly to Heho. Cycle to Pindaya. Explore Shew Oo Min Cave complex. 40-50km cycling.

After breakfast at your hotel you will be transferred to the airport for a short 30 minute flight to Heho, a quiet transit town with one of the few airport links in the beautiful hills of Shan State.

With your support vehicle behind, you will start your ride straight from Heho airport and soon arrive at bustling Heho market. From here you continue across the picturesque Shan Highlands to reach the famous Shew Oo Min Cave at Pindaya. Set high on a limestone ridge, the enormous cave is unique in housing thousands of Buddha images donated by Buddhist devotees over many centuries. There are many smaller caverns at the complex also filled with Buddha statues as well as numerous stalactite formations. Aside from the caves there are many small shrines and pagodas strung out along the ridge. Your hotel is located close to the foot of the cave complex.

Overnight: Conqueror Hotel Or Similar, Pindaya

Day 6 - Transfer to Aung Ban. Cycle to Kaung Taing on Inle Lake. Boat ride across the lake.

After breakfast at your hotel you transfer to Aung Ban where you will begin today's ride to Inle Lake. Much of the route today is on highland roads with a couple of challenging uphill sections. To give your legs a little rest en route, you will pay a short visit to an interesting local family workshop to learn how traditional Shan umbrellas and paper are made from mulberry tree pulp.

Descending from the Shan Highlands to lower lying paddy and farming fields you take a small road to Khaung Daing travelling along the eastern shore of Inle Lake. Here you swap bedal power for motorboats and take a boat ride across the lake to reach your hotel. As your cross the tranquil waters you will no doubt see the famous fishermen who balance and row with one leg, a technique indigenous to the Thar minority group who do this only on Inle Lake. You will also see floating islands and gardens made from the naturally tangled roots of water hyacinth plants and reeds.

Overnight: Pristine Lotus Resort Villa (Deluxe Room) Or Similar, Inle Lake

Day 7 - Boat excursion to various sights on the lake including a vineyard, Inn Thein pagoda complex and local villages.

The morning you transfer by boat to Nyauang Shwe town and visit nearby Red Mountain Estate to tour the vineyard situated on the side of mountain. There will be the oppoortunity to taste some of the country's premiere wines, and observe the different aging methods completed in the cellar cave.

Then you journey out by boat, following the currents of a small river to reach the Inn Thein pagoda complex, a site that can make you feel as if you've stepped through a forgotten portal in time. To access the complex, you walk through verdant bamboo groves that open up to a field covered with ancient, crumbling pagodas constructed over 1,000 years ago. A covered stairway climbs the hill behind the field to reach Shwe Inn Thein Paya where you will find over 1,000 zedi mainly constructed in the 17th and 18th centuries and in various states of repair and decline. There are great views from here across the lake and valley.

From Inn Thein, you boat back to the lake and visit Phaungdaw Oo Pagoda, the home of some of the country's most sacred Buddha statues which are covered in gold leaf by devout followers. You will also make a visit to the Inpawkhon weaving village to learn how local silks, linens and lotus fabrics are handmade and crafted. As an extra treat, you stop at a house for Burmese cats, built over the lake, where you can see the efforts to preserve and reintroduce this rare, pure breed of feline to Burma.

At Nampam Village, local craftsmen demonstrate how Burmese cigars, or "cheroots," are traditionally packed and rolled, and you end the day with a magnificent sunset canoe ride with the local boatmen who gracefully navigate and row perched on one leg.

Overnight: Pristine Lotus Resort Villa (Deluxe Room) Or Similar, Inle Lake

Day 8 - Optional cycling longer distance from Heho to Kalaw. 20-25km cycling.

Overnight: Kalaw Heritage Hotel (Mountain View Room) or Similar, Kalaw

Day 9 - Cycling round Kalaw. 25-30 km.

You will join in the ubiquitous tea culture of the Burmese people at a local tea shop and sample freshly cooked local snacks before heading out of Kalaw town to Myin Ma Hti limestone cave, which houses various holy shrines and Buddha images.
From here you will cycle to visit some local villages near Kalaw.

If you wish to take a break from cycling another alternative is to take a forest hike and climb up to a view point on top of the mountain and enjoy a drink at a Nepalese family's café before you descend down to a reservoir lake through the forest covered path.

Overnight: Kalaw Heritage Hotel (Mountain View Room) or Similar, Kalaw

Day 10 - Fly to Mandalay. Cycle to Ava and U Bein Bridge. 50-60 km cycling.

After breakfast at your hotel you will transfer to Heho airport for the one hour flight to Mandalay. You will cycle straight from the airport to the ancient kingdom of Innwa (Ava) this is a beautiful ride passing local villages and old temple sites. Inside the city walls you will make stops at Nan Myint watch tower, and a 300 year old teak wood monastery.

You will take a lunch break in Innwa and then cross Myint Nge river by ferry and cycle to Amarapura, site of the last kingdom before king Mindon moved the capital to Mandalay. From here you will continue on to visit the U Bein Bridge. In 1851, at the time when Amarapura was still the royal capital, U Bein Teak Bridge was built. Stretching some 1,200m/3,900ft across Taungthaman Lake this impressive structure is the world's longest teak bridge, supported by over 1,000 separate wooden posts. You will spend some time here enjoying the sunset, with the option to walk out to the centre of the bridge and perhaps enjoy some refreshments at a tea stall. You will then be transferred back to your hotel for your evening meal.

Overnight: Ayeyarwaddy River View or Similar, Mandalay

Day 11 - Cycle to Mingun, to Sagaing and to Mandalay - 35 km cycling.

After breakfast at the hotel, you will ride your bikes through Mandalay to the river jetty and embark on a one hour boat journey across the Ayeyarwaddy River to the rural village of Mingun. The scenery along the Ayeyarwaddy is timeless - oxen working the fields, water buffalo wallowing in the mud, golden pagoda spires, fishermen, villagers bathing in the river and of course, every type of boat and river craft imaginable

Alighting from the boat you will pay a visit to the 50m/165ft high, brick built Mingun Paya, dramatically cracked in half by an earthquake in the 1800s. This giant, unfinished pagoda would ultimately have become the world's largest had its instigator, King Bodawpaya, not died before completion. Another attraction is Mingun's bronze bell, believed to be largest un-cracked one in the world.

Your bike ride follows a paved road with light traffic traveling through friendly villages over rolling hills until reaching the site of Ancient Kingdom of Sagaing. From the Sagaing Hills, you will enjoy views of the hillside dotted with countless pagodas and transfer back to Mandalay for sightseeing. You will visit the snake pagoda, Mahamuni Buddha's temple and Shwe Kyaung royal palace building. Later, you will transfer back to Mandalay.

Overnight: Ayeyarwaddy River View or Similar, Mandalay

Day 12 - Transfer to Pin Oo Lwin. Train ride over the Gokteik Viaduct to Nangpein Village. Return by vehicle to Pyin Oo Lwin. Local bike ride and visit to Kandawgyi Botanical Gardens.

After breakfast at the hotel, you will drive to Naungcho and board a local train for the journey to Naungpeing Village. The view from the train is fascinating and the scenery is beautiful, passing through rural countryside with close-up views of small villages, hill top pagodas and people working in the fields. You may make a stop along the way, offering a chance to stretch your legs and witness the lively exchanges between train passengers and sellers hawking their wares, which vary from rice and noodle dishes, to snacks of hard boiled quail's eggs and even local herbal remedies. Before too long the train slows and the dramatic Gokteik Railway Viaduct comes into view. In 1901 when the Pennsylvania Steel Company built the viaduct it was the second highest bridge in the world, spanning a deep gorge 102m/335ft to the river below. The train slows right down to make the 690m/2,264ft crossing, giving you plenty of time to capture some spectacular photos and enjoy the creaking of the girders beneath!

Alighting from the train at Naungpein Village, you transfer by car to Pyin Oo Lwin. The tranquil beauty and cooler hill temperatures of Pyin Oo Lwin appealed to the British Administration, who developed it into a summer retreat from the hot, dusty plains of Mandalay in 1896 after defeating the last king of Myanmar. But it is renowned amongst the local Burmese for the flowers, fruits and vegetables that grow so well in its cooler climes.

You can now hop back on your bikes for a local ride, after which you will travel to the renowned botanical gardens - the National Kandawgyi Gardens. Here you can feast your eyes on the wonderful variety of flora that can be found in the region. To end the day, you enjoy a horse cart ride around the town before going to your hotel which is close by.

Overnight: Kandawgyi Hill Lodge or Similar, Pyin Oo Lwin

Day 13 - Cycle round Pyin Oo Lwin, 1,070m/3,510ft, and Aniskan town. Walk to waterfalls. Transfer to Mandalay. 45 - 50 km cycling.

Today your cycle ride will start with a visit to some of the main colonial buildings and churches of Pyin Oo Lwin (formerly known as Maymyo when it was a British Hill Station). Outside the central area the influence of the British becomes more apparant as you see the brick and timber houses complete with English style gables, turrets and chimneys. The Candacraig Hotel is one such house. It was made famous by Paul Theroux's book, the Great Railway Bazaar. Sadly this property has fallen on hard times and whilst not without charm is quite run down, although there are evidently plans for its renovation.

You then cycle through nearby Aniskan town and enjoy a forest walk to a scenic waterfall just outside Aniskan. Situated at the head of a deep ravine, the lowest part of the waterfall drops dramatically into a pool of crysal clear water in which it may be possible to swim. Later you will transfer to Mandalay.

Overnight: Ayeyarwaddy River View or Similar, Mandalay

Day 14 - Fly to Yangon. Trishaw tour of Dala Village.

After breakfast you transfer to Mandalay airport and fly back to Yangon.

Following lunch you travel to Pasondan Jetty and cross the Yangon River by local ferry to reach Dala Village. Dala provides a striking contrast to Yangon with its limited urban development and village feel. You'll explore by trishaw, a three-wheeled bicycle taxi that manouvers through small lanes, market streets and friendly village neighborhoods. You can observe the daily activities of Burmese locals and get a feel for the authentic rural lifestyle of Burma. En route you make a stop in a pagoda and finish the trishaw tour with refreshments and a bit of people watching in a local tea shop. Finally you return to your hotel in Yangon.

Overnight: Chatrium Hotel or Similar, Yangon

Day 15 - Train ride and walking tour of Yangon.

Today you will be taken on a walking tour of Yangon which starts with a short train ride on the circular line around Yangon. This is a great way to experience day to day life in Yangon and after a few stops you will hop off and visit to the quaint Yangon old quarter, built during the British colonial era where many charming historical buildings are still located. During your stroll through bustling market streets full of merchants and food stalls, you visit a local pharmacy and learn about Myanmar traditional medicine, stop for tea and snack in the fashion of locals, and enjoy the sights and sounds of Yangon.

You continue with a visit to one of Asia's architectural landmarks, the elegant Strand hotel built by the Sarkies brothers. Inside, you will visit the River Art Gallery, where the works of some of the most famous and skilled Burmese artists are on display, fitting of the grand surroundings.

Tonight will be your last night in Burma and a great opportunity to relive your fantastic cycling holiday through this truly amazing country.

Overnight: Chatrium Hotel or Similar, Yangon

Day 16 - Transfer to Yangon airport for flight to London.

Today you will have breakfast and then be free to relax until you are transferred to Yangon airport for your overnight flight back to the UK.

Overnight: In flight

Day 17 - Fly Yangon to London
Map
Map Key
Airport
Point of interest
Mountain Peak
Day walk in this area
Flights
Internal Transfers
Trek
---
No Dates Available
There are no available booking dates for this holiday yet since we are still finalising details. If you are interested in this holiday and would like further details, please contact us.
Hold your place
Not quite ready to book? Why not call us on 0044 (0)1453 844400 to hold a no obligation place while you make up your mind?
No Surcharge Guarantee
No surcharges will be applied to your holiday after you book. Prices on this website are updated regularly. The Flight Inclusive holiday price, or Land Only holiday price, will be confirmed to you at the time you make your booking. There will be no surcharges after your booking has been confirmed.
Flight inclusive holidays
The 'flight inclusive' holiday prices shown on this website are based upon our preferred airlines and the best priced economy class fares we are able to secure at the time of publication.
We will be able to advise on fares with alternative airlines, upgrades to Business Class, and the options for flights from regional UK airports, please contact us for more details.
Loyalty discount
Find out more
What's included
Burmese cycling tour leader
Economy class return air fares from the UK & UK Departure Tax (flight inclusive only)
All internal flights and hotel/airport transfers
All road transport by private vehicles
Sightseeing where specified
Good standard hotel in Yangon, twin share B&B basis
Comfortable hotels outside of Yangon with all meals included
Carbon offset for clients taking our flight-inclusive option
A free high-quality Mountain Kingdoms micro fleece
Bicycle hire
Support vehicle
What's not included
Travel insurance
Optional trips
Tips
Visa for Burma
Lunch and Evening meals in Yangon
---
---
Review your holiday
Reviews
Read holiday reviews by Mountain Kingdoms travellers.
Overall score: 5.0 (Based on 8 reviews)
Cultural Cycling Tour of Burma
Burma cycling - Private Departure 23/11/2017
Outstanding
Mr J Sellors, UK
Cultural Cycling Tour of Burma
A stunning sight round every bend 23/11/2017
This was my first experience of an adventure 'holiday' and I had no real expectations. I enjoy cycling but I'm not someone who dones their Lycra and ride 100miles every weekend. The trip was advertised as being suitable for all levels which was true, you could make it as hard as you wanted, always under the advice of our expert courier. The scenery was breathtaking, the people warm and friendly, accommodation was first class, support from the mountain kingdoms crew was second to none. It has inspired me to keep on travelling and seeing the world. I can't thank you enough
Mrs K Spalding, South Gloucestershire
Cultural Cycling Tour of Burma
Amazing Myanmar 22/11/2017
Cycling through Myanmar was a real treat. This trip showed us how varied and beautiful this country and its people are. Go now whilst it is still unaffected by Western customs.The trip was very well organised and executed with a superb local guide. Everything about this trip is stunning.
Oliver, UK
Cultural Cycling Tour of Burma
What a joy. 21/11/2017
Great bike rides through a glorious landscape - punctuated with golden buddhist temples - fascinating village communities - and the artisan skills of the Inle Lake people. Our small group of 7 - all ages and cycling abilities - was well led by our guide Ney and his support teams. What a fascinating place! What delightful people!.
Barbara, West Midlands
Cultural Cycling Tour of Burma
Excellent local Burmese guide 02/03/2017
Well thought out itinerary - good variety. Excellent local guide, the quality of the guide is crucial to the success of these group holidays. Small group size. Good hotels (much needed after a day cycling!).
Dr & Dr H, London
---