What's included
A local English-speaking leader
Good standard hotel accommodation in main cities, on full board, twin share basis
Best available hotels in outlying towns, on full board, twin share basis
Accommodation on full board basis in Chi Phat village and O'Malu campsite
All road transport by private vehicles
Sightseeing where specified
Economy class return air fares from the UK & UK Departure Tax (flight inclusive only)
Single, timed, group airport transfers for international flights on arrival and departure
A free Mountain Kingdoms Water-to-Go bottle
Option to join one of our pre-trip walks in the Cotswolds
and much more...
Call our
friendly team
Gentle / Moderate
Gentle: Suitable for people who enjoy easy-paced walks or exploring the countryside on foot.
Moderate: Suitable for anyone who enjoys hill walking.
Find out more...
Grade: Gentle / Moderate ? Gentle / Moderate
Duration: 16 days from the UK
Walks on: 7 days
Flight inclusive from £2,995,
Land only from £2,195
Book now or call 01453 844400
Walk in the Cardamom Mountains, Cambodia, the most unspoiled wilderness remaining in mainland Southeast Asia.
Highlights
Travel by foot and by boat to explore the Cardamom Mountains
Walk through jungle and spot diverse flora and fauna
Experience village life in Chi Phat
Visit the architectural splendours of Angkor Wat and Angkor Thom
Apart from the astonishing remnants of past civilisations in and around Siem Reap, the main asset of Cambodia must be its charming and hospitable people. You will experience both at close hand on this holiday which takes you trekking around the remote village of Chi Phat as well as spending time visiting the main architectural sights of Angkor Wat and Angkor Thom.
From Cambodia's capital, Phnom Penh, you will head southwest to the Cardamom Mountains which cover about 12,000 square miles of southwest Cambodia. These little-visited mountains are formed from gentle peaks, lined with trees and lush vegetation. The maximum height of the range is only 1,800m/5,905ft, so there are no altitude issues to worry about. Opened up only relatively recently, the area you visit is in the lower foothills and offers the chance to experience village life in a remote community. You will follow walking trails through pristine forested landscape to discover picturesque water falls and mountain views and spend time witnessing village life at first hand in Chi Phat. The area is renowned for its bio-diversity and you may see silver langurs, long-tailed macaques, greater hornbills and other forest creatures whilst walking and on boat rides.
While you are in Cambodia you will also be able to enjoy the French colonial architecture of Phnom Penh, one of Asia's most laid-back capitals, which nestles on the banks of the Tonlé Sap River; you will be able to converse with saffron-robed monks going about their daily rituals. You will visit Kampot – home of the famous Kampot pepper and the old French seaside settlement at Kep. On top of this, you will also see the lifestyles of the inhabitants of floating villages, play at being an explorer or 'Tomb Raider' by visiting 'lost' temples being ravaged by the surrounding jungle and finally you will be able to wonder at the majesty and mystery of the legendary Angkor Wat. Until you have seen it you cannot imagine how vast and impressive it is and there is no more memorable way to end your holiday in Cambodia.
---
At a glance
Grade: Gentle / Moderate
Gentle / Moderate
Duration: 16 days from the UK
Walks on: 7 days
Guaranteed to run for a minimum of 4 clients
Maximum group size: 12
Land only joining city: Phnom Penh
Accommodation types: Hotels, Village House, Bungalows, Camp
Meal arrangements: Full Board from dinner on arrival day to breakfast on departure day.
Itinerary overview
| Day | Activity |
| --- | --- |
| 1-3 | Fly to Phnom Penh. Sightseeing tour. |
| 4 | Drive to Andoung Tuk. Boat to Chi Phat. Afternoon walk to Chhay Chrey Rapids. Optional walk to Bald Mountain for sunset. |
| 5-6 | Walk to O'Key Village. Continue to O'Malu Campsite. Return to Chi Phat. |
| 7 | Day walk to O'Spott Bat Cave. |
| 8 | Return by river to Andoung Tuk. Drive to old French Colonial town of Kampot. Evening boat trip. |
| 9 | Walk to Phnom Chhnork. Drive to Kep and boat trip to Rabbit Island. Return to Kampot. |
| 10 | Drive to Phnom Penh. Visit markets. |
| 11 | Drive to Siem Reap with visit to Kompong Kleang village. |
| 12-14 | Sun rise at Angkor Wat and in-depth exploration of Angkor Wat and surrounding temple complexes. |
| 15-16 | Depart Siem Reap for London and arrive UK |
Leader: Local leader, Cambodia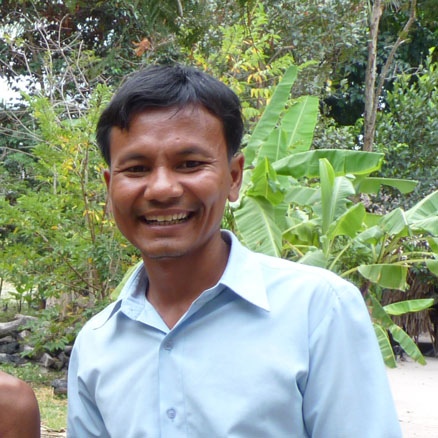 We use English speaking local leaders - they are certified/registered guides, and in their company you will certainly gain an insight into the way of life, traditions and culture of Cambodia.
---
Cardamom Mountains Trails Itinerary
Day 1 - Depart London for Phnom Penh.

There are no direct flights from the UK to Cambodia, so you will fly via a hub such as Bangkok and then on to Phnom Penh.

Overnight: In flight

Day 2 - Arrive Phnom Penh.

You arrive in Phnom Penh today and will be met by our representative and transferred to your hotel. Time permitting you will pay a late afternoon visit to Wat Phnom and experience the amazing confusion of Phnom Penh's streets. Traffic of all sorts moves in every direction, generally very slowly and quietly and most drivers display astonishing patience. Wat Phnom, which lies in the north of the city, is today a meeting place for many of the city's inhabitants and on top of the hill resides a lovely temple and stupa.

Overnight: La Rose Suites Or Similar, Phnom Penh

Day 3 - Sightseeing in Phnom Penh.

Today you will enjoy a fully guided tour of Phnom Penh including, this morning, the National Museum of Arts. This museum holds many of the country's rarest art works. Much of the country's art was either destroyed by the Khmer Rouge, or sold by unscrupulous dealers over the Thai border, and these impressive exhibits offer only a glimpse of what once was. Then, before lunch, you will see the Royal Palace with its Silver Pagoda. The Royal Palace (home to Cambodia's current King - Norodom Sihamoni) is a striking example of Thai-influenced Cambodian architecture. The Silver Palace (so called because of the 5,000 silver tiles which make up its floor) again contains many rare relics of the country's history.

After lunch you will visit the Toul Sleng Museum and the Killing Fields of Choeung Ek. The Toul Sleng Museum (better known as the Genocide Museum) provided the base for the Khmer Rouge security force, prison and interrogation centre, S21. The building, formerly a primary school with the photographs of many of its victims displayed on the walls, now stands testament to the brutality and murderous actions of the Pol Pot regime. After the prisoners were interrogated here they were taken to Choeung Ek to be executed. Many of the country's intellectuals along with some Westerners were labelled 'enemies of the revolution' and killed in this complex. There now stands a stupa filled with human skulls as a memorial to the victims. The Killing Fields, situated just outside Phnom Penh now has a memorial Stupa and small museum dedicated to the memory of the 17,000 people killed in the extermination camp set up by the Khmer Rouge in the mid-1970s.


Overnight: La Rose Suites Or Similar, Phnom Penh

Day 4 - Drive to Andoung Tuk and boat to Chi Phat – 2-3 hours. Walk to Chhay Chrey rapids - 3.5 km. Optional walk up to bald mountain for sunset views – 6 km.

You set off in the morning for the south of the country, driving down Highway 4. Once the environs of Phnom Penh are left behind, you start to see traditional life emerging. The landscape gradually becomes hilly and there are fascinating sights all around. At the small riverside settlement of Andoung Tuk you transfer to a boat for the two hour trip up the Preak Piphot River. Initially mangrove forests thickly cover the banks. Gradually small dwellings start to appear on either side and you will see boats being traditionally rowed. Your destination is the village of Chi Phat and on arrival it is a ten minute walk up the main street to the community centre. After lunch and settling in to your accommodation, you will walk to the Chhay Chrey rapids. The route starts up the main street and then takes you through forest and farmland to the river. There are gentle rapids and pools and there will be a chance to swim before the return walk.

To end the day there is an optional walk from Chi Phat up to the viewing point on Bald Mountain from where you can watch the sun set over the surrounding Cardamom Mountains.

Chi Phat
In 2007 the local villagers of Chi Phat, with the help of the Wildlife Alliance, set up the unique project that you will be visiting. Designed to provide an income for the villagers, the project provides an income through economically and ecologically sustainable tourism and helps to protect the biodiversity and natural resources of this beautiful and little visited area. The project is owned and run by the locals and 80% of the income goes directly to the service provider (such as the homestay, or guest house owner). The remaining 20% goes to a central village fund to provide services such as education, healthcare and village infrastructure. Your trek will be led, your food cooked, baggage carried and accommodation provided, all by local villagers.


Overnight: Guest House / Home Stay

Day 5 - Walk to O'Key Village, continue to O'Malu Campsite - approximately 14km.

The start of today's walk is through the jungle on small tracks. There are usually signs of wild boar and you may see deer. The path descends into verdant, open grazing land with beautiful views. The first sign of civilisation is the small, friendly settlement of O'kay and a few kilometres after this you reach the spectacular O'Malu waterfall. This is a fabulous place to spend a couple of hours relaxing and having lunch before continuing to O'Malu. The campsite is situated in the forest with great wildlife spotting opportunities everywhere.

Overnight: Forest Camp

Day 6 - Walk to Chi Phat - approximately 14km.

You return to Chi Phat your path initially taking you through indigenous forest with many birds, insects, monkeys and butterflies and the possibility of spotting deer in a huge natural forest clearing that you pass through. You will enjoy distant views of the surrounding hills as you reach a reforestation nursery, before your route takes you gradually downhill through open fields and farmland with grazing cows. You pass the village high school as you arrive back into Chi Phat.

Overnight: Guest House / Home Stay

Day 7 - Walk to O'Spott Waterfall and Bat Cave and Tuek Vet. Return hike to Chi Phat. 9 km.

Today you walk to the O'Spott waterfall and bat cave. Your trail is on small tracks through farmland and you may well get the chance to visit some of the simple local farmhouses. The O'Spott cave is situated behind a pretty waterfall and has a large population of bats at certain times of the year (bring a flashlight to check these out).

After lunch you will continue to the stunning Teuk Vet waterfall where you can have a swim in the clear waters before you walk back to Chi Phat. On the way back look out for a variety of birds, wild plants and orchids growing on the big trees.


Overnight: Guest House / Home Stay

Day 8 - Boat from Chi Phat to Andoung Touk. Drive to Kampot – 3 hours. Afternoon boat trip.

Today you will sadly say goodbye to your friendly hosts in Chi Phat and return down the river to Andoung Tuk where you will be met by your vehicle and driven to the charming town of Kampot. There are plenty of interesting things to see along the way. After checking into your hotel and having lunch you will be free to explore the old town.

Kampot is a sleepy old French town, slightly crumbling, on the banks of the river. Once a bustling port before Sihanoukville was built, it is now known for its pepper plantations and salt fields. Many buildings date from the French colonial period, including the Governor's Mansion. After lunch you will have the time for a bit of pleasant exploration on foot.

Then, in the late afternoon, there will be a sunset boat trip down-steam to the river mouth. Most fishermen live in wooden houses on stilts set along the river banks and life is lived outside, on or around, the river. The fishing fleet sets off in the afternoon for the evening catch and the combination of the river, sea and Bokor Mountain in the background makes for a spectacular sunset.


Overnight: Rikitikitavi Hotel, Kampot

Day 9 - Walk to Phnom Chnork - 3 hours. Afternoon boat trip to Rabbit Island. Return to Kampot.

It is a short drive to the start of the walk at the village of Kbal Romeas. The small community is strung out along the dirt road and consists mainly of small farms. There is a small, bustling market set below a limestone outcrop and you can see your destination of Phnom Chnork in the distance. The farmers grow rice and vegetables in neat plots and all own cows and pigs. There are numerous photo opportunities and the villagers are extremely friendly. After arriving at Wat Ang Sdok, you cross some paddy fields to reach the foot of a limestone outcrop. Steps have been built to reach the cavern which houses the 7th century brick temple dedicated to Shiva. There are fabulous views of the surrounding rice paddies and farmland from outside the cavern.

You will be met by your vehicle and driven to the tiny seaside resort of Kep-Sur-Mer. Originally built by the French 100 years ago, it was a favourite spot for the Cambodian elite in the 1960's and the ruins of many pre-war villas dot the landscape. There is now some rebuilding, but it remains a slightly eerie place. The boat trip to Rabbit Island takes 20 minutes and after lunch on the beach there will be time to explore or simply swim in the warm sea. The island is home to about 20 fishing families and there is a small path around part of it. After a relaxing afternoon you will return to Kampot for the night.


Overnight: Rikitikitavi Hotel, Kampot

Day 10 - Drive to Phnom Penh - 3½ hours. Time at leisure.

Today you drive to Phnom Penh and after lunch in the hotel the afternoon is free. It is well worth visiting the Russian and Central markets. The Russian market is the best place for souvenir or clothes shopping, whilst the huge domed Central market is excellent for browsing, especially the food section.

Overnight: La Rose Suites Or Similar, Phnom Penh

Day 11 - Drive to Siem Reap - 5 hours. Visit Kompong Khleang village on way.

The drive north to Siem Reap initially takes you across the Tonle Sap on the huge Chruoy Changvar Bridge - rebuilt after being destroyed during fighting in 1975. The drive is full of interest and on route you will visit a floating village. Kompong Khleang is the most beautiful of these villages, typically being built on stilts to accommodate the differing water levels as the mighty Mekong river floods and recedes. There will also be a chance to visit Spean Praptos, one of the spectacular Angkorian era bridges built by Jayavarman VII.

Overnight: Hanuman Alaya Villa Or Similar, Siem Reap

Day 12 - Sunrise visit to Angkor Wat and visit Preah Khan. Afternoon at leisure.

This morning you will visit the legendary Angkor Wat for sunrise. It is a magical experience to enter the grounds of Angkor Wat in the dark, and gradually see the giant structure of the main temple emerging as the sun rises. It is a popular activity, but as most tourists return to their hotels for breakfast, you will eat a picnic breakfast next to the small lake and then be able to enjoy the temple in comparative peace and you will also be able to view the detailed bas-reliefs unhindered.

Angkor Wat was built in the first half of the 12th century by King Suryavarman II. There has been debate as to whether Angkor Wat was built as a temple, or a tomb, but it is now generally accepted that it was both; a temple of worship when the King was alive and a mausoleum after his death. It is surrounded by a wide moat and its architectural plan was designed to be symbolic. It was built to represent the universe with the five central towers symbolising the mythical Mount Meru, the outer wall the mountains on the edge of the world and the surrounding moat either the oceans beyond, or the universe. The first causeway is flanked by Naga - seven-headed snakes and the causeway represents the bridge between Earth and Heaven.

The temple consists of three rectangular or square platforms, each of which is progressively smaller and higher than the one below. The lower platform contains amazingly-detailed bas-reliefs, which depict battle scenes as well as scenes derived from Hindu epics such as the 'Churning of the Ocean of Milk'. At the heart of the temple is a tower, which rises 65m/213ft, surrounded by four other towers at each corner. It is estimated that the temple took 30-40 years to construct. It is believed that King Suryavarman II died before the temple's completion with some carving being unfinished. The name 'Suryavarman' also has symbolic meaning with Surya meaning sun and Varman meaning power, so in effect meaning 'the power of the sun'.

You will also visit Preah Khan. Preah Khan means 'Sacred Sword'. The temple was built by Jayavarman VII and was dedicated to his father. The afternoon is left free for you to relax, shop, or enjoy having a walk around the cosmopolitan town of Siem Reap.


Overnight: Hanuman Alaya Villa Or Similar, Siem Reap

Day 13 - Morning visit to Ta Prohm, Banteay Kdei and Sras Srang. Afternoon walking tour of Angkor Thom.

Today's morning walk is a great way to experience the impressive temples of the small Circuit, including everyone's favourite, Ta Prohm. You start the walk at the old French dam and take a short walk through the forest to Ta Nei, Ta Prohm, but without the tourists as we like to think of it. After exploring this charming temple, you continue to walk through the forest to emerge on the imposing temple of Ta Keo. After enjoying the views from on high, you wind your way around the old dykes of the Eastern Baray to the romantic northern entrance to Ta Prohm, free of other visitors. The four faces of the Bodhisattva are smothered by a large tree. Taking your time to soak up the atmosphere in Ta Prohm, you emerge from the East Gate and enter Banteay Kdei through the West Gate. You leave Banteay Kdei from the South Gate and make your way to the royal bathing pond of Sras Srang where there is the opportunity to enjoy a well-earned drink.

Trekking through the jungle provides a fantastic way to experience the best of Angkor Thom and offers a real insight into the size and scale of this ancient city. You begin your walk at the impressive South Gate of the walled city of Angkor Thom. You walk on the immense ancient walls towards the southwest corner where there is a small temple. You also discover the irrigation and drainage system that enabled the waters of the Siem Reap River to flow through the city from the northeast to southwest. You continue walking around to the West Gate, where the causeway has collapsed leaving a muddle of stone bodies looking like victims of some terrible historic accident. From the West Gate you weave your way towards the principal temples, exploring the Baphuon, the Royal Palace complex and Phimean Akas before arriving at atmospheric Preah Palilay. You then emerge on the central square of Angkor Thom, winding your way along the Terrace of the Leper King and Terrace of Elephants on the way to the enigmatic Bayon.


Overnight: Hanuman Alaya Villa Or Similar, Siem Reap

Day 14 - Visit Kbal Spean, Banteay Srei, and Beng Mealea.

After breakfast you drive north to visit Kbal Spean. 50kms north of Siem Reap and commonly known as 'the River of a Thousand Lingas', it is an area of riverbed carvings and lush jungle. After about an hour's walk up through the forest you reach the small river. It is well worth spending an hour, or more wandering up and down the streambed where you will see the rich colours of the brown and green lichens. All the gods and goddesses depicted here are Hindu - Brahma, Vishnu, Shiva, Lakshmi, and Krishna. Hermits once occupied the area's many caves and it is still a place of meditation with people coming here to achieve enlightenment. It is thought that the temple was built and the Lingas carved in and around 900AD. This site was only 'rediscovered' in 1969 and is a tranquil place with an attractive waterfall.

By the time you reach the elegant temple of Banteay Srei, about 10kms from Kbal Spean, the main early morning crowds should have left. Built by a Brahman in the 10th Century, the temple was dedicated to Shiva. The famous pink sandstone structure bears a series of beautiful sculptures, lintels, pediments and friezes. These it is said must have been carved by women as the detail is too fine for the hands of a man. This gives us the origin of the Khmer name, 'Fortress of the Women'. After lunch you drive through an area of small villages to the remote temple of Beng Melea. Built on the same plan as Angkor Wat, this massive temple was enclosed by a giant moat, part of which survives. The central tower of the temple has completely collapsed and the jungle has encroached on the remaining structures. Clambering around the giant blocks is a fantastic experience.

You will make a visit to Srah Srang, the "Royal Bathing Pool", for stunning sunset views.

Overnight: Hanuman Alaya Villa Or Similar, Siem Reap

Day 15 - Fly to London.

After breakfast there will be a group transfer to the airport for your flight back to London.

Overnight: In flight

Day 16 - Arrive London.

Today you will arrive in the UK.
Map
Map Key
Airport
Point of interest
Mountain Peak
Day walk in this area
Flights
Internal Transfers
Trek
---
2020
| Dates | Availability | Land Only | Flight Inclusive from |
| --- | --- | --- | --- |
| Sat 7 Nov - Sun 22 Nov 2020 | Available | £2245 Book | £2995 Book |
| Sat 12 Dec - Sun 27 Dec 2020 | Available | £2245 Book | £2995 Book |
2021
| Dates | Availability | Land Only | Flight Inclusive from |
| --- | --- | --- | --- |
| Sat 16 Jan - Sun 31 Jan 2021 | Available | £2195 Book | £3045 Book |
| Sat 6 Nov - Sun 21 Nov 2021 | Available | Contact us | Contact us |
Hold your place
Not quite ready to book? Why not call us on 0044 (0)1453 844400 to hold a no obligation place while you make up your mind?
Optional supplements
Single room supplement
From £520
Insurance
No Surcharge Guarantee
No surcharges will be applied to your holiday after you book. Prices on this website are updated regularly. The Flight Inclusive holiday price, or Land Only holiday price, will be confirmed to you at the time you make your booking. There will be no surcharges after your booking has been confirmed.
Flight inclusive holidays
The 'flight inclusive' holiday prices shown on this website are based upon our preferred airlines and the best priced economy class fares we are able to secure at the time of publication.
We will be able to advise on fares with alternative airlines, upgrades to Business Class, and the options for flights from regional UK airports, please contact us for more details.
Booking your holiday
For the majority of our holidays, a deposit payment of £300.00 per person is required to secure your place(s), however a small number of holidays require a higher deposit - please refer to the holiday itinerary for more details. If the holiday departs within 60 days, a minimum deposit of £750.00 per person is required.
Book now!
Book your small group holiday securely online – click the 'Book' button next to your chosen departure or visit our How to Book page
Complete and return a Booking Form available to download here.
Call us on 01453 844400 and one of our travel specialists will talk you through the booking process.
Loyalty discount
Find out more
What's included
A local English-speaking leader
Good standard hotel accommodation in main cities, on full board, twin share basis
Best available hotels in outlying towns, on full board, twin share basis
Accommodation on full board basis in Chi Phat village and O'Malu campsite
All road transport by private vehicles
Sightseeing where specified
Economy class return air fares from the UK & UK Departure Tax (flight inclusive only)
Single, timed, group airport transfers for international flights on arrival and departure
A free Mountain Kingdoms Water-to-Go bottle
Option to join one of our pre-trip walks in the Cotswolds
What's not included
Travel insurance
Visa fees
Airport departure taxes, excepting UK Departure Tax
Optional trips
Tips
---
---
Review your holiday
Reviews
Read holiday reviews by Mountain Kingdoms travellers.
Overall score: 5.0 (Based on 11 reviews)
Cardamom Mountains Trails
Cardamom Mountain Trails 05/02/2018
The whole Cambodia experience was exceptional and provided an intimate insight into the lives of its people, the wildlife, villages, landscape, history and culture as well as its shortcomings and problems. Mountain Kingdoms and their Cambodian partners are to be highly commended on producing such a beautifully balanced trip with so much packed into a short period of time without the group members feeling rushed or overwhelmed. The hotels were outstanding and the staff and guides gracious, helpful, patient and so very friendly as were other Cambodians we met. It was touching to be often thanked for visiting their country.
Pat, Gloucestershire
Cardamom Mountains Trails
Wonderful holiday to Cambodia 20/06/2017
This was a well organised and wonderfully varied trip. The conversations with local people about their country were part of what made it special for me as well as the many amazing sights. There were some added delights that were a complete surprise, like seeing fireflies on the river at Kampot, delicious food and delightful hotels.
Ms M, Cumbria
Cardamom Mountains Trails
Mini adventures in Cambodia 23/02/2017
Three older ladies had an adventure: We overheard our first guide inform the second one that we looked a lot younger than we were - I wonder if he knew we were listening? This holiday was full of experiences and movement across the country between sights and environments: We seemed constantly to be on the move (often in boats of varying size) without feeling any rush and without any boredom in the travelling. The walks we did were never as strenuous as those we do regularly in Lakeland and so we were comfortable if a little warm. The trip included so many aspects of this country and its past - the recent history of the killing fields and ancient history of the old Capital at Siem Reap, the old and new in cities, forests, along rivers and on the coast. So much to see and appreciate. We expected to be wowed by the sights but we didn't expect to love the food and the people so much. We were so well looked after and yet every day was an adventure: Sunrise at Angkor Wat, sunset and fireflies in Kampot, chips and chilli for breakfast rowing down the river from Chi Phat, coconuts on Rabbit Island beach and pancakes for breakfast at the wildlife release station. Did I mention the carvings in the river and on the temples? Wonderful Cambodia!
Prof E Beaty, Cumbria
Cardamom Mountains Trails
Reputable - Cambodia trek 23/01/2015
Small groups of like-minded people. Excellent rapport with office staff in UK, feels personal. Very good balance between adventure and culture. Good variety in activities and accommodation. Concern for the environment, respect for the country. I don't feel like a tourist, more like a visitor.
Mrs C, Cardiff
Cardamom Mountains Trails
Value for money 23/01/2015
As with all previous trips, an excellent holiday. Well thought out and in my opinion, excellent value for money for what was provided. Also very welcome is the opportunity to get beyond the usual tourist sites, and the chance to get to know a country.
Mr H, Middlesex
---
Extend your holiday
There are many ways you can extend your holiday with Mountain Kingdoms: book extra hotel nights, relax at a beautiful beach resort, take a warm-up trek, arrange a personal sightseeing tour or enjoy specialist activities such as rafting, birdwatching or a safari.
We're happy to suggest ideas, provide quotes and make all the arrangements. We can also assist with flight and hotel upgrades. Just call us on +44 (0)1453 844400 or email info@mountainkingdoms.com and we will be pleased to help.