Call our
friendly team
Responsible Travel
What's included?
Watch our videos
Read our blog:
Travellers' Tales
Our grading system explained
Gentle
Gentle/Moderate
Moderate
Moderate/Vigorous
Vigorous
Vigorous/Strenuous
Strenuous
Expedition Grade
Read more
Galapagos Islands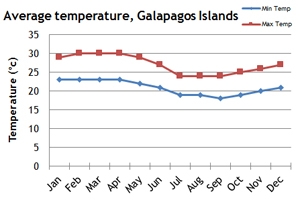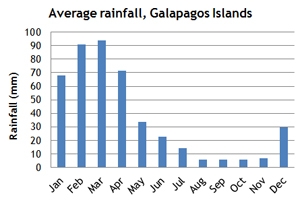 Wildlife viewing in the Galapagos is excellent all year round although certain activities and species are best seen at particular times of the year. For example, giant tortoise eggs hatch between December and April whilst March sees the massed arrival of Waved albatross on Espanola.
Temperatures in the Galapagos remain fairly constant throughout the year with variations between 20 and 28˚ centigrade. December to May are the warmest months to visit with good levels of sunshine punctuated by heavy, short-lived showers mainly in the afternoon. With sunshine and showers, the islands become green and colourful with an abundance of flora as well as flora. June to November is the cooler season known as 'garua' when the days are generally cloudier and misty. July and August is often a time of high winds making the seas choppy and therefore less suitable for cruising in a smaller boat.
If you are planning on snorkelling, underwater visibility is best around mid-December to March when waters are also warmer.
View our holidays here