Our grading system explained
Gentle
Gentle / Moderate
Moderate
Moderate / Vigorous
Vigorous
Vigorous / Strenuous
Strenuous
Expedition Grade
What makes China so special?
China is transforming itself from an ancient society into a modern-day economic dynamo and, after many years of isolation, is opening its arms to visitors. This new found confidence, coupled with an abundance of cultural, historic and scenic sights make it a must-see destination.
At almost 10 million square kilometres in size and with a population of well over a billion, China is truly a country of epic proportions. Its turbulent 20th century history includes military occupation and a Communist revolution on the way to its status as a contemporary super power, and a walking holiday in China offers the chance to experience both its mixture of 21st century life and ancient traditional culture.
Conveniently close to the most impressive sections of the Great wall, Beijing is a dizzying metropolis full of exciting places to spend a few days, but head out into the countryside and you'll discover some truly breath-taking scenery that offers a very different atmosphere. The magnificent landscapes make for some outstanding walking and trekking in China and nowhere offers more scenic walking opportunities in China than the monumental Great Wall. With its natural beauty and immense historical interest it is undoubtedly the most important destination for a walking or trekking holiday in China.
China

Great Walls, terracotta warriors and Forbidden Cities from an ancient past, contrast with a dynamic modern-day society to make China one of the world's most compelling destinations.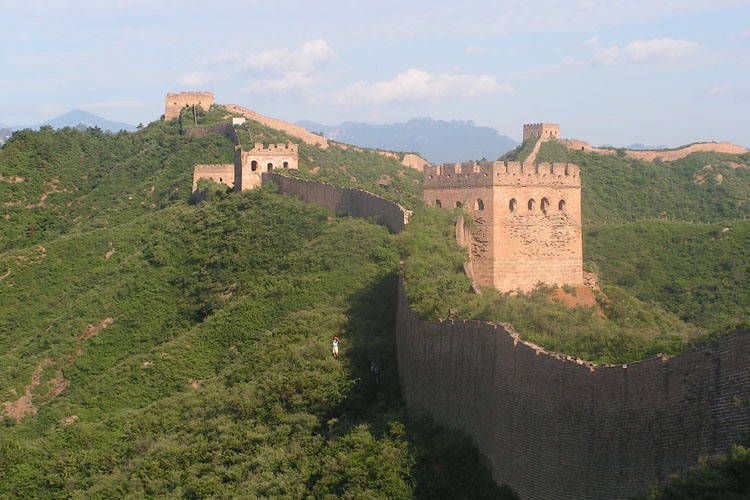 Mountain, sea and city – the Great Wall in all its splendour
Hotel and guesthouse accommodation
The cultural highlights of Beijing
Optional extension to see the magnificent Terracotta Warriors in Xi'an
Flight inclusive from £2595, Land only from £1945
---
Introduction
At almost 10 million square kilometres in size and with a population of well over a billion, China is truly a country of epic proportions. Such epic scale is also reflected is China's history which goes back over millennia into the mists of time. Exploring the monumental Great Wall, the magnificent palaces and temples of Beijing and the incomparable Terracotta Army in Xi'an will provide an insight into how China has transformed over the centuries, becoming the contemporary super-power that it now is.
Beijing is a fascinating starting point for any visit to China. The impressive Forbidden City and beautiful Temple of Heaven showcase the life of China's Imperial emperors. Whilst the traditional life of the ordinary people can still be seen in the Hutong District – a labyrinth of narrow alleyways and tiny houses that once covered the entire city but are now rapidly disappearing. China's more recent history is to be found both in Tian'anmen Square and the austere buildings of the Communist state, as well as in dazzling contemporary structures such as the Bird's Nest Stadium and the Central TV building.
Away from the frantic activity of the capital, the Great Wall of China stretches from the coast in the east to its last frontier in remote Gansu province in the northwest. However, it is the impressive sections that run conveniently close to Beijing where the wall can be witnessed in its full glory – rising and falling along the jagged ridges that characterise the landscape of the region, broken only by the imposing watchtowers that mark its progress. A walk along the Great Wall is to step back in time as it bears witness to the many changes that China has undergone from early Mongol invasions to the upheaval of the Cultural revolution and to the pride of modern-day China.
Finally, any holiday to China should include a visit the ancient cultural capital of Xi'an and its incomparable army of Terracotta Warriors.
You can discover all these cultural and historic wonders on our Great Wall of China walking holiday.
---
Key Facts
Capital city: Beijing
Population: 1,375,000,000 (2015 est)
Size of country: 9,596,961 sq km
Currency: Chinese Yuan or Renminbi
Power supply: 220 volts
Sockets: Mainly flat three-pin variety
Language: Standard Chinese or Mandarin (Putonghua, based on the Beijing dialect)
Time difference: GMT plus 8 hours
Visas: British nationals require a visa which must be obtained in advance.
Religion: Officially Atheist; some Buddhism, Daoism, Islam and Christianity.
Popular dishes: In northern China, the hotpot (sometimes known as a steamboat) is a very popular dish. It is equivalent to a fondue broth and all manner of thinly sliced meats and vegetables are cooked in it at the table.
Popular drinks: Tea is the national drink - especially green teas or flower teas. Beer and brandy are the most common alcoholic drinks.
Did you know: Despite the oft-repeated myth, the Great Wall cannot be seen from outer space – only from an airplane.
FCDO advice: FCDO travel advice
---
Climate
When is the best time to travel to China?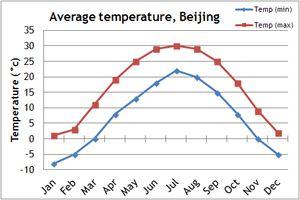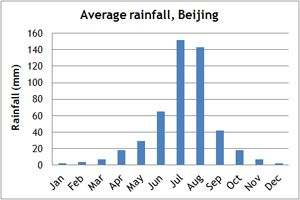 Our climate charts will give you an idea of the weather conditions in China. China is such a vast country, with varied terrain, so it experiences a range of climate conditions. Generally the winter is cold, with the temperatures in some places dropping down to -40 degrees. In contrast the summers can be extremely hot and dry. The best time to visit China is during the spring (March to May) and during the autumn (September to early November).

If you can't make the dates of our group departures, then take a private departure on dates to suit you, or we can create a Tailor Made holiday to China, especially for you and your family or friends.