Yeti prints on world's highest unclimbed mountain
Tracks have recently been found next to the highest mountain in the Himalayan Kingdom of Bhutan and they may prove that the Yeti still exists.
They were spotted by a Bhutanese guide accompanying mountaineer, explorer and Mountain Kingdoms' Managing Director, Steve Berry, whose photos of the mysterious tracks are shown here.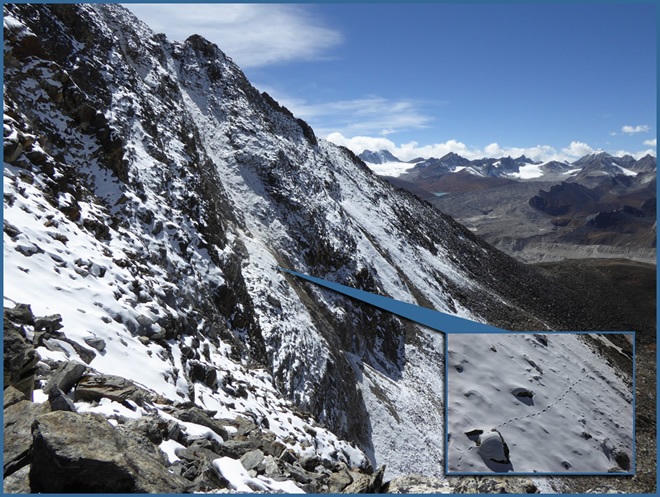 Mysterious tracks near Gangkar Punsum - photo taken by Steve Berry
The tracks crossed a snow ledge high on a steep mountainside in a valley that local people said had never been entered by humans.
Mr Berry said "These tracks could only have been made by a Snow Leopard or Yeti. In my opinion a bear could not have climbed such a difficult mountainside and can be ruled out. I have seen many Snow Leopard tracks but these bear no resemblance."
The tracks would seem to indicate a creature walking upright on two legs. They were at an altitude of 17,500ft / 5,350m.
Mr Berry believes the tracks could have been no more than 2 or 3 days old, as there had been snow at their camp 3 nights previous to the find.
Mt. Gangkar Punsum, 7,550m / 24,770ft, is the highest unclimbed peak in the world and lies on the Bhutanese/Tibetan border. Mr Berry was leader of a British expedition that attempted the west ridge in 1986.
"I am fascinated by the mountain. It is so beautiful and so remote," he said. He added "It is significant that Bhutan with its strong policies of nature conservation still has vast areas of true wilderness in which creatures unknown to science can and do still survive. Bhutan is one of the very few countries in the world that cares passionately about protecting their heritage."
Over 72% of Bhutan remains forested, and there are over 200 species of mammals – could one of these be the Yeti?
New tracks discovered in October 2015
Our MD, Steve Berry, went back to Gangkar Punsum in October 2015 and came across more fascinating tracks that are difficult to explain. They were approximately 2 or 3 kms from the place where Steve and Guide Karma Tshering saw the extraordinary tracks in October 2014. Again the prints indicate a creature walking upright on snow placing one foot exactly in front of the other. The really compelling feature of the 2015 footprints is the almost 180 degree turn made on one foot. Steve says, "I find it genuinely impossible to believe that a four legged creature could make a turn like this, and I seriously do not believe a bear could do a sharp turn like this either. I personally believe that it must be some sort of ape-like animal."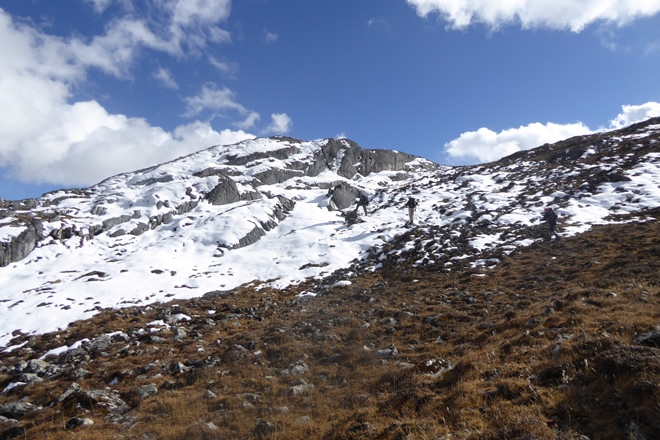 Finding more tracks - photo taken by Steve Berry
Related news
Watch a film of Steve's 1986 expedition: https://www.mountainkingdoms.com/about/our-videos/gangkar-punsum-expedition-1986 , and read a collection of stories from Steve's early expeditions in his most recent book, Straight Up. Plus, in 2016, look out for Steve's interview on Channel 4 and Animal Planet, as he reveals his enthusiasm for discovering the Yeti, and his underlying affection for the Himalaya.
Trek with the Himalayan Specialists in Bhutan
In 2016 Mountain Kingdoms are offering 19 holidays to the Himalayan Kingdom of Bhutan, including a pioneering trekking exploration of the southern side of Gangkar Punsum, trekking to its base by the way of the Chamkhar Chhu valley. Be one of the very first to set foot in this magical region!
Gangkar Punsum Approach - Duration: 27 days from the UK - Sun 2 Oct - Fri 28 Oct 2016 https://www.mountainkingdoms.com/holiday/gangkar-punsum-approach