The Everest Pyramid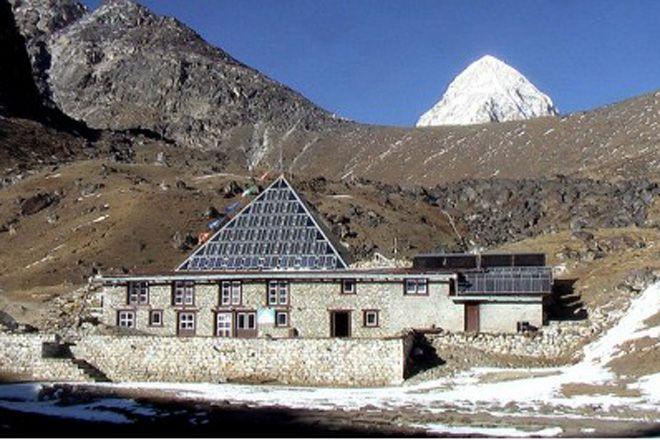 Image by Rick McCharles
Few Everest Base Camp trekkers expect to find a pyramid high in the Himalaya. Covered in solar panels and sitting atop a low stone building, the Everest Pyramid is a strange sight among the rock and snow of the mountains.
Though close to the Everest Base Camp, the Everest Pyramid is not actually on the typical Everest Base Camp trail. The routes diverge at the small village of Lobuche, which is only a day away from the Base Camp. About 20 minutes after leaving Lobuche, the route to the site reaches the frontal moraine of Lobuche glacier; turn left after the moraine into a short, narrow valley, which opens up to reveal the pyramid. Trekkers on their way to Everest Base Camp could certainly ask their guide to take them on a detour if they feel like a bit of extra exercise!
The Everest Pyramid is a joint Nepali and Italian project. It's part of the Global Atmosphere Watch (GAW) Program, which monitors the atmospheric composition – with a view to tracking pollution levels and climate change. Parts of Asia can suffer from a particular pollution problem, the Atmosphere Brown Clouds that extend from the Indian Ocean to the Himalayas, affecting climate, air quality, agriculture and the monsoon. One of the Everest Pyramid's tasks is to monitor pollution levels – and researchers have learnt that pollutants can reach the Himalayan glaciers and be deposited there, making the ice more liable to melt.
The site has also hosted a medical research team on a short-term project to examine various effects of altitude.
For those on their way to or from Everest Base Camp with a bit of extra time, why not go and take a look at Everest's Pyramid?