/
/
Article
/
Galapagos holidays with a difference
Galapagos holidays with a difference
Operations Manager, Liz Noakes, travelled to South America last month to experience our Gentle Walking Ecuador & Land Based Galapagos holiday. Here she reflects on her time on the Galapagos and the perspective gained exploring these unique islands on foot
Operations Manager, Liz Noakes, travelled to South America last month to experience our Gentle Walking Ecuador & Galapagos Safari holiday. Here she reflects on her time on the Galapagos and the perspective gained exploring these unique islands on foot rather than by cruise boat.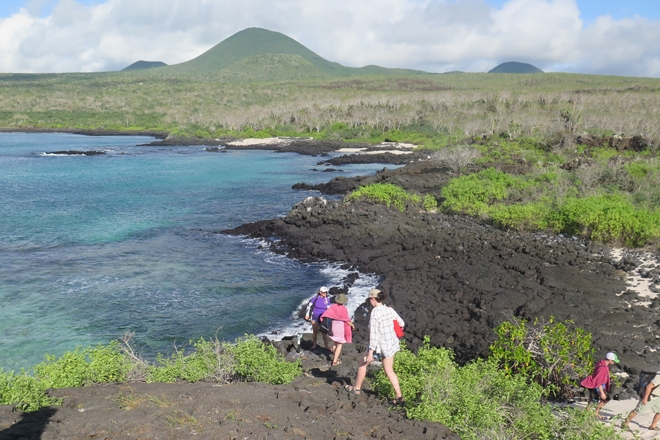 Walking on the Galapagos
Travelling to the Galapagos really is a privilege and a genuine 'once-in-a-lifetime' experience. You get to see all that is promised by the wildlife programmes on TV - often up close and personal. The most common way to travel around the islands is by cruise boat, these generally sail at night leaving passengers the day time to enjoy the wildlife both on the water and land. The boats are comfortable and well equipped and enable you to see many different islands. We combine a Galapagos cruise with walking on the mainland in our Gentle Walking Ecuador & Galapagos holiday.
There is however an alternative way to visit the islands and enjoy different experiences by spending more time on land. In this way you can really start to understand how the communities on the four inhabited islands really live, the issues they face with tourism and the difficulties they have. Don't be afraid you'll be missing any wildlife though as it's all around you and you also get to immerse yourself in the amazing and varied landscapes of the Galapagos. Staying on land doesn't diminish your opportunities to snorkel, kayak, paddle board as you'll have ample opportunity to be on the water and witness the myriad of aquatic life including penguins, seals, marine iguanas and numerous sea birds.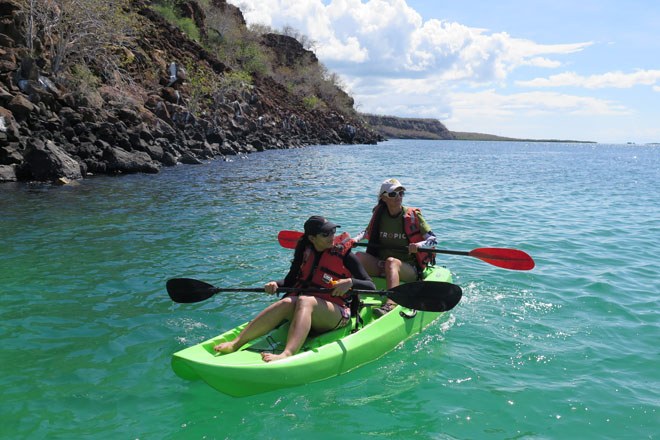 Paddling along the Itabaca Channel
Being land based does open your eyes a bit more to the human side of these extraordinary islands whilst having the added benefit of enabling you to go out and explore early in the morning and later in the evening when the light is good and the heat of the day is not so extreme. There are after all shops and restaurants, café and bars all waiting to be visited and once the 'cruise visitors' have departed for the day, it's all yours.
I was really impressed with the standard of accommodation on the islands having stayed in lovely waterfront cabins on Floreana and a delightful 'safari-style' tented camp in the highlands. All the accommodation we use on the trip is family owned and independently run, and by taking the land based option, you are financially supporting the local people and putting money into their communities.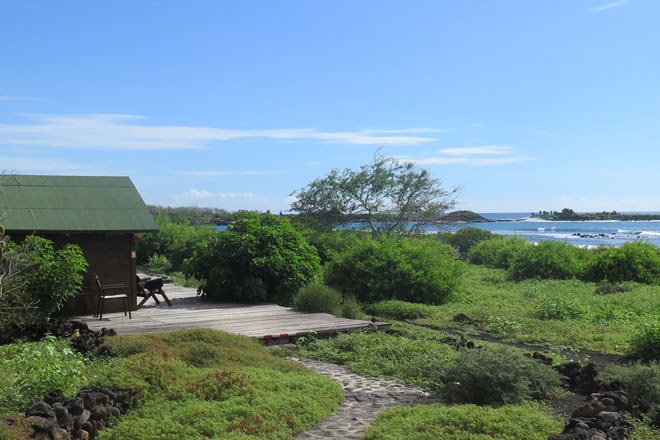 Lava Lodge, Floreana Island
The communities on the islands are facing ever increasing numbers of tourists and this brings with it associated issues. Not least the availability of food and other provisions which all have to be brought in by boat from mainland Ecuador on a weekly basis. The National Park Authority have strict rules regarding bio security and all bags and items imported are inspected for any species of plant, animal or foodstuff which might affect the natural environment. There are strict rules on where you can walk and how close you can get to the wild animals. Having said that, the latter rule frequently has to be broken as you regularly come across sea lions and marine iguanas, to name a few, lying around in public places, blocking access to boat gangways, shops and other public places!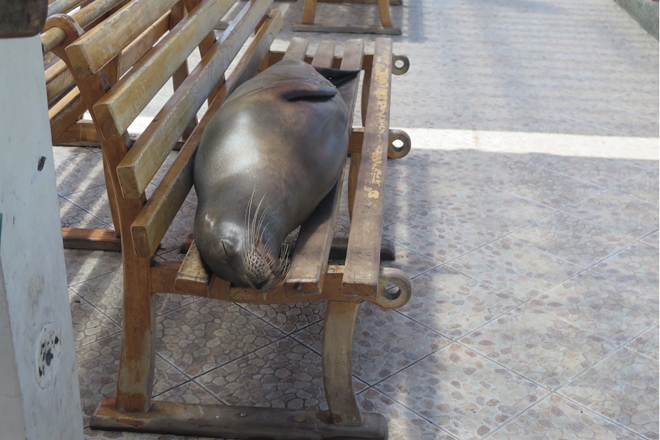 Taking a nap sea lion style
To get under the skin of these islands you need to talk to the people who live there and learn some of the stories of the first settlers and their histories. The most interesting place I visited on my trip was the island of Floreana. Here you find a small tightly knit community of around 150 people and they have THE most interesting history, which includes murder and disappearing people… yes seriously, there have been books written and a documentary film made, it is very 'Agatha Christie' - in a Galapagos way. To hear the stories first-hand from the mouth of a descendent of the real people involved really brings it home that it is actually quite recent history. I won't spoil it for you now, but it IS worth checking up on, it's unsolved and although the people live in harmony now – the fact remains, there are people still living there who were involved in it and prepared to talk about it.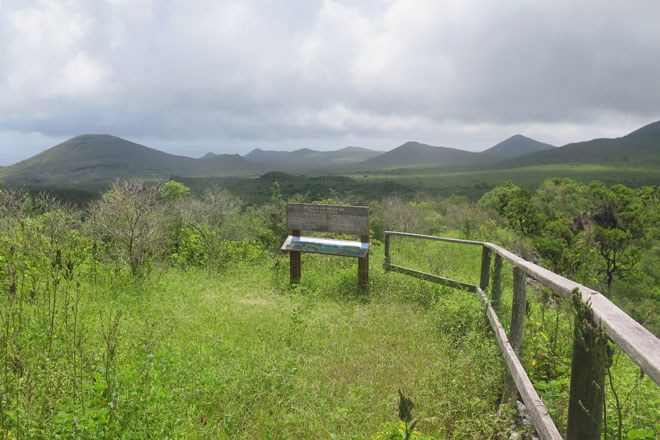 Eco-tourism on Floreana
There are operators working here who seriously embrace eco-tourism in order to have as positive an impact as possible on the islands whilst enabling visitors to have an informed and yet very enjoyable experience. I would urge anyone thinking of going to make it a reality. It is obviously a personal choice how you visit, but I would advise anyone to seriously consider a 'land based' trip for a fantastic all-round experience. After all you will probably only visit once.
View all our Ecuador and Galapagos walking holidays or contact us if you've got any questions about travelling in the Galapagos by land or sea.